If you're a Twitter ad user, promoting your tweets just got easier..Twitter ad users can now schedule tweets!
Twitter has just announced that marketers who use their ad products now have the ability to schedule tweets up to a year in advance.
The company hasn't indicated whether this option will be rolled out to all users at some point, or whether it will remain an exclusive feature for advertisers.
The Twitter scheduler will allow marketers to compose tweets – both organic and promoted – that can be scheduled to go live at any point within a one year time frame. This means greater flexibility in terms of planning ahead for live event promotions, product launches, or premiers.
According to Twitter, there are two ways to schedule a tweet. Once signed into Twitter ads, you may either select 'Compose Tweet' in the upper right corner of your screen, or access scheduling via the 'Creatives' tab in the top left navigation bar.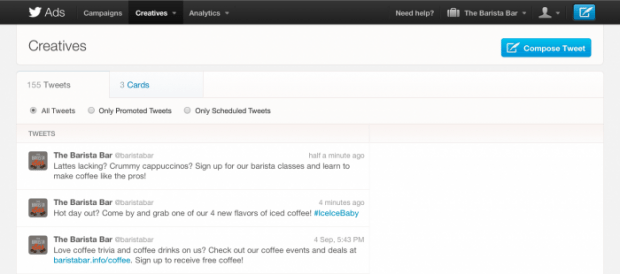 When you are brought to the tweet composition box, you are then given the option to compose and schedule your tweet or Twitter card (cards are available for scheduling when you click the 'Creatives' tab).
Here's an example of what the scheduling interface looks like: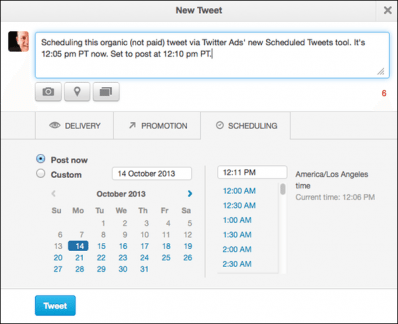 Image courtesy of Marketing Land
 Although of course tweet scheduling has already been available using 3rd party software and services, it's great to see Twitter offering this feature from within the site.
Do you currently use automate your tweets? Do you plan to use the Twitter scheduler? How so? Let me know in the comments below!
About Author