Social media is an incredibly powerful tool for marketing your business. It gives you the opportunity to reach new prospects, as well as to nurture relationships with your existing customers.
However, I've found that many entrepreneurs – around one in five – make a HUGE mistake when using social media, and it's costing them…big time.
This is a mistake that can result in:
Missed opportunities to build relationships
Fewer leads
Decreased sales and revenue
So, what is this mistake that's leading to these less-than-ideal results? Not moving your fans and followers to your email list ASAP.
This post will explain exactly WHY this is such a big deal, and what YOU can do to avoid it!
What's the big deal? Why do my followers need to be on my list?
This is a great question. If you're already able to communicate with your fans and followers on social media, why do you also need to email them?
There are a number of reasons, but the most important one is this: your email list is the only online audience you truly own online.
Your email list is the only online audience you truly own online.
Click To Tweet
Why is this? While having a large social media following is great, you don't actually own that audience. If Facebook, Twitter, Instagram, etc. were to shut down overnight, you would immediately lose access to the many hundreds or thousands of people who follow you.
Second, as you already know, posting on social media doesn't guarantee your fans and followers will actually see your posts. This is particularly true on Facebook, where organic reach is at an all-time low.
As if these reasons weren't enough, here are some stats that underscore exactly why email is so important to your business:
So, how do you get to experience these benefits for yourself? By moving your fans and followers to your list as soon as you possibly can. Following are 5 effective ways to do exactly that!
1. Promote your lead magnet to your fans and followers
If your business doesn't already have a lead magnet in place, put this on your to-do list, STAT!
No one will join your list simply because you ask them to; you need to be offering something that's valuable enough for them to hand over their email. This could be an eBook, a free webinar, a guide, a video, etc.
No one wants to join an email list UNLESS you give them something that's valuable. #EthicalBribe
Click To Tweet
Once you have a great free product to offer, promote it to your social media fans and followers. Here's an example of one of the lead magnets I promote on Facebook: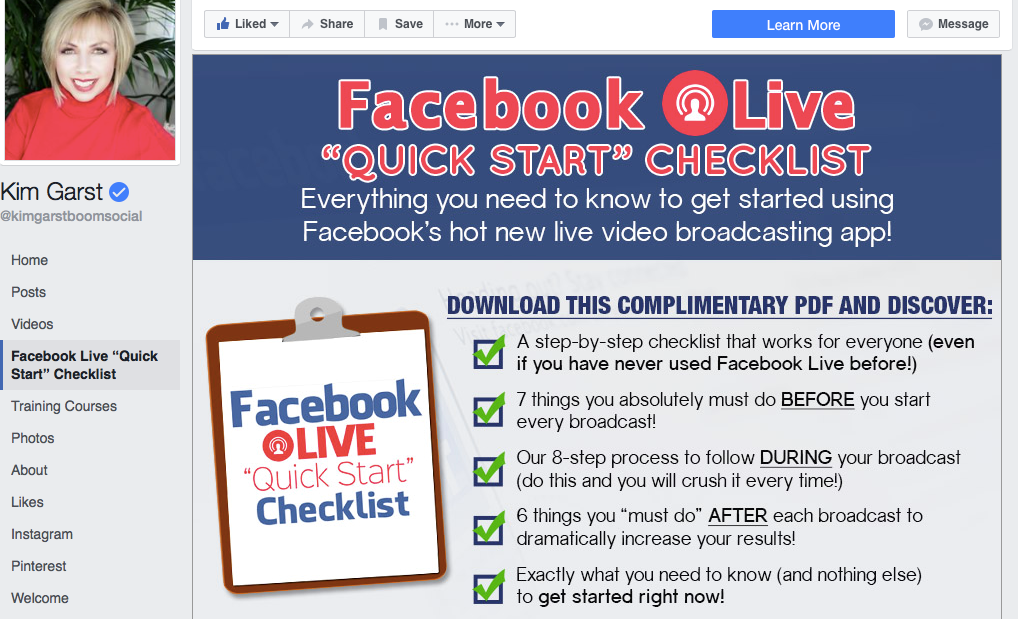 I periodically promote this to my fans via posts, and I also include a link to my Facebook Live "Quick Start" checklist in the left sidebar of my page. In fact, using Leadpages, I'm even able to collect emails right from my page (so my fans never even have to leave Facebook!).
2. Promote a contest
Contests are kind of an old school strategy, but one that's still very effective! Here's how it works: simply promote your contest or giveaway on a variety of platforms, directing your fans and followers to a dedicated landing page.
On that landing page, describe the content details, and include an entry form that asks entrants to input their email address.
You'll also want to create a unique hashtag if you're promoting it on Twitter, Instagram, etc. Tell your followers they can get an extra entry by promoting the content on social media (along with the hashtag, so you can track it). This is a great way to get people to share your content, leading to more entries and more subscribers!
3. Direct fans and followers to your website or blog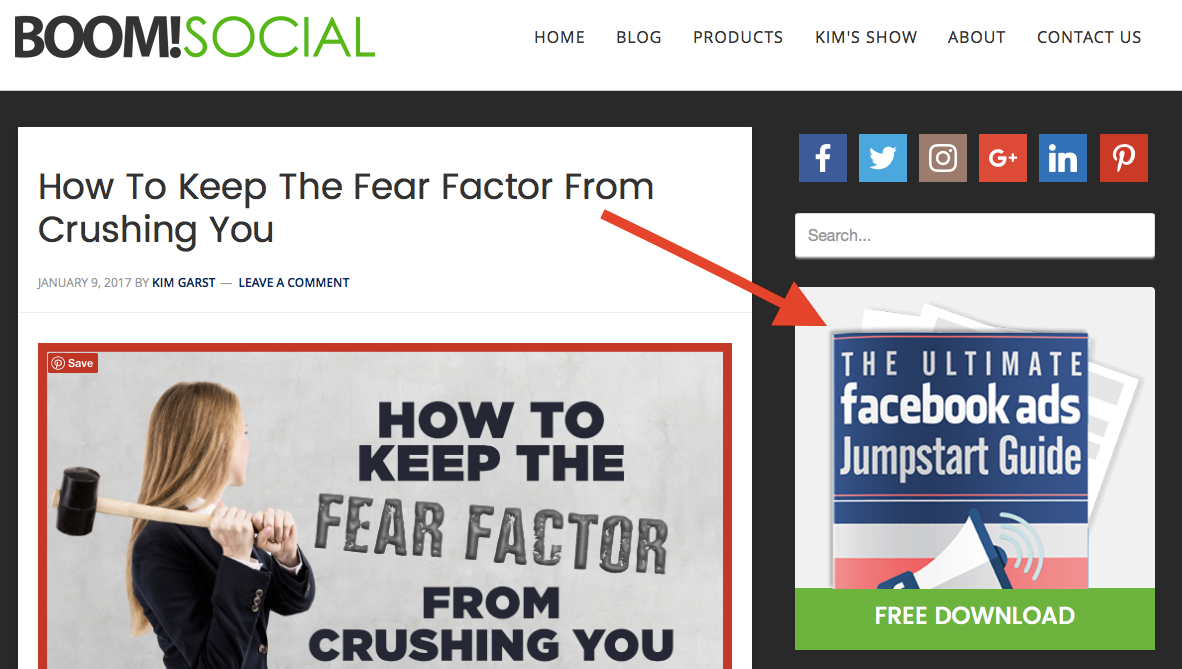 We use our sidebar almost exclusively to promote our free offers
In order for this one to work, you need to make sure you're giving visitors an easy (and obvious) way to join your list when they arrive at your site.
One of the best ways to capture emails on your site is to promote your lead magnet (see #1).
On the Boom Social site, we do this is a variety of locations:
In our right sidebar (we currently have three free offers in our sidebar alone)
In a pop up when people click to leave the site
Within relevant blog posts
In our main navigational menu
This ensures that all those visitors who come to our site know exactly which free offers will help them with their own social media marketing!
4. Use social ads to promote your lead magnets
If your posts and tweets aren't reaching many of your fans and followers, you may need to boost your reach by paying for some extra promotion.
All the major platforms now allow you to boost your posts or create ads, meaning you can reach a far larger, highly-targeted audience.
In my experience, Facebook ads are some of the most effective. Here are some resources that will walk you through exactly how to make the most of your Facebook ads:
Facebook Ads For Entrepreneurs With Small Budgets
Facebook Ads – 3 Ways To Boost a Post Like a Pro!
The Ultimate Facebook Ads Jumpstart Guide
5. Offer deals or discounts to join your list
Everyone loves a deal, and most people will be willing to join your list to get a discount on your products or services.
Everyone loves a deal, and most people will be willing to join your list to get a discount. #EmailMktg
Click To Tweet
There are a couple of ways you can go about doing this: either by promoting the discount (and corresponding landing page) directly to your social media followers, or by sending your followers to your website (where you promote your discount in the sidebar, via a pop up, etc.).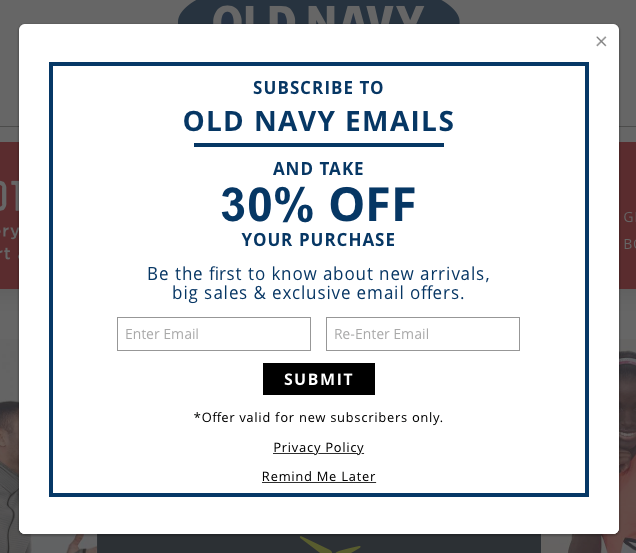 Old Navy directs their followers to their website where they offer a discount for signing up
And once those visitors are on your list, you can continue to promote deals, offers and incentives for them to continue buying!
Are you moving your fans and followers to your list ASAP? If not, do you plan to start after reading this post? Share below!
About Author