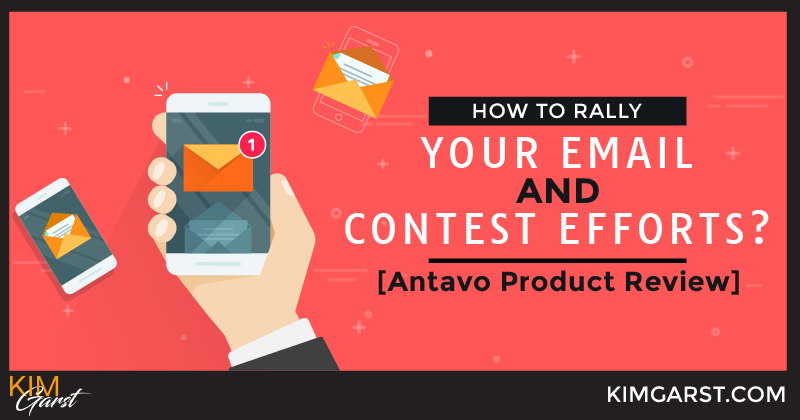 Sweepstakes and contest apps are still popular even though Facebook lets you run contests on your wall.
It just makes sense; with apps you can capture leads, and add a spin to the contest. Apps have viral mechanics that not only capture new leads, but also encourage them to invite them to share with friends.
Antavo, a contest tool, recently launched their new platform. They promise more customizable and viral apps for the sophisticated marketers.  So let's take a look and see what it does…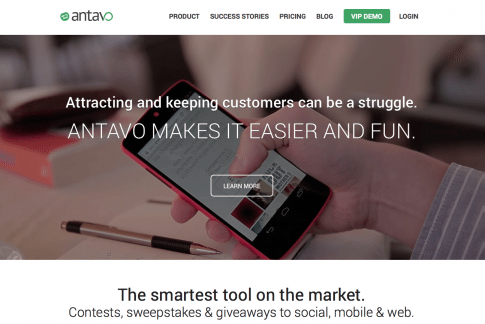 How does Antavo work? What kinds of special features does it have?
Why is Antavo different from other marketing tools?
Antavo offers similar functions like AgoraPulse, Tabsite or Shortstack, so you can run contests and sweepstakes.
Antavo apps can run on your Facebook Page, website and on a microsite.  Furthermore, all apps are responsive on mobile devices, which is critical for any marketing efforts!
There are 13 contest types: draws, polls, quizzes, photo contests, video contests, essay contests, audio contests, Instagram contests, Prezi contests, group offers, coupons, giveaways, and what is really convenient is that they also provide landing pages.
Yet, what makes it stand out?
Antavo focuses on lead generation,  creating and nurturing email lists. They furnish for you with:
–          beautifully designed templates;
–          smart copies;
–          preformatted campaign settings;
–          viral game mechanics;
These features aim to maximize the potential reach of your campaigns as Antavo is like a marketing tool and a marketing assistant at the same time. While you use their platform, they give you a step by step guide about what works the best in every stage of the campaign creation process.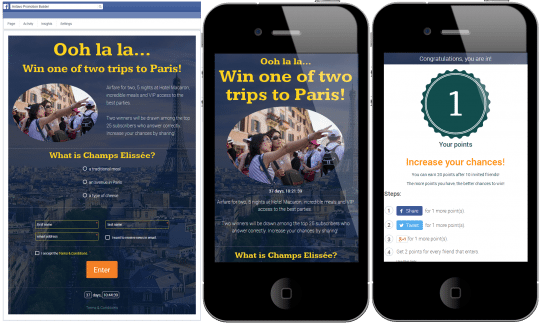 This is a demo-draw from the Antavo platform.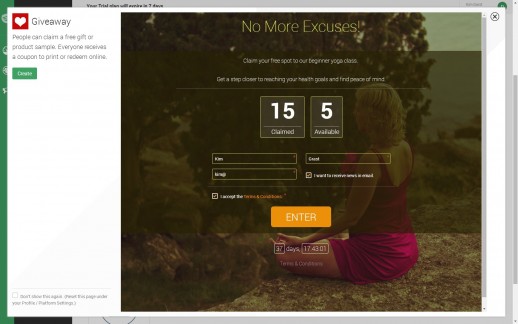 After the registration on Antavo's site you can try each campaign types
and test them from the susbcribers' point of view.
Before you know what app you would like to run, you can browse among the demo campaigns, so you get an idea what your audience may like.
1. Covering all of your online channels
As mentioned before you can run the exact same contest on three different channels at once.
Facebook is not the only source that you should focus on; your audience might come from your website or other social media channels. It's included in all their plans.
The leads you collect with Antavo will go to the same database. Later you can group and categorize them as you wish and create custom segments. E.g. you can filter those who are female, have 3 kids and live in town.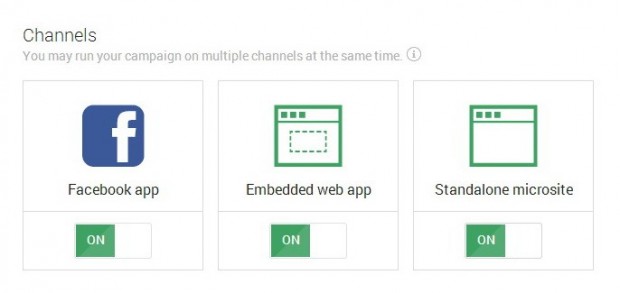 Why not spread the word of your contest on all the channels you have?
2. Increased viral nature
When someone enters your contest, the first step has already been taken
To get greater exposure you can encourage them to invite friends, so they can increase their chances of winning.
With Antavo you can motivate every action of the subscriber with the bonus point system. So subscribers can receive bonus points both after inviting friends and after sharing on social channels.
Also, the way the winners are selected can determine the contest's success.  Getting more winners is always better, as the chances of winning is higher, therefore encouraging more people to participate.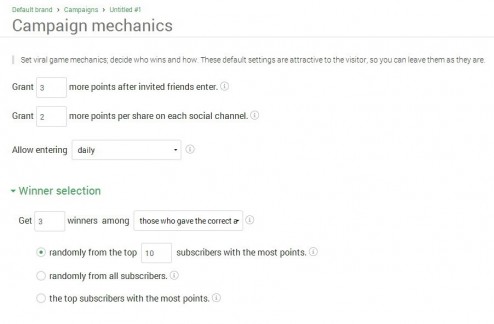 Set how you reward the subscriber's sharing activities and how
you select the winners.
3. Detailed information on your subscribers
In order to find the right tone in marketing communication you should know your subscribers as a people and find a way to engage them.
Antavo lets you ask any entry form questions, so you can paint a real customer portrait. Later you can group subscribers according to their answers and send out more personalized emails.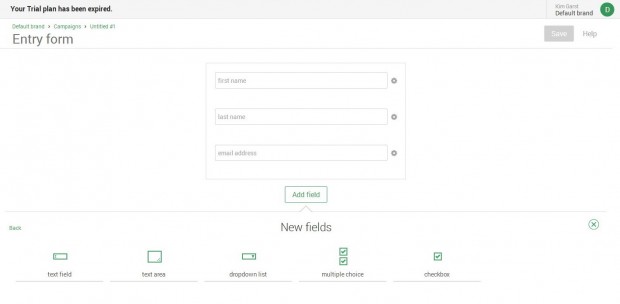 You can create new questions or use those that you have already created for
previous campaigns.
4. Live editor
Sometimes with online tools you can't immediately see what changes you have applied. Did I put the paragraph in the right place?  Where will this image appear?
At Antavo you can select from beautiful predesigned templates, and you can also get smart copies that represent your campaign settings. Any changes you made for the template will be applied instantly.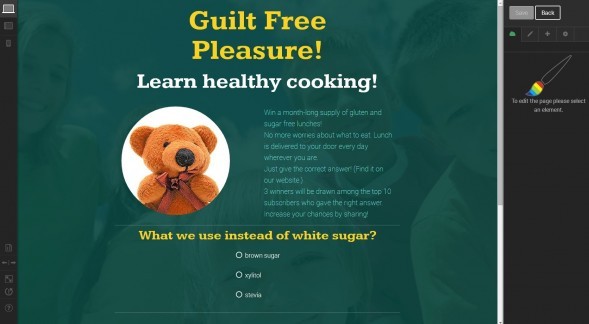 You can include any kind of video/image/link in your promotion e.g.: use a video which
promotes your promotion and highlights the benefits of it.
5. Optimized visibility
What may look great on desktop may look awful on mobile devices. That's a recurring problem that every marketer must cope with.
At Antavo besides the full customization (they have a white label version) you can hide or show specific elements on Facebook, mobile, tablet and desktop.
For example if you want a simpler design on mobile, just hide the long description and one of the images when people open your app on mobile.
These changes will only apply for the device that you have set it for; you can even create a different look for a Facebook campaign.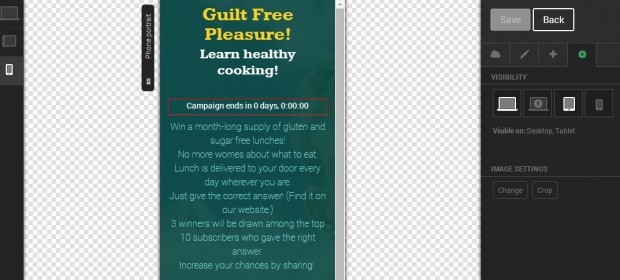 You can hide parts of the app on Facebook, mobile, tablet and web.
6. Triggered emails
When subscribers enter your campaign, the best approach is to get in touch with them immediately. A campaign gives you an opportunity to draw their attention and once their interest is kindled this is the time when you can make an impact.
It would be difficult to email each and every person who signs up to your contest, so at Antavo you can set up triggered emails that are sent after subscription, invited friends, or the campaign's end.
Emails are customizable, and can be sent from your company email address.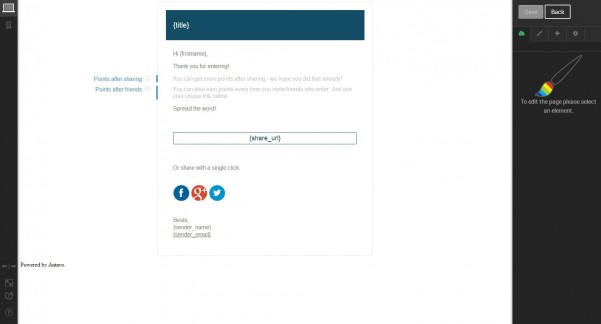 You can fully customize the emails that go out after subscription. They have a
white label solution, and emails can be sent from your address.
7. Sandbox mode
Did you use the right phrases? Are your words coming through?
You can test is by yourself, as Antavo has a sandbox mode.
You can also test your promotion on any device, or ask your supervisor, client or colleague without making it accessible to the public.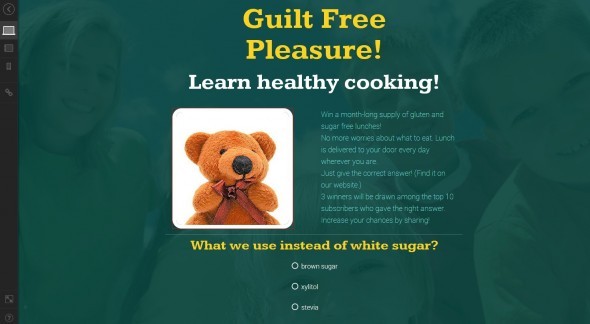 Make sure that everything works according to your plans and do a live test on your campaign.
8. Segmentation
Running a contest is a first step. The second is to engage with your subscribers.
After your campaign has ended, the collected leads can sync with email providers like MailChimp, Aweber, ActiveCampaign, MadMimi etc.
You can also create custom segments of your customers based on their entry answers and social activity. For example you can email a group of opinion leaders who invited more than 3 people to the contest, and are interested in one of your products.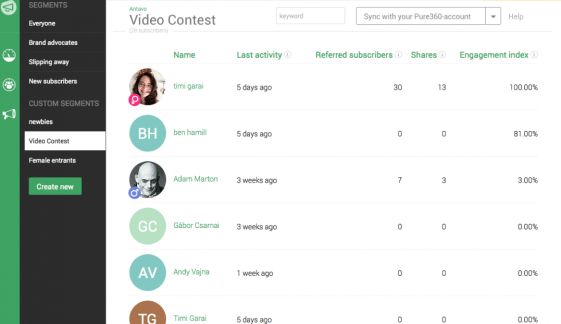 Create custom segments and send them targeted messages.
It's absolutely clear that Antavo moves the field a step forward in customization, and converting leads to customers with smart segmentation.
If you have sent newsletters and have ran contests before, it's one of the best tools to rally your efforts.
Have you tried Antavo? What is your experience? Please leave a comment below.
About Author