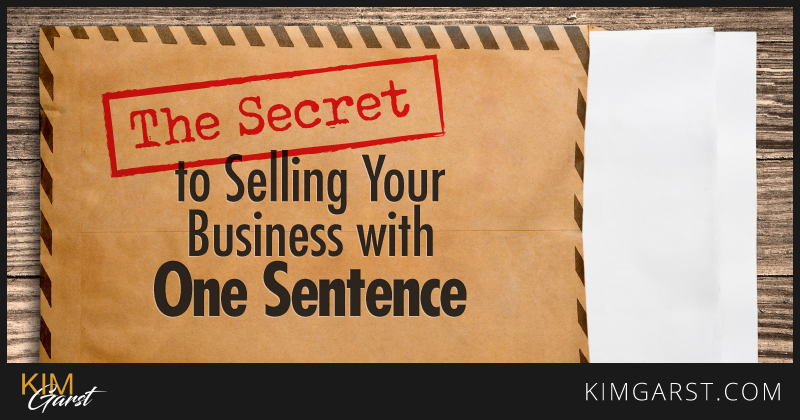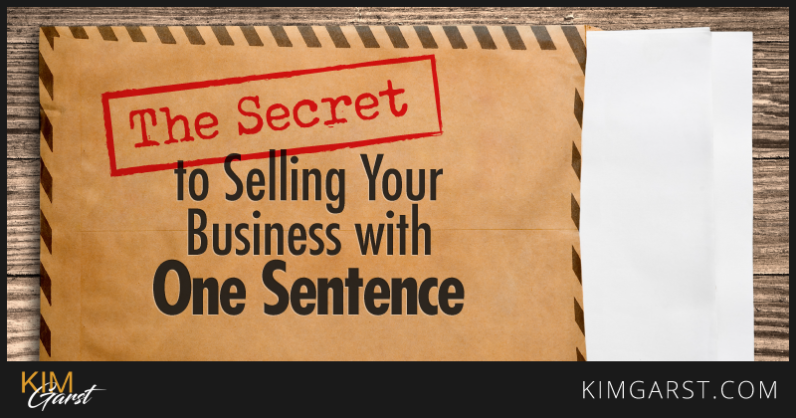 Recently I was blessed to share my passion for Periscope in a keynote address during the Periscope Summit in San Francisco. One of the things I love about speaking at events is the amazing people I get to meet!  Sure, I always pick up something from the other speakers but what I get the most from of is the in person meet ups. One of the new relationships I formed at this year's Periscope Community Summit actually led to this blog post about the secret to selling your business with ONE sentence!
I always get asked about the one takeaway I get from the events I attend and this year my takeaway was a result of something that happened in an elevator. I ran into a lady in an elevator and she starts a conversation by saying, "Hey Kim, I really enjoyed your keynote." We start chatting and I asked her, "what type of business do you have?" Her response was simple and totally caught my attention! She said "I am a light bulb expert."
Are you asking yourself the same question I asked myself? What is a light bulb expert? Someone who sells light bulbs? Someone who's an a lighting expert?
All these thoughts are running through my head which is a huge benefit for her because how can the next thing out of my mouth NOT be, "what is a light bulb expert?"
Let me introduce you to Leslie of go2kitchens, the light bulb expert. Leslie is a cancer survivor and leverages her knowledge gained through her cancer experience to try and help educate people on how to prevent getting certain types of cancer by eating better. She wants people to have their light bulb moment before disease strikes!
Incredibly, incredibly clever, right?
Listen into my "scope" where I share this story :-).
Why is this story important? Because ALL of us should have a one liner that tells people what we do and perhaps even sparks enough interest that they want to know more! Great one liners are as powerful as Leslie's. They stop you in your tracks and make you want to know more.
First impressions are huge! Cut through the noise and come up with something that catches people attention. Below are four ways to create YOUR amazing one liner!
The Secret to Selling Your Business with One Sentence:
1. Tie in Emotions
When you go to sell a product or service, you have to keep in mind that it's not about you at all. It's also not about your product. It's ALL about your customer and what value you bring to them. The reality is that benefits (what's in it for them) is what makes people buy. Most buyers are moved to purchasing for an emotional reason versus a logical reason.
If you can make your one liner emotional in some way, like Leslie's tie-in to being a cancer survivor, then you have reached your customer or client on a level many entrepreneurs have been unable to achieve.
Bottom line…make sure your one liner includes that emotional piece in what you do or what you offer.
2. Keep It Super Simple
I changed up the KISS acronym a little bit; KEEP IT SUPER SIMPLE. It is so important when you are creating this one liner to keep this in mind. If you can't tell me what you do in 10 to 12 words, then you have a problem.
For example, my go to one liner is "I help entrepreneurs create more sales for their business." Now I've got to come up with something a little bit snazzier, but at the root of it, that's what I do. It's what I'm passionate about. If it's sharing my social media, digital marketing, or live streaming sales knowledge, at the root of it all, I love helping people sell more stuff.
Brevity forces clarity. It also forces us to really dig in and figure out what do we do and how we serve our ideal customer avatar.
3. Use Numbers
I have given this tip so many times as it relates to headlines and anything that is going to drive action because people love and connect with numbers. It gives a sense of specificity.
Now it doesn't mean that every  one-liner has to have a number in it or that every  one-liner has to have emotion, but it does mean that these are proven techniques to building amazing one liners that are going to get people to stop and take notice.
For example, if you are a blind maker then your one liner could be: "I help people filter out 25% of light in their home or office." Since you have that level of specificity and people know exactly what the benefit to them is you will most likely make more sales!
4. Curiosity
Last but not least is curiosity. That's exactly what I would call Leslie's. She piqued my curiosity. I mean, what is a light bulb expert? Then as she started to explain and it was like my own light bulb went off! I thought, "Oh that is brilliant, that is incredibly brilliant."
Having a curiosity factor that makes people ask what is it, what do you do, or explain more is huge.
As you are building or creating your own one liners I encourage you to keep in mind the secret to selling your business with one sentence by making it emotional, keeping it super short, using numbers and creating curiosity. The ultimate goal is to make people ask more about whatever it is you do.
Do you have any other tips you would add to this? Or, do you have a one liner that has worked well for your business? Feel free to share down below! 
About Author