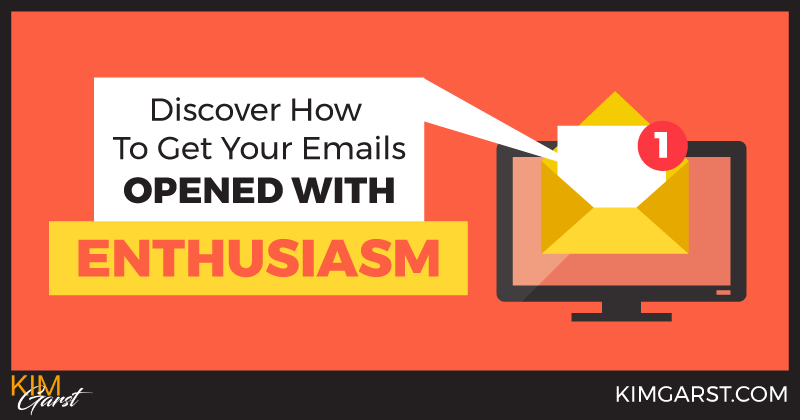 Facebook is wildly successful right? No one can really argue with that statement. They have over a BILLION users and show no real signs of slowing down. The average user spends 11 hours/month on Facebook. Why are they wildly successful? Facebook is personal and it provides an authentic way to interact with friends, family and even business associates.  People are spending more time on Facebook than any other website so what does this tell us? That we have to get personal with our email marketing efforts!
One of the hardest lessons any business owner can learn is that setting up an email list doesn't automatically mean that anyone will actually read the messages you send. Why is that? What causes one blogger or professional's emails to always end up in the inbox and on the must-read list and another's to be sent to the Spam folder?
The BIG questions of the day…
How can we form a real connection with our list that will make them want to open up our emails as soon as it hits their inbox?
Get Interested In Your Audience!
[Tweet "If you want others to be interested in you, you need to be interested in them."] You need to listen to your audience's likes and dislikes. What are they interested in? What are their fears, concerns, needs, etc.?
When you send out an email message…
Are you listening to your audience before sending?
Are you offering them something new, something unique, different, and something that is just for them?
Are you filling a need or piquing their curiosity?
Asking a question?
Engaging them in some way?
I recently saw an article in Forbes that said it better than I can…
"In addition to sharing your latest content and linking to info on our most recent event, have conversations. Don't spam everyone with an automatic feed of your blog, or repeated entreaties to 'please buy my latest product!'  Instead, engage actively with the community."
This means that you have to spend the time to get to know your audience. The more you 'know' your audience the more interesting you become because you are showing that you understand their needs and can help in some way that is relevant to them. You also have to let them get to know YOU and your brand. People are more interested in connecting with a real person in today's online marketplace and that means you have to let them get a glimpse into your life.  [Tweet "Connecting on a personal level is so very important!"]
You also have to remember that this social relationship is just that, a relationship and no relationship ever survived, ever thrived, if it was a one-way street. Want someone to listen to what you have to say? First, you have to listen to what they have to say.
Giving Your Brand "Personality"
People use social networks and email to communicate with other people. They are also using it as a means to get personal recommendations on brands, products and people. People like buying from people who have come recommended to them. This is why social proof is so effective.  It is just like real life; if a friend tells you that a movie they saw was great, you immediately have a favorable opinion around that movie and may go see it yourself simply because they recommended it.
Personality gives your brand life and credibility. To give your brand personality you have to draw on the human characteristics and share your brand in a way that makes people want to share your brand and YOU with others.
How do you do this in an email? Conversation pure and simple.  Talk to your audience just like you would in person. Simple conversational style emails will engage your audience like nothing else can.
Remember your focus should be on the people who make up your brand so make sure that you keep your message friendly and your focus on what your audience wants and needs are. It comes down to charisma, a bit of personality, that bit of you that convinces your audience that you are someone they want to listen to. Hopefully now you have a better understanding of how to get your emails opened with enthusiasm.
Here are a few links to my other blog post on email marketing and how it can help you get your emails opened with enthusiasm.
How To Double Your Email Subscribers in 30 days
The Secret to Writing Kick Butt Subject Lines
What approach do you use when it comes to communicating with your list? What techniques have worked the best for you?
About Author