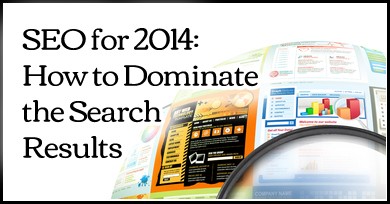 So much has changed in the field of SEO over the past couple of years, and it can be hard to know which strategies are still relevant and which are not. Techniques that worked even a year or two ago may be ineffective (at best) or damaging (at worst) to your overall search rankings.
This blog post will walk you through what we currently know about SEO: what works in 2014, and what techniques you should phase out.
For more SEO tips, see my post The Top 5 SEO Lies Revealed.
On-Page SEO Strategies
Perhaps the biggest change over the past few years is how Google determines the quality and reliability of a piece of content. A few years ago, publishers could throw up low-quality, keyword-rich content and potentially rank for those keywords within weeks or even days.
Since Google's Panda and Penguin updates however, the focus has shifted away from short, overly-optimized content, and has moved toward longer, more comprehensive and in-depth articles.
If I had to summarize this shift in one phrase, it would be quality trumps quantity.
So, how does Google determine which content is high quality (and should therefore rank highly), and which isn't? Here are 4 on-page strategies you should use to ensure Google recognizes the value of your content.
Use your keywords appropriately. Yes, keywords are still important! Use your keywords in your URL, throughout your content, in your title tag, in your meta description (not important for SEO, but great for increasing clickthrough rates), in your alt image tags (only where appropriate), and in your heading tags (your H2, H3, H4 tags).
Focus on longer, more in-depth content.  Unless Google already recognizes your website as an authority in your niche, you'll likely have trouble getting short-form content to rank well. This doesn't mean all your content needs to be long and involved, but it does mean you should make a point of including some longer, comprehensive content that you want to rank for particular keywords and topics.
Set up Google Authorship. If you haven't already, now's the time to make sure Google knows which content is yours. Google Authorship and 'Author Rank' is only going to increase in importance, so taking 20 minutes to set this up now is well worth your while. For more on this, see my post How to Set up Google Authorship for SEO.
Think in terms of themes, not just keywords. I mentioned earlier how publishers used to be able to optimize a page for a particular keyword and rank for that keyword relatively quickly. Now, however, it's more important to think of your content as covering all angles of a topic or theme, not just one or two keywords. This means thinking about all the potential words and terms people would be using to research a particular topic, and making sure you include them.
Yes, Links Are Still Important! (But so are Mentions)
While link building is still very important (and probably always will be), many reputable bloggers and website owners prefer to focus more on natural, organic link building strategies like consistently producing high-quality, shareable content.
Methods of link building like submitting your site to low-quality online directories, or emailing random website owners to ask for a link are outdated and ineffective.
It's far better to focus on becoming a trusted resource by creating excellent content on your own site and on well-known sites in your niche; this is a very natural way to not only get links to your site, but to increase your Author Rank (if you have Google Authorship set up) and to increase your online authority.
While links are still important, a recent discovery suggests that mentions of your brand or links that don't pass on 'link juice' are also potentially important; so rather than just focusing on getting links to your site, don't discount all those discussions happening online around your business or brand (even if they don't link to your site).
Social Media Is Important
There has been a lot of speculation in the past couple of years that links that are shared on Facebook and Twitter have some impact on search engine rankings. However in a recent Google Webmaster video, Matt Cutts dropped a bomb: currently, Google does not factor these so-called 'social signals' into their rankings.
That said, having an active and engaging presence on social media has a huge indirect benefit for SEO:
When you content is liked, shared or retweeted, it reaches a larger audience; the more people who see your content, the more likely you are to receive inbound links. The more visible you are on social media, the more authority you gain and the more people link to your content.
I use social media to amplify my content each and every day. As a result, Twitter is my #1 traffic source. For me, social media holds HUGE value. If you spend the time to share your content on social media, I think you will be pleasantly surprised by the results.
A reminder: While properly optimizing your blog posts and other content is a no-brainer, remember that your #1 goal should always be to write content that your audience will love. If you're consistently creating and sharing content that your target market needs and enjoys, you really can't go wrong.  Tweet This
What's your biggest struggle currently in terms of SEO? Do you typically write more with your readers in mind, or for the search engines? What can you do to ensure your content gets enjoyed by your readers AND found and ranked by Google?