Looking to sell products or services on your website, but aren't sure where to start? Wondering what you need to process payments, what the options are and which one is best for your business?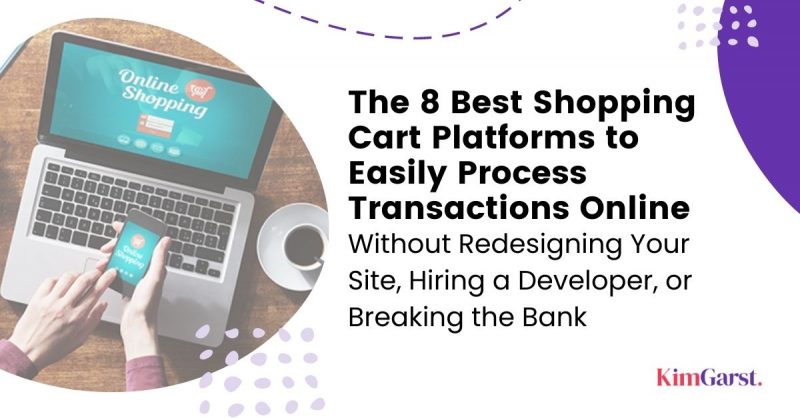 AND I am sure you don't want to mess around with creating a new website, hiring a developer or paying a TON of money…simply for the "privilege" of selling stuff, right?
Then you are in the right place! I'm going to cover 8 of the best shopping cart platforms out there…so you can make an informed decision and start selling ASAP!
The 8 Best Shopping Cart Platforms to Easily Process Transactions Online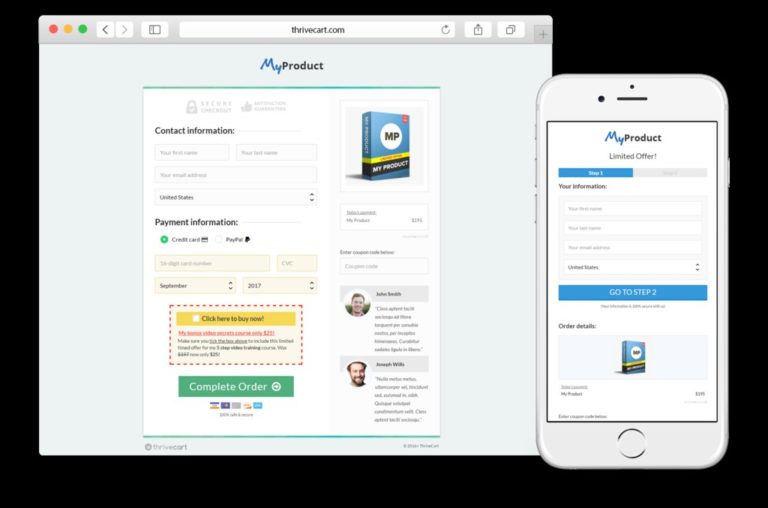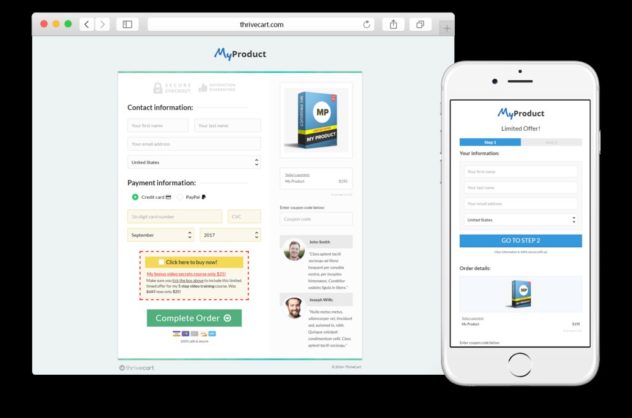 ThriveCart tops my list of the best shopping cart platforms out there! Yes, it is the one I personally use so I am a bit biased but having tried a few of them, I'm here to say, it's a goodie!
Thrivecart offers a whole host of features that let you do virtually anything you could possibly want…including offering coupons, doing A/B testing, upsells, an affiliate center, and the ability to integrate seamlessly with your email marketing service (including your email autoresponders).
I also LOVE that they have beautiful, high-converting cart templates you can choose from: these make your checkout pages look they were designed by a pro, when really, all it took was the click of a button!
No matter what kind of product or service you have, you can sell it with ThriveCart – subscriptions, memberships, online courses, eBooks, physical products, and more.
Full disclosure: I love ThriveCart so much I am a brand ambassador! One of the things I love about their pricing model is that you can pay ONE time for lifetime access.
For me, switching to ThriveCart was a no-brainer because of this option…pay once and never pay again! Who doesn't love that!
Price: Check out the Exclusive offer for my readers at the end of this post for pricing deets!
2. Selz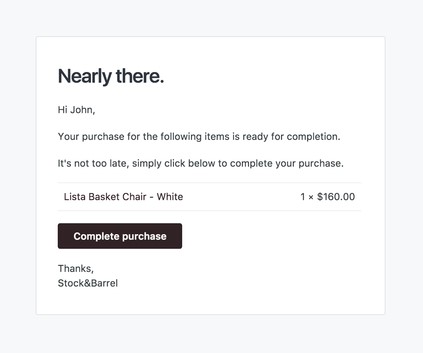 While Selz allows you to create a brand new e-commerce site, they also give you the option of simply adding buy now buttons or widgets to your existing site.  This means you can start accepting payments and selling products immediately!
Selz offers all the usual shopping cart features, like discount codes and coupons, integration with several different email marketing services (like MailChimp and Active Campaign), and the ability to accept multiple currencies.
Price: While Selz does offer a free plan, this plan doesn't include the shopping cart feature. The Standard Plan and Pro Plan DO however let you set up a cart, and these will run you between $23 and $35 per month.
3. PayKickstart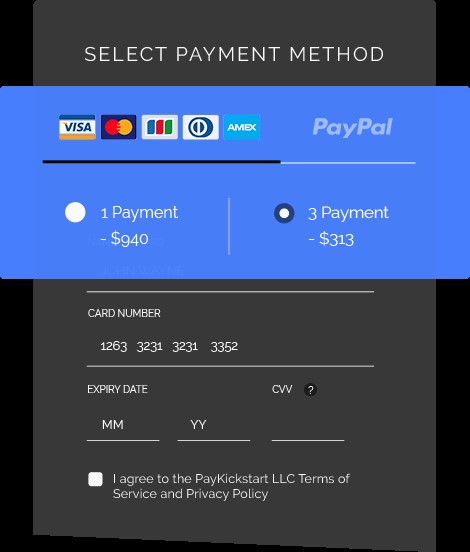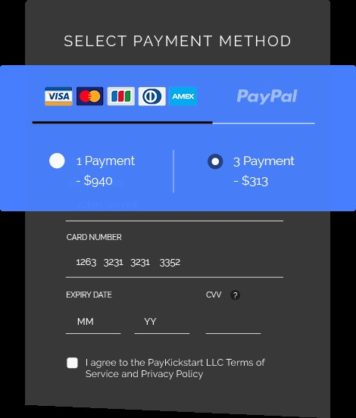 PayKickstart is a great option for setting up one-time or subscription payments, creating checkout pages, and even offering free or paid product trials.
It will also allow you to set up an affiliate program, offer coupons and discounts, and offer "one-click upsells" for those using PayPal or credit cards.
Price: Starts at $29/month up to $149/month
4. 3dcart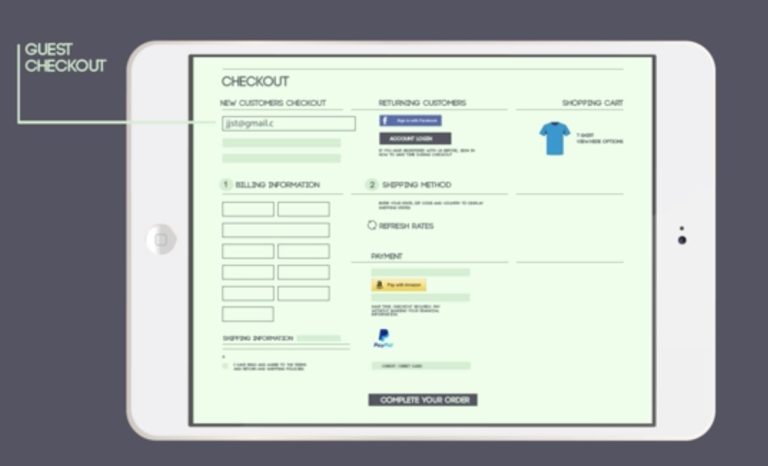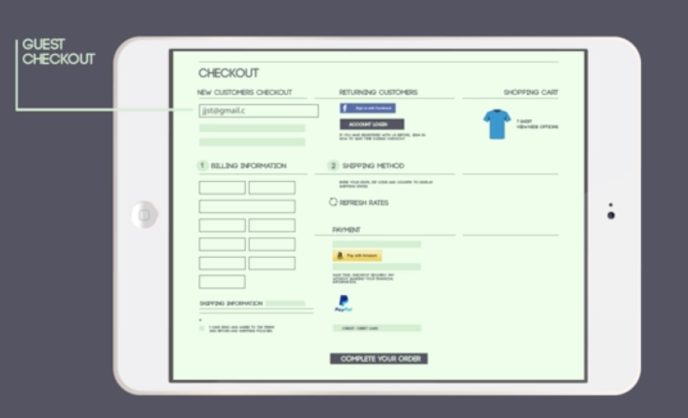 3dcart touts themselves as a "conversion-optimized" shopping cart software. This means they use the latest technology to ensure your checkout experience goes off without a hitch!
Other features of 3dcart include abandoned cart tools, a "wish list" so customers can share their favorite products with friends or family, a gift registry option, and saved carts (so customers can come back to finish up their purchase at a later time).
Price: Starts at $6.33/month for the first 3 months, going up to $19/month after that. The regular price of their other plans ranges from $29/month up to $229/month for a "Pro Store".
5. WP Easy Cart


Have a WordPress site and want a super-simple way to add "buy now" buttons or a basic shopping cart? Look no further than WP EasyCart!
This WordPress plugin allows you to add a cart to your existing site within minutes. While it doesn't come with all the features of some of the other tools on this list, I love that you can try it out for FREE, then upgrade as you need additional features.
Price: The free version is great for trying out the plugin, but probably won't be robust enough to use on an ongoing basic. The paid version ranges from $69-$99/year.
6. AbanteCart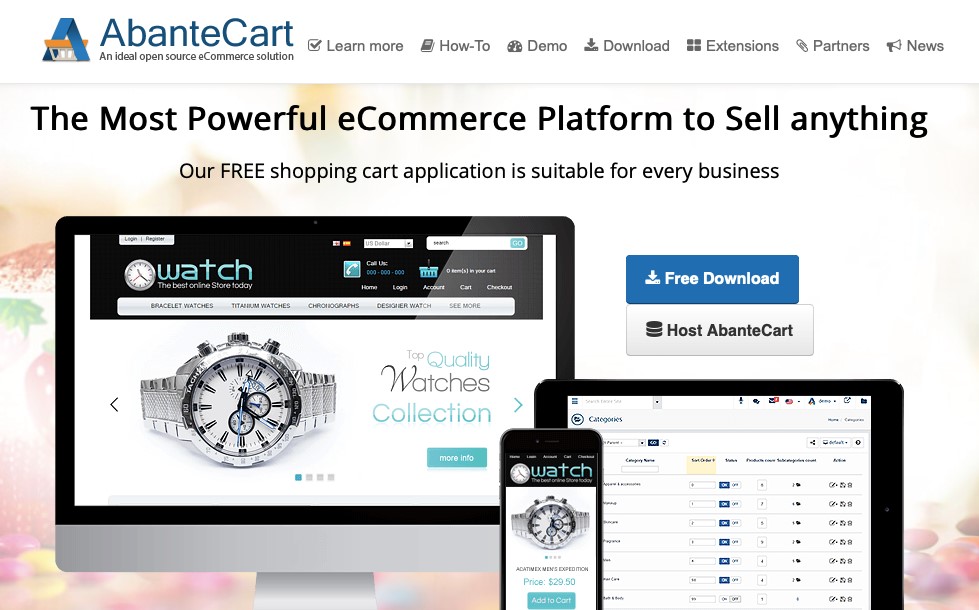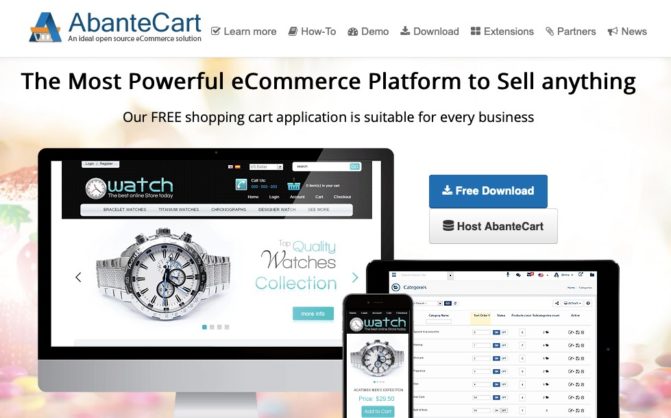 Need a completely free shopping cart? Not just a free trial or free limited-version, but a 100% forever-free option?
Then you may want to look into AbanteCart! This is an open source tool that will let you quickly add products or services to your existing site.
But before you download AbanteCart, you should know – as with most open source tools, the learning curve can be a little steep, and the interface a little clunky.
That said, if you don't mind spending the time to get to know the tool, and need something 100% free, this could be the right option for you!
Price: Free
7. WooCommerce Plugin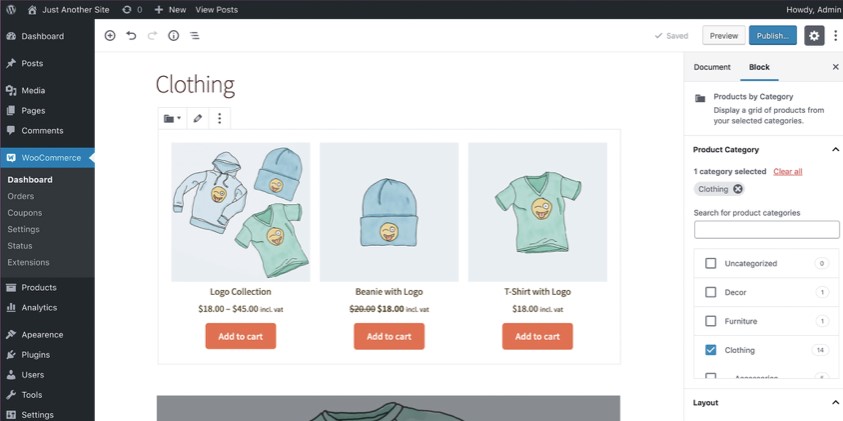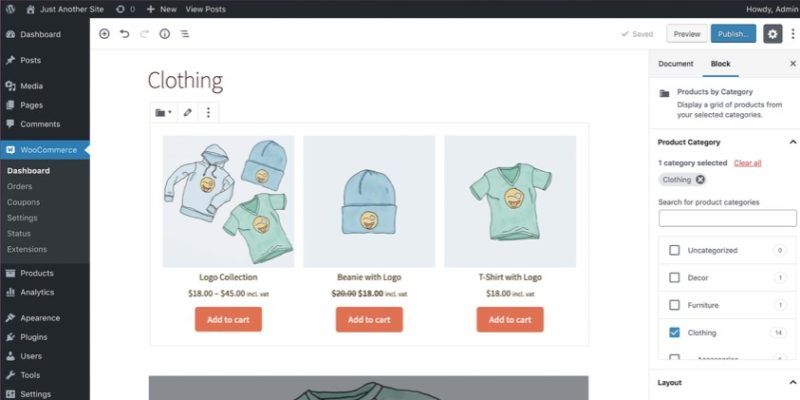 This is another great option if you have a WordPress site. The WooCommerce plugin lets you add products, a shopping cart and checkout pages to your existing site.
WooCommerce lets you accept all major credit cards, bank transfers as well as all the usual payment gateways…like PayPal, Stripe and Square
They also offer lots of additional, paid options to help you take your site to the next level – by selling memberships, accepting subscription payments, taking online bookings, and more.
Price: Free for the basic plugin, but extra "extensions" (like the ability to edit your checkout page fields) will cost you anywhere from $29-$249 each.
8. SamCart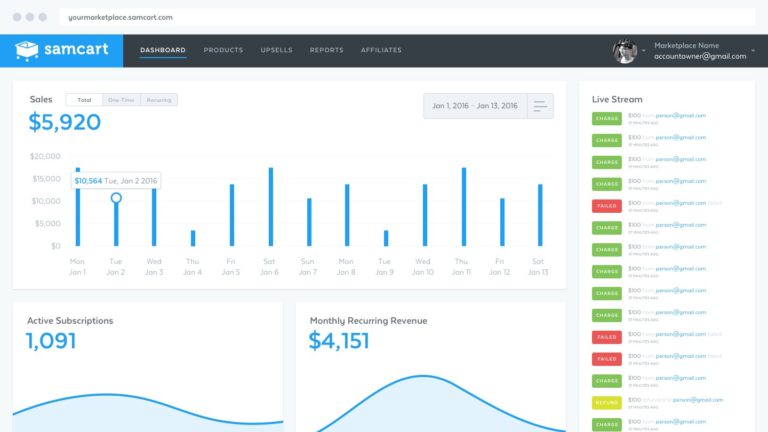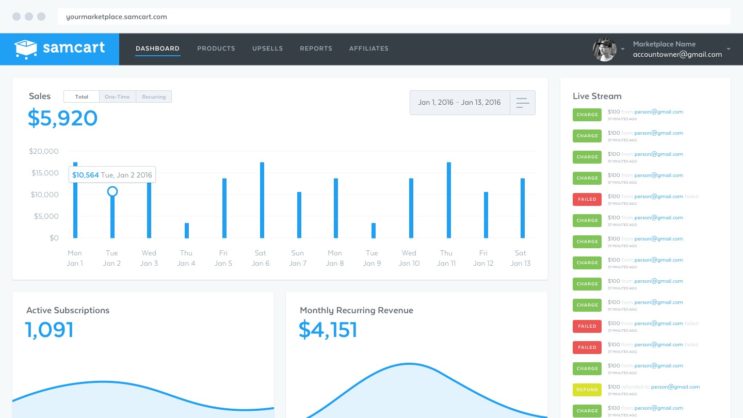 Samcart describes their product as a tool that "helps you create a beautiful page that showcases your product and accepts the order all on the same page".
Like many of the tools on this list, SamCart lets you sell a variety of products, including memberships, subscriptions, or physical products. But where they really shine is if you have one BIG product to sell – like a flagship online course.
They also let you set up one-click upsells, an affiliate program, trial offers, coupons, and more.
SamCart is actually the tool I used before switching to ThriveCart, and I loved it! The big downside with SamCart (in my opinion) is the monthly cost…whenever possible, I prefer to pay a one-time cost and be done with it!
Price: $99-$199/month, depending on the plan.
Final Thoughts
There is no one "right" shopping cart platform out there…there's only the one that's "right" for you and your business!
That said, ThriveCart is definitely my fave and the one I recommend! And, because I'm a brand ambassador, the folks at ThriveCart are very generously offering my readers an exclusive discount:
LIFETIME access to ThriveCart – with ZERO monthly fees – for a one-time payment of just $495!
To see the full comparison, CLICK HERE
For me, switching to ThriveCart was a no-brainer. Within 6-months I had this tool paid for and never have to pay again…I LOVE that!
To get ThriveCart for yourself and to claim this limited time special offer:
So, which shopping cart platform are you going to try? Are you going to take advantage of this AH-MAY-ZING offer from ThriveCart? Let me know in the comments below!
About Author