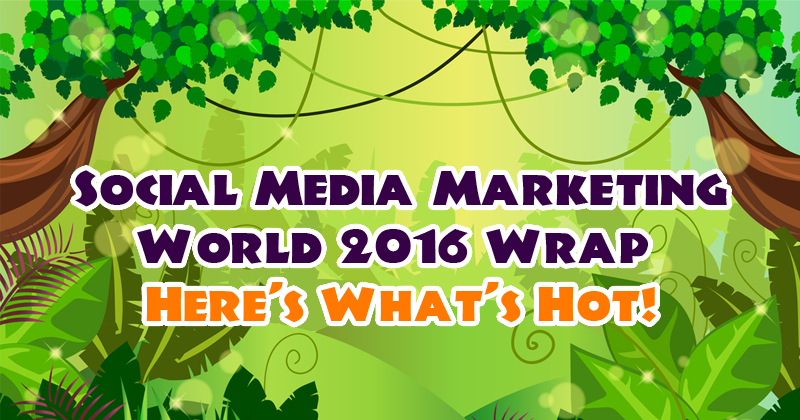 I left Social Media Marketing World last year with my brain a'whirring!
EVERYONE was talking about the emergence of video, and live streaming in particular, as the biggest, most revolutionary thing to hit social media since, well… Facebook!
I remember sitting on the plane flying home thinking,
"I think this is going to be HUGE. I gotta get busy with this!"
And I did!
I immediately revamped my digital strategy, created a Periscope for business course and spoke non-stop to anybody who would listen to me about the power of live video.
Fast forward 12 months…
I just left Social Media Marketing World 2016 where not only did I conduct a "Getting Started on Periscope" talk, but I was blessed to participate in the keynote discussion to the entire conference – all 3,500 people – sharing, guess what?
Live streaming!
Live Streaming Ruled Social Media Marketing World 2016
Last year, I remember a few raised eyebrows around the discussion of which live streaming app would control the market, Periscope or Meerkat (Meer who?) and a theoretical discussion about if and when the big boys (Facebook and YouTube) would join the fight.
This year everybody was on the edge of their seats wanting to know exactly what Facebook and YouTube had up their sleeves as both have made it clear in the last few months that they too are "ALL IN" on live streaming.
Mark Zuckerberg, in particular, has indicated that he will do whatever he needs to do to make Facebook Live a leading player in the live streaming race.
For example, they have tweaked their algorithms to give preferential treatment to people who use Facebook Live. At a time when it is becoming increasingly difficult to get organic traffic with your normal "status updates", Facebook Live broadcasts are getting 10X the free reach! Let me say that again…10x the FREE reach!
Enough said?
Well…almost.
Let me see if I can make my opinion absolutely crystal clear.
The #1 hottest thing at this year's Social Media Marketing World Conference was live streaming.
Click To Tweet
In my humble opinion, you should go "ALL IN" on live streaming yourself, RIGHT NOW and take advantage of the huge bump in reach and attention that this magnificent technology is providing.
[
Related:
4 Reasons Why Facebook "Live" is Now A Leading Player in the Live Streaming World
]
Marketers bet on Snapchat to Cash in on Millenials
While I knew live streaming was going to be a hot topic at the conference, I never guessed how much discussion there would be around Snapchat.
Yes, I knew that conference keynote speaker Gary Vaynerchuk was hot on Snapchat, but I was amazed how many other seasoned digital marketing pros were making big moves in the space.
Why?
The numbers tell the story!
Fact #1. Millenials, those born between 1982 and the early 2000's are reaching an age where they are accumulating a larger amount of disposable income.
Fact #2. Millenials love Snapchat.
How much? 60% of U.S. 13 to 34 year-old smartphone users are Snapchatters!
60% of U.S. 13 to 34 year-old smartphone users are Snapchatters!
Click To Tweet
More than 8 BILLION videos are viewed on Snapchat every day.
More than 8 BILLION videos are viewed on Snapchat every day.
Click To Tweet
That's more than Facebook or anybody else for that matter, and that number is growing at 43.75% PER MONTH!
Marketers love this demographic so much that they plan on spending 5 times as much advertising to it over the next year than any other demographic, and 22% of marketers say they will spend money advertising on Snapchat in 2016.
22% of marketers say they will spend money advertising on Snapchat in 2016.
Click To Tweet
Wow!
Here's a DOUBLE-WOW!
Snapchat is committed to, and already miles ahead in figuring out an advertising model that provides huge gains for it's users. Their first foray into monetizing their platform is the creation of something called a geo-filter.
Snapchat describes geofilters  as "special overlays that communicate the "where and when" of a Snap in a fun way, whether you're sending it to a friend or adding it to your Story".
My definition is a little simpler.
It's a gold mine!
You can pay as little as $5 (FIVE-DOLLARS!) to advertise events, deals, specials, to fellow users who just happen to be in the vicinity at that exact time.
I know, it sounds like science fiction, and yes, there are still a few kinks and details to work out, but talk about a game changing advertising option!
A Final Thought on Social Media Marketing World 2016
As I look back on the conference this year there was one thing in particular which really stuck with me.
It was a quote by Gary Vaynerchuk.
He said he is "a day trader for people's attention."
Honestly, that's so incredibly brilliant!
That's also why Facebook Live, live streaming on YouTube, Periscope and Snapchat are absolutely what's hot now and what will be hot for the foreseeable future in the social media marketing world.
I would love to know if you feel the same way I do about live streaming in the comments section below.
About Author