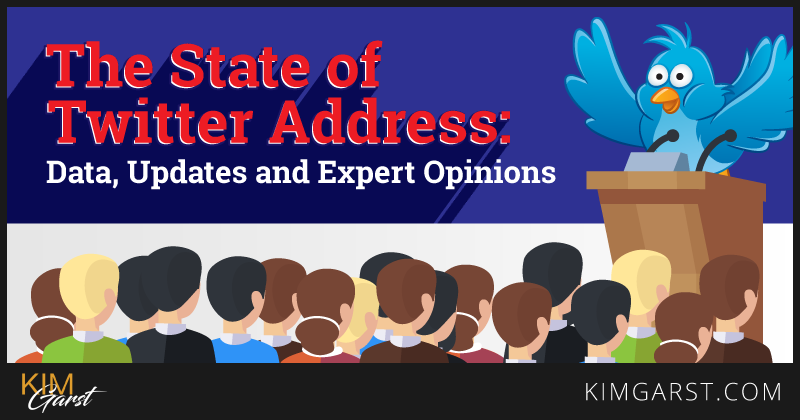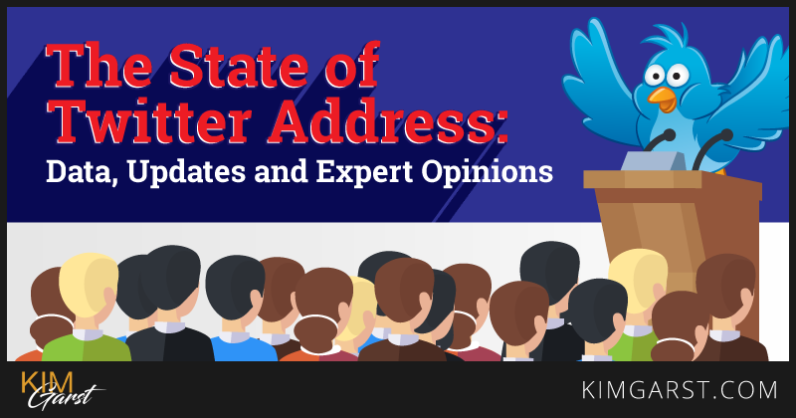 The State of Twitter Address: Data, Updates and Expert Opinions
With the release of Twitter's earnings today, this is the perfect time to take a step back and examine what's happened on the platform in the last quarter.
We'll examine some significant updates, which you've surely noticed. We've also compiled thoughts on the state of Twitter from some of the foremost industry experts including Kim Garst, Ted Rubin, Larry Kim, Peg Fitzpatrick, and more!
But before we dive in to the "State of Twitter," we have some intriguing data to share with you.
Here at Social Quant, we just surpassed connecting over 10,000,000 people and businesses on Twitter and we've amassed quite a bit of data in the process.
One Huge Takeaway from 10 Million Connection's Worth of Data
We're just scraping the surface of the data we've compiled, but one huge observation was immediately apparent: the more you Tweet, the better you will do marketing your business on Twitter.
The main goal of businesses on Twitter is to drive people off of the platform and onto their website. Whether you're promoting your latest blog post, offering a great deal, announcing a new product, whatever – the win is a click through to your content.
With this in mind, we took a look at the top accounts that are driving 20% of all clicks from our big data sample and examined what those accounts are doing differently than those driving the remaining 80% of traffic.
What we found is that the top 20% are tweeting about 80 times a day versus the remaining 80%, who are tweeting just under 14 times a day.
This chart shows the engagement per Tweet for the two groups: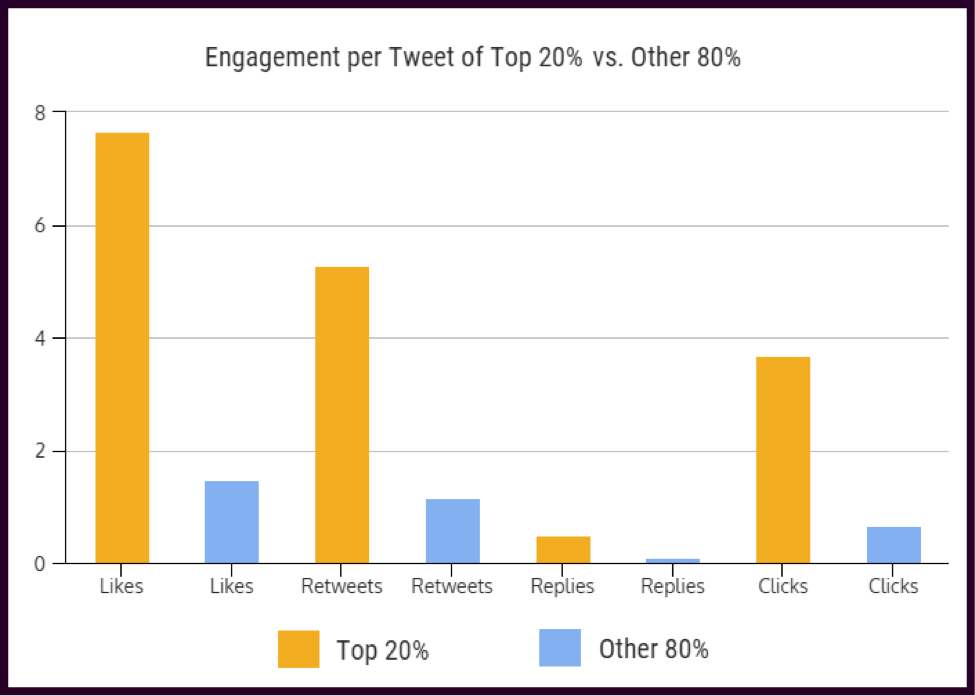 I know what you savvy thinkers out there are saying to yourself: "Of course, if you Tweet more, you'll get more engagement – duh, right?!"
Well, yes, that would be a "duh" moment, except for one thing – these engagement rates are not increasing on a linear basis, as in, "I get 20 likes when I tweet 10 times, so I'll get 40 likes if I tweet 20 times."
No. The data shows the increase is exponential, as in, "I get 20 likes when I tweet 10 times, but I'm getting 80 likes when I tweet 20 times."
Allow me to explain with a real example from the data.
We know the other 80% of traffic drivers tweet 13.68 times a day and gets 9.23 URL clicks. If tweeting more simply increased clicks in a linear fashion, what could we expect from the top 20% group?
Well, let's do the math. For the other 80%, they get an average of 0.67 clicks per Tweet.
Based on the number of Tweets for the top 20%, that average of 0.67 clicks per Tweet would amount to roughly 53 clicks a day. But that's not what the data shows – not even close.
If that were the case, the two graphs below would look identical. But, as you can see, they are far from it: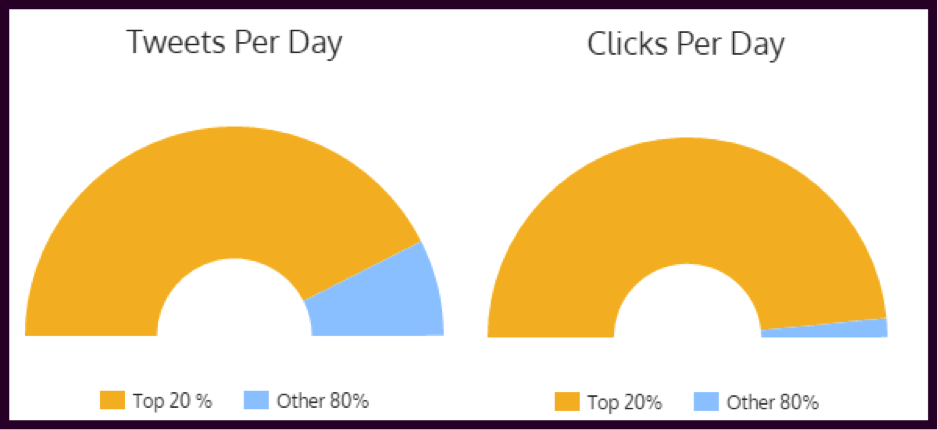 The data reflects the top 20% are averaging more than 291 clicks a day and close to four clicks per Tweet. That's over 30 times as many clicks a day and over five times as many clicks per Tweet!
What this Data Mean to You
As interesting as these numbers are, I'm also a staunch critic of drawing conclusions based on statistics alone. There are many other factors than just numbers at play and I'll be the first to say statistics can be misleading.
Do I think that the average user could replicate the results of the top 20% simply by Tweeting more? No, almost certainly not.
To me, the takeaway from this data is: to get more clicks on Twitter, you have to be more active. But simply being more active isn't enough. You have to examine what you can do to get to a point where you can justify that level of activity on Twitter.
The top 20% are Twitter marketing experts. They understand things like:
How to write great Twitter marketing copy that entices clicks
The power of using great visuals to compliment Tweets
The importance of having more Twitter followers to spread your message
Using a content calendar and automation to schedule Tweets
The effectiveness of a great pinned Tweet with a strong call to action (Nathan Chan, publisher and CEO of Foundrmag.com, consistently rocks pinned Tweets – check out his account for examples!)
The users that tweet this much are typically doing things very, very right and then doing A LOT of it. That's what you should strive to do.
This won't happen overnight for you – and I promise it didn't happen overnight for that top 20% either. The lesson is to slowly build to where you can tweet more often while continuing to provide value with every Tweet.
Great Twitter marketing is a skill that takes practice and experience to get right. This data, properly interpreted, provides some great insights on how you can start improving your efforts right now.
Twitter's Updates from this Quarter
In an ongoing attempt to grow the platform, expand to new users, and make current users more active, Twitter has implemented a number of updates this quarter.
Let's take a closer look at some of the biggest changes that will affect your Twitter marketing.
Twitter Adds The Ability to Apply For a Verified Account
The blue check mark goes public! Twitter has rolled out the ability for anyone who has a Twitter account to request a verified, aka blue check mark, account. You can now request that Twitter review your account by filling out a form. Your account has to have a verified phone number and email address, a profile photo and you will need to give them some supporting info on why you should become a verified account. Until recently, Twitter was pretty stingy with the coveted blue check marks and only doled them out to celebrities, political figures and big brands. The shift in adding an application process is huge.
"We want to make it even easier for people to find creators and influencers on Twitter so it makes sense for us to let people apply for verification," said Tina Bhatnagar, Twitter's vice president of user services, in a statement. "We hope opening up this application process results in more people finding great, high-quality accounts to follow, and for these creators and influencers to connect with a broader audience."
Social selling strategist and live video pro, Kim Garst, loves this new opportunity.

"Having the ability to apply for a verified account is very exciting for influencers and business owners! It levels the playing ground from a social proof standpoint."
Twitter to Remove Handles and Images from Character Count
These updates technically haven't happened yet, but I'm on the edge of my seat waiting for them.
Twitter announced in late May that handles in replies and media attachments will no longer count against the 140 character count. Twitter stated these updates "will be available over the coming months," so we should expect them any time now.
Not surprisingly, visual content expert and all-around social media rock star Rebekah Radice praised these updates.

"There are several recent Twitter updates that improve the experience and opportunities for marketers to connect, engage and build a solid following. As someone who embraces visual marketing, the most notable is Twitters decision to remove usernames and images from the character count.
Previously, responding to several users while including an image put huge limitations on the conversation. This change will open that door, allowing for a more vibrant, interactive community. As Twitter continues to work towards an easier, less daunting platform – this is definitely a step in the right direction."
Tweet GIFs Directly from Mobile App
Gone are the days of having to download GIFs to your computer and Tweet them only from a desktop or laptop. You now have access to a searchable library of GIFs in the mobile app that makes it awesomely easy to Tweet GIFs.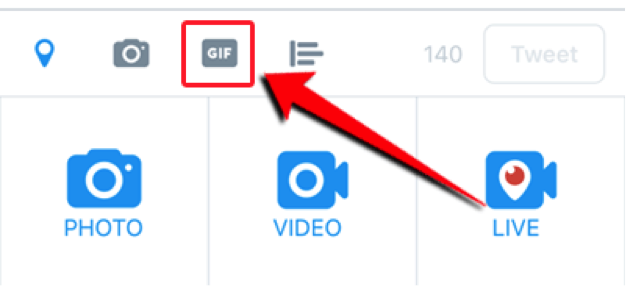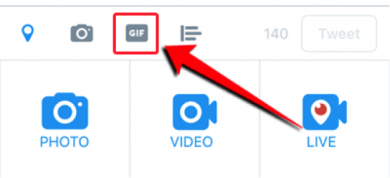 Peg Fitzpatrick, speaker and author of "The Art of Social Media," is a big fan of this feature!

"My favorite new feature is adding GIFs inside the app. It's made it much easier to share fun things quickly."
ReTweet Your Own Tweets
Last month, Twitter rolled out an update that allows users to retweet themselves.
While many voiced displeasure and/or confusion about this feature, there are some interesting potential uses for it.
One, if you have a Tweet with a lot of engagement already, sometimes that social proof makes it a good idea to retweet it rather than create a new Tweet with essentially the same content.
Bruce Van Horn, author, speaker, and host of "Life is a Marathon" podcast also has a great tip for the retweet yourself feature.

I also love the ability to retweet your own Tweets. This is really helpful when I want to share with my entire audience a reply to a specific user without needing to use ".@"–I just reply to the user, then click retweet, and off it goes to my over 432K followers!
Twitter Invests in Streaming Music Service SoundCloud
Twitter invested roughly $70 million dollars in SoundCloud, a streaming music service in June. This obviously has the potential to be a great partnership for the two platforms, but how that will shake out is not yet clear.
Per a statement from a SoundCloud spokesperson, "Both companies facilitate and inspire contemporary culture to happen in real time while reaching millions of people around the world. This investment will enable SoundCloud to remain focused on building value for creators and listeners alike, and to continue the global rollout of many company initiatives such as our recently launched subscription service, SoundCloud Go."
Whether Twitter plans to incorporate the streaming music service into its platform, and how it might go about that, remains to be seen.
Twitter Steps it Up with Video
On June 21, Twitter increased the length limits on videos from 30 seconds to a nice round 140 seconds – a well-received update for sure.
The announcement was made from the official Twitter Video account in the form of – you guessed it – a video Tweet:
Donna Moritz, founder of the award winning business blog Socially Sorted, had this to say about the update:

"I am also loving the increased video length – 140 seconds is a really good amount of time to share a story at just over 2 minutes. In reality, most videos should be about this length if you want to capture attention and get people to take action with snappy content, so this is a great move from Twitter."
Bruce Van Horn also weighed in with his thoughts about the increase:

"Since I'm also an active user on Instagram, I was thrilled to see Twitter increase the length of videos in Tweets from 30 seconds to 140 seconds. Now I don't have to trim down my Instagram videos to share on Twitter!"
In addition, Twitter has added a Live button that allows users to easily connect and broadcast live video with the Periscope app and allows viewers to watch the broadcast without leaving the Twitter app.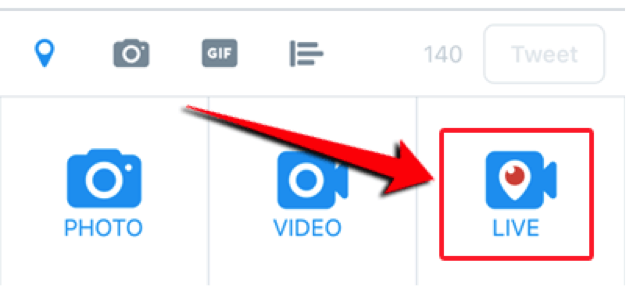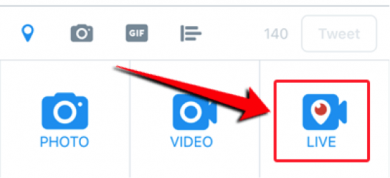 Donna Moritz also has some thoughts on the new Live button:

"What I am loving from Twitter is the integration of Twitter Live so that live broadcasts are not just limited to the Periscope app but are shared automatically on the Twitter newsfeed. It helps you to reach your entire audience of Twitter followers.
However, it is still a little disjointed and not truly "Live" in Twitter, as Twitter users have to go to the Periscope app to engage and comment. As of writing this, the Go Live video button simply pulls you out of Twitter and into the Periscope app. Those that want to watch only, can still do so within the Twitter feed, however, commenting can only be done by having the Periscope app installed."
And speaking of live streaming…
Twitter Betting Big on Live Streaming Events
In case you missed it, Twitter tested streaming live sports at Wimbledon earlier this month. While it wasn't heavily promoted, it did give a glimpse of what's in store for live streaming on the platform in the coming months.
Per an announcement from NFL Communications, "the NFL and Twitter will provide free, live streaming video of Thursday Night Football without authentication to the over 800 Million registered and non-registered users worldwide on the Twitter platform on mobile phones, tablets, PCs and connected TVs."
Twitter has also inked a deal with the Pac-12 Network to live stream collegiate athletics over the 2016-2017 academic year. While football games won't be broadcast, it will feature Olympic sports such as soccer, volleyball, gymnastics, baseball, ice hockey, swimming & diving, softball, track & field, wrestling, lacrosse, tennis, and water polo.
Finally, Twitter has reached an agreement with Bloomberg to live stream three daily news shows: "Bloomberg West," "What'd You Miss?" and "With All Due Respect."
Per Bloomberg Media CEO Justin B. Smith, "By partnering with Twitter, viewers from all over the world will now be able to leverage a powerful, real-time platform to consume and react to the news, accelerating our position as a leader in global business video, and offering new and innovative opportunities for our marketing partners."
Michael A. Stelzner, CEO and Founder Social Media Examiner, gave his two cents on Twitter's aggressive foray into live streaming.

"Twitter's move to live video broadcasting has impressed me. Their recent live broadcast from Wimbledon, along with new deals to broadcast news and sports is an exciting move for the company."
Expert Opinions on the State of Twitter
I also had the chance to pick the brains of some of social media's biggest influencers to get their general take on what's been happening with Twitter in the last quarter. Here's what they had to say:

"I personally want Twitter to do well but I fear they are in trouble with respect to SnapChat and all the other social networks surpassing them in monthly active users.
"I wish Twitter could be more idiot-proof for new users and make the algorithmic timeline much better at surfacing the best stuff because there is still so much junk on the feed."
Larry Kim, WordStream Founder & Top Columnist for Inc. Magazine

"I really love that they are FINALLY deep diving into their community and understanding what makes the Twitter community so amazing! I have seen them take more positive steps in the past 2-3 months than I have in years. This makes me one happy gal as I luv Twitter!! As they continue to incorporate the live video element more fully and create more functionality, I think they will be a major source for news and in the moment experiences."
Kim Garst, Social Selling Strategist and Author of "Will The Real You Please Stand Up"

"I think Twitter should do whatever positively affects three things… their stock price (I am a shareholder), their usage numbers because I want the platform to stay available and valuable from a marketing and engagement perspective, and finally what is needed to remain the most valuable real-time-news/trend/insight source."
Ted Rubin, Social Marketing Strategist

"Twitter continues to play catch up with other social networks that have "out-innovated" them but have released some innovative technology of their own recently, especially about video and livestreaming. However, they still have a long way to go in integrating Periscope into Twitter as a whole as well as playing catch up with Facebook in their ads platform."
Neal Schaffer, Author of "Maximize Your Social"

"The Engage app (iOS and US only, sorry) is a great add-on for creating a better Twitter presence. It's a little like the Facebook Mentions app giving you only focused information. Engage shows you activity from these Twitter users:
Super fan: One of your most loyal fans. This type of fan(s) actively engages with you, and has generally followed you for a long time.
Influencer: A Twitter user with a large following, with the potential to influence your account engagement.
Verified user: The verified Twitter account for a brand, business, or person, indicated with a blue check icon next to their name."
Peg Fitzpatrick, Speaker and Author of "The Art of Social Media"

"As far as something I'd like to see [Twitter] add, it's actually something I'd like to have back in the iOS app–the ability to save a video, like I have the ability to save a photo.
"Again, I do a lot of sharing across social media platforms and I often want to grab a video from Twitter to share on Instagram and Facebook. Not sure at which version they took it away, but I really want it back!"
Bruce Van Horn, Host of "Life is a Marathon" Podcast

"Encouraging the right conversations (and muting the noise) is something I'd like to see [Twitter] work harder at. It can be confusing to new users when their stream produces an overwhelming amount of never-ending content. Adding a highlight/notification option (similar to Facebook's "close friend's" feature) would encourage interaction at a whole new level."
Rebekah Radice, Award-Winning Social Media Writer/Strategist

"One thing that I am finding challenging though is the way Direct Messages have evolved on Twitter. Unfortunately there is such a culture of Auto-DMs (despite so many people being annoyed by them) that it's ruined it for those of us that want to send a bonafide, personalised direct message.
"I wish Twitter would do something to change this or educate people better about Auto DMs and their un-coolness.
"HOT TIP: I use a great tool, Agorapulse for engagement and catching all my mentions online. It has an awesome feature for filtering out Direct Messages so you are more likely to catch the legitimate ones."
Donna Moritz, Founder of Award-Winning Business Blog Socially Sorted
Final Thoughts on the State of Twitter
As you can see, there are some exciting things going on in the Twitterverse…and some room for improvement.
The new features rolled out this quarter have been well received and great additions to the platform.
However, there is still work to be done to increase users and usage. The expert consensus is that this can be accomplished by improving user experience and thereby shortening the learning curve for new users and encouraging current users to be more active.
What are your thoughts about the State of Twitter? Let us know in the comments section!
About Author