You've probably heard of Google+ hangouts.  If not, they allow you to host video conferences with up 9 other people at once.  Hangouts totally take phone conferences to an amazing new, FREE level.
But now, you can host Google+ Hangouts "On-Air" which means that you can broadcast a Google+ Hangout to an unlimited audience. This is not just for the first 9 people, but also for as many people as possible! Until recently, this feature was only available to big businesses and select audiences.
If that isn't good enough, Google+ Hangouts On Air also gives you the capability to record your session to later post and share!
So, how do you REALLY record your Google+ Hangout?
1. Log into Google+, open your homepage and click on "Start a hangout".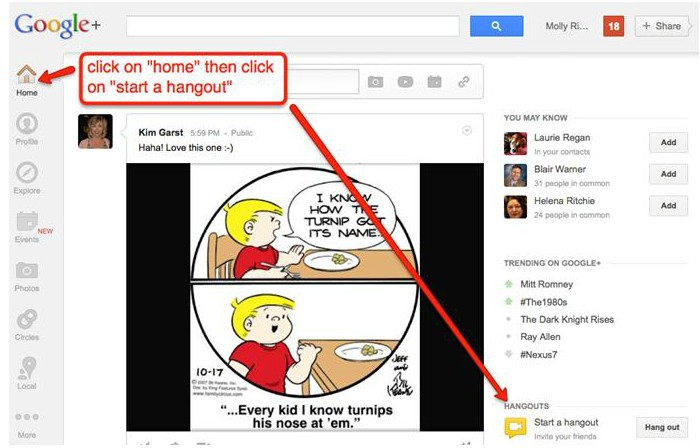 2.  Name Your Hangout and Invite People.
Recording Tip #1: Give your hangout a unique name.  This way other people won't accidentally jump into your hangout because they are trying to start one with the exact same name.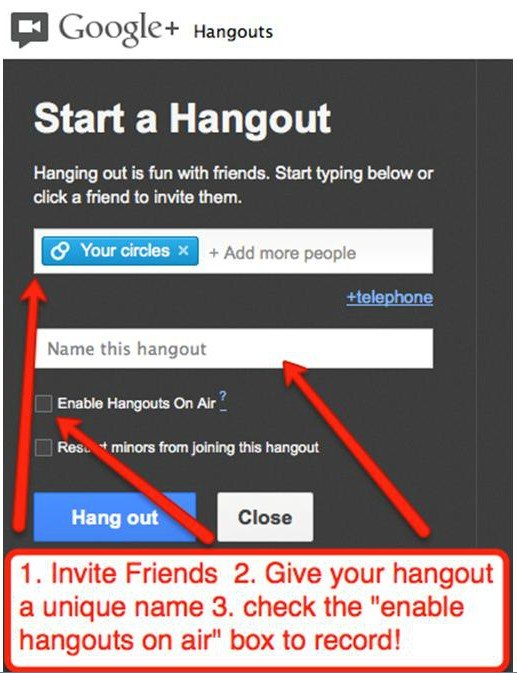 3. Check the "enable hangouts on air" box to record your hangout!
See the picture above.  There, you will find the box to enable hangouts on air so that you can record it.
NOTE:  This will also cause your hangout to be aired LIVE on your YouTube channel and on your Google+ stream.  This is a GREAT automatic feature because any of your followers on YouTube and Google+ will be reminded to join when they see you talking live!
Anyone who joins into your hangout will be notified that the hangout is being streamed live on YouTube. This way, if they wish not to be apart of the hangout they can choose not to enter.
4.  Agree to Google's Terms of Service
As with any terms of service it will behoove you to READ through them the first time.  This way there are no surprises later.  This is especially important if you are hosting the hangout for another company or your boss.
5. Click Continue to Start Your Google+ Hangout –
When you click continue your Google+ hangout session will start.  You will then have the choice to either wait for others to join you or start broadcasting live without them.
6.  Recording Your Hangout
Once your broadcast starts, you will want to click on the red "start broadcast" button. There will be a 10 second countdown to your live recording. This is your chance to adjust your hair, smile and breath!
7.  AFTER your Hangout –
Your video may take up to an hour to process before appearing on your YouTube channel.
Once it has uploaded to YouTube, you can edit it on your "Video Manager" page.  You can also share the link to the video from your video manager page.
Recording Tip #2:
Unless you've already recorded and uploaded a number of videos to YouTube your account probably has a 15minute video limit.  This means that you will not be able to upload a recorded hangout that is more than 15minutes long.
To get around this restriction, log into YouTube and click on the link below to request more space.  
http://support.google.com/youtube/bin/answer.py?hl=en&answer=71673
If you don't complete this step before you host your Google+ hangout YouTube will automatically cut it off after 15 minutes.
Recording Tip #3:
Before you jump into a presentation you can plan to incorporate a number of great apps to enhance your hangout.  Two great apps include Scoot and Doodle and Cacoo.  Scoot and Doodle is a fun app that allows you to draw on your screen as well as offering many other features! To check it out visit: http://scootdoodle.com/
Cacoo allows you to create diagrams online with real time collaborations. To check it out visit: https://cacoo.com/
So, now that you know how easy it is to record a Google+ Hangout, when are you going to get in there and play?
How will you use this for your business? 
About Author