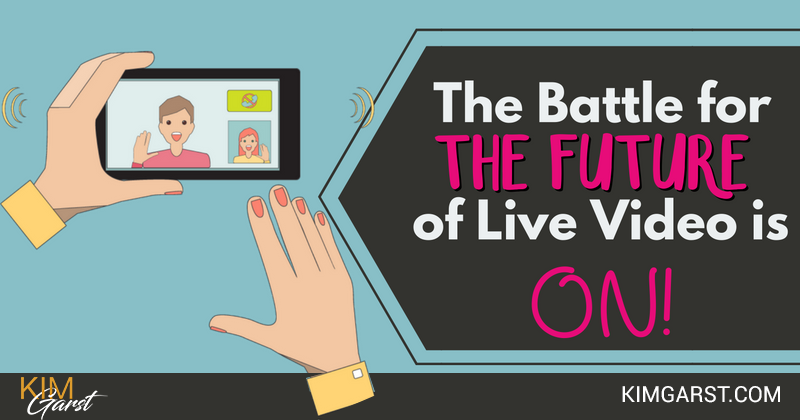 The battle to be the "go-to" resource for live video is ON!
Facebook, Periscope, and YouTube are locked in a three-way fight for your business, and that, as you will see in just a minute, is VERY good for you.
Which one will prevail? Only time will tell, but I do have a prediction <grin>.
One thing I know for sure is that live video is here to stay! Ask anybody,  I LOVE live video and consider it a vital part of not just my social media, but my entire digital strategy.
Why?
Sharing live video broadcasts can help you connect with your prospects and community in a whole new way while also making your brand more real, more relatable and more accessible.
Now, back to the battle!
The awesome part about 3 giants wanting to exclusively rule (these guys aren't big on sharing) the live video arena is that they have to compete for YOUR attention.
How do they do that? By spending big bucks adding features designed to make their sites irresistable to you. Want proof? Here are just a few of the recent "upgrades" the "Big 3" have made recently.
Latest Updates In The World of Live Streaming
Periscope:
Owned by Twitter, Periscope added these updates over the past summer:
1. Replay Highlights
You can show the best moments from any previously recorded Periscope broadcast. Periscope chooses the best moments using "signals" such as viewer counts, comments, and hearts from the broadcast.
I am not 100% sold on the highlight reel for individual Periscope accounts, but it does show Periscope's desire to increase functionality.
2. Embedding
This new option allows you to embed Periscope streams on other websites. If you can embed a tweet, you can embed a Periscope broadcast. This is more about an integration of Twitter and Periscope than a new function.
3. Find People On Periscope With Your Phone Contacts
I have mixed feelings about this because I am always a little leery passing on my contacts' information without their permission.
4. Autoplay Broadcasts On Andriod
Android-specific, at this point, live broadcasts set to autoplay in the Watch Tab and Global Feed. Videos play without sound.
Facebook Live
 We all know how fast Facebook changes. Here are the latest updates on Facebook Live.
1. Longer Videos
The length of live streams for all users is now four hours, that's double the original duration.
2. Broadcast In Full-Screen
In iOS, you can broadcast in full screen in both landscape and portrait modes. In Android, you can broadcast full screen in portrait. Landscape mode is coming soon.
Streamlining Viewer Experience: A video only option is available. Users can hide comments and reactions to reduce any distractions. You can also overlay your videos with filters (think Snapchat).  Streamers can schedule broadcasts and develop a virtual lobby for viewers.
Geo-Targeting: Facebook calls this "geogating." You can now target or exclude people by location, gender, and age.
Broadcast From Two Different Locations: Think of this as broadcasting with a friend. This is a great tool for creating remote interviews. Verified Pages get the first run on this feature, but it will expand to other users shortly.
YouTube
As many of you know, YouTube is owned by Google. YouTube Live's ease of use is always a positive.
The birthplace of video added 360o Live Streaming and Live Audio. This is a great feature for those broadcasting events or festivals.
Who Will Win The Battle Of Live Video Feed?
As I mentioned above, only time will tell, but at this moment, my money is on Facebook Live.
Why do you ask?
First, Facebook is the largest social media platform with over a billion and a half monthly users.
Second, Facebook adapts quickly and is prepared to spend a ton of money on development.  Also, Mark Zuckerberg has publicly stated he is obsessed with live video and that he wouldn't be surprised if Facebook was almost entirely video-based in the future.
Translation… "We plan on ruling live video forever!"
In my opinion, Facebook already has, or is prepared to buy or build the best features of all the other live streaming platforms.
Want to see what I am up to with live video? Check out the recordings my live broadcasts on Periscope , Facebook, and YouTube.
I would love to hear about your successes and challenges in using live video feed. Drop me a comment below and tell me your experiences with live streaming.
About Author