Ever wonder why some social media and blog posts get significantly more attention than others? Maybe you have even promoted the exact same content several times to your Facebook fans, and seen different click-through rates each time.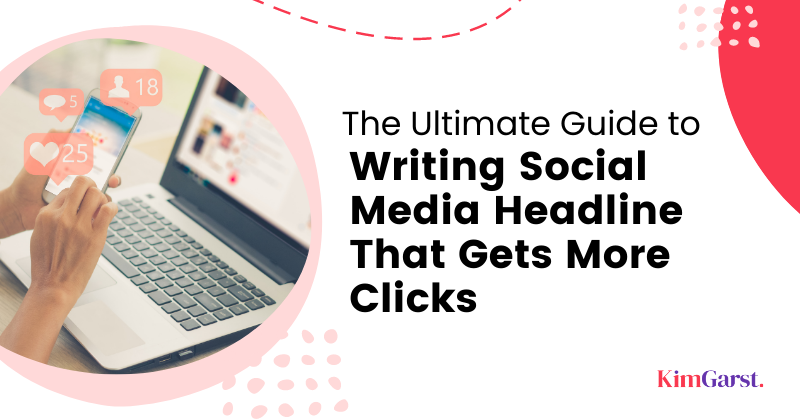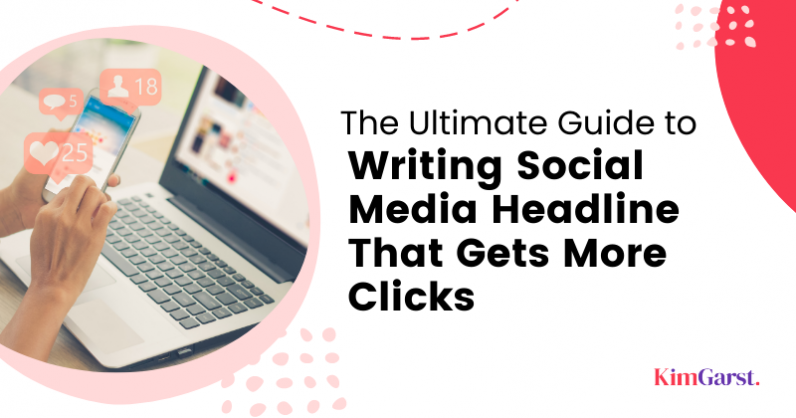 While this can seem arbitrary, the difference may lie in just one small element of your blog post, Facebook update or tweet: your headline.
Think your headline isn't really that important?
According to Quick Sprout, tweaking a headline by just one word can result in up to a 46% increase in click-throughs.
According to Quick Sprout, tweaking a headline by just one word can result in up to a 46% increase in click-throughs.
Click To Tweet
If just one word can make such a huge difference, don't you think it would be well worth your time to figure out how to make the most of your social media headlines?
This post will give you ideas and strategies for coming up with the BEST social media headlines that get more clicks.
Be sure to let me know your thoughts at the end of this post!
What Exactly Do I Mean By 'Headline'?
Everyone knows and understands what we mean when we talk about the headline of a blog post. But what exactly is the headline of a tweet or Facebook post?
Throughout this article, when I refer to the headline of a social media post, I am referring to one or two sentences within your tweet or post copy, the ultimate aim of which is to capture the attention of your viewers and to elicit a click.
In fact, due to the space limitations imposed by social media, in many cases your entire social media post will be your headline!
[Tweet "With a blog post, the aim of your headline is to get people to read the rest of your article. "]
On social media, however, the aim of your headline is to get people to click your link. Because of this difference, I have broken the rest of this article into two sections: We will start with social media headlines, and finish up with blog post headlines.
SECRETS FOR SOCIAL MEDIA HEADLINES
Following you will find a number of tips specifically for eliciting clicks when posting on social media. While some of these tips are network-specific, all are worth testing on various social media channels.
It's important to note: While engagement metrics like shares, retweets, comments and, likes are obviously very important, for the purposes of this article I'm focusing only on clicks. Although, most of these tips will result in increased engagement on all levels!
1. On Twitter, Ask for the Download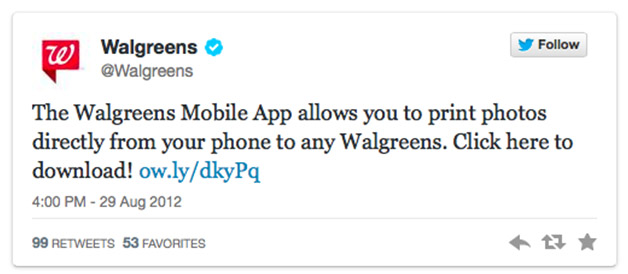 While this tip could probably be considered more of a call to action and less of a headline, its impact on click-throughs is so significant I couldn't leave it off this list.
After analyzing around 20,000 promoted tweets, the folks at Twitter determined that the single most effective call to action was asking people to download something. In fact, tweets that specifically asked people to download something via a link received 13% more clicks than average.
What this means for you: If you don't already offer an incentive for signing up for your email list, you may want to consider offering a free downloadable product with signup. Promote the product via social media, and use a clear call to action like 'Click here to download'.
2. Short and Sweet Wins on Facebook
We know that shorter social media posts tend to outperform longer ones. In fact, on Facebook, posts between 100-250 characters receive 60% more engagement than posts that are longer than 250 characters.
So what does this mean for your Facebook headlines? Obviously your headline – that sentence or phrase that's meant to capture the attention of your followers and get them to click on your link – needs to be short, sweet, and it really needs to pack a punch.
Resist the urge to include too much information, and instead focus on merely hinting at your content. Give a very brief excerpt from your blog post, rather than giving it all away. Your goal is to pique interest, not to write a book!
3. On Facebook, Always Use an Image.
While an image on Facebook can't technically be considered a headline, because of its impact on click-through rates it's definitely worth mentioning here. According to research done by Kissmetrics, posts with photos receive 84% more clicks than those without.
When in doubt, add an image!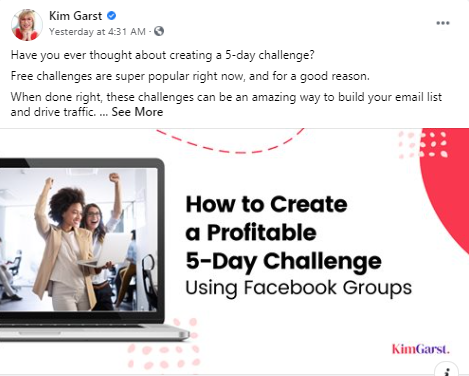 Facebook posts with an image will always outperform those without
4. On Twitter, Be Sure to Try the Best-Performing Keywords
According to research by Dan Zarella, there are certain keywords you can include in your tweets that will increase the likelihood that your content gets retweeted. And while he doesn't mention their impact on clicks, I can only image there would be a strong correlation between the two.
According to research by Dan Zarella, there are certain keywords you can include in your tweets that will increase the likelihood that your content gets retweeted. And while he doesn't mention their impact on clicks, I can only image there would be a strong correlation between the two.
Click To Tweet
By examining approximately 10,000 of the most retweeted tweets in his database, Dan came up with a list of the 20 most retweetable words and phrases.
I would encourage you to try including these in your Twitter headlines where relevant and see how they perform. Please note: these are listed in order of their popularity.
You
Twitter
Please
Retweet
Post
Blog
Social
Free
Media
Help
Please retweet
Great
Social media
10
Follow
How to
Top
Blog Post
Check out
New blog post
5.      Use More Action Words
Another fabulous, research-based tip by Dan Zarella is to use more verbs and adverbs and, less nouns and adjectives. According to his analysis of 200,000 tweets containing links, tweets with adverbs and verbs consistently had higher click-through rates than tweets that were heavy on nouns and adjectives.
This makes sense, given what we've learned throughout the history of advertising. Famous adman Leo Burnett even once said, "Dull and exaggerated ad copy is due to the excess use of adjectives." In other words, overusing adjectives can make your headline sound fluffy, wordy, and well, boring.
Some action words or phrases you can consider using may include save, boost, earn, act now, launch, achieve or earn. When possible, make sure to use the present tense of your verbs, even though at times the past tense would also be accurate.
For instance, instead of saying 'Expert secrets revealed', try using more action-oriented words using the present tense: 'Experts reveal top secrets'.
SECRETS FOR BLOG TITLE HEADLINES
Perhaps even more important than social media headlines are your blog post headlines. After all, when you promote your blog posts on social media, your post title will usually be included in your tweet or Facebook post.
Unfortunately, many marketers and business owners don't fully realize the impact their headline can have.
They don't think about the fact that without a catchy or intriguing headline, many people won't even bother to click on the post. People will never even see that content they slaved away at for hours!
According to CopyBlogger, [Tweet "8 out of 10 people will read headline copy, but only 2 out of 10 will read the rest"].
This means that your headline has some heavy lifting to do…it sounds silly, but it can truly make the difference between a post that flops, and one that goes viral. After all, if no one bothers to click on your post, how can it possibly get the attention it deserves?
For the rest of the post, I am going to cover some ideas for eye-catching headlines that will get your readers to actually read your blog posts. Following that, I will give you a list of 30 sample headline templates you can use the next time you are trying to write a headline!
(Many thanks to Startup Moon for some of these research-based tips!)
Use words commonly found in viral posts: surprising, science, history, hacks, huge/big,  and critical.
Use social network names. Posts with social network names in their headlines get shared the most (for instance, 'What Facebook Doesn't Want You to Know'.)
People want to learn. Use learning words like 'Introduction', 'The Beginners' Guide' and 'DIY' in post titles.
Keep your headlines short and concise. The goal of your headline is to simply catch the attention of your readers, not to convey the entire content of your post!
List posts are still popular and effective. While some believe list posts are overused, many marketers find they are still very effective at encouraging click-throughs.
Use a sense of urgency. For instance, 'Ten Things You Should Do Right now' or 'Fix These Common Mistakes Or Risk Losing it All'.
Use the negative form of a word instead of the positive form. For instance, a post named '5 Worst Pieces of Blogging Advice' will likely outperform '5 Best Blogging Tips'.
Don't be tricky. While there is some creative license allowed in headline writing, your headline should be an accurate portrayal of the content of your post.
Use a tool to help you come up with new headline ideas. One of my favorites is the Portent Content Idea Generator.
Use action words. Just as with social media headlines, action words will be more likely to jump out at your readers. When possible, use action-oriented, present tense words rather than the passive, past tense.
Be specific. You may think that using a more general headline will appeal to the widest audience as possible, however, this is usually not the case. Your headline should give a clear indication of the specific topic of your content.
Be controversial. Occasionally, you may want to use a bit of controversy in your headline to turn a few heads. For instance, Apple enthusiasts (some of the most die-hard fans on the planet) won't be able to help themselves with a title like 'Why Apple Is Failing at Their Social Media Strategy' (which they aren't, by the way!).
Use a benefit. You already know the old copywriting rule, 'benefits not features'. Well, this hold especially true for headlines. Your headline should convey how your product or information will HELP people, not how great your product is.
Use question words. Using question words like How, What, When, and Why are still very effective at eliciting clicks. For instance, rather than using 'Top Skills Leaders Have', try 'How Leaders Succeed Using 5 Common Skills'.
Be unique. Don't use the same headline as someone else just because it worked for them! Add some of your own ideas and personality and make it original.
Spin a popular headline. When writing a headline, do a quick Google search for posts on the same topic. Find one that's been particularly popular, and figure out what you can learn from it.
Evoke emotion. Using your headline to evoke feelings of happiness, anger, or even fear may improve your click-through rates; just be careful about stepping over the line into being manipulative!
Use insider information. Posts that promise to reveal insider information are always popular, as long as you can actually deliver.
19.  Capitalize the first letter of each word. Most copywriters agree that this is the most effective format for your headlines. Avoid using CAPS for all letters or risk being seen sa spammy!
Don't get fancy. While a fancy headline with lots of big words may look good to you, it's unlikely to generate the level of interest you're after. Avoid being fancy, and focus instead on giving a simple, clear idea of what your post is about and how it will help your readers.
30 Sample Headlines You Can Use for Your Own Blog Posts
Sometimes the best motivation for writing a winning blog post is seeing what headlines have worked well in the past.
I will leave you with some headline templates that have been proven effective time and time again. The next time you're stuck coming up with content ideas for your blog, try running through this list and choosing a headline that inspires you!
The Secret of ________
Top 10 Ways to ___________
Why _________ Never Fails
How ___________ Can Help You Succeed
What __________ Doesn't Want You to Know
Why __________ Isn't as Bad as You Think
5 Tips for Helping You ____________
How to ___________
If _________, then you can ____________ (e.g. If you can sew a hem, then you can make this quilt)
What Everyone Should Know About _____________
The Beginner's Guide to _______________
4 Keys to _____________
10 ___________ the Experts Use (e.g. tools, formulas, products)
How Many Times Have You ____________? (e.g. tried to change a tire and failed)
20 __________ Mistakes and How to Avoid Them
The Truth About _________________
The Ultimate Guide to ________________
___________ Made Simple
5 Minutes to a Better _____________
Here is What Happens When ______________
Before You __________, Read This Post.
What Happens When _____________
You Too Can ______________
How to ____________ in Less Than an Hour a Day
7 Types of ___________ That Will Help You __________
Case Studies That Prove ______________
Do ___________ Like a Pro
20 Genius Hacks That Will Help You ____________
10 Examples of _____________
5 Things I Wish I Had Known About _____________
I hope this post has given you some insight that will help you on your mission to create the most captivating, enticing headlines possible. Keep in mind that the quality of your headlines – both on social media and on your blog – can have a huge impact on the success of your content. So don't be afraid to take your time and test different headlines to see which perform the best!
Looking for more tips on how to write great headlines? Check out my post The Secret to Writing Kick Butt Subject Lines.
What are your thought on my ultimate guide to writing outlined in this post? What would you add to the list? Share with us below!
About Author