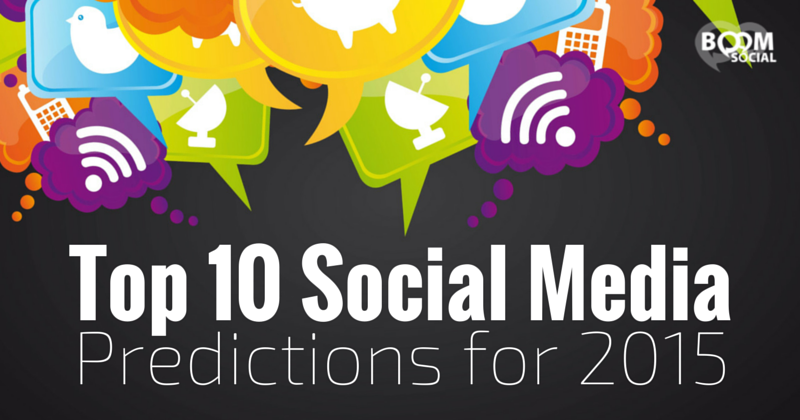 It is that time of year again! Time for my top 10 social media predictions for 2015! As you know, social media changes rapidly, and it can be difficult to keep up. This post will outline current trends in social media and what I think we can expect over the coming year.
I would love to hear your predictions in the comments below!
Top 10 Social Media Predictions for 2015
1. Facebook video will give YouTube a run for their money.
We are seeing video rise in popularity like never before.
As Facebook, Twitter and LinkedIn give more amplification to video content, I predict we will see more businesses and marketers incorporating video into their marketing mix.
While it is unlikely Facebook will totally overtake YouTube when it comes to overall video sharing, we will certainly see them give YouTube a run for their money. We are already seeing users moving away from uploading videos first to YouTube and then sharing on Facebook; marketers are now uploading directly to Facebook using Facebook's native video upload feature. In fact, recent findings show that more shared videos on Facebook are uploaded directly rather through YouTube. I believe this trend will continue into 2015 and beyond.
2. Pay to play
 will be become the norm.
As businesses experience less and less results with their organic marketing efforts on social media, they will increasingly be forced to pay to play through paid amplification on various social networks. We have already seen Facebook and Twitter rolling out new advertising options and tools pretty constantly over the past year, and I expect this only to increase.
You already know that Facebook post reach has declined significantly over the past couple of years. And with Facebook's recent announcement that they will be limiting posts they find "too promotional" businesses will find that paid ads and promoted posts will need to be part of their marketing mix if they hope to reach their audience.
3. Content is still KING but not content for content's sake. 

We know that it is nearly impossible for businesses to succeed online without a solid content strategy. However, we are still seeing many businesses investing a ton of time and money into creating content without an end goal in mind.
Relevance, relatability and the customer experience is going to be key to the success of your content in 2015. 
How does it educate, inspire or entertain your audience? Is your content targeted to the needs and interests of your target market? Do you have a plan in place, not only for what type of content you are going to create, but for how you are going to effectively distribute and promote it? These will be the keys to the success of your content strategy in the coming year.
4. ROI will move from data to real marketing strategies.
In 2015, we will increasingly see digital marketing and social selling become inextricably linked. Business owners will need to find ways to provide valuable information and content that educates and informs their readers about their products and services; with so many businesses vying for the attention of consumers, only those businesses who provide the best and most targeted content will win.
Businesses will need to continue to figure out ways to provide valuable information that is quick and easy for their fans and followers to consume and implement. Successful businesses will realize that without this critical first step, social selling will simply not happen.
5. Social selling tools on major platforms will emerge.

We have already seen Twitter and Facebook testing out 'buy' buttons in 2014. This feature, while not yet released to the general public, will have huge implications when it comes to social selling. We know that every additional step in the buying process is one more chance to lose a customer; so having a one-click buy button is bound to increase conversion rates.
Another trend we are seeing (and which I have been using successfully for a while now) is comment buying. This is a strategy whereby fans and followers simply respond to your offer with a comment like 'sold' or their email address in order to make a purchase. Businesses can then contact these individuals with an invoice in order to complete the sale.
6. Authentic "Be You" brands will be the new black. 

Authentic (humanized) marketing is going to be the key to driving more sales in 2015. 
Consumers are getting tired of following nameless, faceless brands that they perceive to be impersonal and not in tune with their needs and interests.
Brands that focus on building community and providing amazing content via social media will be the clear front-runners. For more on this, check out my new book, Will The Real You Please Stand Up: Show Up, Be Authentic, and Prosper in Social Media.
7. Instagram is all grown up!
Over the past few years, we have been witness to some major growth for image and video-sharing platform, Instagram. In December, Instagram hit 300 million members, and these users share more than 70 million photos every single day.
I believe this is the year we will see businesses and marketers using the platform as a key component of their marketing strategy, right up there with Facebook and Twitter. According to the 2014 Social Media Marketing Industry report, 28% of marketers used the platform in 2013, up from 18% the year before.
Perhaps more strikingly, 42% of marketers plan to increase their use of Instagram in 2015; this will be an interesting phenomenon to keep an eye on. 
8. Be mobile-friendly or go home.
"Mobile-friendly" is a buzzword that gets thrown around a lot. However, may businesses still think it simply refers to having a mobile-optimized website or blog. And while having a responsive website or mobile app is certainly a necessity going into 2015, being "mobile-friendly" is about far more than that.
ALL your content – your blog posts, emails and social media posts – need to be created with a mobile-first mentality.
A majority of your followers and subscribers are likely to be accessing your content via mobile, and yet many businesses aren't creating and distributing their content with these users in mind.
Considering how and where your mobile users will be reading your emails and social media posts is key; for instance, do your social media links direct your followers to a mobile-optimized landing page? Do you use lots of images on social media, which are great for attracting the attention of your mobile followers?
9. Visual content still rules the house.

I know I sound like a broken record sometimes, but visual content wins on social media time and time again. In 2015 we will continue to see brands who place an emphasis on images, graphics and videos dominate social media.
For some tips on incorporating images into your own social media efforts, check out these helpful posts:
5 Easy Ways to Sell on Social Media Using Images
6 Free Tools to Create Amazing Eye Catching Graphics
The Secret to Great Facebook Graphics
10. Customer CARE is going to be the defining line between those who win and those who lose.


Despite the incredible growth of social media in recent years, we have seen some businesses get stuck on the basic elements of content creation and dissemination, to the exclusion of responsive customer care.
Social customer service is far more than just a buzzword: customers increasingly expect real-time customer service via social media. According to a 2012 infographic shared on Convince and Convert:
42% of social media users expect a response from a company within 60 minutes of posting.
I would imagine that 3 years later, this percentage is even more significant.
Brands who don't take social customer care seriously should expect to see customer loyalty, goodwill and ultimately – sales – steadily decrease.
BONUS PREDICTION:
  Twitter will become even stronger in 2015.
I am still loving Twitter as a business platform. It is content driven (which drives traffic) and they have taken their ad offerings up a notch with the revamp of their ads platform. There has also been some talk of Twitter introducing a filtered feed (similar to Facebook's), so keep an eye out for this later in 2015.
And there you have it! My top 10 social media predictions for 2015. What would you add to this list?