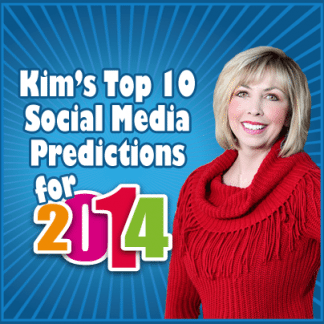 With only a couple of weeks left in 2013, I have to admit my thoughts have been racing towards what's in store for businesses in 2014. We have seen such phenomenal changes this year in the way businesses are using social, largely due to factors like the increase in mobile and video usage, and the mainstream adoption of content marketing.
So what changes can we expect to see in social media in the next 12 months? What trends do businesses and brands need to pay attention to in order to keep up?
Here are my top 10 social media predictions for  2014!
 1. It's About Show, Not Tell: Visual-Based Content Will Prevail
Given what we have seen so far in 2013, there is no doubt that the popularity and use of visual-based content on social media is going to continue to increase in 2014.
We know that posts that contain images or videos outperform those without when it comes to likes, shares, comments, and retweets.  Failing to incorporate image-based media into your social media content strategy will mean losing out on huge amounts of potential engagement!
Just take a look at what we know from this year:
Articles with relevant images receive an average of 94% more views than those without.
Photos on Facebook receive 53% more likes than posts without.
Businesses will need to be creative in terms of incorporating images and videos into existing content, and coming up with fresh new ways of incorporating visual-based content into all aspects of their social strategy.
2.     Instagram and Snapchat are Going to be Major Players And Businesses Will Use Them to Reach Their Audiences In Unique Ways
Some interesting current statistics for you about these platforms:
If you are not yet familiar with Snapchat (only 18.6% of iPhone users currently use the SnapChat app), here's a brief description: Snapchat is an app that can be used to send photos or videos that are only available to be viewed for a set amount of time (generally 1-10 seconds). Once time is up, the image or video is hidden from users and deleted from Snapchat's servers.
One of the most interesting uses of both SnapChat and Instagram that we should be keeping an eye on is for reaching consumers via coupons. While quite a few businesses are already taking advantage of Instagram for offering coupons, deals and discounts, it will be interesting to see what comes of Snapchat's 'exploding coupons'. These coupons will only be available to users for several seconds, giving a whole new meaning to the concept of 'flash sales'!
3.  Businesses Will Use Micro Videos to Reach Mobile-Savvy Customers
Last year, micro videos were not even on the radar. But these short, seconds-long video clips have made quite an impact so far in 2013. With the emergence of Vine and Instagram videos this year, businesses are starting to find ways to use these platforms to attract mobile-savvy customers; particularly millennials. To this point, many businesses have struggled to figure out how to use 6-second videos to get any kind of marketing message across. In 2014, businesses will shift their priorities when it comes to micro videos, getting a handle on using the videos as a way to capture attention, to entertain, and to pique the curiosity of consumers. And with millennials rapidly ditching their TV's and laptops for smartphones and tablets, these easy-to-watch, 'on the go' style videos will be key to reaching this highly sought-after market.
4.  Relevant Content is Going to be a Necessity
We already know the importance of having a solid content marketing strategy. Businesses that are still relying on outdated or spammy SEO or link building techniques to drive traffic will need to quickly change their ways, or risk extinction.
A content marketing plan, as an integrated aspect of a well-planned inbound marketing strategy will no longer be a luxury. Businesses will need to consistently create high-quality, original content that actually adds something to the conversation and gives real value to their audiences. With the sheer volume of content that is currently being produced by businesses, only the best will succeed.
5.     Brands That Embrace Entertaining Their Audiences Win
Let me ask you a question: What types of content do you enjoy reading or watching online? Do you sit through old-school, infomercial-style commercials, or eagerly download featured-based product pamphlets? Generally speaking, I am imagining your answer is a resounding NO.
Businesses will need to embrace content as a way to attract consumers through entertainment; Offering information will always be a necessity, however the way to gain the attention and interest of consumers will be first and foremost through offering interesting, attention-grabbing content that is actually enjoyable and fun to watch.
To give you an idea of what I mean, take a look at this brilliant (and hilarious) video that startup Dollar Shave Club used to skyrocket themselves to success:
6.     A Mobile Strategy Becomes Compulsory
With reports of mobile overtaking desktop usage somewhere between 2014/2015, businesses who want to keep up need to get serious about integrating mobile into all aspects of their business.  Simply having a mobile-friendly website will not be enough.
Businesses will need to consider:
How their website is accessible via mobile: responsive design, mobile-version, or app.
How their overall marketing strategy works with mobile: With 84% of smartphone shoppers using their phones while in stores, businesses need to figure out how to integrate the virtual and 'real life' experiences of their customers (coupons, product reviews, mobile checkout systems, etc.).
How their content strategy works with mobile: Offering short, actionable pieces of content to mobile-users, determining when their target market is accessing content via mobile (see infographic below), using segmentation to offer the right type of content to the right people, etc.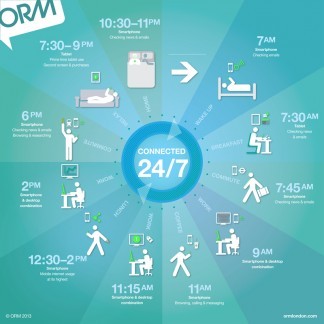 Image courtesy of ORM London
7.     Customer Service Will Need to be Taken More Seriously
As word of mouth marketing continues to be accelerated through social media, brands will need to recognize the power of excellent social customer service. Consumers expect timely resolutions to question and complaints made online, particularly on Facebook and Twitter, and brands that don't respond risk alienating current and potential customers.
Some of the key qualities that companies will need to exhibit to succeed at social customer service include:
Responding quickly
Having a sense of humor
Turning complaints into opportunities to win back trust
Being an active listener
Responding specifically and respectfully to complaints
For more information check out my recent article on Huffington Post, 5 Qualities of Companies with Outstanding Social Customer Service.
8.     More Brands are Going to Get Serious About Social
While an estimated 93% of marketers already use social media for business, brands are going to need to take their social media marketing strategies to the next level. Smart businesses will increasingly realize that it's not enough to just have a presence on the major social networks. Getting serious about social means integrating it into every aspect of the business, not just marketing: from product development, to operations, to customer service and retention.
Company-wide support of social will become increasingly necessary to make sure social media tasks are carried out consistently, and in a way that aligns with overall business goals and values.
9.     Marketers Will Increase Social Media Spend
As marketers start to take social more seriously, social media budgets are going to need to increase. Whereas company-wide support of social media has typically been somewhat lacking to this point, management will increasingly realize the importance of investing in a solid social media strategy.
As mentioned above, as brands realize the need to integrate social with all aspects of the business, social media budgets will, by necessity, increase. With large portions of the budget going to hiring social media consultants or staff, businesses will need to keep a close eye on the ROI and effectiveness of their social media strategies and tools.
10.    More Social Brands Will Become Social Businesses
As digital analyst Brian Solis points out "While creating a social brand is a necessary endeavor, building a social business is an investment…".  While social brands are businesses that use social media as part of their marketing strategy, a truly social business is one that has integrated all aspects of their business with social.
A social business aligns every level of their business with social: in their systems, processes, and planning. A social business goes beyond using social media to simply communicate with customers, and involves every department and employee in their social media strategy.
Brian Solis goes on to say, "social media isn't owned by marketing, but instead the entire organization. This changes everything….". Every department will need to have input and responsibility for social in order to make it a truly company-wide endeavor.
I am excited to see where social media takes us in the coming months. I suspect there will be some surprises in store that we never could have anticipated – and I will be sure to share them with you when they occur!
What predictions do you think are missing from the list above? What social networks do you think will lead the pack this year: Instagram? Pinterest? Google+? Share your thoughts with us below!