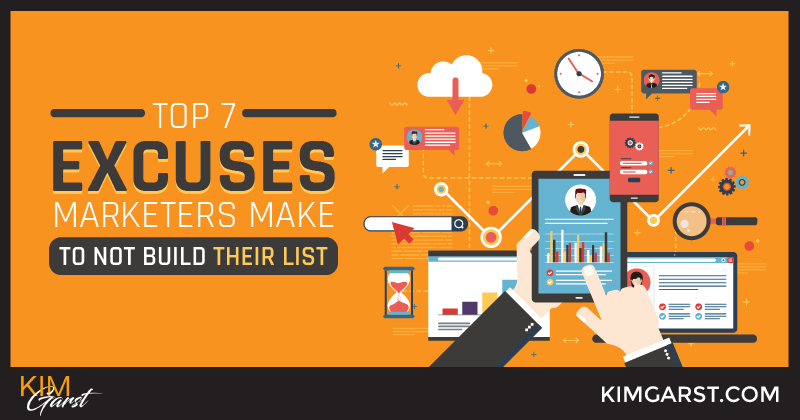 Do you have an email list? If not, may I ask why? I found these to be the top 7 excuses marketers use to NOT build their list. You have probably heard the saying "the money is in the list". Well it's true! Your email list is arguably the most important asset your business has (or could potentially have). It allows you to connect 1-on-1 with your customers, building relationships, keep your business top of mind, and ultimately increase your sales. That sounds pretty valuable, right? Yet I know for a fact that some of you out there STILL don't have a list. Excuses, excuses, excuses…Here are the 7 excuses marketers make to not build their lists that I hear most often…
Excuse #1: I prefer to connect with my customers on social media.
Obviously, I love social media. It truly is one of the best ways to develop relationships with your customers or clients. That said, you will never truly 'own' your social media fans or followers: you will always be bound by the rules and algorithms of the platform you are using. For instance, what happens if you spend years building your Facebook Page, only to wake up one day to see that Facebook has deleted it due to a violation of their guidelines? Your email list, on the other hand, belongs to you, free and clear. It is your real estate! You can email your list however and whenever you want, and feel confident in knowing no one can limit or filter your emails (well, except for SPAM filters!).
Excuse: #2: People hate getting emails, anyway.
It is true that people hate getting spammy emails, or emails that are constantly pushing them to buy a product or service. Fortunately, you don't need to be like that! If you have taken the time to understand the needs, interests and pain points of your customers, you already have a good idea of what you can offer them that is of value. Useful information, exclusive content, and coupons and deals, for instance, will always be welcome – assuming, of course, you have permission to send them.
Excuse #3: I am not a good writer, and I can't afford to hire one.
You don't have to be an amazing writer to connect with your subscribers. Ideally, you will want to make sure you avoid typos, and that you write in a way that clearly articulates your point in a real, human voice! But beyond that, your writing doesn't have to perfect! Do your best to be authentic and offer something that is of value, and the rest will fall into place. Most people aren't looking to connect with writing scholars; they just want to get value and find something to relate to within your content.
Excuse #4: I can't afford the cost of an email marketing service.
Good news! We can squash this excuse right here and now. There are some email marketing services that offer free plans until you reach a certain number of subscribers (this can range from 500-2000 subscribers). This will give you plenty of time to see the benefits of having a list before you have to invest a ton of money into a service. Even if you do need to pay, most services offer a low-cost option for small businesses, starting as low as $10/month. If you make even one sale per month from your email marketing efforts, you have earned back your investment and then some! If you are looking for a great place to start, I highly recommend aWeber.com.
Excuse #5: I am too busy running my business.
I hate to break it to you, but having an email list should be an integral part of running your business. It is one of the best ways to connect with your customers…to learn where they are at and what they need. And THIS information is invaluable when it comes to helping you improve the quality of your products, services and overall marketing strategy.
Excuse #6: I have never had a list, and my business is doing well anyway.
I understand it can be difficult to see the need for an email list when your business is doing well. But what happens if the economy takes a downturn? Or what if you suddenly and inexplicably lose a bunch of clients? An email list acts as a hedge against unexpected situations; rather than scurrying around trying to find new customers, you can simply turn to your list to dredge up some new business.
Excuse #7: I just don't have anything to say to my subscribers.
Never fear, here are some ideas for your email newsletters!
Answering customer questions
Exclusive deals or offers
An excerpt from a recent blog post with a link to read more
A summary of a recent industry event
A tutorial
An employee biography
A blog post recommendation
A list of useful industry statistics
An inspirational or motivational quote or image
A summary of a recent conversation that took place on Facebook, Twitter or Google+
A client testimonial
For more ideas, see my post 15 Content Ideas your Followers will Love to Share (this post talks about social media content ideas, but these will work great in your emails as well!). Do any of these top 7 excuses marketers make to not build their list sound familiar? If you aren't currently building your list, why not? Share with us below!
About Author