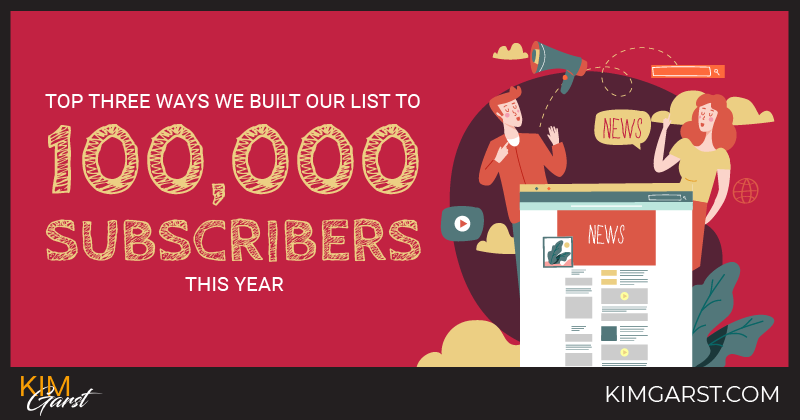 If you haven't already, it is officially time to get started on your business-building plan for 2016. It was this time last year when we started putting the finishing touches on our plan for 2015 and we had three major goals that we knew, if we accomplished, would take our business, Boom! Social, to the next level. This post lays out the top three ways we accomplished our number one goal and built our list to 100,000 subscribers!
How We Built our List to 100,000 Subscribers!
We had been in business for a few years and had learned a thing or two about getting list subscribers. Plus, we were probably pretty close already. No big deal, right?
Wrong!
Here is the screen shot of our list size on December 31, 2014.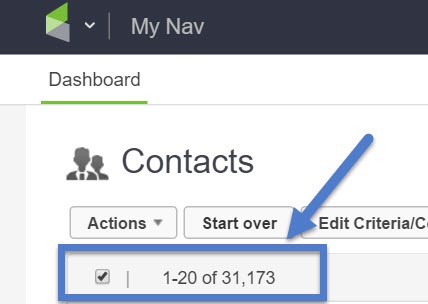 Just 69,000 or so to go!
Here is a screen shot of our list size on December 14, 2015.
Seriously!?!
How did we do it, and, more importantly, how can YOU do it too? Here are the top three ways we built our list to 100,000 subscribers this year!
Trade Something of Value for the Same
The days of simply asking people to join your email list to get your amazing product offerings and your newsletter are long gone.
The LAST thing people want is to get MORE email.
What they will do, however, is trade their email address for something FREE that has value to them.
In other words, trade this…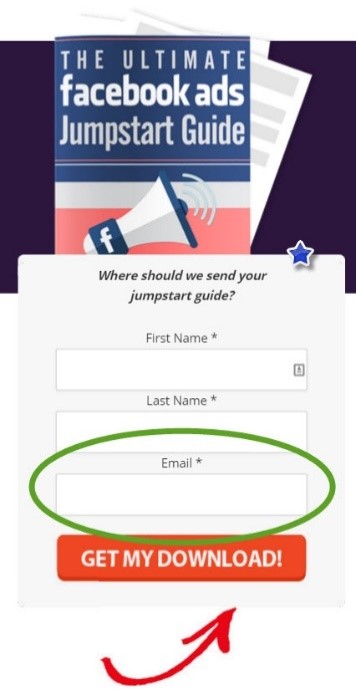 For this…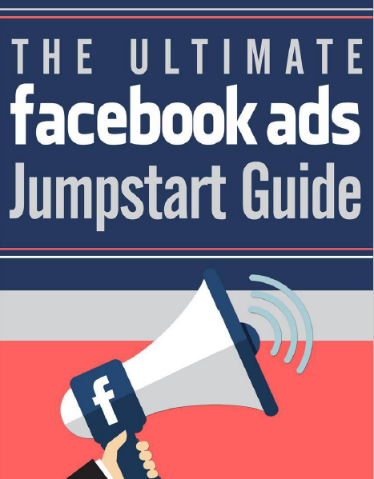 Get YOUR copy of the Facebook Ads Jumpstart Guide!
Of course, we don't come right out and say "let's exchange something of value". We simply say, "Where should we send your jumpstart guide?"
Wow, what a great way to start a relationship – guaranteed value to each party right up front. It's a win-win!
These were our top two performing free eBooks/guides for 2015 and the number of people that traded us their email address to get their copy.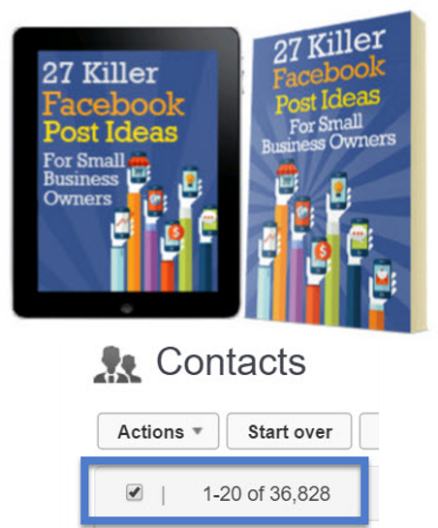 See our 27 Killer Facebook Post Ideas eBook!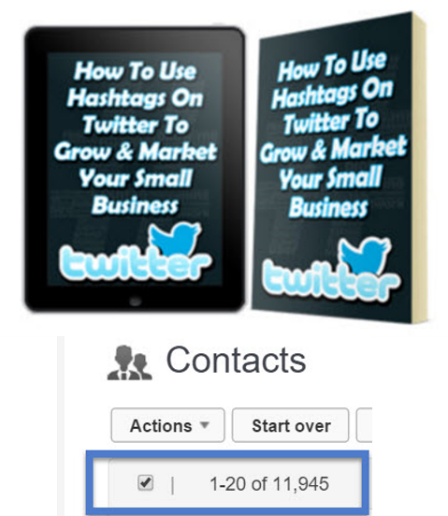 Webinars Still Work
You see from the example above that people have difficulty coming up with great ideas of things to post on Facebook. Finding a solution has become increasingly important as Facebook continues to reduce the amount of content that it shows to your audience (Facebook Fans) for free!
Our thinking was "If people like a free guide on the subject, won't they LOVE a webinar on the subject"?
Yep, 2,231 of them sure did!

All together, we did 9, value-packed, information-based open webinars this year with a total of 27,129 registrants. Of course, many of the people that attended were already on our list, but not all of them. I estimate we picked up at least 10,000 new subscribers using this strategy.
So what does this example teach us? Think of a free webinar kind of like a live version of your free eBook. Use on an opt-in form to gather the new subscriber information and lead with value!
New subscribers will follow!
Pop-Ups and Exit Intent
You know when you go to a website and, after you are there for about 10 seconds an opt-in box pops up offering you something?
I hate those!
But they work…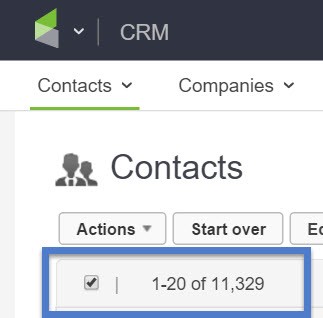 In fact, we received 11,329 new list subscribers using them so far this year.
They don't have to be annoying if you deploy them correctly. Our favorite (and most effective!) one is an exit intent pop-up. What this is a pop-up that only "fires" when someone is already leaving your page.
An overwhelming number of people who visit your website NEVER return, so you are not really costing yourself a future website visitor. Plus, you can set the pop-up so it fires only once every certain amount of days (we set ours at 30)!
We use the Pro version of Opt-In Monster and pay for it just like you would. It is well worth the $199/year expense.
Why List Subscribers Matter
So why all of the hubbub about list subscribers anyway?
In spite of our relative dominance on social media, having an active and engaged list of email subscribers is STILL the best way to sell your products and services?
How much money are we talking about?
Common digital marketing doctrine is that you should be able to get $1/month per subscriber, on average, out of your list if you consistently offer them great products and services they want.
Our goal for 2016?
We are staying "all in" on growing our list with a target of hitting 250,000 subscribers by the end of the year and you can bet we will do much more of what worked this year. Then, we'll come back and share with you how we built our list to that magical 250,000 mark.
So, do you agree with our list growing strategy and what are the best ways you have seen to grow yours? We would love your feedback below.
About Author