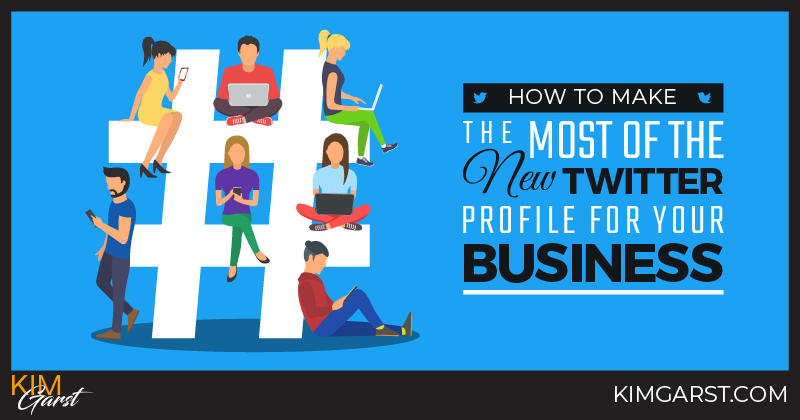 In case you missed my previous post where I talked about Twitter's new makeover, here's a brief recap: Over the coming weeks, Twitter will be making significant changes to the default layout, such as:
Pinned Tweets: Just like on Facebook, you'll be able to pin your favorite tweets to the top of your profile page.
Best Tweets: Your most engaging tweets will be larger than your other tweets.
Filtered Tweets: You can search for tweets, tweets with photos/videos and tweets and replies.
Full-width customizable header (no more background image)
Larger profile photo (400×400)
The ability to respond to tweets, retweets, mentions or DM's in real time via a pop-up notification box.
While not everyone has been switched over to the new layout as of yet, the changeover should be complete within the next few weeks. So I thought it would be helpful to get a jump-start and talk about ways you can use the new layout to its full effect: to increase engagement, visibility and brand awareness.

1. Your Header Image
This will be one of the most important elements of your profile, as it's the first thing people will see when they view your profile page. You want this image to be a good representation of your brand, so be sure it's consistent with the rest of your brand messaging. Ask yourself:What does my brand stand for? What are my values? What's the 'feel' of my brand? Does the overall look and color scheme of my header match up?
Some elements you may want to include in your header image include:
Your website URL
A call to action (Visit my site for a free download, etc.)
A quote
Your logo
A photo of yourself or your employees
A photo of your business
A random photo that's representative of your brand's culture or values
A testimonial
Icons for other social networks you're part of
Awards or accolades you've received
2. Your Profile Photo
Your profile photo should ideally be a professional-quality headshot, not just your company logo.
People want to connect with other people, not your logo!
Remember that even though if your header image includes your photo, your profile picture is what people are going to see when you tweet. Make it personal and make it count!
3. Pinned Tweets
The ability to pin tweets is one of my favorite elements of the new layout. This is the perfect place to put your favorite or most engaging tweets, or to promote your latest webinar, blog post or offer.
This will be a welcome feature for brands looking to receive a bit of extra promotion without having to always retweet their latest promotion.
Change things up regularly by pinning new and different tweets to keep things interesting!
4. Getting Retweeted is Even More Important
When you get any form of engagement, including replies, favorites or retweets, your posts show up at a whopping 22.5 size font. This makes setting yourself up to get retweeted more important than ever!
Some tips for increasing the engagement of your posts include:
Using mentions
Using hashtags (tweets with hashtags get 16% more retweets than those without)
Asking questions
Being a retweeter yourself
Optimizing your tweet length (71-100 characters is ideal)
Using pictures (which now appear to be slightly larger and more prominent)
Using links
Asking for a retweet
And of course, most important of all, tweeting useful, original content that meets the needs of your followers!
For more tips see my post 20 Quick and Easy Ways to Get More Twitter Retweets.
I'm excited to see how brands make the most of the new Twitter layout, and to see what impact the redesign has on overall engagement levels. But all in all, I love how it's giving us some increased visibility for our tweets, as well as more opportunity to express our personality through bigger and better images.
What do you think of the new layout? Is it too much like Facebook, or are you excited about the changes?
About Author