Do you want to manage your time better? The little things add up! That's good news because small steps are non-overwhelming and easy to start.
When you find yourself with an unexpected pocket of time it's all too easy to fritter it away by checking email or playing the latest mindless game on your phone. Sitting in a parking lot or waiting for someone who is late to an appointment can turn into an opportunity for productivity if you're ready for it. 
Of course checking email and popping in on Social Media can be productive and help you knock some things off the to-do list. But let's face it, sometimes email or Facebook is a convenient excuse to avoid doing other things that would move you towards your goals. 
To take advantage of those small segments of time, get prepared ahead of time. Here is an idea to help you get started: 
1)  Make a list of things that take less than 15 minutes to do. You can probably come up with twenty or thirty items for this list. 
What sorts of things should you put on this list? Here are some examples:
·  Brainstorm blog post ideas
·  Call a hotel to make reservations for an upcoming trip
·  Listen to voicemail
·  Write a thank you note
Put "Read" on your list, too. Whether you're reading a physical book or a digital book on your reading device, you can take advantage of the minutes. Fifteen minutes here, ten minutes there, and before you know it, you'll have read a whole book. I seldom have time to sit down and read for hours—most of my reading is done in small snatches of time. Audiobooks and audio training count here, too. 
2)  Gather the supplies or information you would need to get these tasks done. Have them close at hand in your office, and make them portable when you leave to go somewhere. Fill a folder or pouch to stick in your bag, lay the book on top of your purse, have everything ready to go at a moment's notice. 
Here are the supplies you'd need for the sample tasks: 
·  Blog post:  pen and paper
·  Hotel reservation:  hotel phone number, credit card, pen and paper
·  Voicemail:  pen and paper
·  Thank you note:  pen, thank you card with envelope, stamp, address 
See how simple this is? But if you're not prepared, those tasks go undone until later.
Rather than scraps of paper, you'll want a small notebook to keep it all in one place and avoid "now where is that receipt with the confirmation number on the back?" You can transfer the information to your phone or another notebook later, just use this as your thought capture tool. 
Personally I find it difficult to listen on the phone and type into my phone at the same time, even using earphones. Old-fashioned pen and paper help me process and take quick notes, then I can decide what to do with the information after the call. 
A simple list and some easy preparation can multiply what you're able to get done in the small spaces in your day. Those successes will encourage you and start the momentum to work on the bigger things when you get back to the office.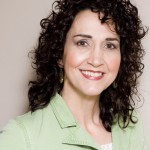 Charlotte Siems is a happy wife, mom, Master T-Tapp Trainer, speaker and author.  Her story of losing over 100 pounds with T-Tapp has encouraged thousands of people all over the world.  She specializes in making home management and fitness "doable" for real people.  She is the homeschooling mother of twelve children and she built an online business in her spare time. Charlotte writes about family life and T-Tapp at www.CharlotteSiems.com
About Author