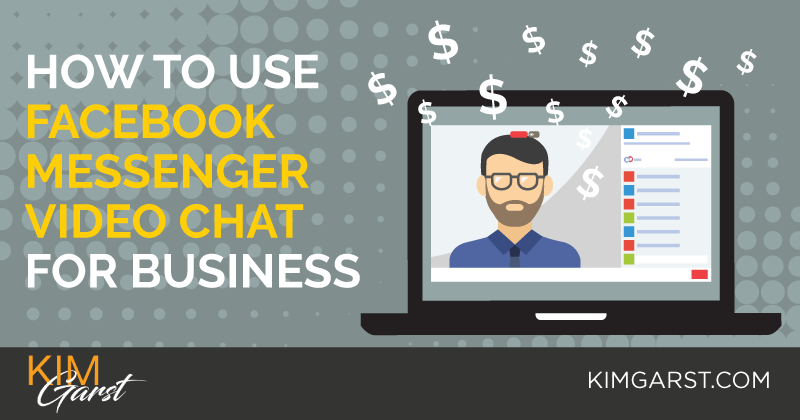 You're probably already familiar with using Facebook Messenger to initiate one-on-one conversations with friends and family. You may also know about using chatbots on Messenger as a way to automate conversations with your fans and customers.
But have you taken advantage of Messenger's video chat feature? It allows you to chat live with up to 50 people at once…meaning it could replace old standbys like Skype (which only allows you to chat with up to 10 people at one time).
Wondering how to go about starting a video call? It's actually really quick and easy. Here's how!
How To Video Chat Using Facebook Messenger
You can set up a video chat literally in SECONDS, following only two simple steps.
Step 1: Start a new conversation in Messenger
On your desktop computer, iPhone, iPad or Android device, start a new conversation by clicking on the New Message icon at the top right of your screen (on Android, click the + button). Remember, you can add up to 50 people at one time.

*If you've already established a chat group with the people you want to video chat with (meaning you've chatted with them in the past), you can also initiate a video chat with them by going to "Groups" on your mobile Messenger app, and selecting the appropriate group).
Step 2: Initiate the video chat
Once you've added everyone you want to add, start the video chat by clicking on the video camera icon .  

That's it! You've now initiated a group video chat.
Once your video chat has started, all members who have been added to the chat will be notified, and can join with the click of a button. You can also opt to send additional reminders if you notice someone isn't joining the call.
Keep in mind that while you can have up to 50 people on each chat, once you get past six people, only the primary speaker will be shown on-screen at one time.
Want to add some pizazz to your video chats?
Facebook JUST launched a series of new (or expanded) effects and filters to video chat. If you're on Instagram, many of these effects will be quite familiar to you!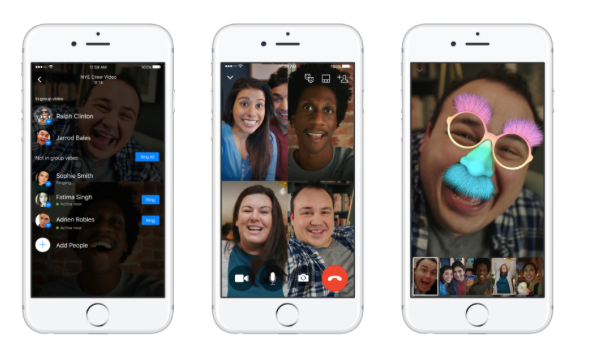 Following are the new features you can take advantage of on your next video chat.
and YES, thre are some pretty nifty filters!
Change the lighting or colors on your video to add an element of creativity. Facebook even lets you preview the change before going live!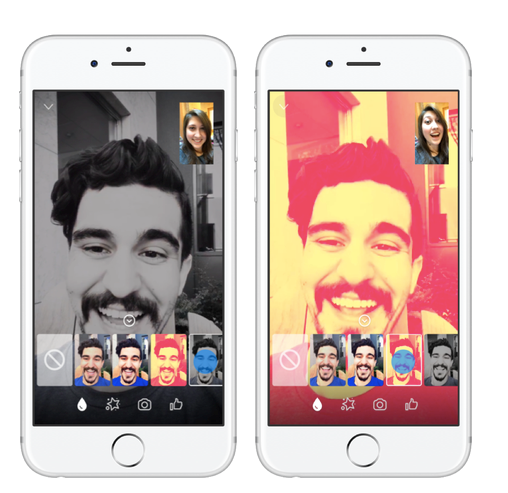 Masks are there too!
Want to add something fun to your next chat? Try out the masks feature. It lets you change your look for the duration of your video (as opposed to reactions, which only appear momentarily). Some of the options include: A variety of costumes (rabbit, skeleton, baby, etc.), backgrounds for different feelings and occasions ("feeling good", "missing you", vacation, graduation, etc.) and much, much more.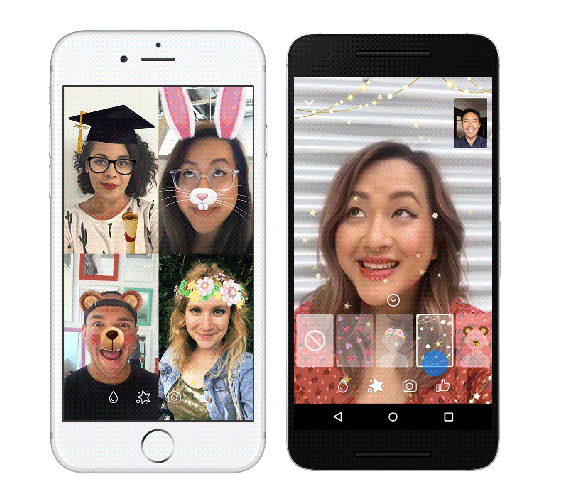 Reactions – emoji's galore!
Want to send a live emoji reaction to something you've heard or seen? Reactions let you send animated emojis for five emotions (just like on Facebook posts): anger, sadness, surprise, love and laughter.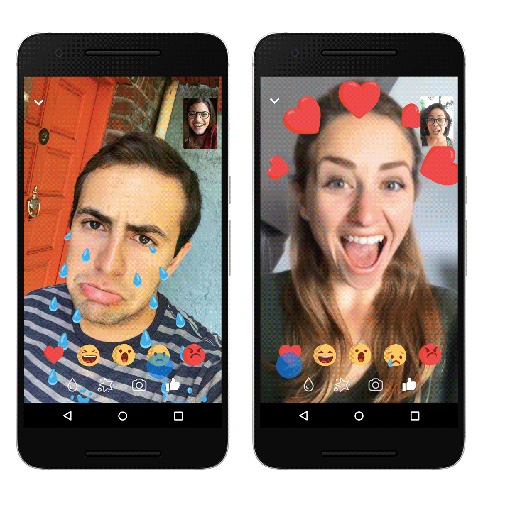 Take a picture of your video chat
Want to take a screenshot of your chat so you can relive the moment later on? Simply click the camera icon during your chat to take a still image you can save and share later.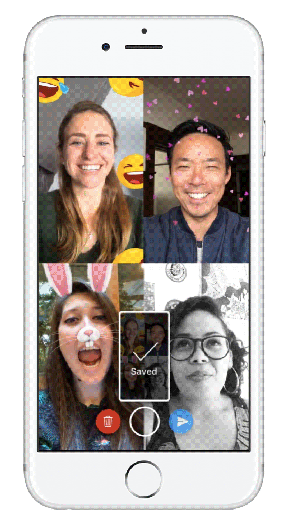 7 Ways To Use Messenger Video Chat For Your Business
While Messenger video chat is certainly fun and useful for personal purposes, you might be wondering how it can be used for business.
Well, the beauty of Messenger video chat is that I can see it replacing the need for many other similar (and often more expensive) video conferencing and webinar services like Skype, ClickMeeting, and GoToMeeting.
And because Facebook is the most-used social media platform (by far), it only makes sense to build out your video chat on the site where the vast majority of your customers and employees already hang out.
Following are seven ways you can use Facebook Messenger video chat for marketing, education, sales and even HR!
1. Simple webinars
Webinars can be a GREAT way to connect with your audience and get leads for your business. However, webinar software is notoriously expensive and complicated to use.
With Messenger's ability to host up to 50 people on a video chat, this is no longer an issue. Even the smallest businesses can hold webinars with literally NO setup and NO fees. While Messenger video chat doesn't offer all the bells and whistles that may be necessary for larger and more elaborate webinars, it's a great option for small businesses who want to get a webinar up and running quickly and easily.
Your business can host small webinars with Facebook Messenger's video chat.
Click To Tweet
2. Employee meetings
In-person meetings can be time-consuming and inefficient. And if you have employees or contract workers who work virtually, they may not even be possible.
With Messenger, you can hold quick and impromptu meetings, notifying workers of the meeting on the spot (if necessary). Whether it's a meeting with one person or thirty, Messenger may be a great alternative to using expensive meeting software.
With Facebook Messenger, you can hold quick and impromptu meetings.
Click To Tweet
3. One-on-one technical support
If a customer or client is having technical issues and needs some guidance, video chat can be a great way to lend a hand.
If a customer is having an issue, Facebook Messenger video chat is can be a way to lend a hand.
Click To Tweet
When customers message you through your page asking for help, simply send them a friend request and initiate a video chat. This will allow you to help them with their issues on the spot, without having to ever send them off-site.
4. Personal shopping
Whether you have a brick and mortar or e-commerce store, Messenger video chat can be a great option for assisting customers with their purchases.
You can show them a variety of options, suggest other products, and even complete a sale all while on video chat. And again, because they never need to leave Facebook, you don't risk losing a customer by sending them off-site.
5. Product demos or tutorials
Have a group of fans or customers who want to learn how to do something? Hold a live video chat where you walk them through it.
This can be a great way to not only educate your fans, but to promote your products or services via a call to action (e.g., "If you'd like to buy this product for yourself, you can find it on our website at www.oursite.com/product".)
6. Employee training sessions
Have some employees who need a bit of extra help? Or maybe even a long-time team member who has taken on some new responsibilities? Hold a casual training session via Messenger chat anytime, anywhere.
7. Job interviews
When in-person job interviews aren't an option, holding them via Messenger video chat can be a great alternative. Since most people will already have Facebook and Messenger accounts, there's no additional software they'll need to install or learn how to use.
When in-person job interviews aren't an option, Messenger video chat can be a great alternative.
Click To Tweet
How To Save and Download Facebook Messenger Video Chats
While Messenger can be great for webinars, training sessions, tutorials, etc., there will probably be times when you want to record your video chats for future use.
At this point, Messenger only allows you to take screenshots of your chats, which isn't all that useful for the purposes of recording your content.
However, this doesn't mean there aren't ways to record and download your chats. The rest of this post will look at three third-party apps that will let you record and re-use your chats in the future!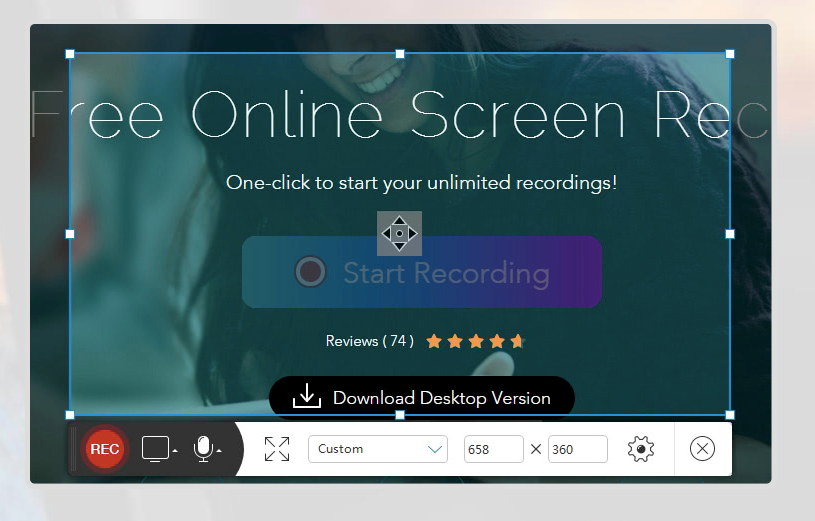 Available for PC, Mac and mobile devices, Apowersoft is a great free option for recording online activity, including Facebook Messenger video chats. The Screen Recorder Pro records both your screen and audio activity, and then lets you convert it into a variety of formats so you can reuse the recording later.
It's super simple to use, and doesn't require you to download any software. Simply open the recorder, hit the record button, and you're good to go!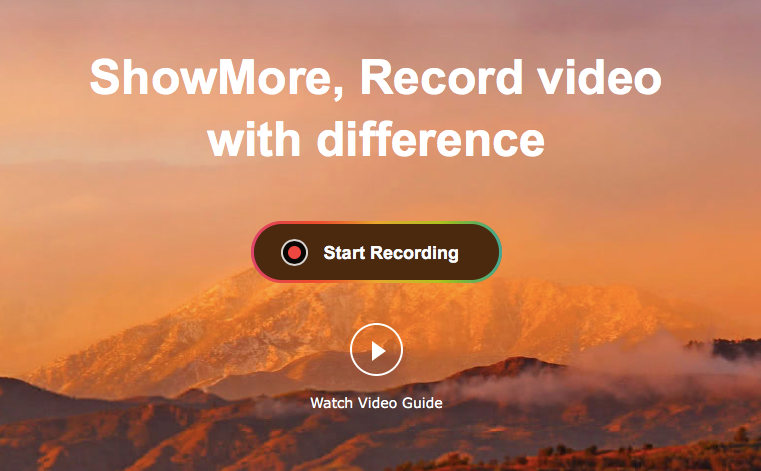 ShowMore is another free video recording app you can use right from your web browser. The first time you use the app, you'll be asked to download a launcher. Every time after that, you'll be able to start recording immediately.
One thing I love about ShowMore is the ability to edit the video as you make it. This includes adding arrows, text, shapes and other annotations to make your video chats even more attractive and informative.

CamStudio isn't as "pretty" as the other two options, but because it's open source, it's completely 100% free, and always will be.
The biggest downside is it's only available for Windows, meaning if you have a Mac you're out of luck. It also requires you to download the software rather than just using it right from your browser.
Final thoughts
Are you feeling inspired to use Facebook Messenger video chat for your business? I hope so! As you can see, it's a simple, quick and best of all – FREE – way to video chat with your fans, customers or employees.
I'd love to know if you've tried it already, and what you use Facebook Messenger video chat for? Let me know in the comments below!
About Author