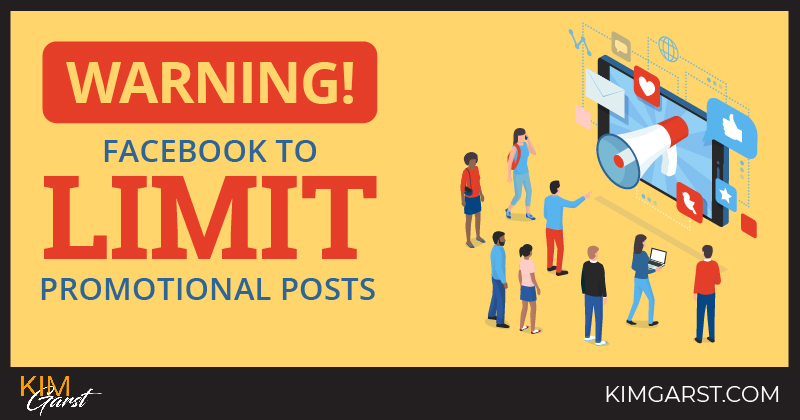 Well, Facebook is at it again. You already know that your posts are not reaching many of your fans (only 3%-6% of your fans see each of your posts, on average). But starting next month, you may notice some of your posts reaching even fewer of your fans.
OUCH, right?
Facebook recently announced that, starting January 2015, they will be limiting posts they find "too promotional". According to surveys, they have found that users want to see more stories from Pages and friends, and less promotional content.
Just to be clear, we are not talking about paying to get your posts in front of more people: those are promoted posts. You can read more about those here:
How to Use Promoted Posts on Facebook to Increase Visibility and Gain More Customers.
So, what does this mean for small business owners and marketers? Does this mean no more promoting your products or services on Facebook? No more social selling? Not exactly.
According to Facebook, there are 3 traits of posts that are commonly seen as overly promotional:
Posts that solely push people to buy a product or install an app: These would be posts that explicitly and directly promote the purchase of a product or service (Think "Click the link to buy now")
Posts that push people to enter promotions and sweepstakes with no real context: It would be nice if Facebook would elaborate a bit more on this one; however this likely refers to posts that ask your fans to enter a random contest or sweepstakes, possibly one that is not hosted on your website or blog, or that offers no real content aside from the contest rules or guidelines.
Posts that reuse the exact same content from ads: If you are also buying Facebook ads, don't cut and paste the ad content into your posts! You should not be doing this regardless, however, it's a good reminder.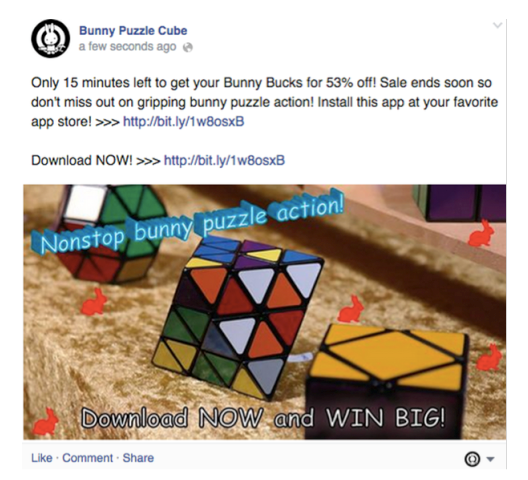 Example of a post that Facebook deems too promotional
3 Steps to Overcoming Facebook's Ban on Promotional Posts
Obviously, the question of the day is, "Can I still use Facebook to sell my products and services?". With these new restrictions on posts, this question is even more timely.  Following are 3 ways to make sure your posts get the most visibility and reach and, yes – even sales.
1. Ensure promotional content you post has some context.
In light of these new rules, it is more important than ever that you give context to all the promotional material you post. Take a look at the examples below, and ask yourself which you would be more likely to buy:
"Click the link below to buy my new eBook! It's got lots of useful info and I know you will love it. Only $19.99! Buy now!"
or
"A major challenge business owners face is regularly finding new customers. In fact, when I was starting out, I figure it took me 10 hours of work just to land one new client! That is why I have put together this step-by-step resource that will help new business owners land clients faster than ever…"
Providing a back story (personal experience) is a GREAT way to avoid being overly promotional and to provide some context to your posts.
2. Use your posts as a way to drive traffic to your site – and then move these visitors to your email list.
In order to make the most of your Facebook marketing, it is imperative that you have a strong marketing funnel in place. While well-crafted and non-spammy promotional posts will inevitably still manage to get some reach, moving your visitors into your funnel should still be your ultimate goal as this will be where the majority of your sales will come from.
When your fans click on one of your links, is that the end of their interaction with you and your site? Or are you offering them the opportunity to join your email list? Your list is your most valuable online asset, so make sure your Facebook visitors are not reaching a dead end once they click through to your site!
3. Regularly post non-promotional content that is likely to get engagement from your fans.
When you regularly post valuable content that gets lots of likes, shares and comments, Facebook sees that you are posting useful info and shares your posts with more of your fans.
Make a point of posting engaging content at least 4-6 times a day in order to get the most visibility for your posts. Motivational, inspirational and humorous images are a few ways to do this; then when you do post promotional content from time to time, your posts have a greater chance of actually being seen.
For more on this, see my post Free Facebook Traffic is Possible (And You Can Do It Too!).
Fortunately, there is no need for most business owners to panic over this new policy. According to Facebook, this change won't impact the majority of business owners. If your posts regularly get lots of interaction and you make an effort to post content that is truly valuable, keep doing what you are doing!
If not, you still have a month before the new policy takes effect 🙂
Are you concerned about this new policy? Will you need to make any changes in how or what you post? Share below!
About Author