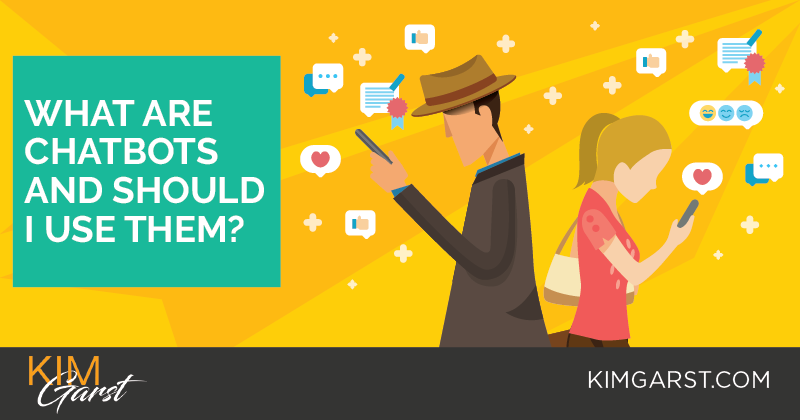 Even if you've never heard of chatbots before, chances are you've used them. These clever little computer programs mimic one-on-one conversations online – think of them like automated chat sessions between a person and a computer.
Some chatbots are really basic, and function in a similar way to voicemail: users reach out and the bot automatically responds with a greeting (e.g., "Thanks for reaching out! We'll get back to you soon").
Other chatbots are far more complex, simulating entire conversations, directing users to relevant resources and even facilitating the process of making bookings or sales.
Is this making sense?
Before I keep going, maybe it would be helpful to see a real-life example of a chatbot currently being used for business.
If you go to my Facebook page and click the Message button, you'll see a Facebook Messenger chatbot live and in action. Immediately after clicking the button, you'll get a message that looks like this: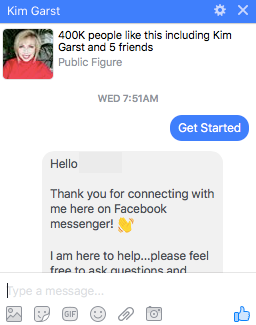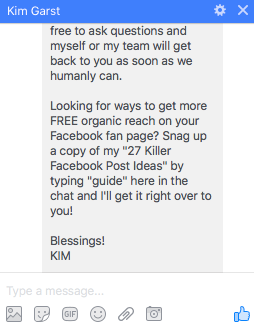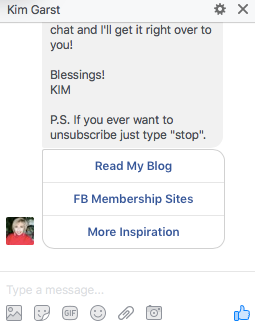 As you can see, users have a number of options if they want to connect with me. They can:
Click on one of the pre-set buttons which will take them to further info (e.g., "Read My Blog")
Type "guide" to receive my 27 Killer Facebook Post Ideas
Type "stop" to unsubscribe from my messages on Facebook
Ask a question or leave a message (which I receive and respond to once I'm online)
These options are specifically designed to address commonly asked questions I receive on Facebook, saving me time and providing the best possible customer service to my Facebook fans.
Let me introduce you to my newest program, The Facebook Messenger Bot Academy. The complete A-Z system that will simplify the process of creating your bot marketing strategy and turning it into a list-building, revenue-generating machine.
Why Should I Use a Chatbot for my Business?
As I'm sure you're starting to see from the example above, chatbots can be an extremely valuable tool for business owners. There are a number of distinct advantages businesses experience when they use chatbots. Following are five of the biggest ones!
1. Be more efficient in answering questions
Chances are you get asked the same questions over and over again. Instead of having to manually respond to each one, why not let your chatbot do the heavy lifting?
If your customers, followers or visitors have other questions that aren't answered by your chatbot, remember you'll still be able to respond to them later. And since your chatbot will be answering the majority of questions, this will leave you more time to spend on answering the other ones!
2. Provide next-level customer service
Especially in highly-competitive niches, automated customer service can be just the thing to put you over the edge. According to Gartner, in 2017, 1/3 of all customer support will still require some human interaction – that means that 2/3 won't.
Chatbots allow you to respond to customer service complaints and questions, 24 hours a day….something that's usually just not possible for small business owners who don't have a dedicated customer service team.
3. Offer real-time support during the buying process
According to one survey, 83% of online shoppers need help during the purchase process. Instead of sitting around waiting to provide this help, let your chatbot do the work!
Your chatbot can help customers find what they're looking for, direct them to other, related products, or even help them navigate the actual sales process.
4. Spend more time doing things you really enjoy
Let's face it: Most of us don't LOVE providing customer service. A chatbot is kind of like an extra pair of hands – while it's busy answering questions, you're freed up to focus on other parts of your business…the parts you really enjoy doing.
While your chatbot will never completely replace live one-on-one support, it can significantly cut down on the amount of time you need to be online.
5. Make it a powerful part of your funnel
Chatbots on Facebook or your website can efficiently guide your visitors to the next step in your sales or marketing funnel. Not only can they be a powerful part of your sales funnel, they can also entice email opt-ins and other types of leads.
Plus, because you can keep a record of the entire process, you can learn from conversations that convert (and that don't!).
How Do I Build a Chatbot?
I'm sure you can already see how valuable bots could be for your business. But many business owners assume it's too expensive and too complicated to build one.
Fortunately, there are some amazing free and low-cost tools out there that can get you set up almost immediately!
This next section will briefly outline some of my favorite tools for building chatbots. And if you want a step-by-step tutorial for setting up a bot on Facebook, check out my post How To Create Your First Facebook Messenger Chatbot for FREE with NO Coding
If you want to create a chatbot that will converse with your fans and customers on Facebook, I highly recommend ManyChat. Its drap and drop builder means you don't need any technical skills to get it set up.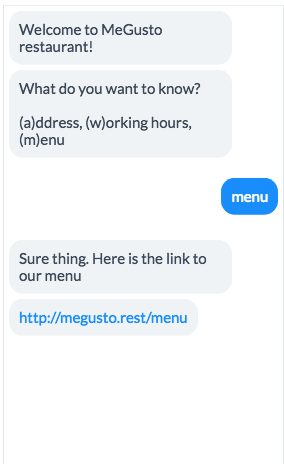 Sample ManyChat conversation
ManyChat works based on rules, meaning you can specify exactly what options or responses you want based on the question asked. However, this rules-based setup also means your chatbot won't be quite as "intelligent" as one that uses artificial intelligence (like Chatfuel).
BUT, because the basic version is FREE, you can try it out with zero risk. And if you decide you love it? It still only costs $10/month for up to 500 subscribers.
Chatfuel is another great tool for creating a chatbot on Facebook. Used by many of the biggest brands (Adidas, British Airways, UBER, etc.), this powerful tool uses Artificial Intelligence (AI) technology to take your conversations to the next level.

An example of how Chatfuel's AI works
Because Chatfuel can actually recognize keywords within conversations, it can direct users to exactly the products or content they need. And just like ManyChat…it's free! In fact, as of right now, it's 100% free for businesses with up to 500K monthly users.
Need a Facebook chatbot for your e-commerce business? Chatty People is a great option. Using AI technology, it's another powerful tool for taking your Facebook customer service to the next level.
And because it integrates with Stripe, Paypal and other payment systems, it's the ideal solution for managing the entire sales process right from within Messenger.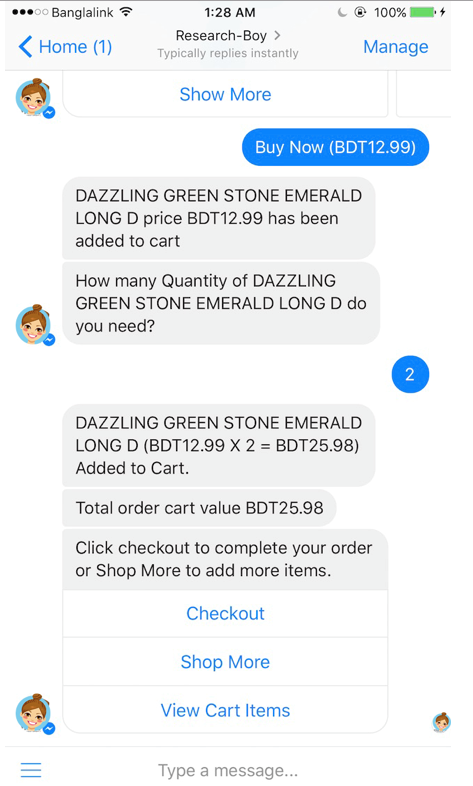 Just like the two sites listed above, Chatty People offers a basic starter plan, letting you handle up to 100 customers for free. After that, you're looking at just $12.99/month for up to 1,000 customers, and a per-100-customer fee after that.
Want to create a chatbot for your website or blog? Botsify is an AI-based software that will let you do just that. But the best part? Set up your bot ONCE and you can then use it for all your platforms…including Facebook!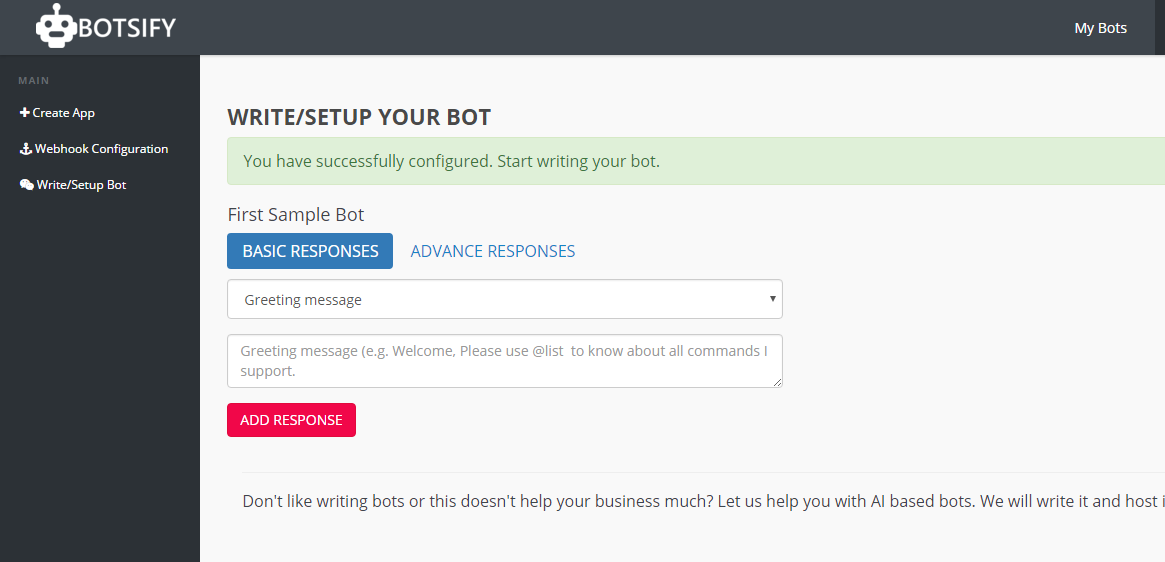 The basic plan (which is free) lets you have one chatbot, unlimited messages and up to 100 unique users. If you have a busier site, you're still only looking at up to $50/month for an unlimited number of chatbots and users.
Like Botsify, Sequel lets you create a chatbot for your website or Facebook page, making it a great multipurpose chat solution.
Sequel is also SUPER easy to use: Simply answer a few questions, and your bot is launched automatically. Then if you decide you want to change things around a bit, you can easily do so using their simply drop and drop interface.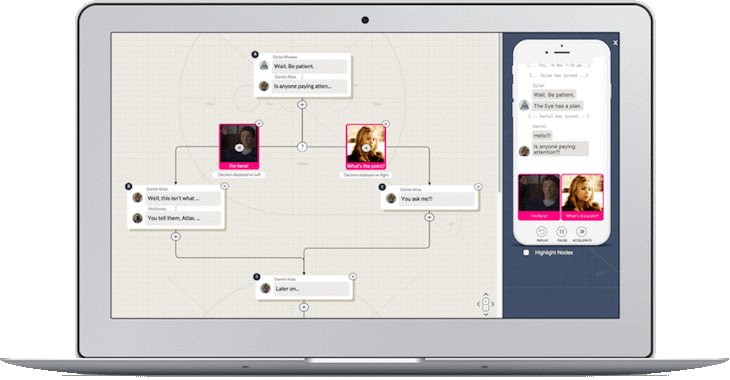 One of the things that sets Sequel apart is that they offer a number of different templates, giving you the ability to really personalize your bot. Current templates include the PublisherBot, PersonalBot, StoryBot, GameBot and ChatterBot.
The downside? While the basic version is free, you'll have to contact customer support to find out the price for other versions of the product.
What Can I Use a Chatbot for?
We already talked about some of the benefits of using a chatbot. But you might be wondering how exactly you can use a chatbot for your business.
Following are 20 ways other businesses are utilizing bots, for their marketing, customer service, sales and more!
1. Offer product suggestions/recommendations:
Ask a series of questions to understand what the user is looking for, then recommend a relevant product or service.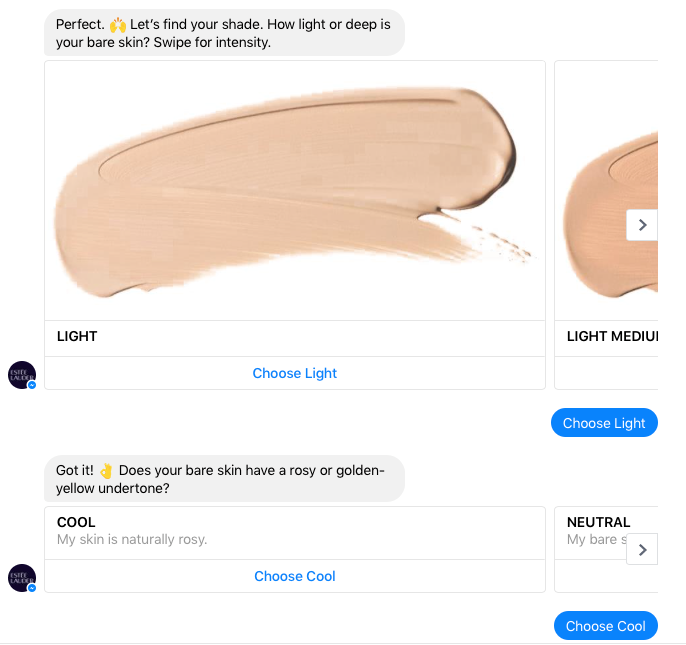 Estee Lauder offers personalized makeup recommendations via their Messenger bot
2.  Let customers or clients book appointments with you
List the dates and times you're available, chat live to book services, or use an API like Pingup to let customers automatically make bookings themselves
3. Direct users to relevant content on your website
Ask a variety of questions to determine what info they need, then send them directly to useful blog posts, eBooks or guides.
4. Provide real-time customer support
Set up your bot to answer common customer service questions.
5. Assist customers with the sales process
Your bot can actually walk customers through an entire sale, even accepting payments.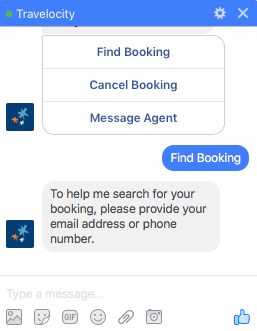 Travelocity uses a chatbot to handle bookings on Facebook
6. Create a fun experience for users
Some bots let you create games, trivia, fun facts, etc.
7. Create a virtual assistant bot to help customers
Set up tutorials to guide them through common situations or tasks.
8. Use a bot to handle some of your in-house HR tasks
This could be anything from letting you responding to sick calls, accept job applications, transmit HR documents, etc.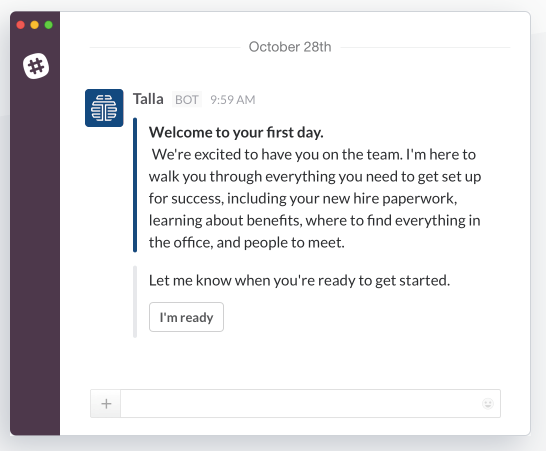 A tool like Talla lets you automate basic HR tasks
9. Offer breaking industry news to your chatbot subscribers
Send out industry updates as they happen.
10. Answer FAQ's like your location and hours
Even the most basic bots can handle these types of requests.
11. Use a bot to answer questions commonly asked by employees
Take this to the next level by integrating your bot with Slack.
12. Provide targeted content to your users
Offer recipes, tutorials, guides, etc., delivered through your chatbot.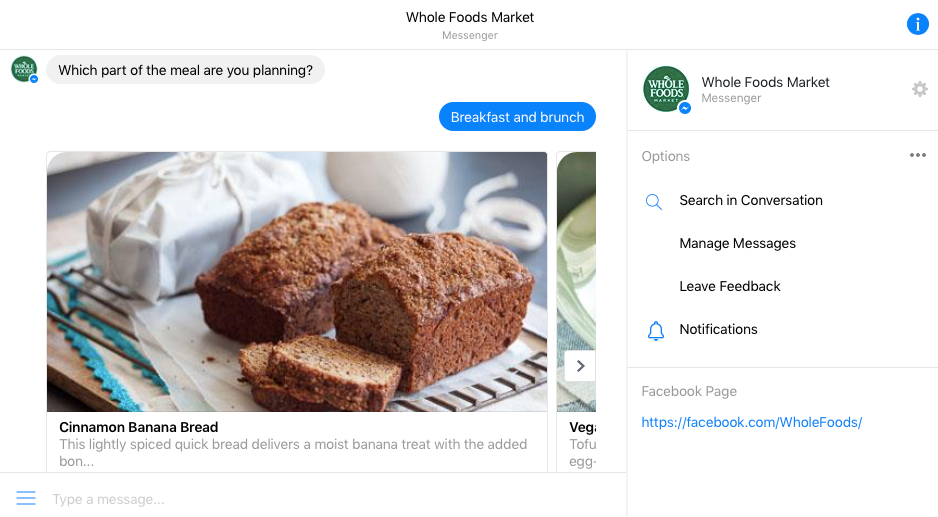 Whole Foods uses their chatbot to suggest recipes
13. Use your bot to increase engagement with your fans on Facebook
While most chatbots handle tasks like customer service or sales, they can also be used to simply stimulate discussion and increase engagement on your Facebook page.
14.  Handle the process of signing up new email subscribers
Provide opportunities for users to join your list by directing them to your lead magnets.
15. Offer expert advice
This is big in the healthcare field right now…there are an increasing number of chatbots that actually respond to medical and health-related questions.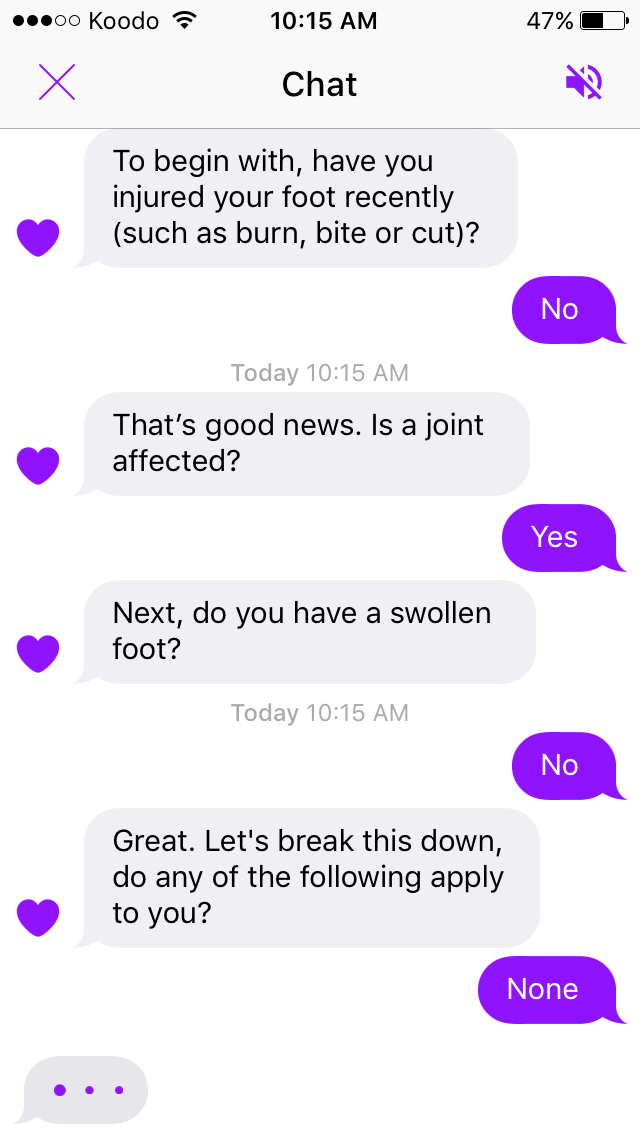 Chat apps like Babylon offer personalized medical advice
16. Provide industry-related tips and tricks
Send out helpful tips to your chatbot subscribers.
17. Provide local info or resources
Users simply type in their zip code and receive personalized, local recommendations.
18. Restaurants
Take delivery orders or reservations.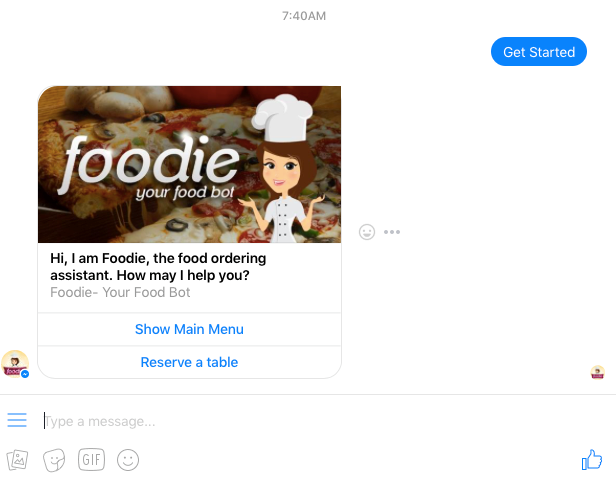 Foodie lets you test out a restaurant chatbot for yourself. Click here to try it out!
19. Use your chatbot for gathering data
Even casual conversations can provide you with tons of info you can use to improve your business, marketing or funnels.
20. Allow customers to offer feedback
 Guide them through the process of offering suggestions related to your business or products.
Final Thoughts
The potential for chatbots is HUGE, even for smaller businesses that don't have a ton of resources. And I love that there are so many free and low-cost tools out there that let you build a bot quickly, without any technical skills.
I hope this post has inspired you to try building one for yourself! If it has, please leave a link below so we can try our your bot!
Do you have a chatbot for your business? Leave a link below!
About Author