Most people have heard of LinkedIn, but many still don't totally understand what LinkedIn is used for or how to use it effectively.
Updated: August 3, 2020
Questions I get include:
What is LinkedIn used for?
Is it a place to network with other professionals?
To get leads and sales?
To share ideas and content?
The answer is YES! LinkedIn can be used for all these purposes…and more.

If you're intrigued by LinkedIn and wonder what it can do for you and/or your business, keep reading. In this post, I'm going to answer questions like: What is Linked In? How does LinkedIn work? And how is LinkedIn used in business?
Let's jump in!
What is LinkedIn?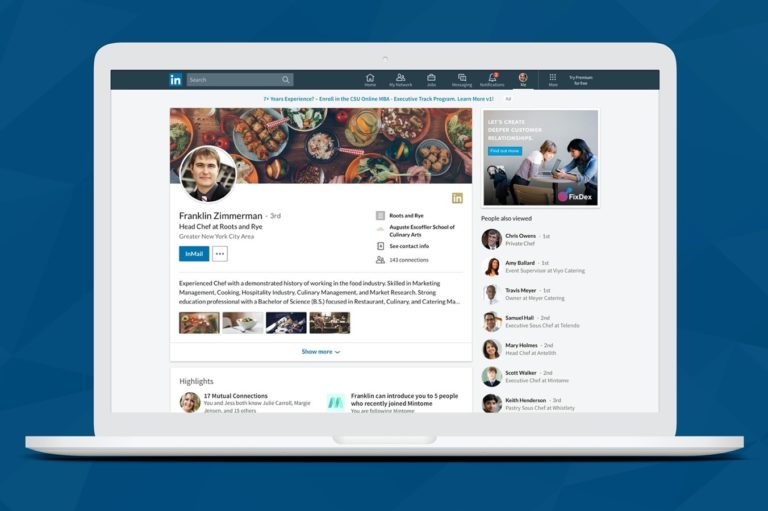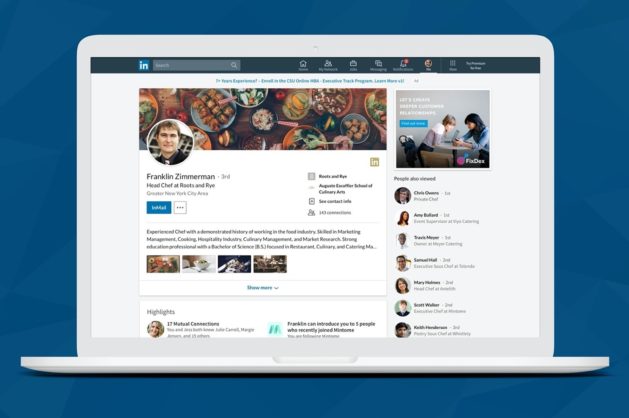 To put it simply, LinkedIn is a social networking platform for professionals. Unlike Facebook, Instagram, or any of the other big social media sites, LinkedIn is all about advancing your career or business.
LinkedIn now has approximately 706 million users and is adding more than 2 new users every single second.
But who are these users, exactly? According to the Pew Research Center, LinkedIn users are most likely to be between the ages of 30 and 49, to be college graduates, and to live in an urban area or the suburbs (as opposed to rural areas).
According to LinkedIn, there are approximately 90 million senior-level influencers on the platform, and 63 million decision-makers.
In other words, LinkedIn is where the movers and shakers of industry hang out!
As with other social media platforms, LinkedIn is free to use. However, you can also choose to upgrade to a number of different paid subscriptions: for instance, the Sales plan, Career plan, or Business plan.

These plans give you additional features, like being able to contact people you don't know (this is called "InMail"), see who's viewed your profile, and get additional analytics on your account. And while these are great features to have, most users will find the free plan is perfectly sufficient for their purposes.
How Does LinkedIn Work?
When you first join LinkedIn, it can be a little confusing. If you take a look at the menu at the top of your screen, you'll see the following tabs/icons.

Here are some brief explanations of each of these tabs.
Home: This is where you'll see posts and other activity from your connections. It's also where you'll go to create a new post or article. In other words, this is your main newsfeed and home base!
My Network: This is where you'll go to manage your connections. You'll see pending invitations from other users, suggestions for users you may want to connect with, and a list of your current connections.
Jobs: Search for jobs by keyword or location. See suggested jobs based on your profile, connections and interests. Sign up for job alerts based on your profile and activity.
Messaging: Manage your private messages. Send new messages to your connections, or reply to incoming messages.
Notifications: See a list of recent activity from your connections.
Me: This is where you can update your account info and settings. It's also where you go to view or change your profile. It contains a bunch of different profile sections that help users get to know more about you.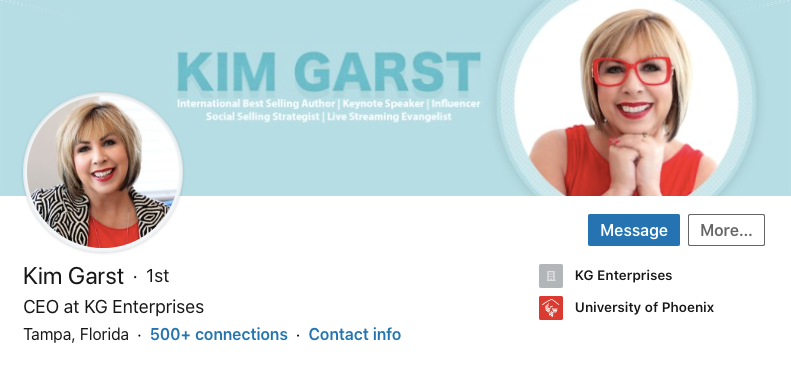 My cover photo and profile picture
Some of these sections include:
Your profile picture and cover photo
Your "About" section
Professional experience
Connections (these are the people you're connected with on LinkedIn)
Education
Top skills
Endorsements from other users
Recommendations
Accomplishments
For tips on how to create and optimize your profile, check out my posts 10 Steps to Your Perfect LinkedIn Profile and How to Choose the Right Keywords for Your LinkedIn Profile.
How is LinkedIn Used in Business?
It's one thing to understand what LinkedIn is and what the different features are. But it's another thing to understand how to use it for your business.
The rest of this post will give you ideas for using LinkedIn for your business. If you're just starting out on LinkedIn, this will give you some general, timeless tips for using the platform effectively.
Connect With Like-minded Users via Groups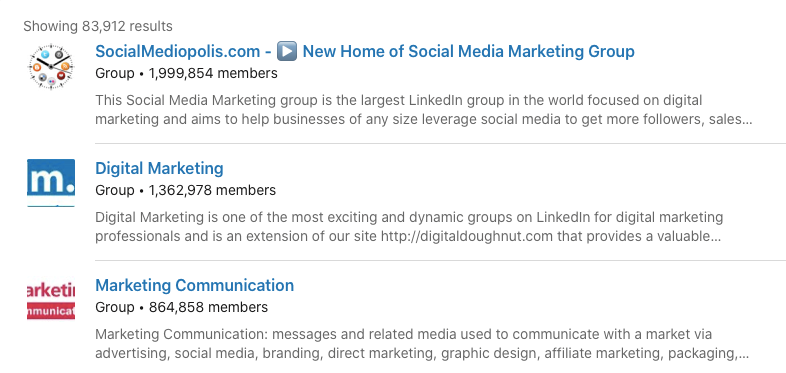 Like Facebook, LinkedIn lets you connect with other users who share similar interests. Simply type a keyword into the search bar, and then select "in Groups". You'll now see a list of groups that are relevant to the keyword you've typed in.
Find New People To Connect With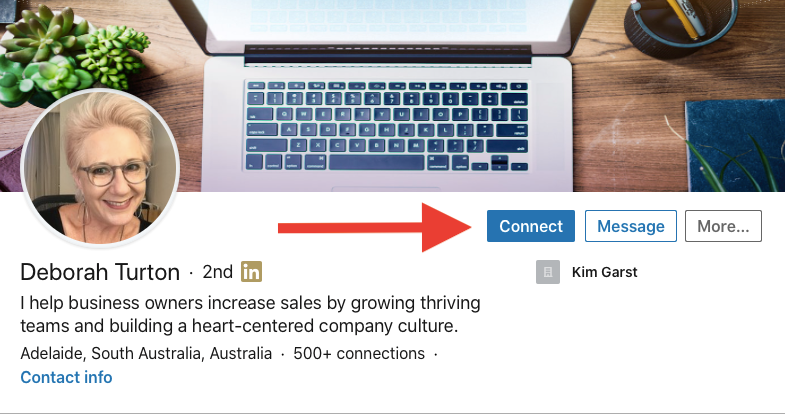 Connections are the lifeblood of LinkedIn. Once you're connected with someone, you'll be able to view their entire profile, endorse their skills or recommend them, and send them private messages.
Use the search bar to find new connections, or visit the profiles of people you know to see who they're connected with.
When you find someone you'd like to connect with, simply click the "Connect" button on their profile. It's common practice to include a brief note with your request, especially if you're not sure the person will know who you are right away!
Network With People at Specific Companies
One of my favorite features on LinkedIn is the ability to find people who work at specific companies. To do this, start typing in the name of the company in the search bar, and then select "in People".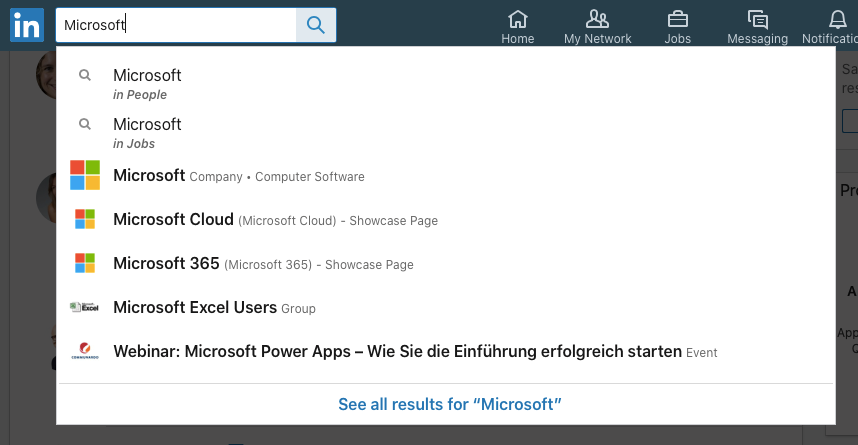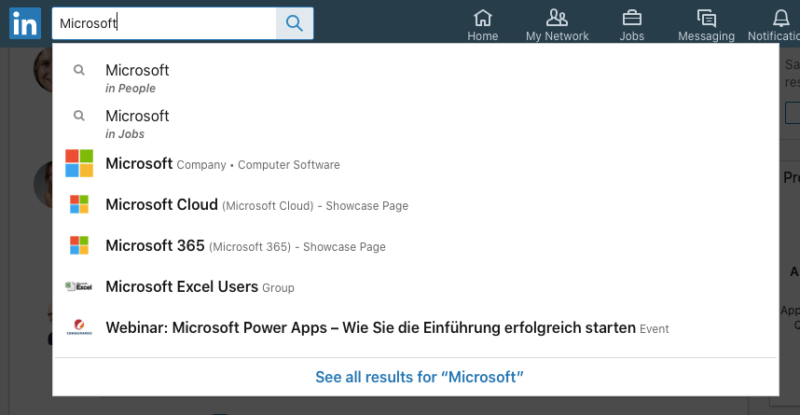 You can also enter the name of a company and a job title: for instance, Microsoft VP. You'll now see a list of all the people who hold that title at the company!
Get Found via Google Search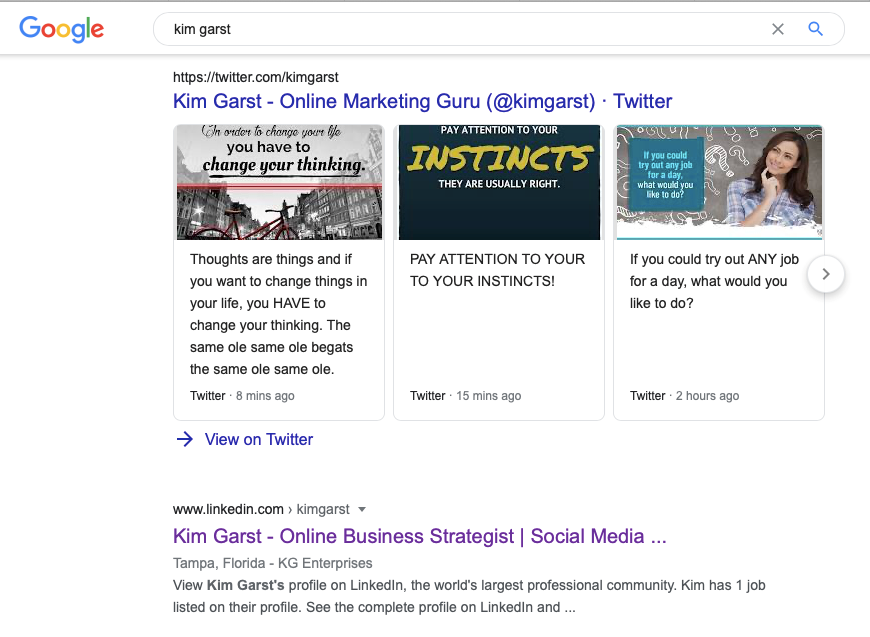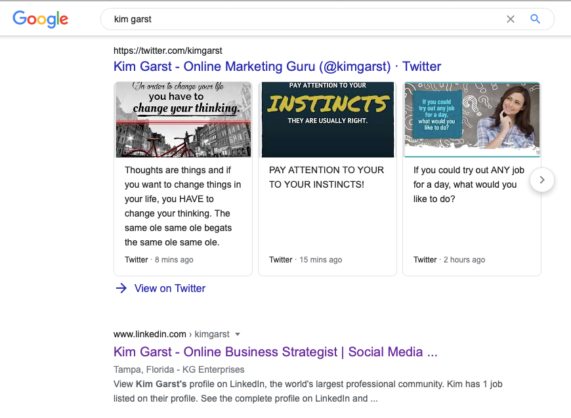 It's important to remember that your LinkedIn profile is likely to show up in Google searches for your name. For this reason, it's important to make your profile is complete, accurate, and that you're using a professional-quality photo for your profile pic.

Find Employees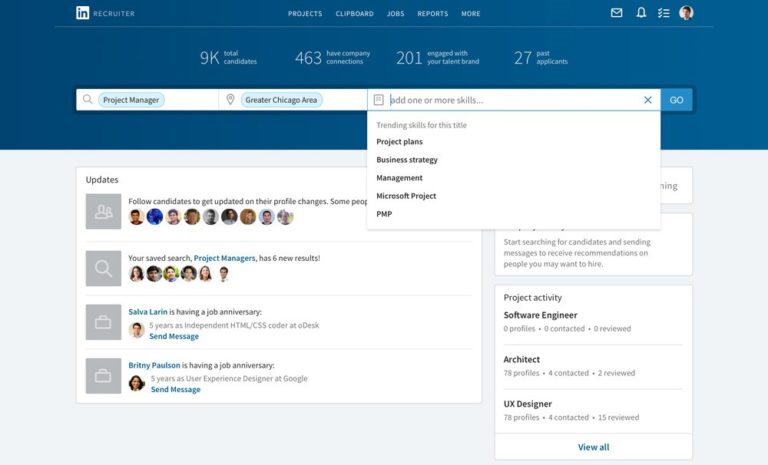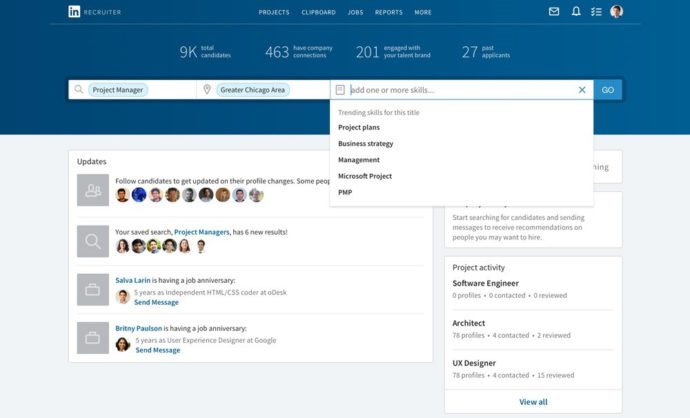 LinkedIn can be a great resource for finding new members for your team. Ask connections for recommendations, search for people in your industry, or use LinkedIn's premium Recruiter subscription (pictured above) to identify and contact qualified candidates.
Share Professional Content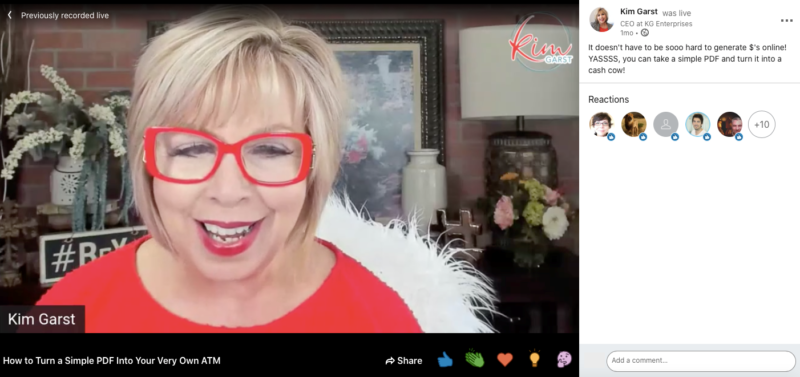 There are a number of ways you can share content on LinkedIn: via a post, an article, or a livestream. Posts can include text, images, or video. If you want to share a longer piece of content, you might consider writing an article and sharing it with your connections. LinkedIn Lives are pretty new, and not everyone has access to them yet – but when they do, watch out! I'm finding them to be an amazing way to share valuable content and connect with my audience.
Important: Because LinkedIn is a social networking site for professionals, I generally don't recommend posting personal content on the platform – unless it directly ties in with your business content. I also strongly recommend against creating or sharing controversial, political, or religious posts!
Create a Company Page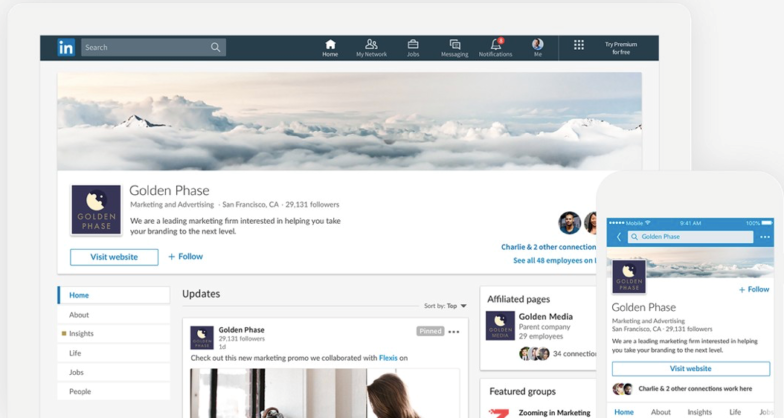 Just like on Facebook, you can have a page for your business on LinkedIn. You can use your page to share content, engage with your employees, and just generally increase awareness about your brand. You also get analytics for your page, which is great for understanding what's working, and what's not.
Give and Get Recommendations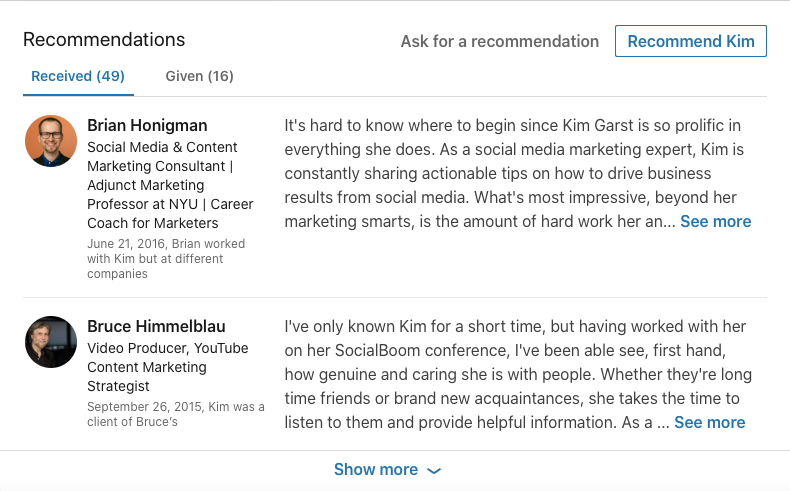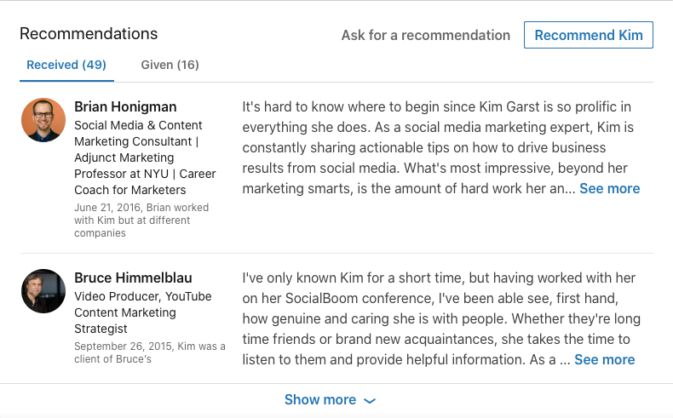 An amazing feature of LinkedIn is being able to give and get professional recommendations. These recommendations can be seen on a person's profile page, and offer social proof of reputation, skills, and experience. You can offer unsolicited recommendations simply by clicking on the "Recommend" button or click on the "Ask for a recommendation" link to send a recommendation request.
Final Thoughts
If you've been asking, "What is LinkedIn used for?", I trust this post has clarified things for you.
I've tried to give you a bird's eye view of LinkedIn, so you can jump in and start using it to advance your career and/or business…starting today.
I'd love to hear from you: Do you use LinkedIn? Why or why not?

About Author