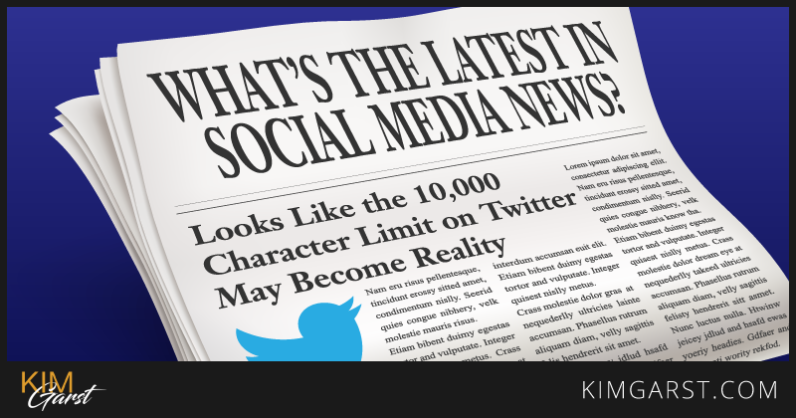 I thought I'd try something new and give you guys the inside scoop on some social media breaking news! I always try to stay on top of what's going on and love to let you all know what is going on too.
So here's the latest social media news:
1. 10,000 Character Limit on Twitter Looks to Be Happening
Last weekend I was in San Francisco for Periscope Community Summit and got to cross something off of my bucket list at the same time…VISIT TWITTER HEADQUARTERS!
They have an amazing office and a really great company culture, but you know what? I couldn't resist asking about the 10,000-character limit that has been all the buzz lately. In case you haven't heard, there has been a lot of rumors floating around that Twitter is going to increase the number of characters available for tweets from 140 to 10,000! WHAT? I was at Twitter headquarters so why not ask, right? So I said…"hey Jose, what do you think…is this going to happen? While he didn't confirm it totally, he did say that he thought it would happen. GROAN, right?
BUT no need to panic! While this seems like a big move for Twitter they have actually done a lot of backend research and found that even when given the really high character limits on some of the other social media platforms, most users don't come close to using even a fraction of them. Twitter found that the average social media user only writes a sentence for two, which is pretty much the same 140 character count they currently have.
I also speculate that they will do something similar to Facebook's "read more" when users write more than 140 character tweets.
This is an interesting shift for Twitter and we'll see how it all shakes out, but I don't think we will really see a big change in the long run. Fingers crossed of course!
2. Periscope Videos Can Now Be Seen LIVE in Your Twitter Feed!
Have you seen Periscope videos popping up in your Twitter feed yet? Periscope and Twitter announced that instead of scopes showing up as just a link they will start rolling out the ability to see a live scope inside of your feed.
Periscope broadcasts now come alive within Twitter https://t.co/R346R1lgZb

— Periscope (@periscopeco) January 12, 2016
The caveat to that is this new feature is only available on the iOS Twitter app only as of right now, but they did say Android and web users can expect to start seeing the live videos as soon as the feature is ready on the platforms.
What does this mean for YOU? It means that you can really start attracting followers to your scopes by showing interesting content that catches their attention on Twitter. This also means that key hashtags are more important than ever so your content can be found and you can leverage both platforms to grow your tribe.
3. Facebook Mentions is Now Available on Android
While you still need a blue verified badge on your Fan Page in order to get access to the Facebook Mentions app, Android users with the badge should be jumping for joy because Facebook has now released the app on Google Play!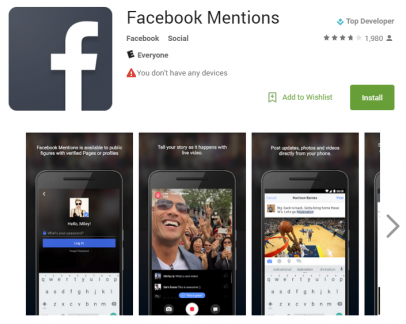 You may have heard that Facebook recently started rolling out the Facebook Live feature to personal pages not too long ago. I have heard that they are adding about 500 profiles a day to the list of users with access.
However, please remember that per Facebook's TOS, you are not allowed to use your personal profile for business purposes. You want to be careful how you use the Live feature from your profile if you are one of the few who has access.
I'm sure at some point they will start rolling out Live to Fan Pages that aren't verified. We'll just have to wait and see when that will be.
4. WhatsApp May Soon Be Opening Up to Businesses
WhatsApp is nearing its 100 million users mark and it looks like some changes are in the works.
After Facebook bought the messaging app in 2014 it was always the plan to start finding ways for the app to begin making some revenue and it seems like that revenue may be coming from businesses interested in joining the app.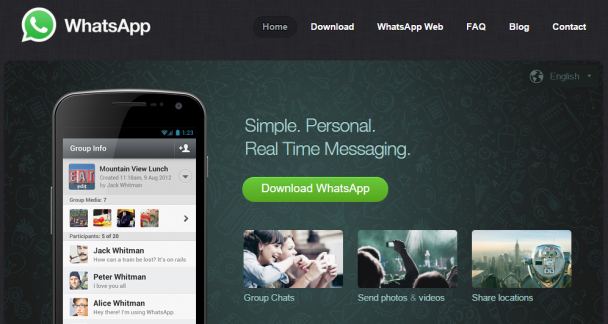 Certain businesses like BBC and restaurants in Hong Kong have already found ways to use the app in very cool and unique ways like helping to deliver news tips or reserving a table.
Seems like there are definitely some opportunities here.
5. Pay Attention to Snapchat
All I have been hearing lately is how Snapchat is the place you need to be.
Some big name brands like McDonald's, Taco Bell, General Electric are already finding ways to use Snapchat to reach its mostly millennial market and having some great successes.
On Snapchat? Follow @generalelectric for all things geeky & get an exclusive transmission from Buzz Aldrin tomorrow! pic.twitter.com/rCIzRRIojp

— General Electric (@generalelectric) July 15, 2014
I would recommend checking into Snapchat if you think your target market is there. With 100 million daily active users it might be a fantastic fit for your business.
There ya go! My top five social media news stories! Like I said, I always love to keep current on what's happening and share what I find with YOU.
Are there any other social media news stories you have heard lately that we should know about? I'd love to hear about them below!
About Author