If you're like me, you've heard a lot of buzz about these new standing desks.
You may have heard that they're a great way to improve your physical and mental health. Not only that, but they're a vast improvement over sitting in a regular old chair all day.
But, you may also be hesitant to try one out.
That's why I've done the work for you, by testing out two desks from FlexiSpot.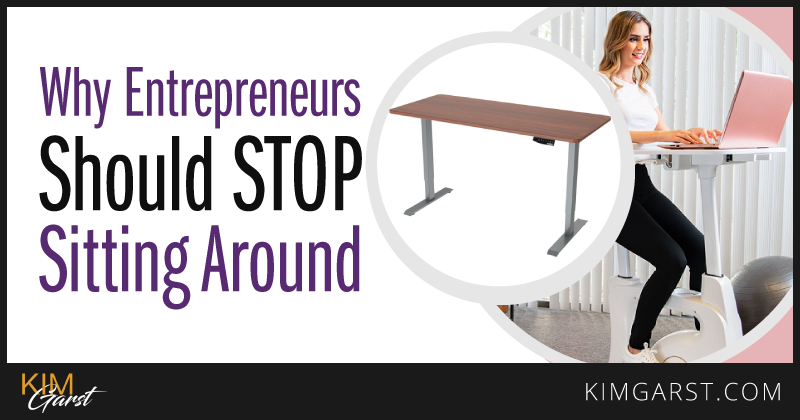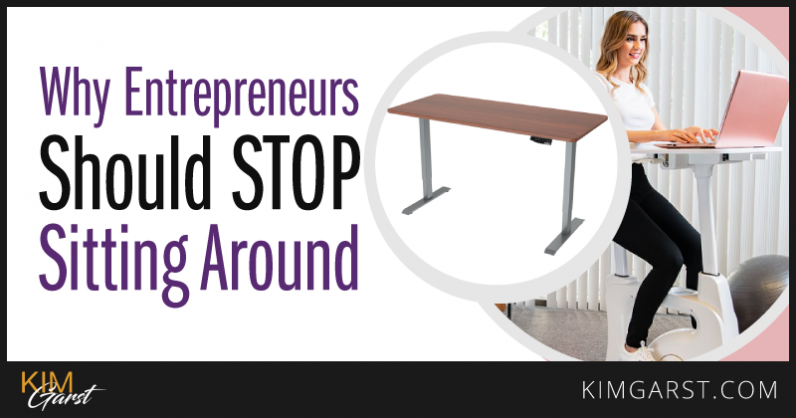 If you've been thinking of investing in a standing desk, you need to read this post! I'll walk you through:
The benefits of using a standing desk
How complicated it is to set up, and
How we found working on a standing desk and bike desk here in the Kim Garst offices!
The Benefits of Using a Standing or Bike Desk
As more people are learning about the dangers of extended periods of sitting, more people are looking for the best standing desk.
Many users experience a wide range of benefits from using a standing or desk bike, including:
Increased productivity
Better mood
Higher energy levels
Reduced back and neck pain
Weight loss
Besides these benefits, extensive research suggests that users of standing desks may reduce their risk of some types of cancer, diabetes, obesity, and early mortality.
Extensive research suggests that users of standing desks may reduce their risk of some types of cancer, diabetes, obesity, and early mortality.
Click To Tweet
These sound like some pretty good benefits to me!!
I read a story recently about a reporter who did a really interesting experiment where he stood for 30 days straight. Dan Kois of New York Magazine did EVERYTHING standing for an entire month – including eating dinner, going to a movie, working…everything but sleeping and driving!
While the experience wasn't without its drawbacks (he got cramps at first because he wasn't used to that much standing), the end results were pretty cool. He lost about five pounds, gained muscle in his calves, and had the most productive month EVER!
While I didn't spend a month standing like Dan did, I did test out a couple of standing desks from FlexiSpot so I could tell you about my experience.
Here we go!
FlexiSpot Standing Desk Review
I tried out two desks: the Flexispot Deskcise Pro (an all-in-one desk bike), as well as the FlexiSpot Electric Height Adjustable desk (standing desk).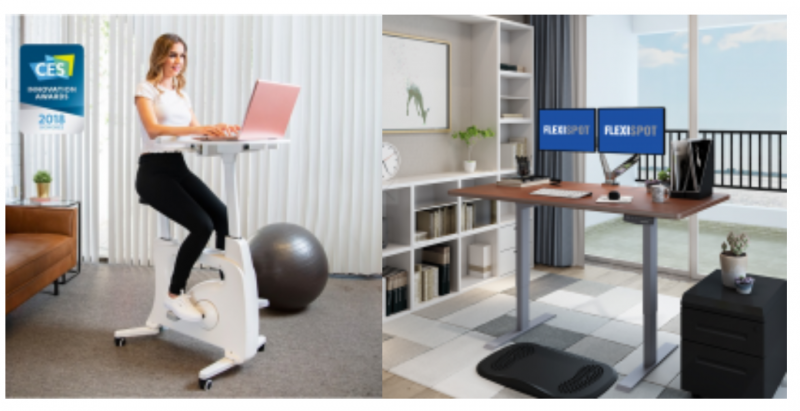 For the purposes of this review, I'll focus on the setup and installation of the FlexiSpot standing desk (pictured above on the right).
My awesome husband helped me out by putting them together for me, so I've incorporated his feedback into my review below!
Packaging
The FlexiSpot desk was delivered right to my front door in three big, yet easy-to-handle containers.
Due to some unforeseen reason in the delivery sequence, two of the packages were delivered one day and the desktop itself was delivered in a third package the following day. Not sure why this happened, but it worked out fine.
We've all had the experience of packages missing parts or coming with super-complicated and confusing assembly instructions.
I'm happy to say this wasn't the case with FlexiSpot!
All parts and materials arrived in excellent condition and I can't say enough positives about the way they packaged the tools and materials (screws, hex key, etc.)
Each of the bolts and screws were separated into clearly-marked, easy-to-open dividers that corresponded with the installation guide. There was very little chance of getting them mixed up. A definite bonus was only one hex key for the whole assembly process.
Installation
The installation guide was clear and concise with excellent illustrations.
I had my husband assemble my FlexiSpot desk, and because he's pretty handy with tools, it only took him about 30 minutes.
I do believe a novice with minimal mechanical experience could put this together…but it may take them a little bit longer (still under an hour though).
We did find one discrepancy between the installation guide, the parts provided, and the pre-drilled holes in the bottom of the table top.  As shown in Step 7, page 4 of the installation guide, the power port is to be placed as shown and secured by two screws in the pre-drilled holes. As you can see in the picture below, the power port is much smaller than the hole pattern and cannot physically be secured by two screws in that location.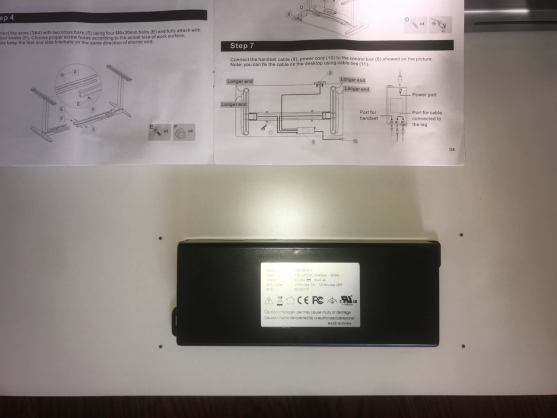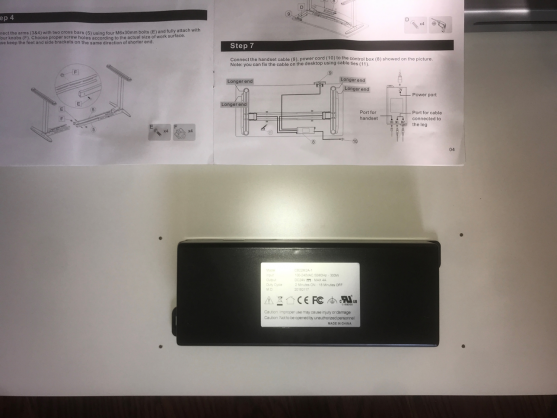 There are numerous  (possibly excessive)  pre-drilled holes on the bottom of the table top that may potentially cause confusion during assembly.
Fortunately, we were able to secure the power port using two screws into pre-drilled holes as shown in the picture below. I am pretty sure this is not what the manufacturer intended.  It is secure, all the wiring fits nicely and everything works great.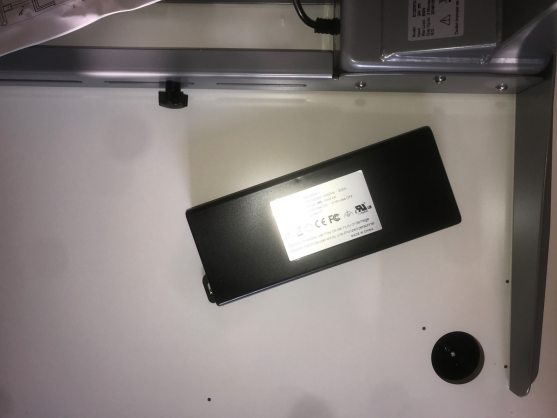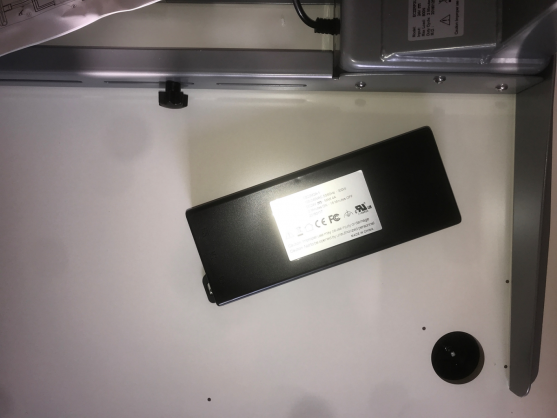 It should also be noted that the plastic cable ties that are provided to hold the wires started to fall off after about a week. While not critical, you may want to pick up a few ties from your local hardware store if this happens to you!
Setup and Controls
The installation manual does an excellent job walking you through the setup of the controls for the functions of the desk. My husband was able to work through most of the functions through simple trial and error in just a few minutes.
Function and Comfort
We tested both FlexiSpot desks – the standing desk and the desk bike – under what we felt was a normal office setting (carrying out our usual day-to-day tasks).
Here are some thoughts about how they functioned:
Noise: The motors that raise and lower the desktop are super quiet and very smooth…in fact, they're hardly noticeable. This is SO important, as the last thing you want is to be distracted by the sound of your desk!!
Range of motion: The range of motion was also much more than I was anticipating. Because of this, I believe the FlexiSpot could easily accommodate a very wide range of people, whether sitting or standing.
Desktop: The desktop is roomy and has plenty of workspace. I believe you could fit several computers on the desk if you needed to (the website actually says you can fit up to five monitors). A nice feature is that the support bars are designed so that if you DO need to upgrade your desktop at some point, you can do this without replacing the whole thing.
Controls: The placement of the controls are very convenient for usage, yet are not in the way at all. I love that you can program in the settings you want, and then just click one button to get the exact setting you want! There is also a cool sit/stand reminder system, so you're automatically notified when it's time to get off your butt.
Final thoughts
Honestly, I'm so glad we gave the FlexiSpot desks a try!
Each desk was unique, and I could definitely see either being a GREAT addition to any office.
I was impressed with the entire process, from the packaging, to the setup, to how they functioned in our offices.
I haven't used them long enough to report on the physical and mental health benefits, but I can say that using it definitely feels like a step in the right direction!
If you're interested in upgrading to a FlexiSpot desk, they have offered my readers an exclusive $15 discount if you use the code: Kim15OFF. Let me know if you try it, and what you think!
About Author