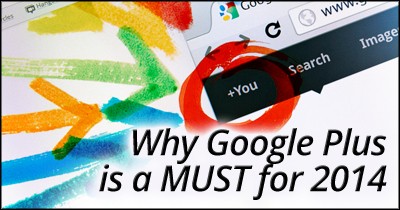 Sometimes it feels like Google Plus is the wallflower amongst the social networks. Many marketers still are not taking it seriously, and are using it more as an 'add on', instead of as an integral part of their social media marketing strategy.
But with many marketers and social media experts declaring this the 'Year of Google Plus', it's imperative to understand why you need to be using the platform, and what you stand to lose if you don't heed the Google+ call.
Following are four reasons that just may convince you it is time to take the plunge and incorporate Google Plus into your daily social media efforts!
1. The SEO Benefits
Although Google has stated that +1's aren't directly used in their search algorithm, some research suggests there may be other, indirect benefits to sharing posts on Google Plus.
For instance, if someone who follows you on Google Plus performs a search while logged in to their Google account, they will be more likely to see your Google Plus post in the search results. So, while your post may only rank as #10 in the general search results, it may show up as #3 when your Google Plus followers run a search. This means the more followers you have, the better visibility your Google Plus posts have in personalized search results. Anyone seeing a positive here?
Furthermore, while Google may not give special preference to +1's, links shared on Google Plus do still count as links…and some types of links are even 'followed'. That means these links pass on PageRank, thereby acting as valuable external link backs to your site (and thereby increasing your search engine rankings). Ding, ding, ding!
2. Google Authorship.
To take advantage of Google Authorship, you first need to have a Google Plus account. Through linking your Google Plus profile to your content across the web, both web searchers and Google are able to easily attribute the content you write to YOU.
So, what's the big deal, you ask? Well, for starters, authorship means any content you've written (that has the authorship markup) will have your photo beside it in the search results. And with research showing time and again that this increases click through rates significantly, not using it is a huge opportunity loss.
Google has even said that content from verified authors will – if not now, then in the future – rank more highly in search results than content that is not linked to an online profile.
For more information, see my post on How to Set up Google Authorship for SEO.
3. The Stats Do Not Lie.
With approximately 540 million users as of October 2013, Google Plus is quietly sneaking up on Facebook in this regard. Granted, Google counts those logged into their Google account as 'users'…so the numbers are clearly skewed.
But even with this in mind, take a look at these stats from 2013:
The +1 button is used over 5 billion times per day (yes, BILLION)
40% of marketers use Google Plus, and 67% plan to increase their usage. This means marketers who do not use the platform will not even be considered competition for those who do!
The Google Plus user base is approximately 67% male. This means if your business targets men, one of the best places you can find them is on Google Plus!
4. Hangouts are Unique to Google Plus.
Even if you're a diehard and loyal fan of Facebook and/or Twitter, you have to admit that no one offers anything comparable to Google Hangouts.
For smaller video chats, you have the option of using straight Hangouts. However the real beauty comes when you use Hangouts on Air for your business. These allow you to record your videos, have a number of people participate in the chats, and then allow the general public to view them as a livesteam or afterward (they're automatically saved to YouTube).
While there are obviously reams of other video chat/conferencing platforms available, the ability to seamlessly integrate your videos with your social media efforts is beyond compare.
It will be interesting to see what's in store for Google Plus in 2014. The growth of the platform in the past year was quite phenomenal, so I'm curious to see if this rate of growth continues or plateaus.
Are you active on Google Plus? If not, what's holding you back? Share below!