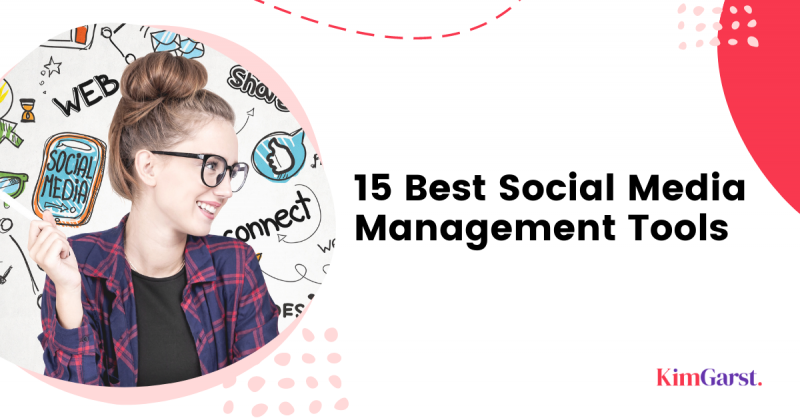 Are you still manually monitoring and managing all your social media accounts?
There's a better way!
Using the right tools to manage your social media can not only make you a more effective marketer, it can save you time, money and a lot of frustration.
In this post, I share 15 of the best social media management tools you should consider using. Be sure to leave YOUR favorite(s) in the comments at the end of the post!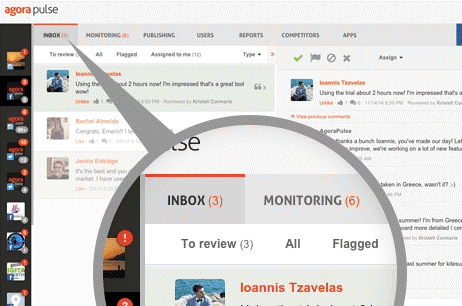 One of my favorite tools of all time. One of the best features is the ability to manage all your social media messages at once in your Agorapulse inbox. Other great features: publish all at once across all social media channels, set queues to automatically republish popular tweets, and set up rules so you never see social media spam again!
Want to learn more about this fantastic tool? Check out my post 9 Things I Love About Agorapulse.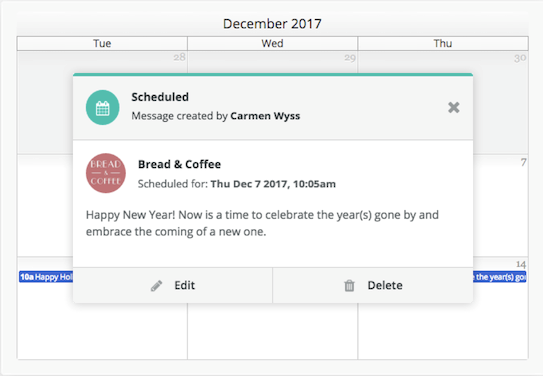 Hootsuite not only lets you schedule and manage your social media posts, its real-time analytics help you spot trends and see exactly how your posts are performing. It also lets you track brand mentions and messages, meaning you always stay on top of your online reputation.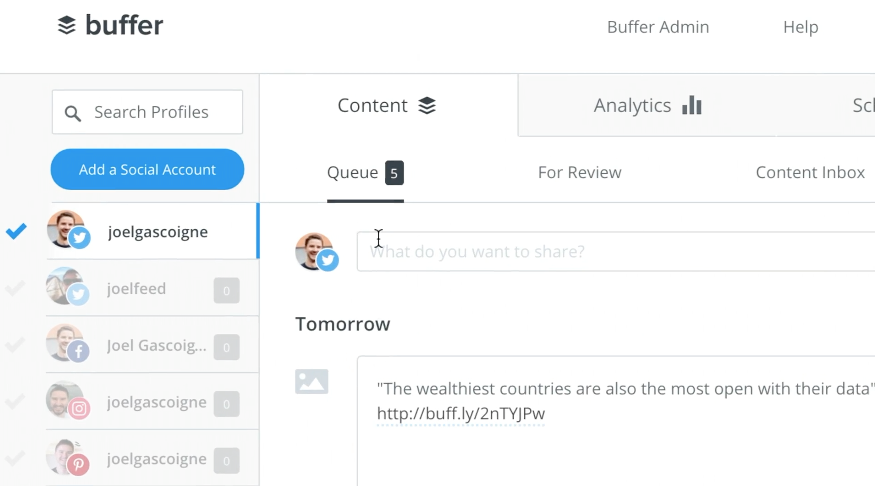 Post scheduling, the ability to customize posts for the specific network you're sharing to, engagement tracking, and in-depth analytics and reporting – it's no wonder Buffer is an industry favorite. Bonus: Buffer's add-on graphics program, Pablo, will ensure you always have amazing images to share!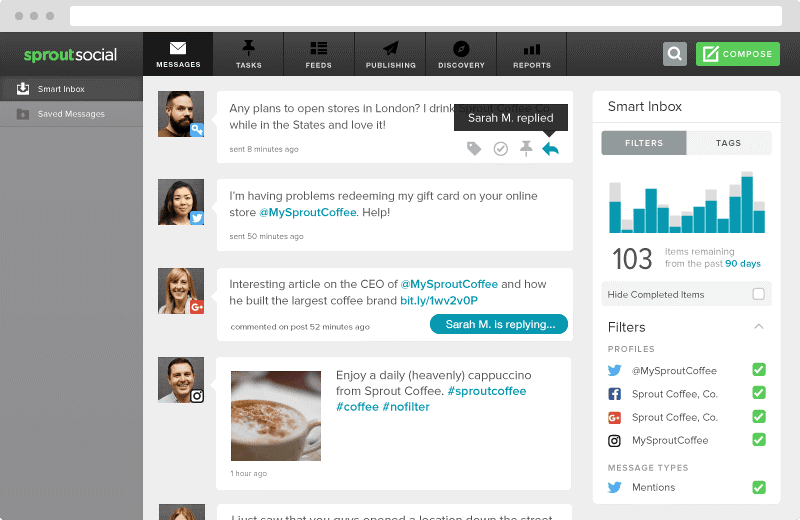 If you're looking for a robust social media management tool for your entire team, look no further than Sprout Social. This tool lets you manage your social media posts and messages, all while maintaining your team's workflow. It even lets you see exactly how responsive and engaging each team member is!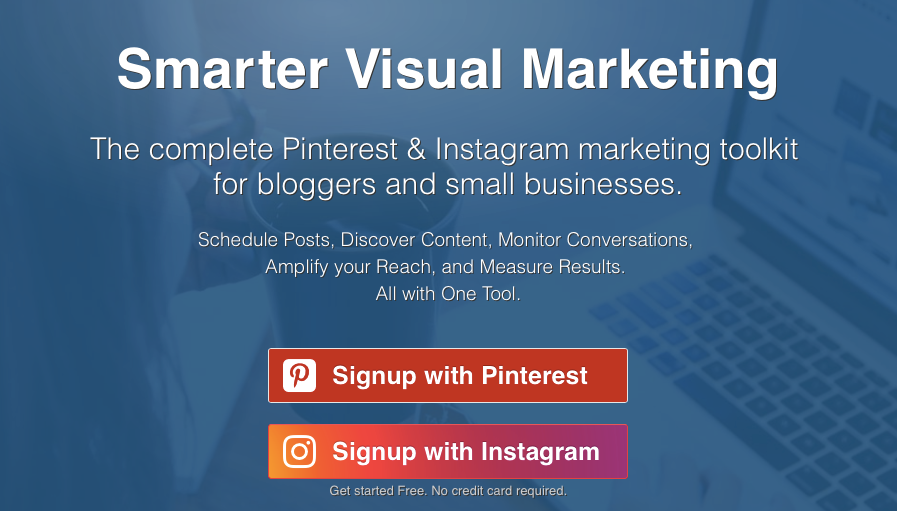 The ultimate social media management tool for Pinterest and Instagram. Tailwind lets you find new content to share, schedule your posts, measure how your posts are performing, and much more. I also love the price – starting at just $9.99/month, it's definitely one of the more affordable tools out there.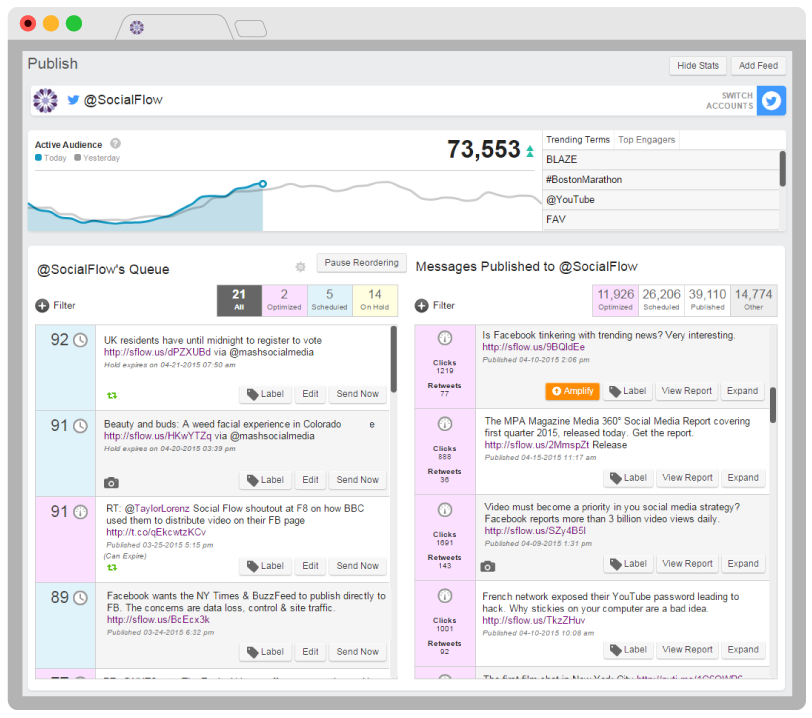 SocialFlow does all the usual social media management stuff, but here's another feature I LOVE: SocialFlow shows you exactly when your target audience is active and what they're interacting with at that moment. No more guessing what time you should post for optimal engagement! Currently, SocialFlow lets you manage Facebook, Google+, LinkedIn and Twitter (unfortunately no Instagram at the moment).
 
 One of the least expensive options out there, SocialOomph lets you do everything from scheduling posts, viewing messages, finding new people to follow, scheduling and publishing blog posts, checking out new followers, and much more. I especially like the "daily digest" it sends each day with ALL of your social media messages. Never miss a PM or DM again!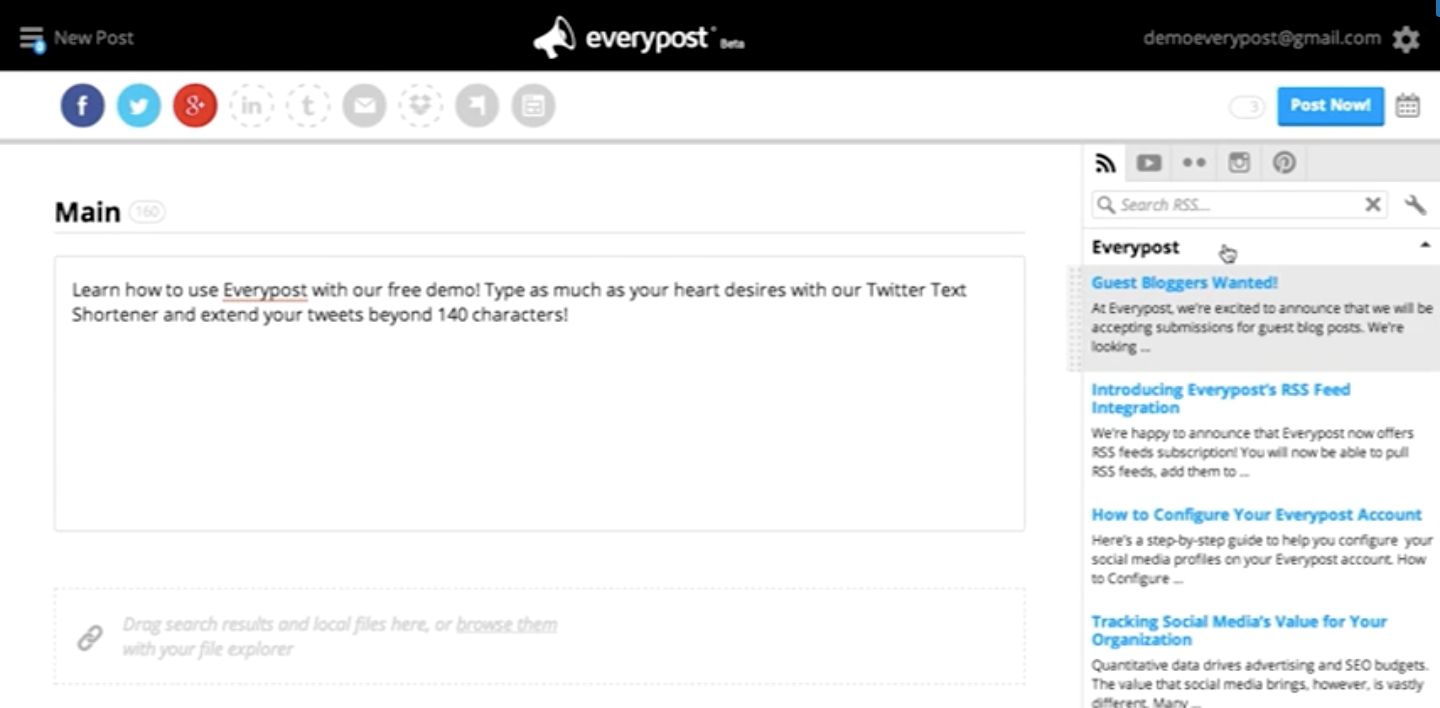 One of my favorite features of Everypost is the ability to easily find relevant new content on YouTube, Instagram, RSS feeds, etc. that you can share with your audience. Also offers the ability to customize posts depending on the platform you're sharing on, and lets you more effectively collaborate with your team using roles and permission levels.
 
 SocialPilot has all the usual features plus a few unique ones: post scheduling, bulk tweeting, team collaboration, customer short URLs, and even client management. I also love their content suggestions feature which ensures you always have something awesome to share with your audience!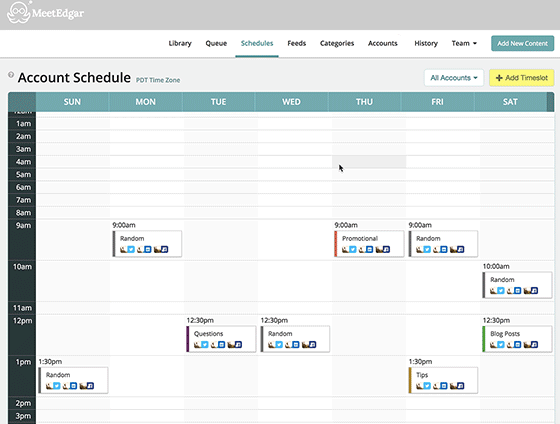 Definitely an industry-favorite, but not the cheapest tool on this list ($49/month). Their tagline is "Like hiring a content manager for a fraction of the cost" – and this is pretty accurate! Edgar shares and re-shares your content at optimal times, lets you create categories of content you can share, and much more. Worth the $ if you can afford it! (Hint: A cheaper and still GREAT option you can check out is SmarterQueue!).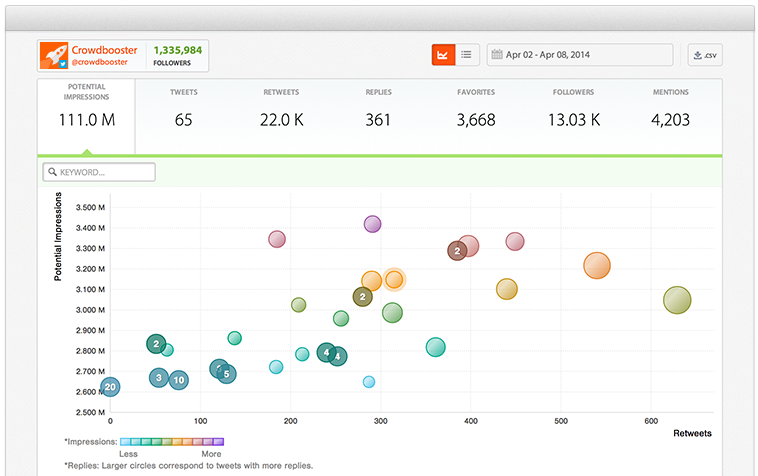 Crowdbooster lets you schedule posts, find your most engaged fans and followers, get real-time reporting and much more. Sadly, it seems they've temporarily halted new signups…so if you want to check it out, you may have to wait!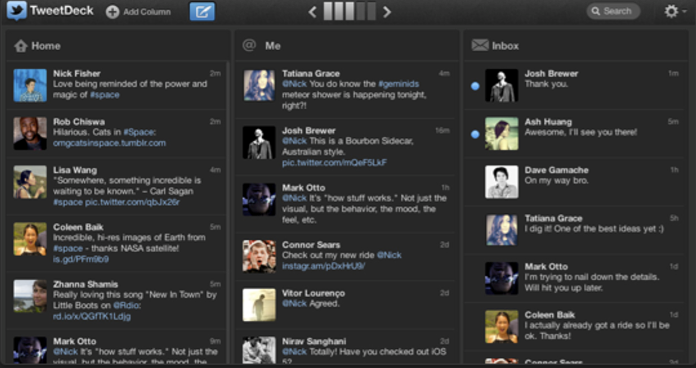 TweetDeck is an industry-favorite for managing and scheduling your tweets. An official Twitter-owned tool, TweetDeck lets you view and manage all your Twitter activity – posts, new followers, DM's and feed – all on one screen. Even lets you view multiple profiles, and shows you live updates via a little popup box. If you're only using Twitter – or just really want to focus on Twitter without getting distracted by your other social accounts – this is an excellent choice.
 If you're looking for a tool just for Instagram management, look no further. Later lets you plan our your posts on a weekly or monthly basis, keep your stuff organized via a media library, and search for and repost related content. The business plans even show you exactly when the optimal times to post are, so you're almost guaranteed to get engagement!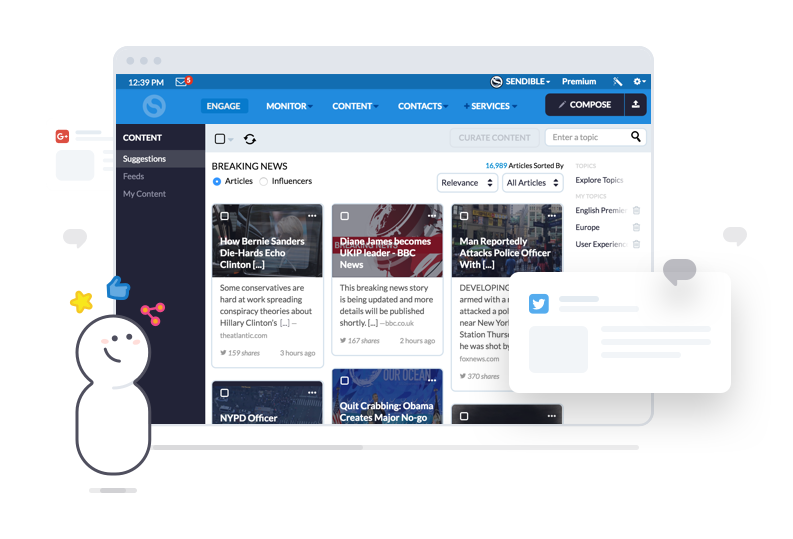 If you offer – or want to offer – social media management to clients, you should definitely check out Sendible. It helps your team easily keep track of multiple clients, all from a centralized hub. I especially love that you always know exactly which tasks are done and still need doing, even when you have multiple team members. I also like the ability to "white label" your services, making your business look more professional when working with clients. This product is one of the most expensive on the list (starts at $49/month up to $499/month), but is worth it if you're working with multiple clients.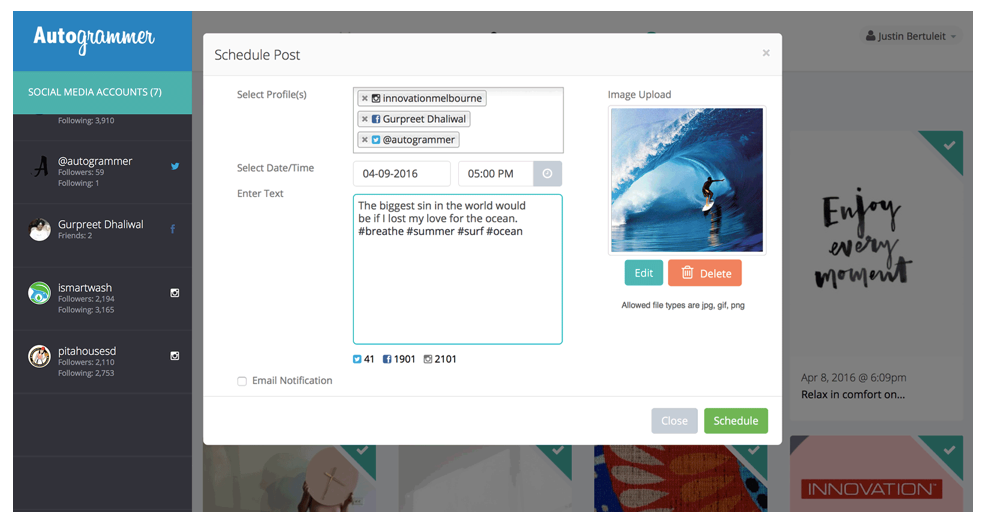 If you're just using the "big 3" networks – Facebook, Twitter and Instagram – Autogrammer is a solid choice. Gives you team functionality, bulk image uploading, and of course scheduling and management of your posts. I also love that you can edit your images right from within the dashboard!
And that's it…15 of the best social media management tools out there!
Looking for more of my favorite tools? Check out these posts:
Top 5 Twitter Tools For Entrepreneurs
10 Instagram Tools For Small Business Owners
15 Top Facebook Tools For Marketers
I'd love to know: which tool(s) do you use to manage your social media? Please let me know in the comments below!
About Author