What do you buy for a business owner who's so busy they don't have time to tell you what they want – or even NEED?
I'm here to help!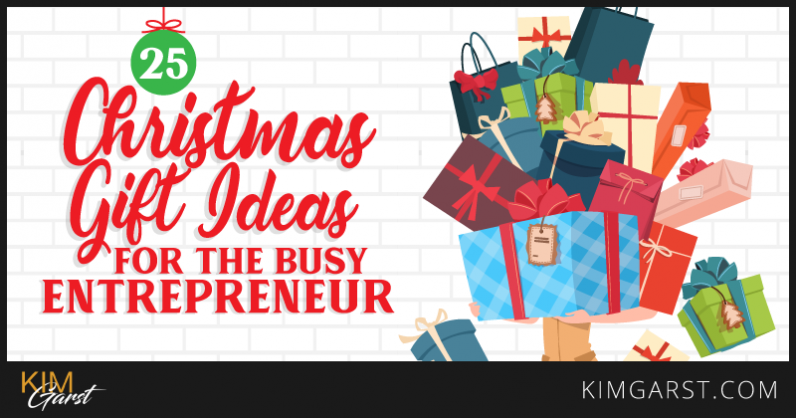 Whether you're looking for Christmas gift ideas for yourself, a colleague or a loved one, I've got you covered.
In this post, you'll find 25 Christmas gift ideas that are ACTUALLY useful…even for the busiest entrepreneur!
25 Christmas Gift Ideas for the Busy Entrepreneur
Professional Development & Productivity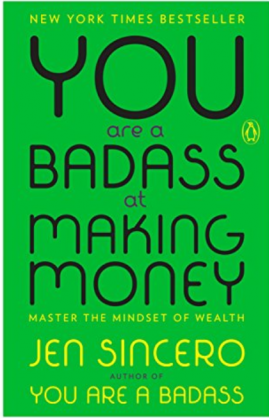 This is a classic and a must-read for every entrepreneur!
Every entrepreneur can use a good old kick in the butt from time to time, and this book does it in a funny, entertaining – and extremely effective – way.
Inspire and motivate your favorite entrepreneur to overcome their self-limiting beliefs, go after what they want, and live their best life!

Keeping your mind and skills sharp by reading the latest business books is SO important, but busy entrepreneurs may struggle to find the time to read.
Audiobooks are a great alternative, as you can read them while driving, walking, exercising or even while doing mindless office tasks.
Give the gift of reading starting at just $14.95/month!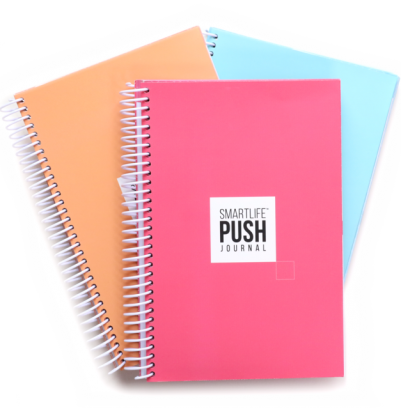 This is no ordinary journal. The Smartlife PUSH journal is the must-have goal-setting system that EVERY entrepreneur should use.
It comes complete with a life balance assessment, action plan, brainstorming activities and more, all designed to help you meet your one-year goals….in 90 days or less.
What better gift could you give your favorite entrepreneur than helping them meet their goals in record time??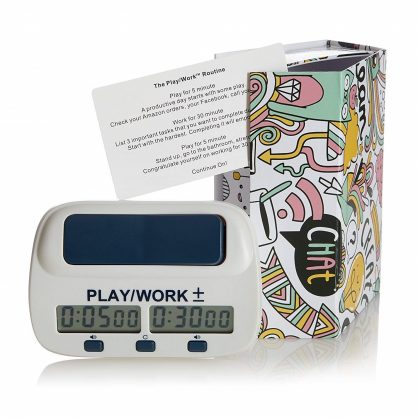 Research has shown that taking regular breaks can actually increase productivity.
A productivity tool like the Play/Work timer pictured above can help you avoid distractions while working…while also giving you regular breaks for some well-deserved social media/texting/coffee time!
Gifts That Keep on Giving
Why give ONE gift when you can give one every month? These are gifts you order once, but that keep on giving for a full year (or more!).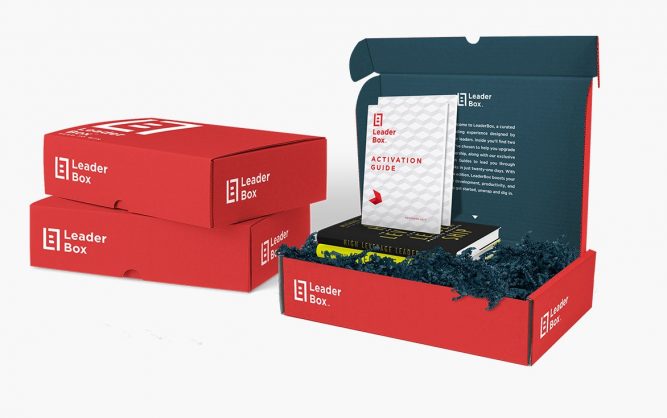 Give the gift of knowledge with Michael Hyatt's monthly book subscription.
Each month, your giftee will receive a box with two reading selections, along with a 21-day reading plan that will allow them to get through both books in just 20-30 minutes a day.
They'll also receive additional resources like executive summaries of the books, a list of related podcasts and articles, and access to a private community of other professionals who are reading the same books.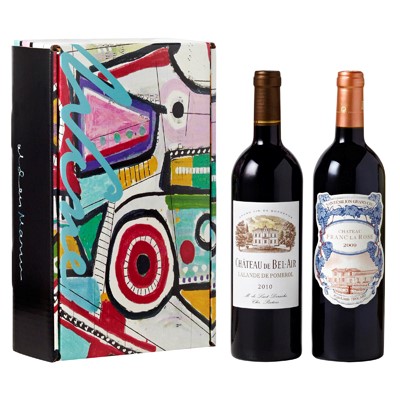 I mean really, who wouldn't love the best wines delivered to their home every month??
Even the busiest entrepreneurs need to sit back and relax from time to time. A wine of the month subscription ensures they always have an excuse to take a break, grab a glass and catch up with friends!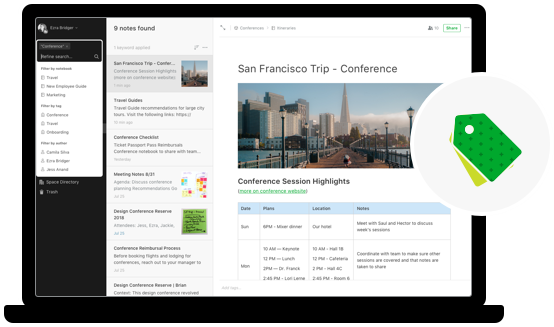 I LOVE Evernote for keeping track of….pretty much everything! From notes, to journal entries, to clips from websites…it lets you track EVERYTHING, all in one place.
The problem is that the free version of Evernote is fairly limited, and may not be enough for a busy entrepreneur.
Fortunately, you can gift an Evernote Premium subscription starting at just $9.99/month!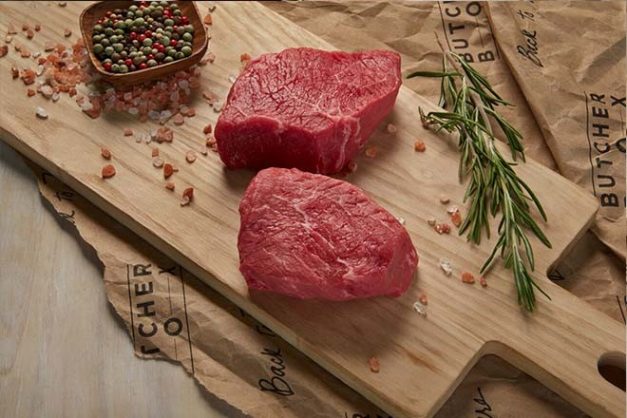 Grocery shopping can often be the LAST thing on a busy entrepreneur's to-do list.
A subscription to ButcherBox means giving humanely-raised, antibiotic-free, top-quality meat, sent right to their front door…all for around $6/meal!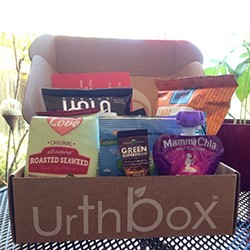 It's way too easy to grab a pastry or candy bar when you're deep in the midst of a big project!
Urthbox is a subscription where your giftee will receive a monthly selection of full-sized organic, healthy – and tasty – snacks and drinks.
You can even choose between different types of boxes depending on the person you're giving it to: the classic box, the diet box…there's even a gluten-free box.
Busy entrepreneurs are, well, just BUSY. As business owners, we all know the power of social media for business. And, we know that we need to be engaging with our fans and followers. Not only that, but we know that visual content gets MORE ENGAGEMENT than any other type of content – like 40-60% more!
But the problem is that it can soak up a ton of time to create amazing content, and most busy entrepreneurs don't have the time to create great content consistently.
If you really, really want to give your favorite busy entrepreneur the best gift EVAH, the "Go Social" Content Club is the perfect gift idea. They will be able to attract more of the right customers with engaging content that sparks a connection with people. When you purchase a monthly subscription to the "Go Social" Content Club, they will get access to NEW images every month – over 200 of them. All they have to do is download, brand and "Go Social", saving them a TON of time!
Easy p'easy lemon squeezy! This means that the busy entrepreneur can consistently share high quality content, each and every day! Trust me, they will thank you 'til the cows come home for this gift!
Awesome Office Stuff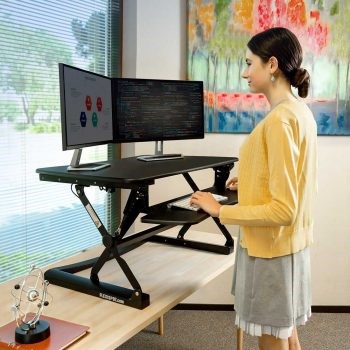 Sitting at a desk all day can be torture for your neck and back, but most entrepreneurs don't consider the fact that there's another option – a standing desk.
The Flexispot desk is a great option for the business owner who's looking for a healthier way to pass the day. With the Flexispot, you adjust the height so you're always as comfy as possible…they even have desk bikes so you can get in a workout while you work!
And, the best part? Our friends over at Flexispot have offered our readers a 15% discount using this discount code: Kim15OFF
I will be going into greater detail about the benefits of standing desks in my upcoming blog: Why Entrepreneurs Should Stop Sitting Around. So, be on the lookout!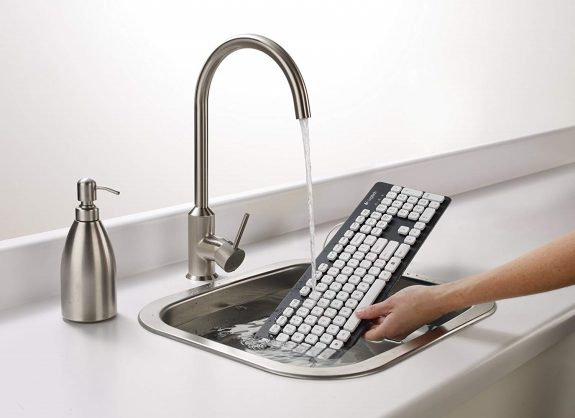 It's happened to the best of us: you spill your coffee on your keyboard and then hope and pray you haven't damaged it beyond repair!
With the Logitech washable keyboard, you never have to worry about liquid damage again. And you can make sure it's clean and germ-free by giving it a good wash as often as you like….something you'll definitely appreciate during cold and flu season!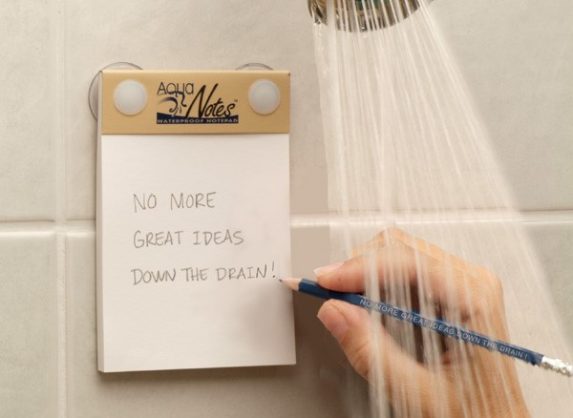 You never know when inspiration will strike!
Don't take chances; with AquaNotes you'll always have a pen and paper at the ready, even in the tub or shower.
And though it may look like a small whiteboard, it's actually a real pad of waterproof paper…meaning when you get out of the shower, you can rip of the paper and take it with you!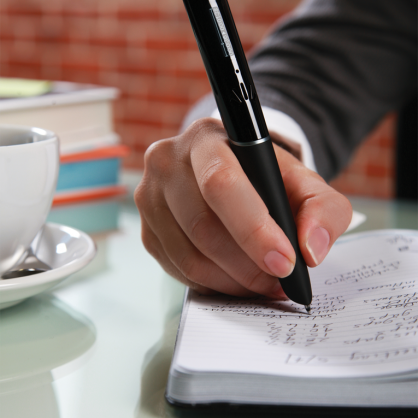 Have you ever written out pages and pages of notes at a workshop, conference or meeting, only to have to type them all up afterwards?
With the Livescribe smartpen, every word you write is recorded (it will even record your voice if you want), and will then be automatically transcribed when you download your notes to your computer or the cloud. What a GREAT idea!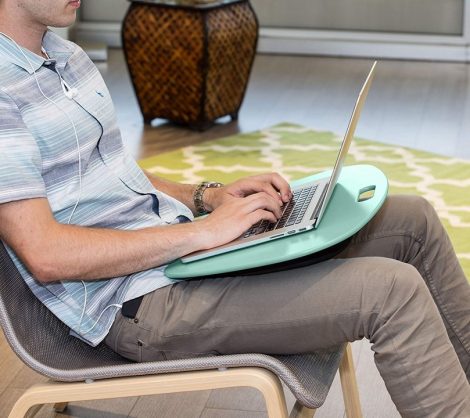 As a busy business owner who's constantly on the go, a portable desk for use at the airport, in a cab, or even in bed can be a lifesaver!
The Honey-Can-Do portable lap desk has a removable pad, a handle for easy carrying, and is small and lightweight enough that you can take it virtually anywhere. It also comes in six funky colors, making it a fun gift to give!
Self-Care and Health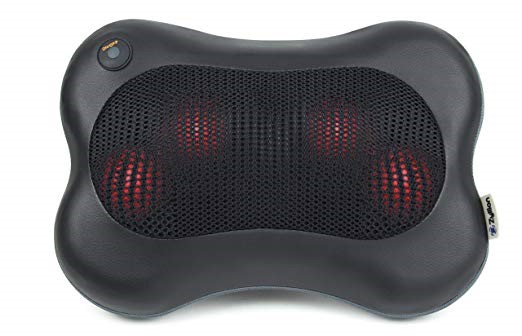 A busy day full of meetings, driving and computer-work can lead to lots of stress and tension…and stress and tension can lead to sore shoulders, an achy neck and pesky headaches.
The Zyllion Shiatsu Back and Neck Massager is an affordable way to give the gift of stress-relief.
And with nearly 8,000 4.5-star reviews on Amazon, you know it's gotta be effective!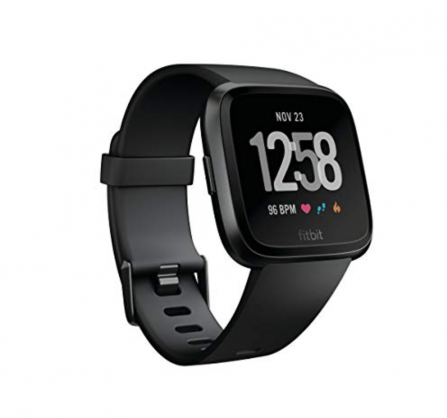 Contrary to what you might think, Fitbits aren't just good for tracking your fitness levels.
A product like the Fitbit Alta will let you track sleep, give you reminders when it's time to move around, and even gives you phone and text notifications while on the go.
And with prices starting at just $149.95, you can wow your favorite entrepreneur without breaking the bank!
For $30 more, you can get this version with a woven band if you are looking for something a little more feminine.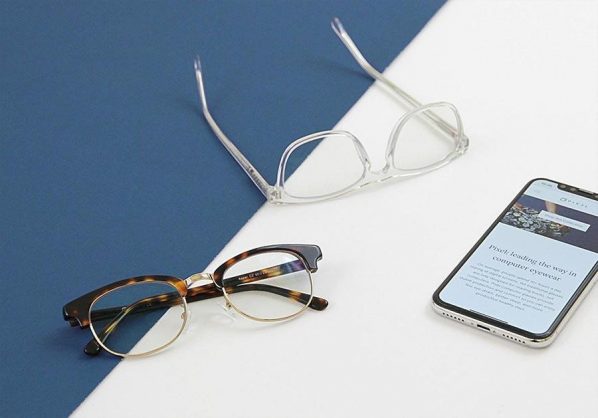 According to the makers of Pixel computer glasses, the average person spends 10+ hours a day on screens. And all this exposure to blue light can lead to eye strain, headaches and dry, sore eyes.
Pixel's computer glasses cut out the blue light, meaning less eye strain and eye fatigue. Order them with or without a prescription!
Edible Goodies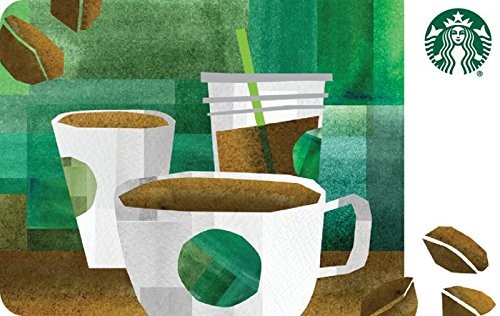 How can you go wrong with a Starbucks gift card?
Buying specialty coffees every day can really add up, so giving the gift of Starbucks is a thoughtful and money-saving gift that any busy entrepreneur will appreciate.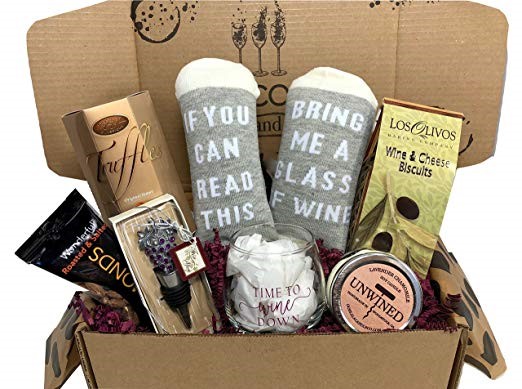 When the weekend finally arrives, it's time to set your work aside and enjoy some wine time!
This wine lover's gift box doesn't actually contain wine, but it comes with everything else you'll need to enjoy your favorite wine: truffles, wine & cheese biscuits, a wine glass and even a pair of cozy wine socks!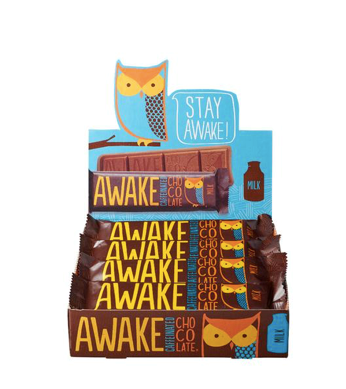 For the non-coffee lover in your life who still needs a way to stay awake on those long, gloomy winter days, Awake chocolate is just the ticket!
With each yummy bar having around the same amount of caffeine as a cup of coffee, it's the perfect energy-booster for the business owner who doesn't have the time or interest in sitting down with a cup of java!
Work-at-Home Products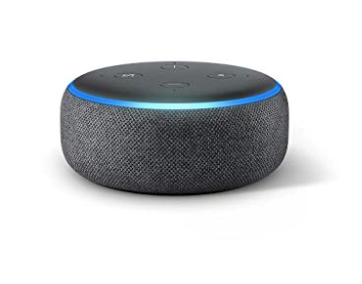 If your entrepreneur-friend works from home, he or she will LOVE the Echo Dot!
Once it's hooked up, they can ask "Alexa" to do any number of tasks – like play music, turn on the lights, set an alarm or answer a question – all without leaving the comfort of their chair.
And since it starts at just 50 bucks, it's a surprisingly affordable gift!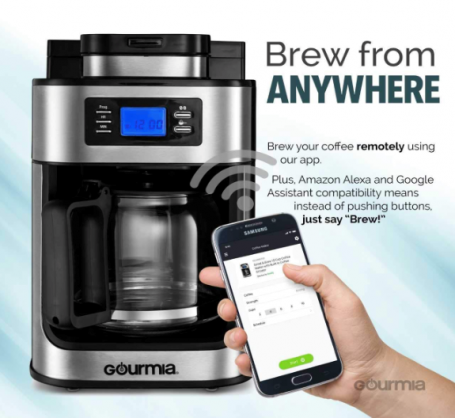 Did you even know this was a thing?!
Coffee is the lifeblood of the at-home entrepreneur. With the Gourmia WIFI coffee maker with built-in grinder, making a cup of coffee has never been easier!
Using the Gourmia app – or by connecting it to Alexa (see #22 above) – simply say "brew" and a steaming hot cup of joe is on the way!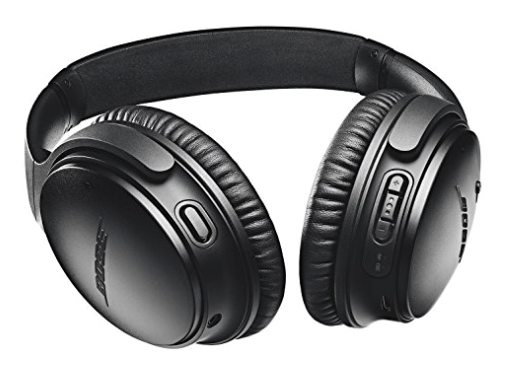 Noise from pets, kids and lawnmowers are all common distractions in the life of an at-home business owner.
Fortunately, a good pair of noise-cancelling headphones – like the QuietComfort Wireless headphones from Bose – can block out all unwanted noises while still allowing you to take hands-free phone calls.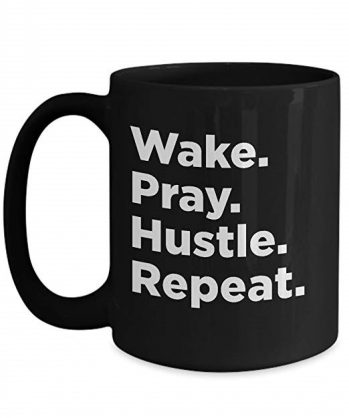 Finally, for the entrepreneur who has it all, how about an inspirational, funny or motivational mug? Starting at just 5-10 bucks, you really can't go wrong!
Final Thoughts
I trust this post will help you find the PERFECT gift for your favorite entrepreneur!
I'd love to know what you end up getting…and what their reaction is! Make sure you come back and let me know in the comments below.