Let me be clear right from the outset: I am not talking about how to directly sell your products or services on social media. Social media should, first and foremost, be primarily about building relationships and attracting leads, not about making sells. If you do the first, the second will follow.
So what do I mean by saying that you can generate income producing leads on Google+ then? In this post, I will be using the word to specifically refer to the process of attracting visitors from Google+ to landing pages on your website; the purpose of which is to move your visitors to the next stage of your online marketing funnel.
For instance: Let's say you are an attorney, and are looking for ways to use Google+ to reach out to new potential clientele. Through the various methods we will discuss below, Google+ can be a great channel for attracting potential clients to your website. Once these prospects have arrived at your site, it's now your landing page's job to 'capture' this lead.
Your landing page may include a contact form for a free consultation; or, if your marketing funnel is a little more complex, your landing page may simply invite visitors to join your email list. In either case, however, you have just generated a lead.
Following are 4 ways you can generate income producing leads to your website using Google+!
1.      Produce Excellent Content.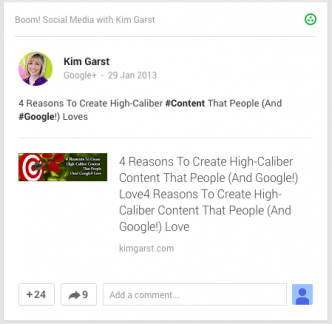 If you only take one thing away from this article, let it be this. Create a steady stream of content that's of true value to your community, and include links back to your blog and/or specific landing pages on your site.
 In this era of inbound marketing, offering value through providing content is absolutely paramount; and it also happens to be the #1 way to get people to your site.
Some types of content you can create and promote on Google+ include:
Whitepapers
E-books
Webinars
Blog posts
Videos
Guides and tutorials
An added benefit to sharing your content on Google+ are the SEO benefits that come with it. Although we do not know exactly how +1's factor into SEO, we do know that activity on Google+ does influence organic search rankings.
2.      Add Links to Your Photos.
Your biggest pieces of real estate on Google+ are your cover photo and profile picture. One way to subtly draw attention to your website is to include your url on one of these photos.

 Remember to include your url both in your photos, as well as in the descriptions of your photos for additional exposure.
If your prospects like what you have to say on Google+ (see #1 above), they will be more likely to visit your website and continue down your marketing funnel. Having your url easily accessible in your photos is one way to make this as easy and convenient as possible.
3. Use Circles to Tailor Your Content.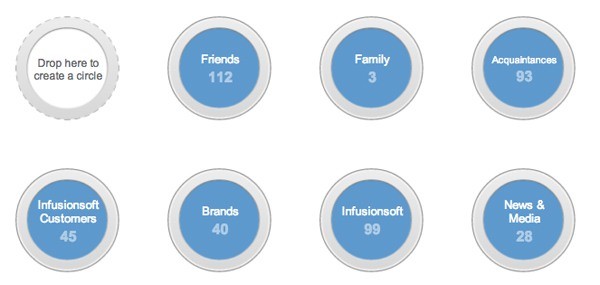 Image courtesy of Infusionsoft
We know that sharing highly relevant content with specific subsets of people is a very effective way to generate leads. And on Google+, circles make this exceptionally easy.
By creating circles for different groups of people, for instance 'prospects' and 'customers', you can tailor your message to each group of users. The types of content you share with each group may vary, and the calls to action you use may also be different. You may also wish to segment your audience by interest, geographic location, demographics, or any combination of these.
The more you are able to write and promote content aimed at a specific portion of your audience, the better that content will convert.
4.      Use Links Throughout Your Google+ Page.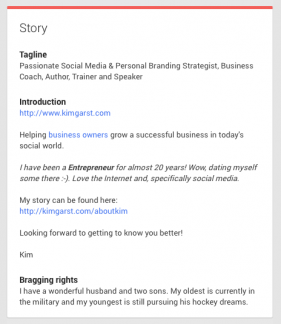 As with #2 (adding links to photos), it's important to add links back to your website, both in your Google+ profile and within your posts. This will benefit you not only in terms of SEO, but by providing a simple and convenient way for interested prospects to find you.
If you haven't already, I would encourage you to set up a landing page on your website specifically for you to send your social media visitors to. This page could be tailored to be of interest specifically to these visitors, could include a brief overview of who you are and what you do, and of course, a strong call to action to ensure you 'capture' these leads.
Keep in mind that generating leads is not the same thing as making sales. Always remember that social media is social, not commercial. It does, however, provide an amazing opportunity to reach out to potential customers and clients and to attract them with valuable and helpful content.
 Are you using Google+ to generate leads to your website? Do you have any questions about using Google+ for finding potential customers? Ask away and I'll try to help!