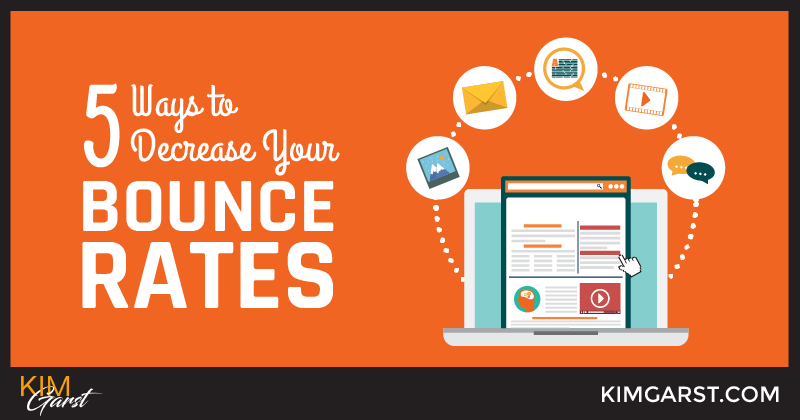 When it comes to your website analytics, higher rates are always better – right? It is always good to have HIGHER page views, MORE visitors and INCREASED time on site. However, there is one metric where HIGHER is bad – really, really bad – and that is bounce rates.
While you may have heard of bounce rates before, you may not be entirely clear on what they are. Your bounce rate is simply the percentage of website visitors who leave your site after a single page visit. There are a number of reasons your site may be experiencing high bounce rates. Some of the most common ones include:
Poorly designed or slow-loading pages
Content that doesn't match the expectation of your visitors
Improper use of calls to action (too many, too few or too confusing!)
Having low-quality or 'thin' content
Non mobile-friendly design or content
While it is difficult to come up with an average or acceptable bounce rate, anything over 60-70% is probably cause for concern. If your bounce rate is below 20 or 30%…congratulations! You're definitely on the low end of the scale.
This post will look at 5 ways to decrease your bounce rates and increase page views and time on site!
1. Make sure your site is optimized for mobile.
You may have heard of 'Mobilegeddon', Google's latest search algorithm update. This update means that sites that aren't optimized for mobile are likely starting to receive less search engine traffic.
That isn't the only danger with a non mobile-friendly site though; sites that aren't optimized are likely receiving extremely high bounce rates given the high percentage of mobile internet users. If your site and content aren't yet optimized for mobile, now is the time! Here is a guide Google has provided for making sure your site is optimized for mobile.
2. Re-write or improve on your existing content.
Have you ever arrived at a site, excited to learn something new or receive valuable information, only to be bombarded by short, poor quality or 'thin' content?
Take a look at your analytics to see which pages are resulting in the highest bounce rates. Ask yourself what you can do to improve that content:
Is the content high quality and thorough? Or is it short and 'fluffy'? (i.e. doesn't do a good job of covering the topic at hand)
Is your content easy to read and 'scannable' (i.e. uses short paragraphs, bullets and numbered lists, appropriate use of white space, etc.)
Is it well written and does it convey a sense of professionalism? Or does it contain typos or grammatical errors?
Does your page meet the expectations of your visitors? (e.g. If people are expecting an informational blog post but are landing on a sales page, their expectations clearly haven't been met).
3. Have a clear call to action.
I love this tip, as it is a simple strategy that can have such significant results. It is critically important that each page on your site has a clear call to action to let your readers know what to do next.
A great blog post or product page can only accomplish so much on its own; make sure you suggest at least one further action your visitors can take after visiting that page. For product pages, try suggesting related or add-on products. For blog posts, direct readers to related posts. A WordPress plugin like WordPress Related Posts can help with this.
4. Cut down on ads.
It can be easy to get carried away with ads, particularly on content-based sites. After all, they may be your main (or only!) source of revenue. However, a page with too many ads can be a big turnoff, and may be sending visitors running from your site.
If you are using popup ads, take a look at what your bounce rates were before you started using them. If they are causing your bounce rates to soar, consider using an exit-intent popup instead.
5. Speed up your load times.
Four years ago, website visitors would typically wait up to 6-10 seconds for a page to load before abandoning it. Today, your page has to load within 2-3 seconds or people are bouncing! We are certainly not getting MORE patient!
Two easy ways you can speed up the load time of your site are:
Optimize your images: Too many big images can wreak havoc on your load times. Use a plugin like EWWW Image Optimizer to automatically optimize images as you upload them.
Use browser caching: Browser caching increases page speed by 'remembering' which elements have already been loaded. In this way, your visitors' browsers only need to load 'new' elements. For instance, it will remember that the website header or logo has previously been loaded, and doesn't need to download it each time a guest visits a new page. The W3 Total Cache plugin is an easy way to set up browser caching on your site.
Here is a very thorough article from Crazy Egg that will help you speed up your site. Warning: You may need to hand over this task to a qualified web professional!
And there you have it: 5 ways to decrease your bounce rates. Keep in mind that for each page your readers visit, you get a fresh opportunity to connect with them – and ultimately another chance to convert them!
What strategies would you add to this list? Have you managed to successfully decrease your bounce rates? How so?
About Author