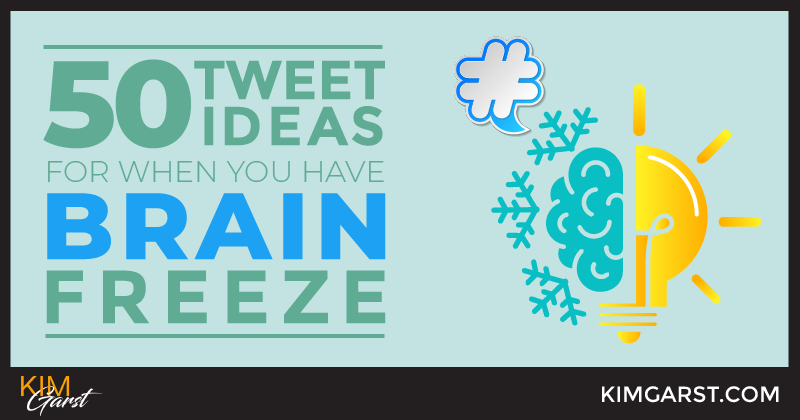 Running out of things to say on Twitter? Join the club! It can be hard to constantly come up with new and interesting things to tweet. This article will give you 50 tweet ideas for when you have brain freeze. I hope this helps to make sure you never again run out of stuff to say on Twitter!
50 Tweet Ideas for When You Have Brain Freeze
Participate in Follow Friday (Use #FollowFriday)
Recommend one of your favorite businesses or tools
Link to a new post on your blog
Share a random fact about your business or ask for a random fact about your followers
@mention an influencer in one of your tweets (great for getting noticed!)
Ask your followers for help, or retweet someone else's request for help
Tweet a link to a survey created using Google Forms (it's free!)
Share an inspiring or motivational quote (these are great for getting retweets!)
Share a random deep thought
Tweet out a call for guest bloggers
Share breaking news in your niche or industry
Hold a flash sale just for your Twitter followers
Help forge connections by introducing tweeps you think would benefit from knowing one another
Share a random piece of trivia (you can find completely random facts using The Random Trivia Generator)
Tweet a picture from an in-person event or meeting
Build up anticipation by tweeting out a countdown to a big event (sale, conference, book launch, etc.)
Share a tip to help your audience with a business problem
Tweet breaking news
Thank someone for a great blog post, or simply for being a great person!
Share a funny moment or observation
Send a shout-out to your new followers
Reply to someone who has mentioned you
Send a word of encouragement to someone who needs it
Share an interesting or relevant industry-related fact or stat
Share a prediction you have for your industry (great for getting retweets!)
Tweet a link to a List.ly list
Tweet a link to your Facebook Page or Instagram account
Respond to mentions of your business: Use a tool like Social Mention or Hootsuite to find tweets to respond to.
Tweet out a link to a great Pinterest board (not necessarily your own)
Comment on someone else's tweet
Invite your followers to join your email list: Offer an enticing opt-in incentive for best results!
Recommend a book or movie your followers would enjoy
Use relevant hashtags to grow your business (here's how)
Tweet out an exclusive coupon just for your followers
Try out a product card to showcase one of your products
Share a favorite song or playlist that inspires you while you work
Conduct an informal poll by asking your followers a question
Post an inspiring proverb
Announce an upcoming event or promotion
Live tweet from a conference, meeting or webinar
Share a comic or cartoon your followers would appreciate
Post a fill-in-the-blank tweet: "If I could change 1 thing about myself it would be ____________"
Ask your followers what you can do to help them
Send out a holiday wish, or announce a random holiday (like National Candied Orange Peel Day!)
Show your personal side by sharing a personal thought or reflection
Say something controversial to get people talking!
Share a candid photo of yourself, your workspace or your staff
Share a link to an old blog post: This is a great way to make sure your new followers see your old posts!
Ask your followers for recommendations for a restaurant, business tool, service or new music to listen to
Promote your product or service: Notice I left this one until last? It's okay to be promotional, but do so sparingly! The majority of your content should be valuable, informative and/or entertaining!
Looking for ideas of what to post on Facebook? Check out my post 17 Killer Facebook Post Ideas for Small Business Owners.
So there you have it…My 50 Tweet Ideas for When You Have Brain Freeze! 
What would you add to this list? What types of tweets work best for you? Share with us below!
About Author