UPDATED: September 16, 2019

Sometimes, hiring a professional graphic designer just isn't in the cards.
Maybe it's an issue of cost, or maybe you're in a time crunch; or maybe, you have a creative streak but just aren't the "techie" type.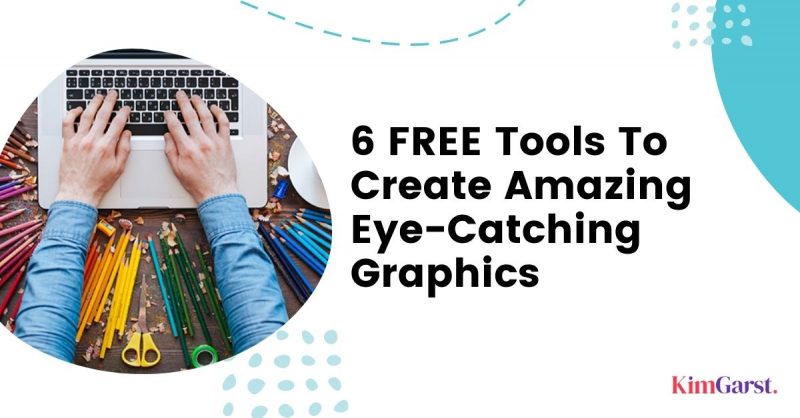 If any of this sounds familiar, you'll be happy to know there are some excellent, FREE tools you can use to create your own simple graphics for use in your business, on your blog or on social media, quickly and easily.
Following are 6 FREE tools to create amazing eye-catching graphics!
If you're looking for more tips, you may also enjoy The Secret to Great Facebook Graphics.
Adobe Spark is an amazing set of tools for creating graphics, web pages or videos. To create graphics, you can download Adobe Spark Post (from the Google Play Store or the App Store), or use the tool online.
Template categories include both web and print options, like social media graphics, posters, collages, slideshows, newsletters, ads, and more.
I love that you can also search for templates based on your niche: for instance, education, non-profit, photography, small business, or travel.
So, now the downside: The free version of Adobe Spark is fully-functioning, BUT it comes with the Abobe Spark watermark L. So, while the free version is great for trying the tool out, I recommend upgrading to the paid plan, which starts at $9.99/month.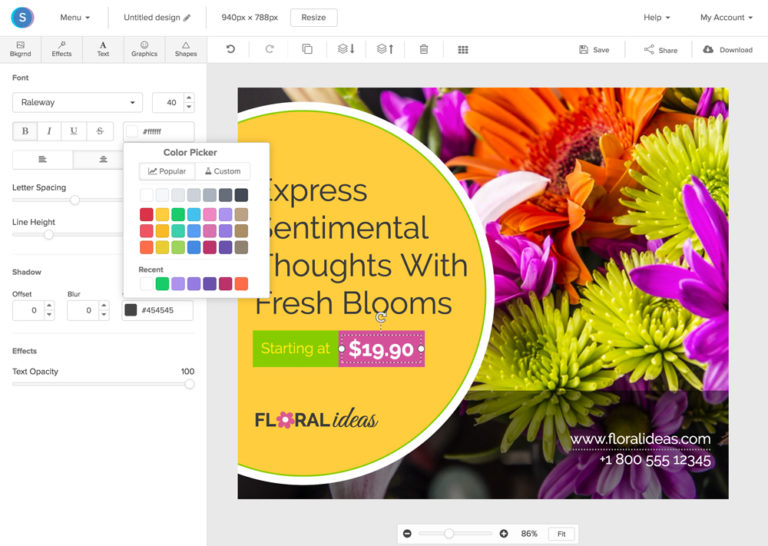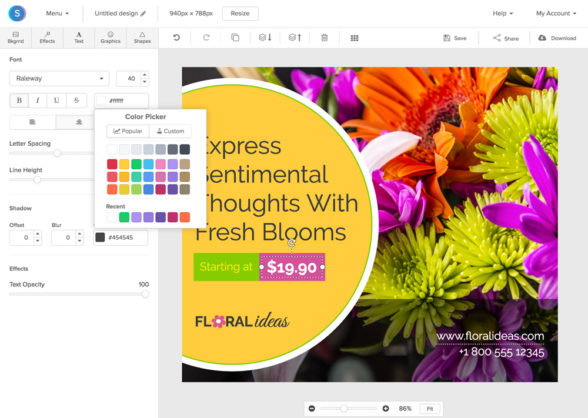 If you love Canva and are looking for a comparable tool to add to your design toolbox, look no further than Snappa!
With thousands of templates, a user-friendly graphic editor, and tons of free photos and graphics to choose from, the free version of Snappa is more than enough to get you started.
Template categories include social media graphics, blog images, eBook covers, infographics, email headers, ads, and many more.
If you're looking for advanced features like custom font uploads, social media sharing (directly from the tool), or need access to more photos or graphics, the Pro Plan starts at just $10/month.
In terms of editing abilities, Lucidpress is #1 on this list.
Choose from one of their many templates, and then customize literally any element to make it exactly how you want.
Because Lucidpress offers such advanced editing options, they don't have nearly as many templates as the other tools on this list – only 350, in fact.
But if you have an artsy side and need more flexibility than the average free graphic design tool will give you, this tool definitely lets you flex your creative muscles!
The free version is great for getting started, letting you create documents of up to 3 pages. If you want to create longer documents or print-quality PDF's, you can upgrade to the Pro Plan starting at $16.95/month.
If you're looking for a tool that has templates for pretty much ANY graphic you could ever want, Canva is probably the right tool for you.
Template categories include all the usuals (social media graphics, blog graphics, etc.) plus eBooks, logos, worksheets, magazine covers, coupons, recipe cards, lesson plans…and the list just goes on and on!
I also love that you have access to their full gallery of stock photos…many of which you can use for free, or starting at just a buck.
The free version of Canva is more than enough to get you started creating amazing, eye-catching images. But if you want access to even more templates, photos, branding elements ad team functionalities, their paid plans start at just $12.95/month.
Canva is one of my daily go-to graphic design tools!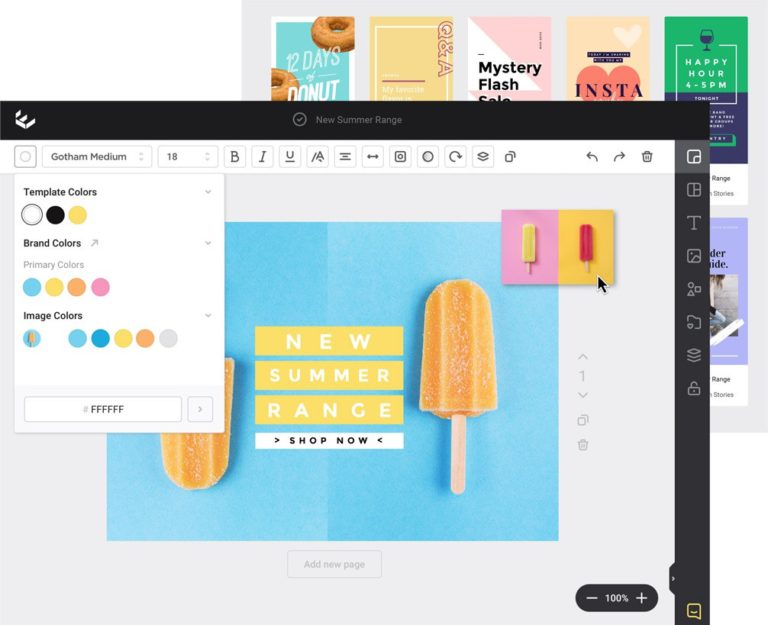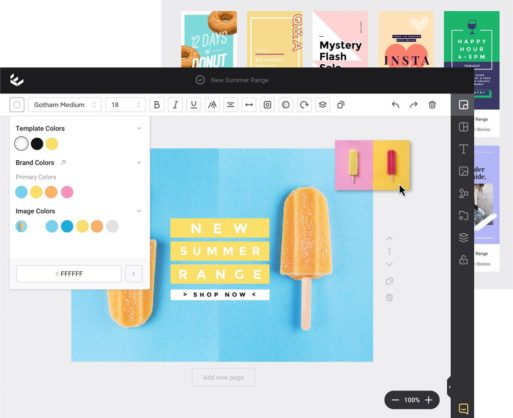 If choosing a color palette for your graphics is a struggle for you, Easil is a great option to create amazing graphics!
Their color palette generator automatically pulls colors from your existing images, meaning you always have exactly the right colors…no more guesswork!
Like all of the tools on this list, Easil allows you to easily create a number of different graphic design assets for your business: including posters, social media graphics (including Instagram stories), business cards and invitations.
While it doesn't offer nearly as many template categories as some other tools (I'm lookin' at you, Canva!), where it shines is in terms of branding.
While Easil's basic plan is 100% free, the Plus Plan ($7.50/month) gives you access to their Brand Kit – a system that keeps all your templates, colors, fonts and logos in one place. This will ensure that your branding stays consistent, even if you have multiple team members creating your content.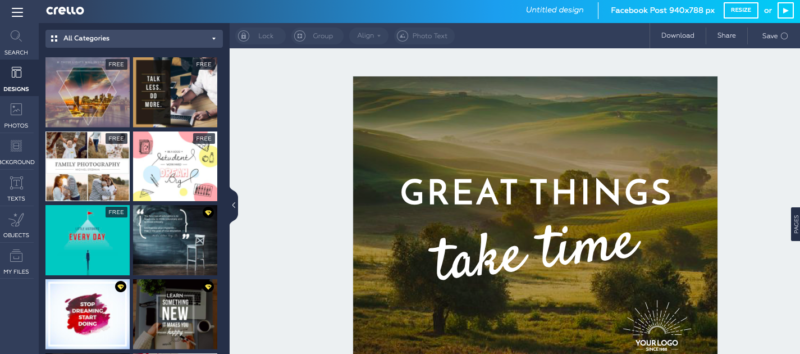 Of all the tools on this list, Crello is near the top when it comes to template design. Their templates are absolutely GORGEOUS, meaning you can easily create stunning graphics with very few tweaks or edits. Simply change the text or add your logo, and you're good to go!
In terms of template categories, Crello offers considerably more options than Easil. Some of the categories include: social media images, covers and headers, ads, posters, presentations, animations (including animated Facebook covers and Instagram stories), and blog graphics.
Crello's basic plan is awesome, but if you need more templates, more stock photos, or unlimited custom fonts, the Advanced Plan offers all this and more for an annual cost of $79.99.
3 BONUS graphic design tools
You know I love my tools!
So, I wanted to include 3 additional tools you'll definitely want to check out.
Besides offering tons of templates, fonts and textures, you can also use PicMonkey to edit or touch up your existing photos, or to add text, effects or filters. Template categories include ads, logos, infographics, social media graphics, business cards, flyers…their selection is actually pretty impressive! And their free plan is awesome – the major limitation is that you can't export pdf's and only get 1 GB of storage. The Pro Plan, which comes with pdf exports and unlimited storage, starts at $12.99/month.
Bonus tool #2: Stencil

Stencil gets a big honorable mention simply because of its simplicity of use. If you want a great tool to create amazing graphics and with little-to-no learning curve this is a great option for you. The free version lets you create and save up to 10 images per month, which may be enough for many small business owners. And if you find you need to create more images or need access to their full template, image and icon gallery, paid plans start at just $9/month.
Bonus tool #3: Pablo

Pablo by Buffer is another no-nonsense tool for creating eye-catching social media images. While it's not as fancy or feature-rich as many of the tools on this list, it does what it does WELL – lets you easily create shareable images (particularly quotes) to increase social media engagement. And the best part? Because Pablo is a relatively new tool, it's completely free, with no paid option!
Final Thoughts
And there you have it: 6 amazing free tools (plus 3 bonus ones!) that will help you create simple graphics within minutes. You no longer have to be a "techie" to be able to create eye-catching graphics for your website or social media accounts!
Do you create your own graphics? Which tools do you use? Share a link with us below!
About Author