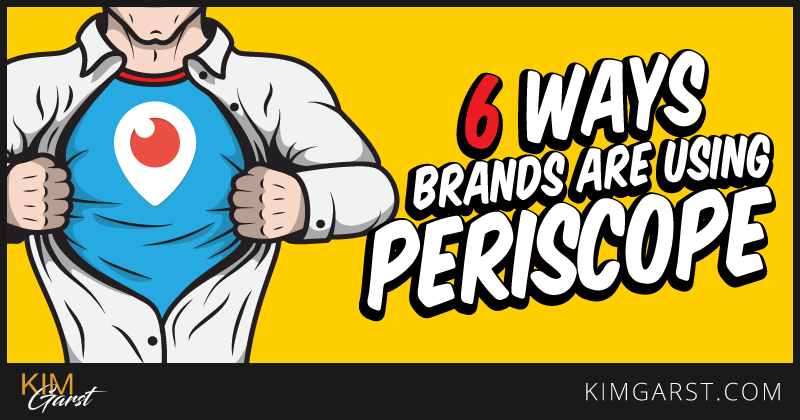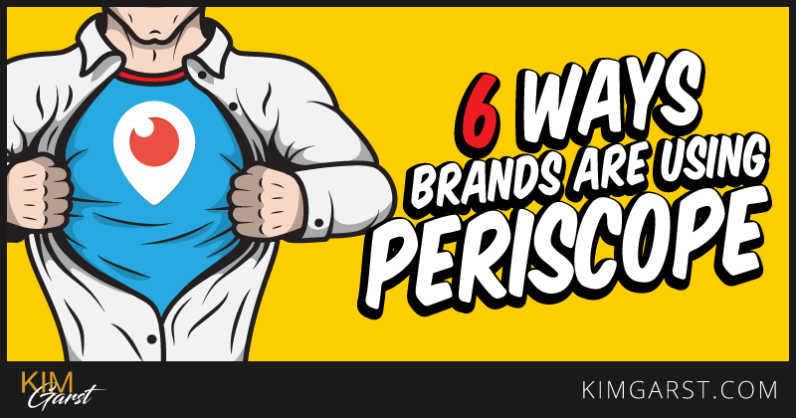 Periscope is opening up a whole new world for savvy marketers and business owners. Sharing live video broadcasts can help you connect with your prospects and community in a whole new way, making your brand more real, more relatable and more accessible.
Here are 6 ways brands are using Periscope:
1. Live streaming contests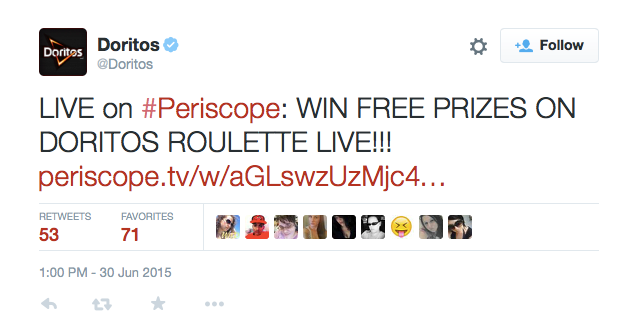 "A hot chip in every handful" was the slogan behind the Doritos Roulette chips campaign. The idea was: Buy a bag of the new Doritos Roulette chips. Grab a handful (if you dare)….but be aware that one chip in every handful will be fiery hot!
Part of the experience involved participating in the #DoritosRoulette live streaming contest on Periscope. Viewers who logged in to watch the broadcasts were randomly selected to become contestants. After spinning a roulette wheel (live, on air), contestants could win a number of prizes.
Doritos did a great job of utilizing a number of different social media platforms for their campaign, including Twitter, Vine, and of course, Periscope. The next time you decide to launch a contest, consider incorporating Periscope into your plan!
2. Exclusive access to events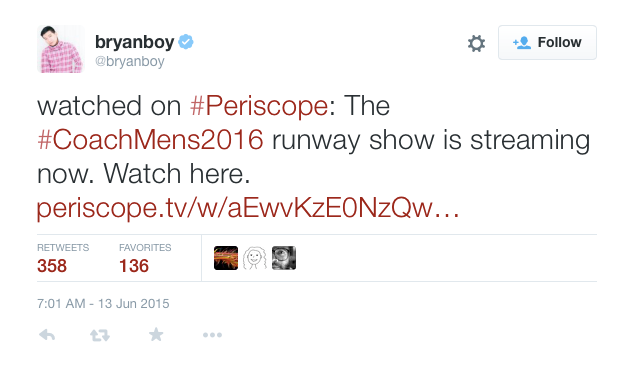 @Coach recently gave their Periscope followers exclusive behind-the-scenes access to their men's fashion event in London. Viewers were able to watch the event close up, go backstage and watch a live interview with the show's creative director.
Why not use Persicope to let your followers feel like they are part of your live events? Tradeshows, conferences and product launches are all great opportunities to broadcast live to help your followers feel like they are in on the action.
3. "Sponsored" scopes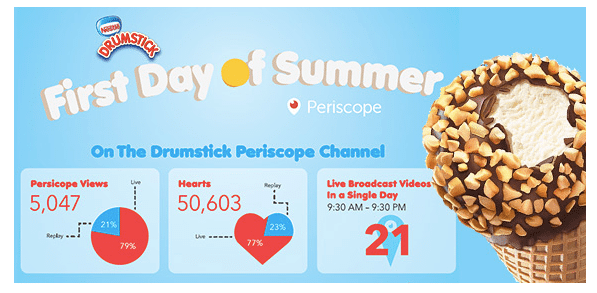 While Periscope doesn't yet offer any advertising options, some brands are coming up with creative ways to extend their reach on the platform. Nestle Drumstick recently launched their First Day of Summer campaign, using Periscope to live stream classic summer moments.
The company hired Periscope influencers to participate in the campaign, clearly marking their broadcasts as sponsored with the hashtag #ad. The results? Over 5,000 Periscope views and 50,000 hearts.
4. Chat in real time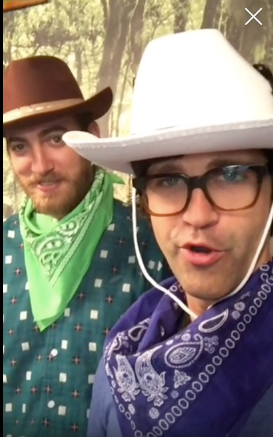 Periscope gives brands the opportunity to interact and engage with their followers in real time. Wendy's took this to a whole new level by enlisting the help of YouTube stars Rhett & Link. Viewers were invited to visit Wendy's microsite to get in line to chat live with the pair. Rhett & Link would then create skits or sketches based on the questions, all the while promoting Wendy's cool summer drinks.
Unfortunately, the plan wasn't quite as successful as expected. The site quickly became overloaded, and many users complained about not being able to access the broadcasts. This shouldn't dissuade other brands from engaging in live chat on the platform, however. The enthusiasm and participation from Wendy's fans indicates an eagerness that other brands may be able to harness with more success.
5. "Peek behind the curtain" videos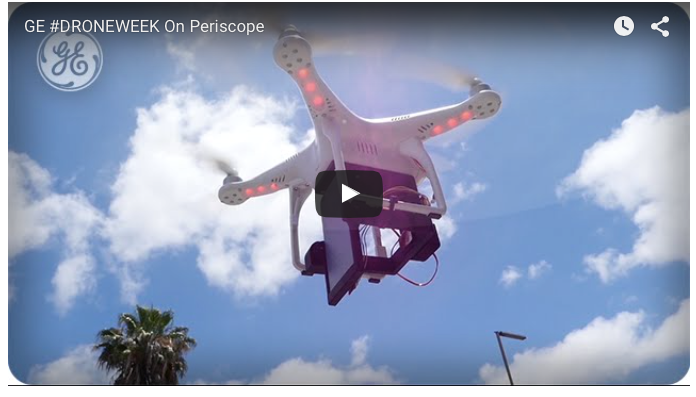 Periscope isn't just for young, hip brands: Brands like General Electric are getting in on the action as well. Their recent #Droneweek campaign gave viewers a live feed of the GE drone, showing them "behind the curtain" shots of the oil and gas sector. In an interview with Digiday, GE's director of Innovation says, "When you give people a peek behind the curtain, they fall in love with the company. We're treating it as a weeklong show where we stitch together a narrative to demonstrate the scale, size and impact of our machines."
Smaller brands can use Periscope to share stories and reveal sneak peeks of processes that are usually not accessible to consumers (e.g., product manufacturing). Sharing these stories and experiences with customers can reveal a much more personal side of your brand, helping to forge real connections with your followers.
6. Answer questions on air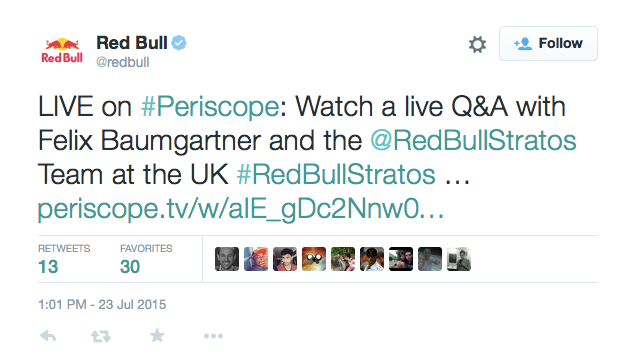 Red Bull has been using Periscope since the beginning, testing out a variety of ways to use the platform. One of its more successful endeavors is their live Q&A broadcasts, like the one shown above. Invite your followers to connect with you live, asking questions or offering feedback on products, services or industry-related topics.
Looking for more tips for using Periscope? Check out my posts 7 Ways to Engage Your Audience on Periscope and 5 Quick and Easy Ways to Use Periscope to Drive More Sales.
How are you seeing brands use Periscope? What would you like to see more of? Share below!
About Author