Many people struggle to come up with visual content ideas. But, it doesn't have to be so hard!
Creating and sharing visual content is a super easy way to drive more engagement on Facebook, Instagram, Twitter, or any of the social platforms where you have an online prescence.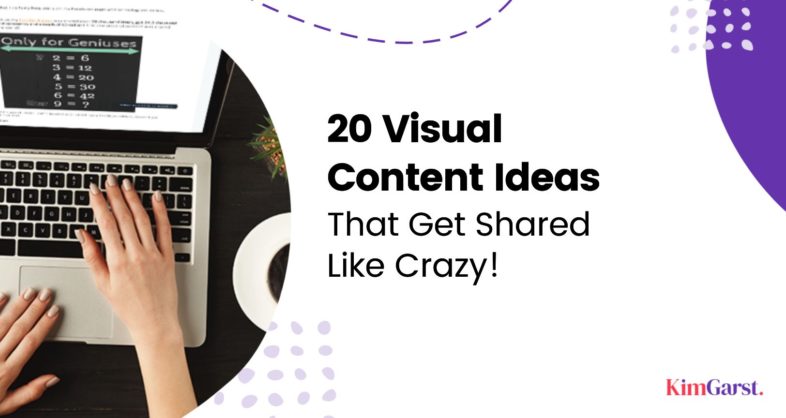 Last Updated: November 16, 2020
These 20 visual content ideas that get shared like crazy have worked really well for me and I know they can work well for you too!
1. Puzzle Posts
This is something that I do fairly frequently on my Facebook page and on Instagram as well. It works beautifully!
This particular post from 2015 on my Facebook page was shared over 511 thousand times, got 147 thousand reactions, 628 thousand comments, and a reach of 74 million! This one piece of content was shared literally all over the world!
The best part? It was all FREE! I didn't boost it and I didn't run a Facebook ad to it. Doesn't get much better than that!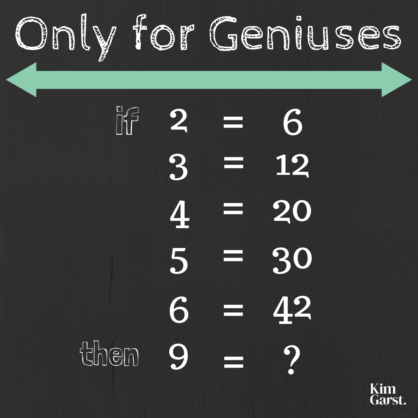 2. Industry Stats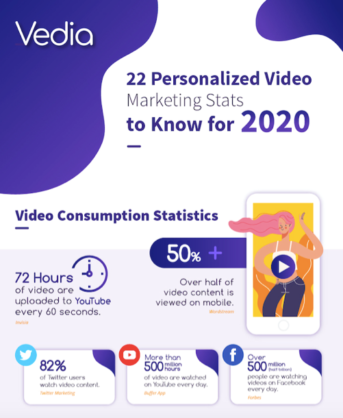 Infographic via Vedia
Industry stats are another thing that absolutely everybody can do.
Infographics have incredible stats, literally at your fingertips. You can take a snapshot of any infographic using a screen grab, but just make sure you give credit to that particular source. And if you don't know where to find infographics, Pinterest is the motherload of infographics.
Just go to Pinterest, type in "infographic", and include any keywords for your niche. For example, "social media infographic", "health infographic", or "business infographic", and you'll find a ton of infographics your audience will love!
3. Video Tutorials
Among my visual content ideas, this will work well on all platforms, but are perfect for YouTube!
Create a simple video showing your audience how to do something. For instance, in the video above by Home Depot, they show viewers how to create a S'mores Station.
Keep in mind your tutorials don't have to be as fancy as this one – a simple, 2-minute video where you're filming yourself making something can work just as well!
4. Humor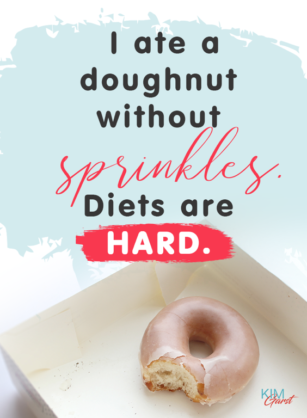 I should have said this out the gate: People connect around things they relate to and care about before connecting with your product or service.
You may think that humor and relatable posts have nothing to do with your business; but they're actually a GREAT way to open a door to relationships that may eventually turn into paying customers.
5. Useful Tips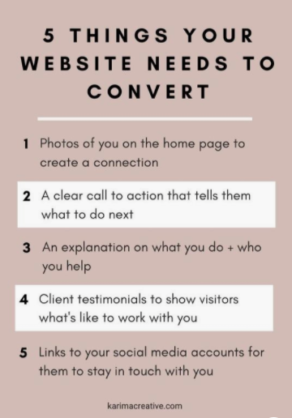 Via Karima Creative
Next on my list of visual content ideas is that people love useful tips. In fact, according to Social Media Today, practical tips are among the top-performing content types on Facebook.
There isn't an industry or niche out there that doesn't have tips. You have tips. You have certain things that you can share.
It could be "5 Things You Need to…" (like the graphic above), "One Way to Do…", or "The Top 3 Tips For…".
One of my favorite things in this visual content idea is you are sharing tips helps showcase your expertise in your field…and sharing those tips via a graphic means your tips will likely get even more engagement, clicks, and reach!
Sharing tips helps showcase your expertise in your field...and sharing those tips via a graphic means your tips will likely get even more engagement, clicks, and reach!
Click To Tweet
6. Coupons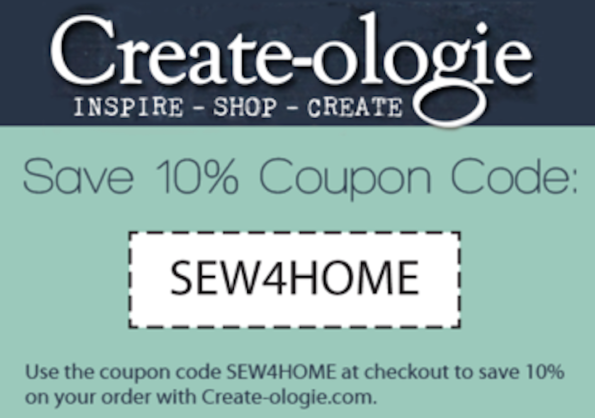 Who doesn't love a deal? Whether you're planning a Black Friday campaign or just want to offer a spur-of-the-moment discount, coupons can create a buzz around your products or services.
People will be more likely to purchase when you're offering a deal, and getting new customers to spend that first dollar is always the hardest. Coupons are an easy way to give them a ton of value at a reduced cost, and hopefully gain a lifelong customer!
7. Image Quotes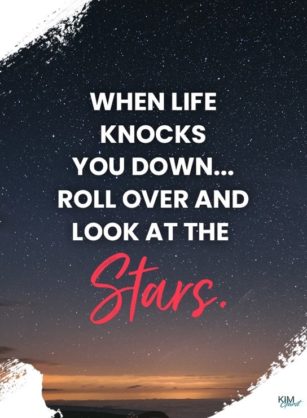 Want to encourage and motivate people, while also getting a TON of reach and engagement? Image quotes are one of the best ways to do this.
You can use a famous quote, a quote from your favorite book, or even just quote yourself. I share quotes all the time (on all my social media accounts), and these are some of my highest-performing posts.
Give it a try!
8. Memes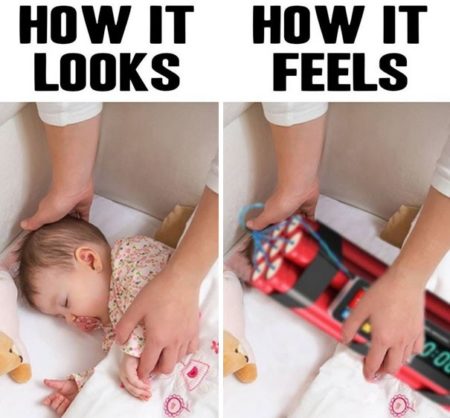 Want to get tons of engagement with little to no work? Share a meme!
They're a great way to get your audience laughing, and all you usually need to do is copy and paste an image to your social media or blog (with attribution, if necessary).
Easy peasy!
9. Lifestyle Photos and Videos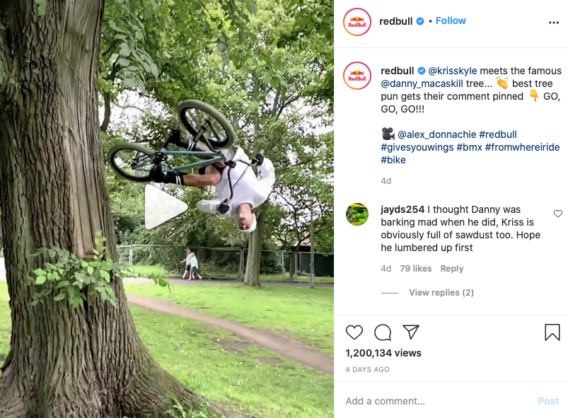 If you can effectively capture a particular lifestyle in a photo or video, the chances of it getting shared are GREAT!
People love to share the parts of their lives they're passionate about. This is why Red Bull has been so insanely successful on social media, with 48 million Facebook fans and 13 million Instagram followers at last count!
10. Surprising Photos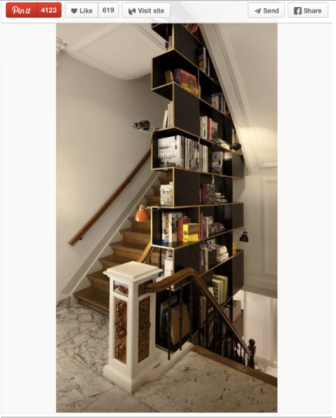 Sometimes a simple yet unexpected or surprising image attracts the highest levels of engagement. This visual content idea will give your subscribers the urge to click through and find out what the image is all about can be almost irresistible!
11. Cartoons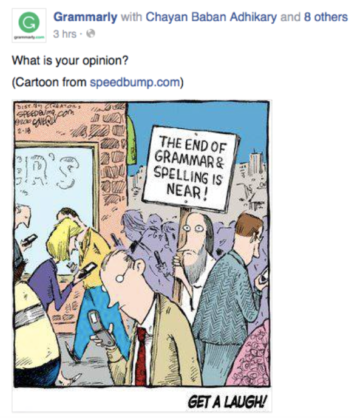 Cartoons aren't just for kids!
Grown-ups love smart comics, and they can be GREAT for getting social shares. Again, Pinterest will be your best friend here. Simply run a search for "your topic" + cartoon, and you'll have a plethora to choose from!
12. Emotional Content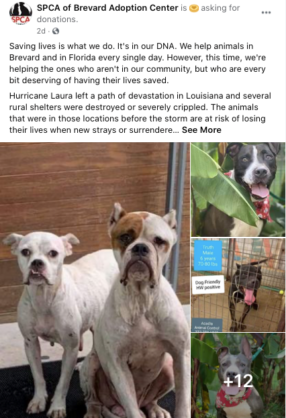 If you can share this visual content idea that pulls at people's heartstrings in an ethical and authentic way, you can get a TON of engagement and shares!
Anything to do with pets or babies is always a safe bet, as are personal stories that would encourage or resonate with your audience.
13. Presentations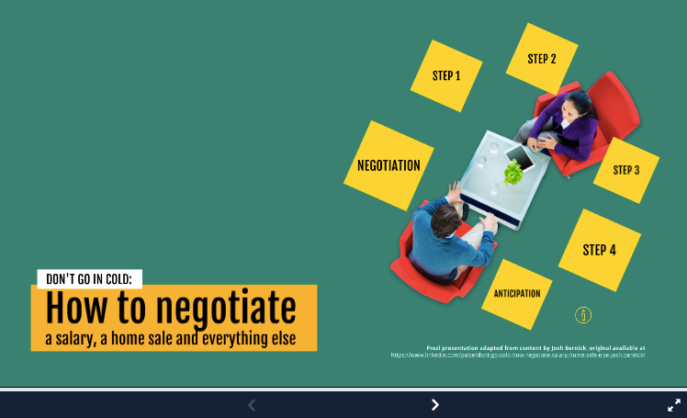 Via Prezi
Another great visual content idea is a great presentation that can get a TON of shares and links.
Presentations serve almost the same purpose as infographics, but are obviously in slide or video format.
Presentations are ah-MAZ-ing for sharing on LinkedIn, or for putting up on your blog.
They're also super easy to create using a tool like Prezi or SlideShare!
14. Quizzes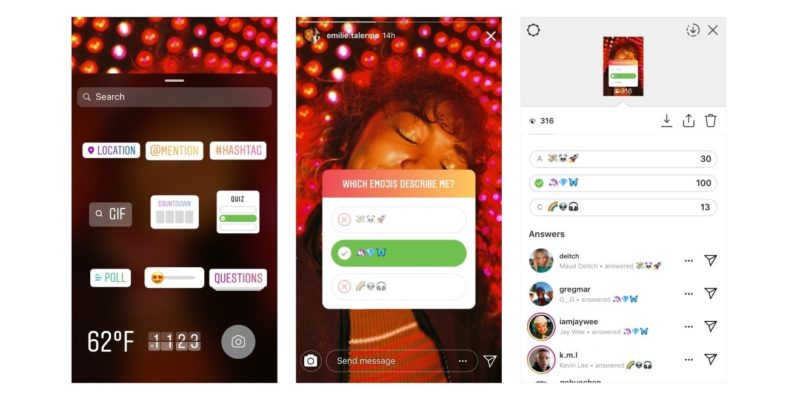 Quizzes can be fun or serious, fancy or simple, random or relevant to your niche or industry. But one that's for sure, is PEOPLE LOVE QUIZZES!
Instagram's quiz sticker makes it easy to create them, letting you ask multiple choice questions people can tap on.
Want to create a quiz for other platforms, like Facebook or Twitter? Create a simple graphic with multiple choice answers and ask people to comment with their response.
15. Cheat Sheets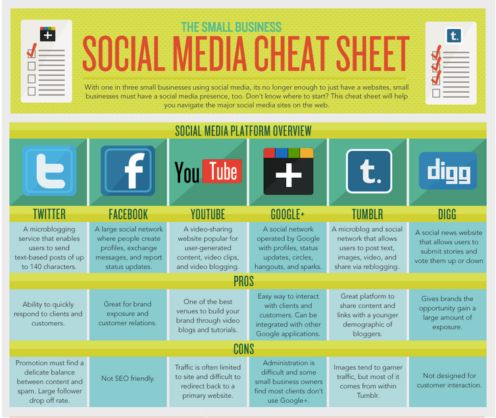 Next on my visual content ideas is if you can create a cheat sheet that helps your audience get organized, have easy access to facts or strategies, or that helps them to accomplish a specific goal, FAST, you can get a ton of shares!
Some ideas for your own cheat sheets can include a "Top 10 Resources" graphic, a step-by-step "How to" graphic, or your top tips for accomplishing a particular goal.
These are essentially infographics, but tend to be very practical, actionable and just generally make life easier for your prospects and customers!
16. Whiteboard Videos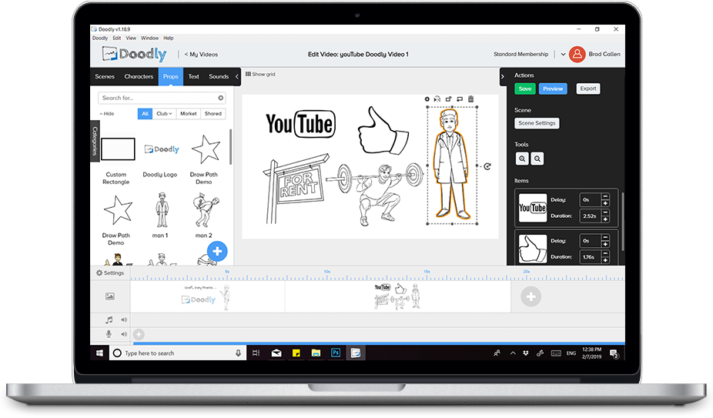 Want to share a process, idea or story in a way that people will actually pay attention to?
Animated whiteboard videos are a great way to grab people's attention, and are easier than ever to create using a tool like Doodly or VideoScribe.
Use them to create explainer videos, to promote a new product or service, or even to do an animated video tutorial.
17. Questions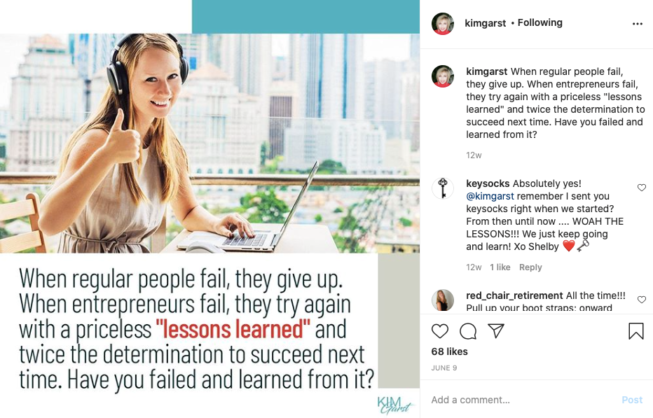 Questions are one of my absolute favorite ways to get engagement and shares! People love being able to share their thoughts and opinions, and often want to know what their friends' thoughts and opinions are too.
This visual content idea is very simple: create a simple image with a question, share it to your social media, and watch the comments and shares roll in!
18. GIFs
Who doesn't love GIFs?
When sharing content on your blog or on social media, don't be afraid to include a relevant GIF. This visual content idea is a great way to spice up an otherwise dry or boring post (I'm looking at you, data and statistics!), or to share a teaser of your full content.
Plus, they're easy to find and share using a site like Giphy!
19. Product Mockups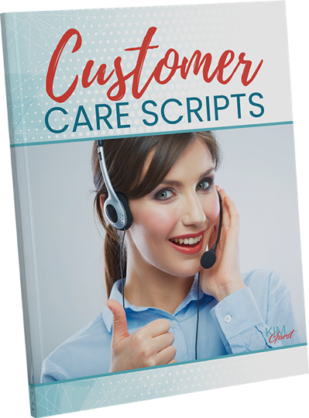 Mockups are a super-cool way to showcase your products…especially your digital ones.
With the right knowledge and tools, you can create amazing-looking visual image content like an eBook, software, or online course mockups. You can even create mockups for your physical products, like t-shirts, bottles or other packaging.
The problem is, it can be tricky to know where to start. Fortunately, I've put together a tutorial that will show you exactly what tools to use to create mockups for business…even if you have NO graphic design skills!
My workshop, How to Use Mockups to Design Ah-May-Zing Visual Content, is available for members of my Business Builder's Academy – where you ALSO get access to over 50 other workshops, mini-courses, and other business-building resources.
Join my Business Builder's Academy, and get access to my mockups workshop today!
20. Blog Post Header Images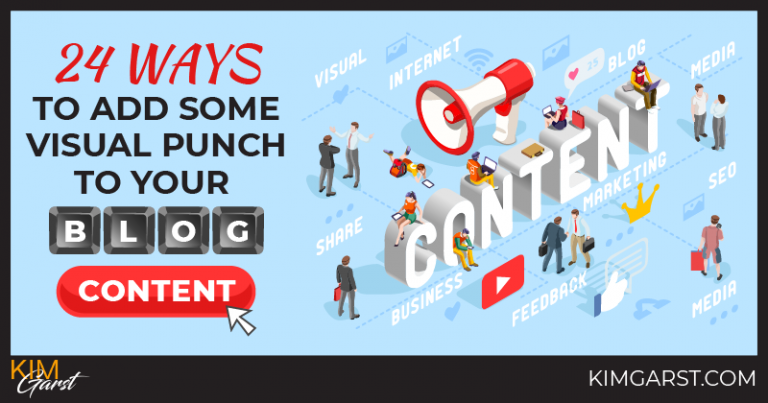 The blog header image for my post, 24 Ways to Add Some Visual Punch to Your Blog Content
Think it doesn't really matter if you include a relevant image with your blog posts? According to marketing guru Jeff Bullis, articles with images get 94% more views than those without.
According to marketing guru Jeff Bullis, articles with images get 94% more views than those without.
Click To Tweet
And you know what more views means? A greater chance your stuff is going to shares and links.
And who doesn't want that?
Final Thoughts
While it's clear these visual content ideas are amazing ways to get more engagement and shares, it can also be difficult and time-consuming to create…especially if you have zero graphic design skills.
That's why I created my online workshop, Quick and Easy Ways to Create Social Media Content for Non-Designers.
In this training, I'll show you exactly how to create your own visual content using today's best apps. I'll also show you my #1 strategy for driving traffic, engagement and sales via social media, as well as my top tips for creating effective, contagious content.
Get it for FREE when you join my Business Builder's Academy!
Are you ready to create some ah-MAZ-ing visual content for your business? Which of the ideas above are you going to try out first? Let me know in the comments below!
About Author