With Black Friday just around the corner, now is the time to start planning your holiday promotions.
It's estimated that the average shopper plans to spend $400 on Black Friday this year.
But if you're not offering some kind of promotion, sale or discount, you can kiss that money goodbye!

In this post, I'm going to show you exactly how to plan and build your Black Friday sale from scratch in just 5 days….so you can start promoting and selling your stuff, FAST!
Day 1: Plan Your Promotions and Deals.
Before you do anything else, you need to decide exactly what special deals or discounts you're going to offer.
I recommend deciding on a different type of promotion for each day, just to keep things fresh, and to give you an excuse to email your audience each day of the holiday weekend.
For example:
Black Friday: 30% of all products and services
Saturday: Buy one get one half off
Sunday: 20% off and a free gift with purchase
Cyber Monday: 40% off all products on the website plus free shipping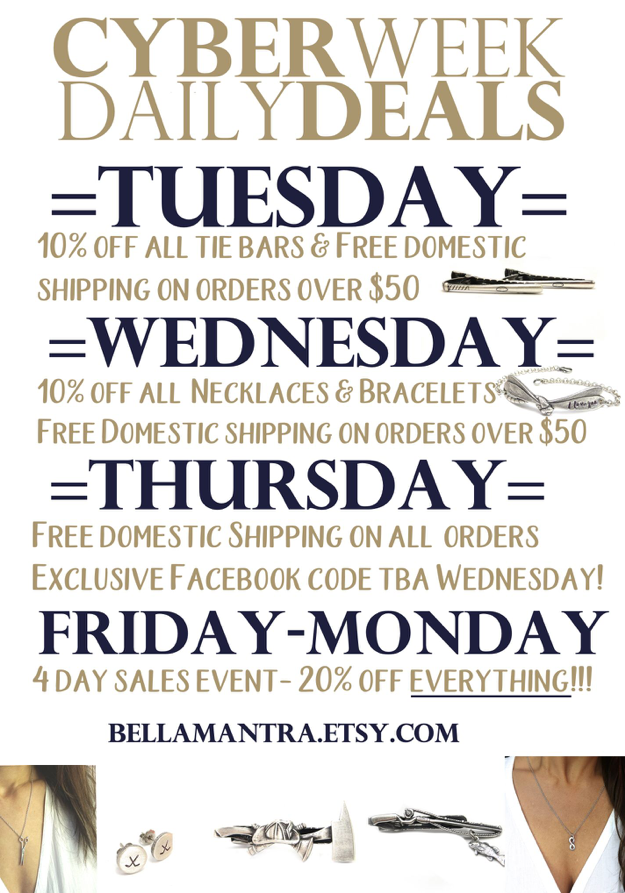 Via BellaMantra
Remember that you have lots of options when it comes to what types of promotions you want to offer. Be creative! Some ideas include:
Extra % off
Free gift or gift card with purchase
Buy one get one (BOGO)…either get the second item free or at a discount
Entry into special draw
Free or expedited shipping
% off based on multiple purchases (e.g., 60% off when you buy 5 items or more

Day 2: Create Your Graphics.
Graphics are going to be a huge part of your Black Friday campaign!
On day 2, it's time to hunker down and create all the banners and images you're going to need for your website, emails, and social media.
Fortunately, I've done the work for you to find some amazing free or cheap Black Friday templates you can use!
Black Friday photos from Canva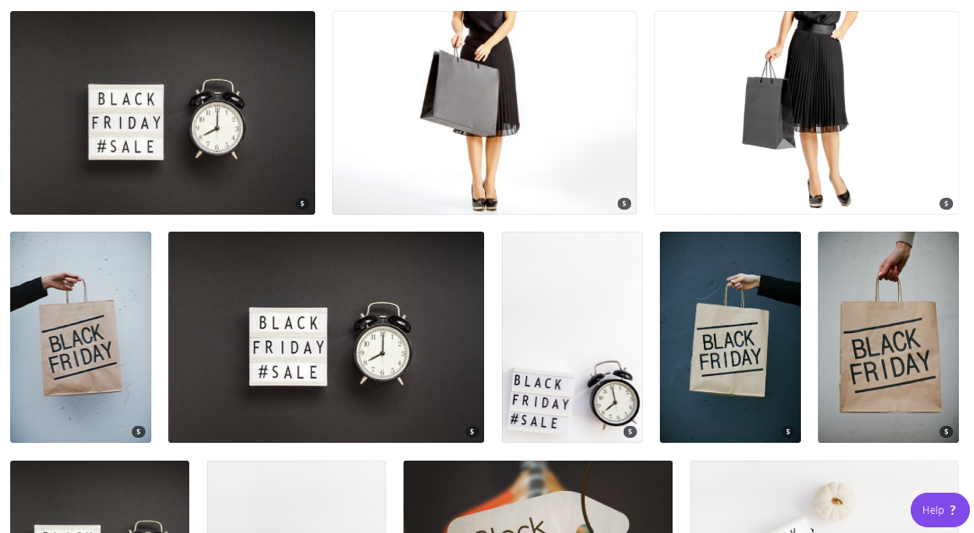 Black Friday banners, posters, social media graphics, etc. from Canva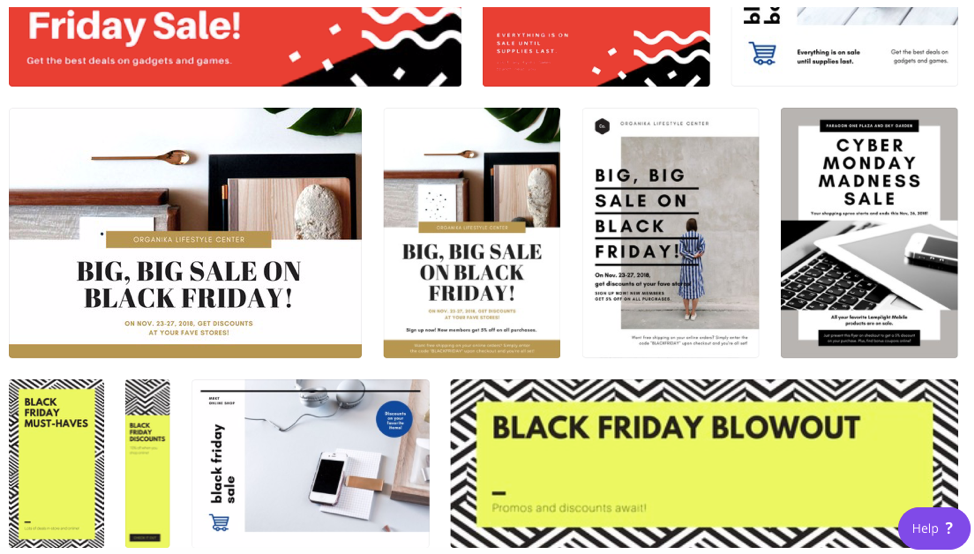 Adobe Spark's free Black Friday templates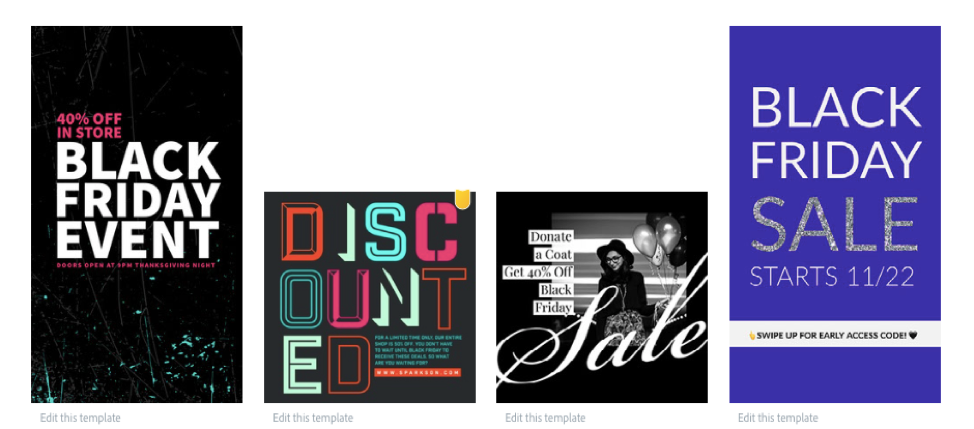 InVideo's Black Friday video templates

Promo's Black Friday video templates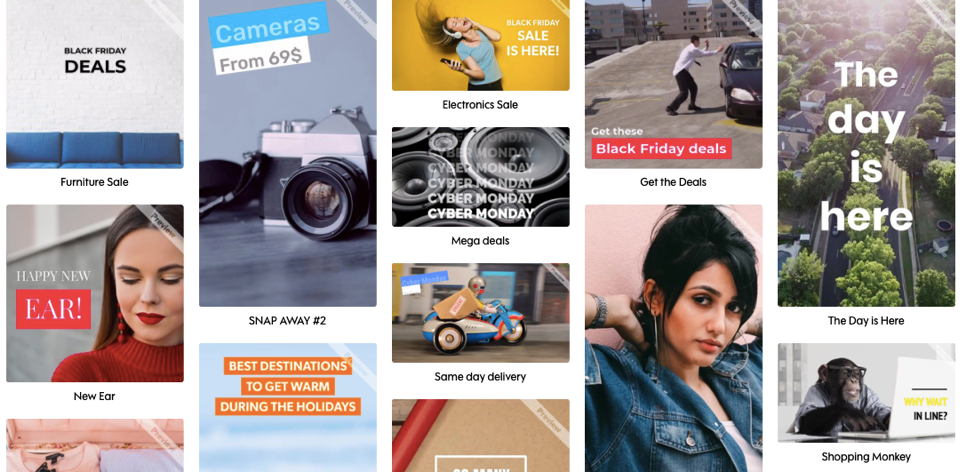 Pixabay's free Black Friday graphics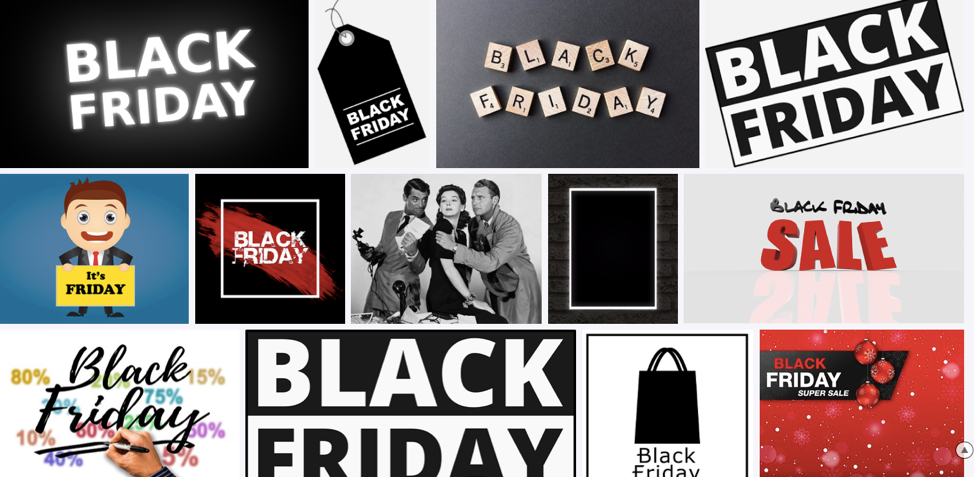 Day 3: Prepare Your Website. 
Now that you've got your graphics created, it's time to get your website ready to go.
Depending on how you want to structure your promotions, you may need:
A Black Friday landing page
A blog post announcing your Black Friday sale
Banner ads to use in your sidebar or leaderboard
You'll also need to set up all the behind the scenes stuff, like coupon codes, automatic discounts based on certain dates, free shipping on certain products or on certain dates, etc.
I recommend doing a test run through the entire process of buying a product or booking a service, just to be sure you haven't forgotten anything. Better to run into a snag now than to have a customer experience this on Black Friday!
Not sure where to start with creating a Black Friday landing page? Here are some landing page templates you can use:
Black Friday landing page templates from Theme Forest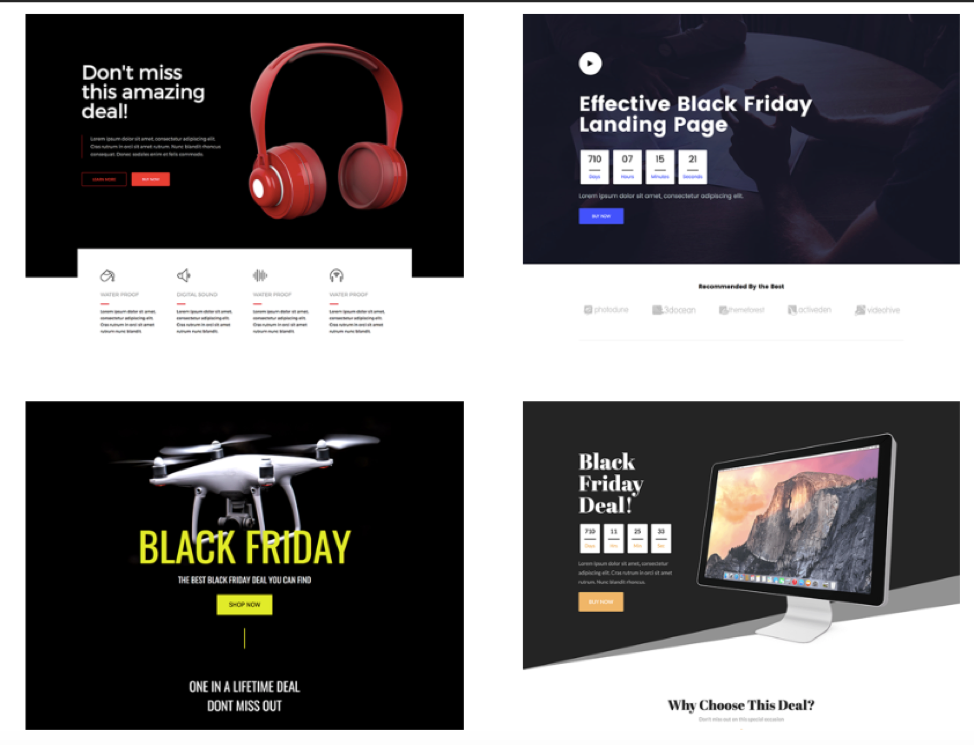 Day 4: Write and Schedule Your Email Content.
Now that you have your graphics nailed down and your website ready to go, it's time to plan, write and schedule your email content.
You'll definitely want to send an email to your list on Black Friday AND Cyber Monday…and will want to send one on Saturday and Sunday as well if you're doing a daily deals campaign.
In addition, you may even want to consider sending a few emails before the holiday weekend – because while the Thanksgiving weekend is when online sales peak, people are doing their holiday shopping well before then: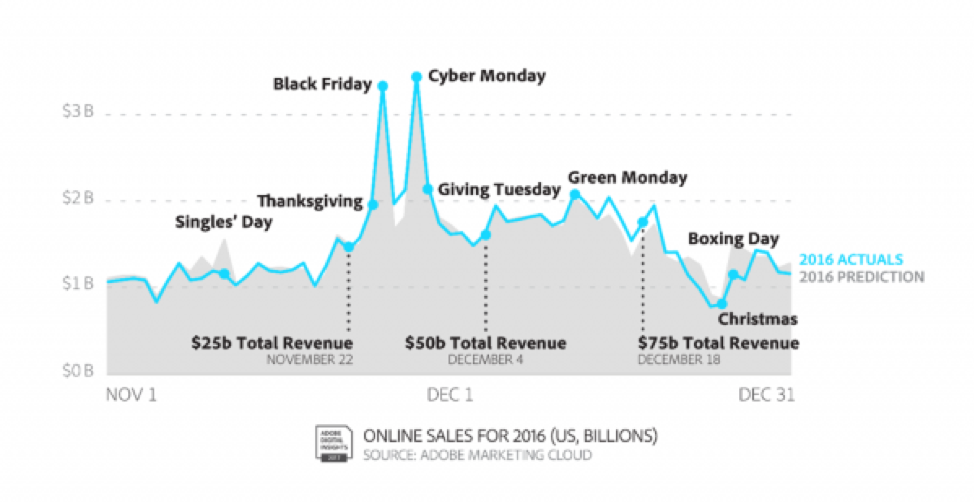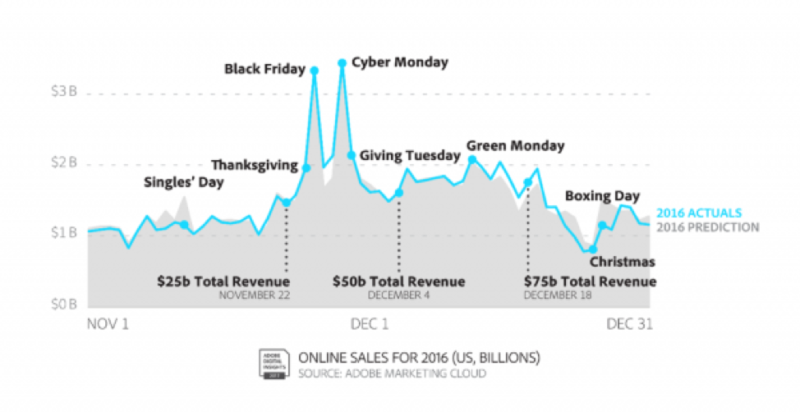 Some tips for creating your Black Friday emails:
Create urgency by using a timer to indicate when the sale or promotion ends
Send your Black Friday emails between 10 am and 4 pm, as these offer the best open rates
Show photos of your products to whet your customers' appetites
Use a simple, eye-catching design…as you'll be competing with emails from a bunch of other companies
Not sure where to start with designing your Black Friday emails? Most email marketing services will offer holiday-themed templates you can edit.
And if you need some additional inspiration, here are some great Black Friday email examples from ActiveCampaign.
Day 5: Write and Schedule Your Social Media Content.
We're almost there!
On this last day – day 5 – it's time to plan and schedule your Black Friday weekend social media content.
Besides posts to advertise your promotions, you may also want to adjust your social media profiles to reflect your holiday sales. For instance, you may want to create a new cover photo, profile photo or add different links in your bio.
On day 2, you should have already created your social media graphics. So, today you just need to write and schedule the actual content of your social media posts.
Some ways you can use social media to promote your Black Friday deals include:
Go live on Facebook or Instagram to share a flash sale
Share links to the Black Friday landing pages you created on day 3
Share your daily deals (or hourly deals like Amazon, pictured below)
Hold a Black Friday contest or giveaway to generate awareness of your company
Use Black Friday hashtags for maximum exposure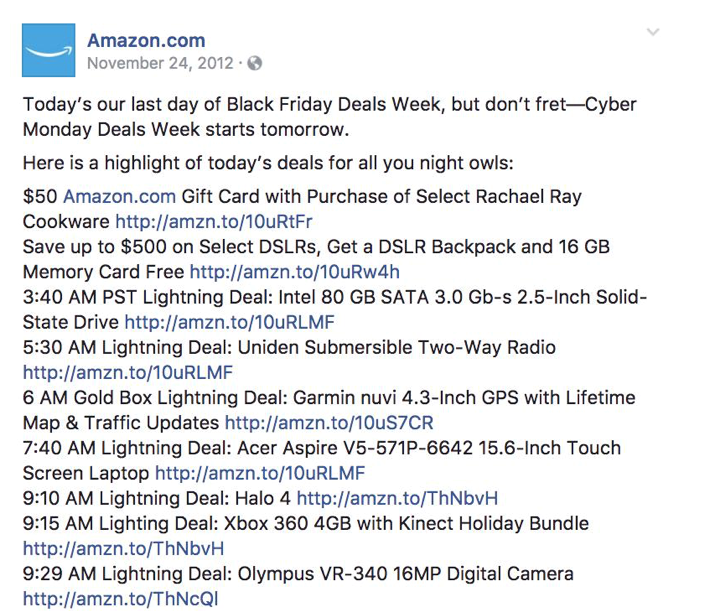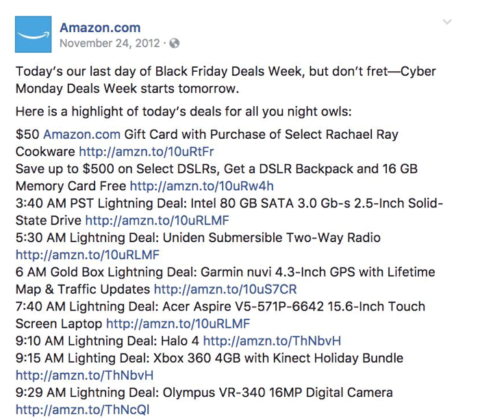 You'll also want to make sure you're scheduling all your Black Friday content because you definitely don't want to be running around doing it all manually and in real-time!
The tool I recommend for this is Agorapulse. You can set up a custom publishing queue and the tool will automatically send out your posts exactly when you specify…so you can "set it and forget it"!
Final Thoughts
Even if you're reading this post 5 days before Black Friday, don't panic!
There's still time to get your Black Friday weekend promotion up and running.
By following the simple schedule above, you'll have your promotion planned, created and scheduled in no time at all!
Looking for more Black Friday tips and tricks? Check out my post 10 Black Friday Ideas to Drive Sales.

What are you planning for Black Friday? Share your promotion in the comments below!
About Author