Are you ready to create a membership program for your business? Wondering how on earth you're going to build your site and actually host and deliver all your content – in a way that only paying members can access it?
Or are you feeling overwhelmed by all the options you're finding on Google, and aren't sure which one makes sense for you?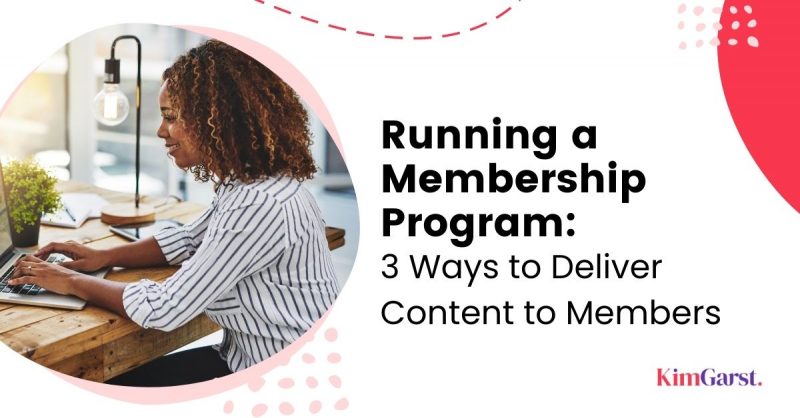 Don't worry! In this post, I'm going to show you the 3 main options you can choose from to deliver your content to members.
And as you read, keep in mind there is no right or wrong option. Choose the one that feels best to you, based on your goals, budget and technical abilities.
3 Ways to Deliver Content to Members
Following are the 3 main options for building and hosting your membership program: using a web-based app, a WordPress plugin, or a membership/social networking hybrid.
Option 1: A Web-Based App
Web-based membership apps (sometimes referred to simply as membership software) are programs that let you create your membership site, and then give you all the tools and features you need to deliver your content to members.
Most include built-in themes you can choose from and then edit to suit your needs. They will also usually allow you to accept payments, email your members, protect your content, and handle all the technical aspects of managing your memberships.
Example: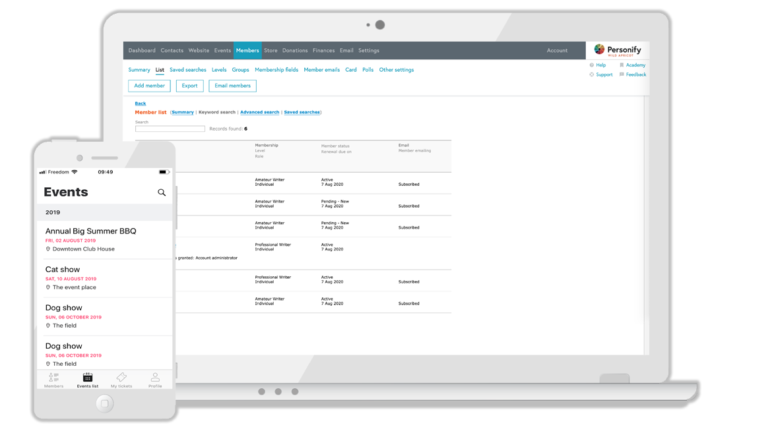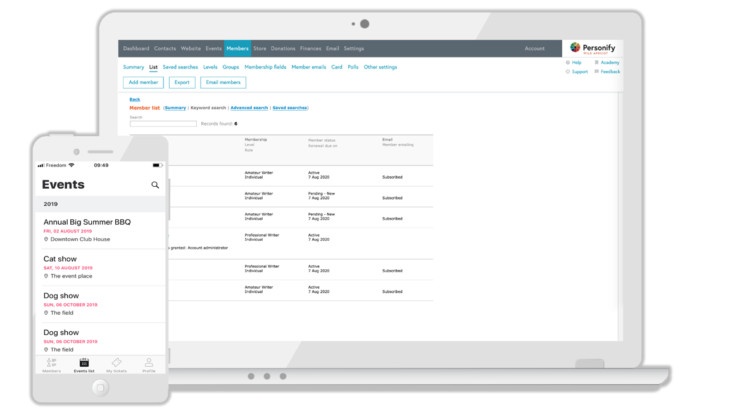 Wild Apricot is an all-in-one membership site software that will help you with ALL aspects of building and running your membership site.
Using their drag-and-drop builder, you can easily set up a members-only area, manage online payments, create member events, deliver content to members, and even build a member directory.
Keep in mind that while you'll be given a free wildapricot.com domain by default (e.g., www.yourawesomesite.wildapricot.com), you can pay a small annual fee to redirect it to a custom domain (e.g., www.yourawesomesite.com).
Start by choosing from one of their pre-built themes, and then customize it as you like. Then upload your content, and you're good to go!
Price: Wild Apricot charges based on the number of "contacts" in your program. They offer a free version for up to 50 members, and paid plans start at $40/month for 100 members.
Other web-based membership apps: Podia, MembershipWorks, memberDash Join It, .
Option 2: A WordPress Plugin
If you're looking for membership software that will allow you to immediately start charging for content already on your WordPress site, this is the option you'll want to choose.
Keep in mind that using a WordPress membership plugin is usually more involved and technical than using the other two options on this list. This means it will be totally up to you to set up web hosting, customize your site, set up payment options, etc. And if something goes wrong with your site, the bucks stops at you!
That said, this is still one of the most popular options for membership site creators, due to the lower cost and the ability to stay in total control of your membership program.
Example:

Access Ally is a WordPress plugin that lets you create and manage all aspects of your membership program. AccessAlly is the #1 WordPress membership plugin and automation marketing ally for course creators and industry leaders and the one I personally use for all my membership programs.
You simply upload it as you would any other plugin, and then enter the info for the payment gateways you want to use (e.g. PayPal, Stripe, etc.). Next, set up "products" (or content) you want your members to have access to, and you're good to go!
There is, of course, a LOT more you can do with Access Ally, but I love that it's so easy to set up the basics.
Other features you can play around with include smart coupons & discounts, unlimited instant & dripped content, quizzes & gamification, powerful integrations, and trial offers, subscriptions & 1-click upsells.
Price: Starts at $82/month for use on one site.
Other WordPress Membership Site Plugins: MemberMouse, Wishlist Member, MemberSpace, MemberPress, S2Member.
Option 3: A Membership/Social Networking Hybrid
If you want an online community to be a big part of your membership site, this is definitely an option you'll want to consider.
These membership site/social networking hybrids let you deliver your content to members, as well as provide built-in networking capabilities via a forum or group messaging.
They are also super-easy to set up and use…no technical skills required.
Example: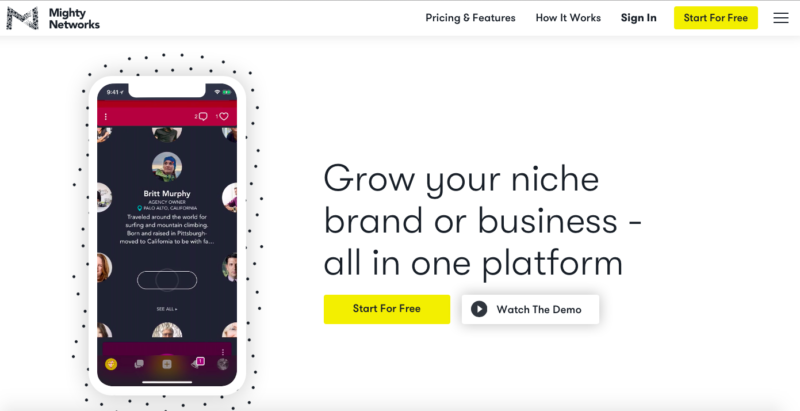 Mighty Networks allows you to easily set up an entire paid membership site. You will have your own Facebook-Esque community built right in.
This means you're not only providing paid access to all your content. But you're giving your members an easy way to connect with you and with each other…right from within your Mighty Networks site.
You can even create your own membership app by upgrading to Mighty Pro.  When you upgrade, your members can download your branded app on iTunes or Google Play.
Price: The basic version is available for free with a 5% fee on member subscriptions. The full business version is $47/month with a 2% fee on subscriptions.
Other membership/community hybrids: SlackPass, Tribe, or for a very basic (free) option, Facebook groups. Note that Facebook is currently testing paid subscription groups (basically Facebook groups you can charge for), so this could be an option in the near future too.
Final Thoughts
It can feel a bit overwhelming deciding how you want to manage your membership site and deliver content to your members.
However, with so many amazing tools out there now, you really can't go wrong!
That said, it can be a pain to move your content and members from site to site. You need to make sure you do your research beforehand so you know what you're getting into!
Looking for help with pricing or marketing your membership program? Check out this helpful post:
Pricing Your Membership Program: How to Determine What to Charge Your Members
So…how are you going to deliver content to your members? Which option sounds best to you? Let me know in the comments below!
About Author