Want to create an amazing video sales letter that actually sells?
Tired of creating sales videos that don't get views, clicks or conversions?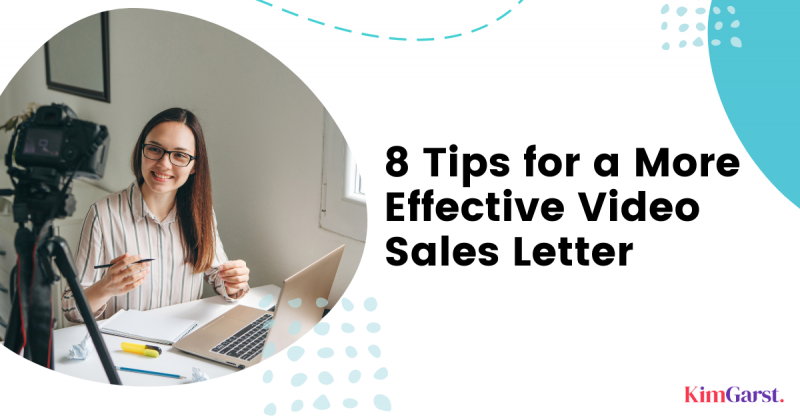 Stop wasting your time creating videos that just aren't working for you!
In this post, I'm going to share 8 tips for a more effective video sales letter…so you can stop guessing what works, and start knowing!
But first…
What is a Video Sales Letter?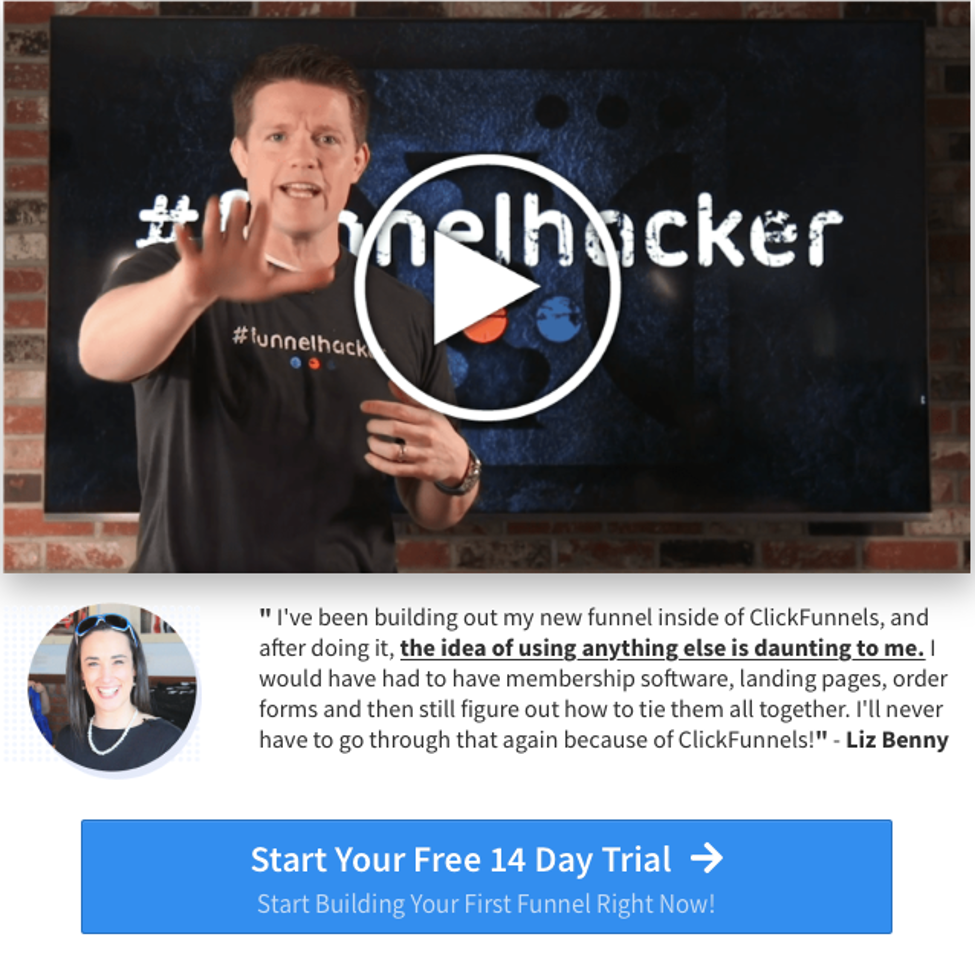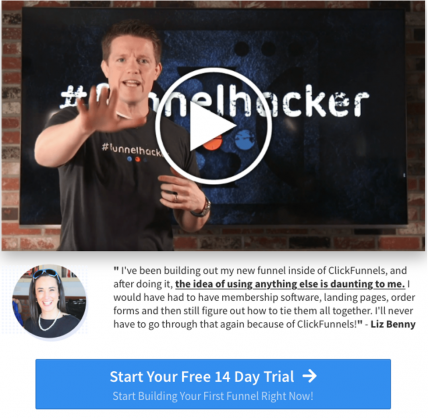 An example of a video sales letter from Click Funnels
You're likely already familiar with the concept of a sales letter, and a video sales letter (VSL) is just what it sounds like.
The purpose of a video sales letter is to persuade your viewers to buy a product or service.
Rather than having to hire an expensive copywriter or build a fancy-schmancy sales page, you can create a simple script using a proven formula (more on this in a minute) and then turn it into a video.
This video then gets placed on a landing page for your visitors to watch.
So…why use a video sales letter rather than a written one?
Don't get me wrong! I use both, and they both have their place.
However, according to the research, videos tend to convert way better.
For instance, according to a survey done by the folks at Wyzowl, 80% of marketers say using video has directly helped them increase sales.
According to a survey done by the folks at Wyzowl, 80% of marketers say using video has directly helped them increase sales.
Click To Tweet
Other research suggests that using a video on a landing page can increase conversions by 80% or more(!).
Videos also tend to be much easier to create, meaning you can start getting sales much faster than if you had to create a long, complicated sales page.
Of course, not all video sales letters are created equal.
Let's take a look at 8 ways you can make YOUR video sales letter as effective as possible!
8 Tips for a More Effective Video Sales Letter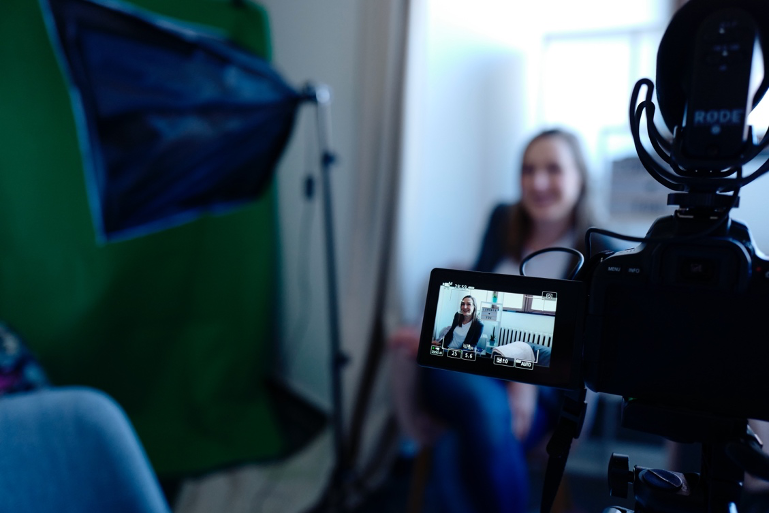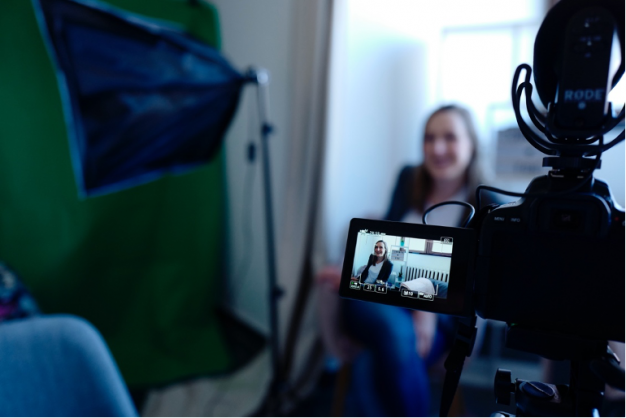 Following are 8 best practices to consider as you create your video sales letter.  These will help ensure your writing, tech, and video production go as smoothly as possible!
1. Make it about them.
I can't stress this enough!
Don't think of your video sales letter as an opportunity to tell your viewers about all the features and benefits of your offer.
While you will certainly include some of this information in your video, your VSL will primarily be about connecting with your viewers and letting them know you can help with their problem.
3 of the main ways you'll do this include:
Talking about the problem or pain point your viewer is struggling with
Showing that you understand and/or relate to what they're going through
Letting them know how your product or service solves their problem 
You'll also want to let them know other details about yourself and the product – but just remember it all comes back to WIIFT! (what's in it for them).
2. Make it long enough to persuade your viewers.
 The average length of a video sales letter is somewhere in the neighborhood of 8-24 minutes.
However, nobody says you need to be average!
If your viewers tend to be really busy (for instance, busy moms or CEOs), a shorter video may be preferable.
In other situations, a longer video may convert better.
The main thing is that your VSL successfully persuades your viewers to buy something…and if your video does that, who cares about the length!
3. Script it out.
I love live video!
However, your video sales letter isn't the place to be talking off the cuff.
While you definitely want to inject your own personality into your video sales letter, there is a very specific format you'll want to use.
This formula has been proven time and time again to increase conversions, so is most definitely worth following!
For step-by-step guidance on how to script your video sales letter, check out my post, The #1 Way to Make Money Online.
4. Use Clear Calls to Action (CTA).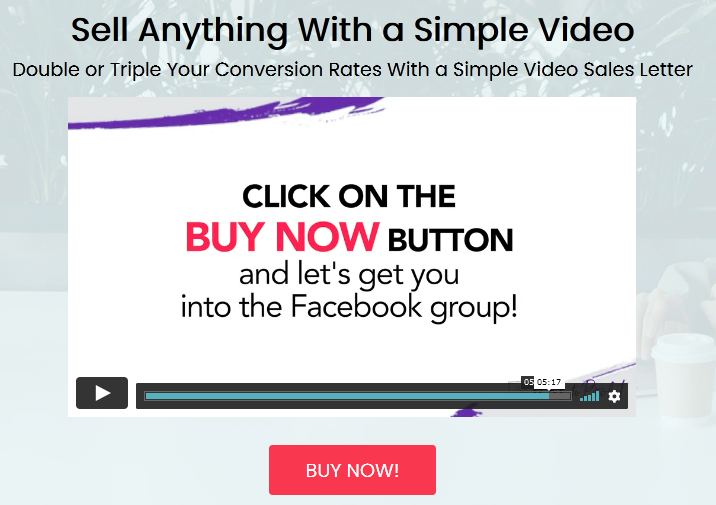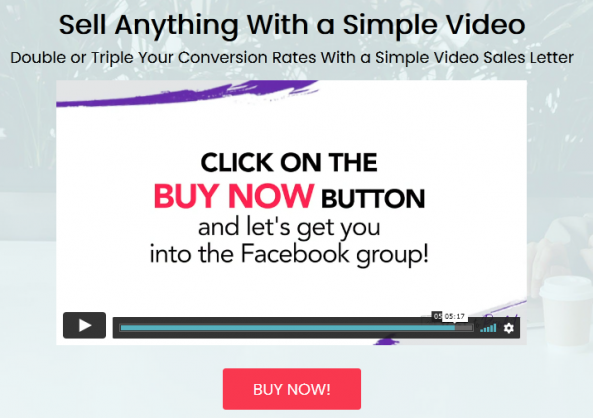 Make sure to let your viewers know exactly how they can take advantage of your offer. Usually this involves a simple call to "click the button below the video".
I recommend including several calls to action throughout your video, as different viewers are likely to want to take action at different times.
For instance, around halfway through the video you can say something like, "If you know this product is for you, click the buy button now".
And of course, don't forget to include a CTA at the very end of your video as well!
5. Add a Sense of Urgency and/or Scarcity.

Even the most amazing offer can benefit from a bit of urgency or scarcity.
Here are some examples of how to incorporate urgency and scarcity into your VSL.
Urgency: Let your viewers know that while they can buy your product for $49 now, the price will be going back up to $129 soon.
Another example of urgency: "These amazing bonuses will be available for the next 7 days only".
Scarcity: "I'll be closing the doors to this class once we reach 20 members".
Another example of scarcity: "We only have 100 of these available, so act now".
Caution: When using scarcity or urgency, make sure you're not just making stuff up! If you say you're only going to be releasing 100 units, or that the price is going up in a week, make sure you follow through on it.
6. You Don't Need to Get All "Techy"!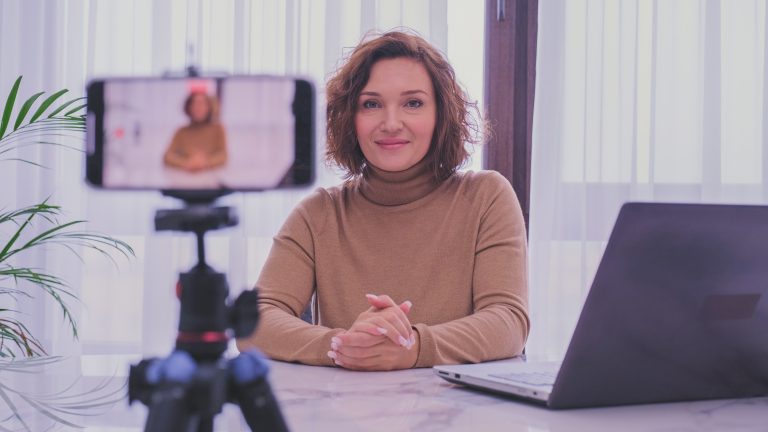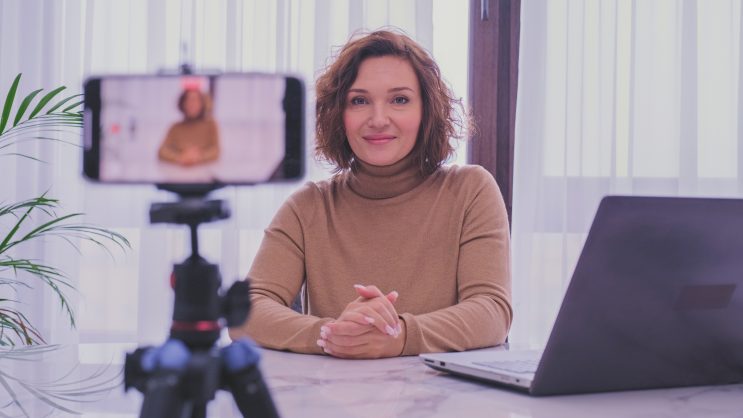 Not a techy? Don't worry! When I created my first video sales letter, I wasn't either.
If you want to create a simple "talking head" video, all you need is a smartphone or webcam.
Create your script, film yourself reading it, and you're good to go!
And if you're hesitant to be in front of the camera, or prefer to create a "slideshow" style video with a voiceover?
This is even EASIER!
Find out exactly how to create your own slideshow-style "ugly video sales letter" in my post, How to Make a Sales Video With 2 Simple Tools.
7. Your VSL Needs a Home!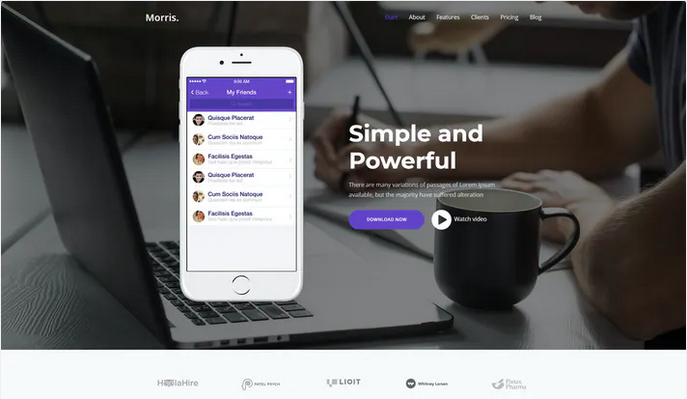 Creating a video sales letter means you need to spend far less time and money creating a long, complicated sales page.
However, your VSL will still need a place to call home!
There are tons of tools out there that can help you create a simple – but professional-looking – landing page, with little-to-no technical skills.
If you use WordPress, you may already have a landing page template included with your WordPress theme.
And if not, some options to look into include the Landing Page Builder plugin, ClickFunnels, and Thrive Architect.
8. Alleviate Your Viewers' Fears. 
Anytime you ask someone to open up their wallet, there can be some fear or hesitation involved.
"Can I really trust this person?"
"How do I know this person has the solution to my problem?"
"How do I know this product is different than every other one I've tried?"
These are all questions that may – either consciously or subconsciously – be holding your viewers back from buying.
For this reason, it's super important to allay your viewers' fears through offering your credentials & experience, as well as social proof.
Some examples of how to do this include sharing:
Any training or education that qualifies you to share your expertise
Offering testimonials from satisfied customers or clients
Some awards you've received for your work
Ratings of your product
A case study of a client or customer who has had great success with your product
Want to Create An Effective Video Sales Letter, QUICKLY & EASILY?
If you're ready to create a video sales letter and want to get your offer selling as quickly and easily as possible, I've created something just for YOU!
My VSL to Profit course is a hands-on training that will help you create your video sales letter and get your product out into the world…fast!

The training takes place inside a private Facebook group, and my team and I will be there to help you every step of the way.
You'll get my proven fill-in-the-blank script template, so you can create a high-converting video script in no time at all.
I'll also show you exactly how all the "bits and pieces" of your video sales letter go together…so you don't have to fumble around trying to make everything work together (this is the #1 reason most people give up!).
If you join the VIP Experience, you'll also get personalized feedback on your video, so you can feel confident knowing it will be as effective as possible!
Find out more about VSL to Profit or register here now.
Final Thoughts
A video sales letter can be an extremely powerful tool for selling your products or services. By following the 8 best practices above, you'll be well on your way to creating an effective video sales letter that you can be proud of!
Are you currently working on your video sales letter? Will you be incorporating any of the tips from this post? Let me know in the comments below.
About Author