The rumor mill is a buzz with the news that Facebook is going to be changing our fan pages over to the new timeline look. This year is a LEAP year and Facebook is taking advantage of that extra day in February to launch Timelines for Fan Pages. Business Insider is reporting that February 29th is the expected launch date for this momentous occurrence. It is rumored that the official announcement will be made during the Facebook Marketing Conference.
What does this mean for you and your business?
It going to radically change the way brands engage with their audience. It will obviously include a more visual communication style. This follows a growing trend I see with content interaction. People are drawn to things that they can absorb quickly and graphics are a huge engagement tool.
The most obvious change will be the timeline cover photo that will allow brands to creatively share their business when someone visits their page. Other features like the column design for posts and the chronological layout will provide opportunities to show company growth and expansion for example. The favorite post feature will be a great way to highlight and draw attention to certain information on your way.
Not everyone has been officially switched over to the new timeline on their personal profiles but this is just a matter of time. This is not an optional thing; eventually everyone will be forced to make the change as this is the new 'look' that Facebook has decided to implement. If Facebook has already made the 'switch' for you, you have 7 days from the date of the switch to review your content, delete what you want and/or hide what you do not want displayed.
If you haven't made the switch, I encourage you to go ahead and make the jump so that you can start getting used to the new format. This will make your transition to the timeline for your fan pages much easier! Directions to make this happen can be found here.
As they say, if you can't beat them, join them! We are just going to have to get used to Facebook and their changes.
To receive Kim's "30 Fun & Creative Ways To Increase Your Facebook Likes "CLICK HERE"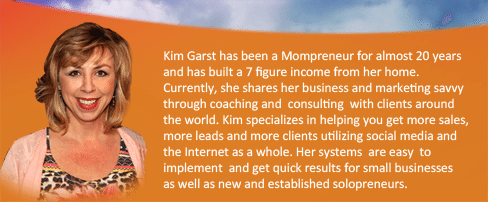 About Author