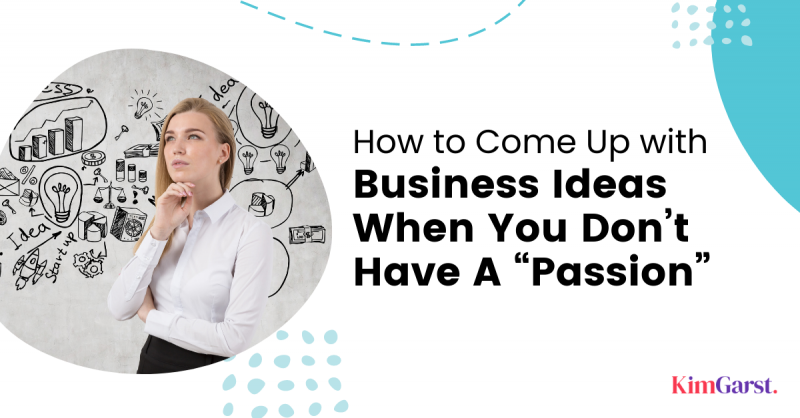 Oh my gosh…every piece of business advice when it comes to starting a business starts with telling you to focus on a topic or niche that you're passionate about.
And while this is definitely a great way to start a business, it's not a reality for some aspiring entrepreneurs!
Some entrepreneurs simply can't think of any one thing they feel passionate about  – or at least passionate ENOUGH about to base an entire business on. Can I get an amen? You may be saying, YES! Finally someone is saying what I feel.
But the good news is you DON'T have to be excited or all-consumed by an idea to start a business. This article will share some ideas on how to come up with business ideas when you don't have a burning passion!
Step 1: Be passionate about starting a business
While you don't have to have a passion for a specific business idea, you should be excited about the idea of starting and growing a business in general.
Kevin Harrington, serial entrepreneur and former Shark Tank judge describes it well: "I visibly imagine myself being an entrepreneur — and have been since I was 15 years old, sealing driveways for extra money. I ardently desire being an entrepreneur. I sincerely believe I will be an entrepreneur."
If you have this type of passion for being an entrepreneur, you're definitely on the right track!
Step 2: Brainstorm a topic that's of interest to you
While you don't need to choose a niche that you're impassioned about, it should at least interest you.
Ideally, it should also be something you also have some personal experience with.
At this point, no idea is a bad one! Simply note down anything that comes to mind. For instance:
Fashion
Web marketing
Dogs
Education
Jogging
iPhones
Cooking
Parenting
Beauty products
Another way of approaching this process is to think about different hobbies, jobs or life experiences you've had. For instance:
College courses in accounting
A job working in a bakery
Your experience as a father of three young children
Your love of historical novels
Your current job as a writer
Your family's multiple trips to Disneyland
Once you've jotted down a fairly comprehensive list of topics (take at least 30 minutes to do this), you have a great foundation for choosing a niche for your new business.
Once you have a preliminary list, go through it to see which ones really jump out at you.
Remember, you don't have to feel passionate about any of them! But it should pique your interest, and you should already feel quite knowledgeable about it.
Here's a good rule of thumb when choosing a topic: Could you envision writing ten long, in-depth blog posts on the topic?
If the answer is no, keep looking. Because in the end, you're going to be writing a whole lot more than ten blog posts on the subject!
Looking through the list above, I might decide that topics related to cooking are the ones I keep coming back to.
I'll now run that topic through three filters to see if it's a good fit. These filters are:
Do I have experience or skills in this area?
Do I find this subject really interesting?
Could I come up with ten blog posts on this topic?
If my answer to these three questions is "yes", I may have my winner!
Step 3: Narrow down your niche
At this point, I've decided to investigate the general topic of cooking. However, this is obviously WAY to general.
This is particularly true if my plan is to start an online business, where targeting a niche is imperative.
Targeting a huge industry like cooking would be a gargantuan task, and would mean I'm going up against well-established websites and businesses.
To confirm this, I simply need to Google "cooking":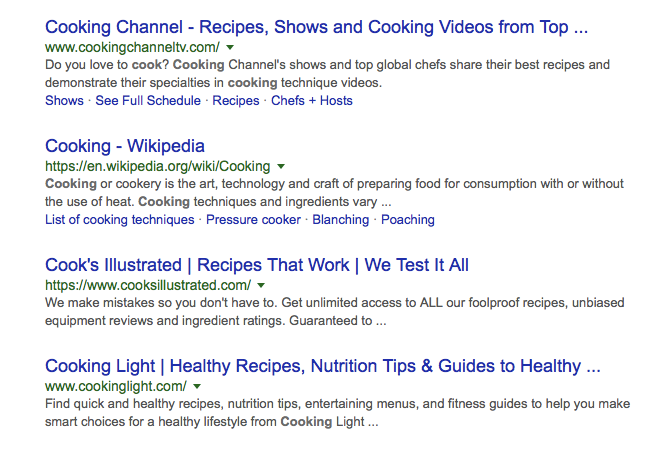 Obviously the websites that rank for the word "cooking" are all big, well-known sites. It would take me years to even START competing with these!
This is why I need to narrow down my topic to something more specific. One way I can start doing this is with some basic keyword research.
One of the best ways to do this is to plug your topic into Google's free keyword tool. This tool can help you generate ideas, and can also give you a very basic idea of how popular, how competitive and how lucrative a particular niche may be.
After signing into the tool, plug your general topic/niche into the Search for new keywords using a phrase, website or category section.
After typing in cooking, this is what I get:

Some of the basic data I can glean from this:
How many people search for each of these terms each month (Avg. monthly searches)
How many people/businesses are trying rank for these terms (Competition)
Roughly how commercial those terms are (Suggested bid…this is how much businesses are willing to pay to rank for that term. A higher bid suggests this may a more lucrative niche)
Keep in mind this process is most useful if you're planning to start an online business, as it will give you a general idea of which topics are worth targeting. However, it can also be a great way to inspire new ideas for a local, brick and mortar business as well.
Using this process – as well as some basic brainstorming – I'm able to narrow down my subject to some other possibilities:
Cooking on a budget
Healthy cooking
Vegan cooking
Cast iron cookware
Snacks for kids
Organic baking
Now that I've narrowed down my topic to a more manageable and targeted topic, I can move onto the next step: deciding on the type of business I'm going to create.
Step 4: Decide what type of business you want to have
Businesses typically fall into one of two categories: product-based or service-based (a content-based website would also fall into this latter category).
There are pros and cons to each model that you should be aware of before you commit to one.
Product-based business:
Often requires a larger up-front investment. May require you to carry inventory which can be expensive and labor-intensive. This can be mitigated by dropshipping or affiliate marketing (please link to "How To Make Money On Your Blog With Affiliate Marketing").
An advantage of product-based businesses is that they're easier to scale (i.e., the more you sell, the more you make, without necessarily upping your base costs).
Another advantage is that you can train and hire someone to manage a product-based business for you…something that's much more difficult in a service-based model.
Service-based business:
Often requires a smaller investment up front. Allows you to utilize your skills and knowledge to help others while also making money.
These can be more difficult to scale, as you may be limited by the amount of work or clients you can take on. This can be mitigated by outsourcing work or hiring employees to help manage the work.
In reality, your business may be a combination of these two models. In fact, a single business can (and often should) have multiple income streams. This could mean you offer some services and some products, and also have both a local, in-person component as well as an online component. So many possibilities!
Step 5: Decide on a specific business
At this point in the process, you should have decided on a specific niche, and perhaps even the type of business you want to pursue (product or service-based). However, the latter isn't absolutely necessary at this point.
As you brainstorm specific business ideas, this will become clear.
Using the example of "vegan cooking", let's take a look at some different business ideas I could pursue in this niche.

Create a niche website like "The Vegan Coach"
A personal chef: Making customized meals for one (or more) private clients.
Sell your goods at the local farmers market (at least to start): If you're interested in more of a product-based business, baking or cooking items and selling them at local markets can be a great starting point.
Start a website with vegan cooking tips and inspiration: If an online business strikes your fancy, a content-based website could be just the thing for you. Wondering how to make money with this type of site? Check out these helpful blog posts:
How To Make Money With Your Website, Part I
How To Make Money With Your Website, Part II
How To Make Money On Your Blog With Affiliate Marketing
Train others to cook: Assuming you have the skills to do this, offering local or even online vegan cooking classes could be a great income stream.
Open a bakery or restaurant: While this can be a labor-intensive type of business, it's a great option if you're ready for a challenge!
Sell your baking to local cafes: Many cafes and restaurants outsource their baking. Approach local establishments with samples of your baking and see if they're open to an ongoing arrangement.
Once you've chosen an idea you think you can run with, the fun can begin!
Wondering what your next steps should be? Check out my post, 5 Steps To Take Your Business Idea And Turn It Into A Reality.
I hope this article has given you some clarity as you decide what type of business you'd like to start. Remember: You don't have to have a specific passion to start a business…as long as you're passionate about starting a business!
 Are you struggling with knowing what type of business to start? What are some possibilities you've thought of? Share below!
About Author