We all want more sales, higher conversion rates, more qualified leads, and more credibility.
The question is, how do we get there?
One of the easiest and most effective ways is with customer testimonials, or as I prefer to call them, customer stories.
But how do you get powerful testimonials from your customers?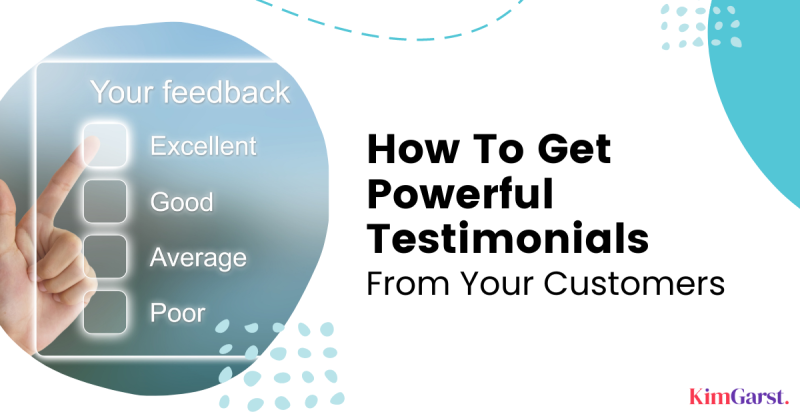 Client testimonials may seem difficult. However, I'm here to tell you: it is possible to put together compelling testimonials, quickly and easily.
But first, in case there's any confusion in your mind…
What is a Customer Testimonial?
A testimonial is simply a written or recorded statement where a person offers an endorsement of a product, service, or business.
I use them ALL the time in my business!
Here's an example of a testimonial for my Business Builder's Academy: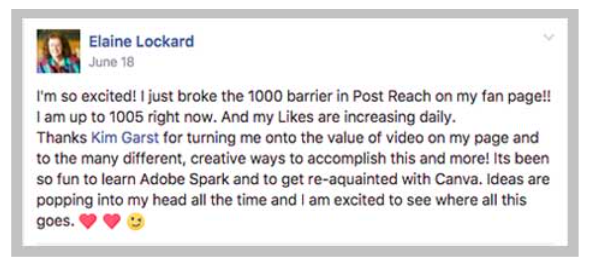 Customer testimonials are generally used to provide social proof in marketing materials: for instance, on a website, social media, product pamphlets, etc.
They are particularly useful when placed on product or sales pages, to reduce the sense of risk your prospective customers or clients may be feeling.
Why Should I Use Customer Testimonials?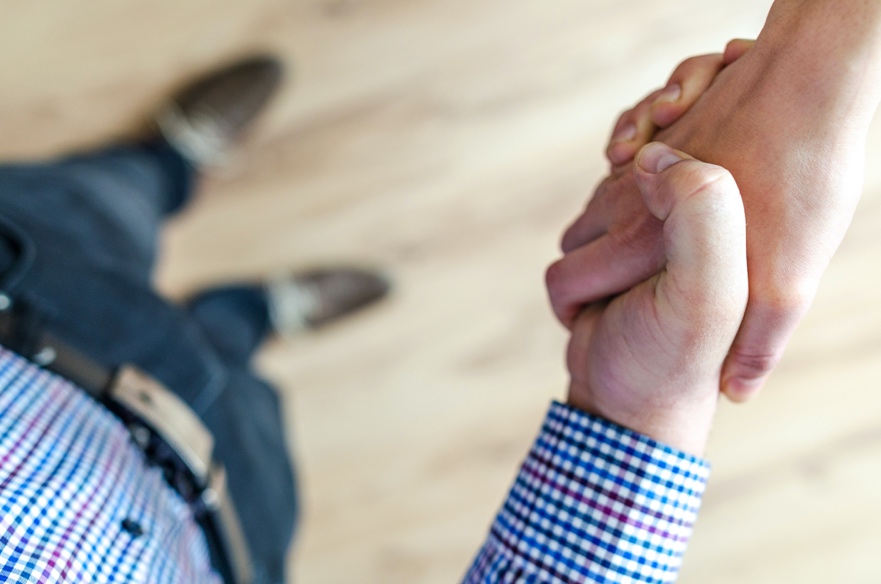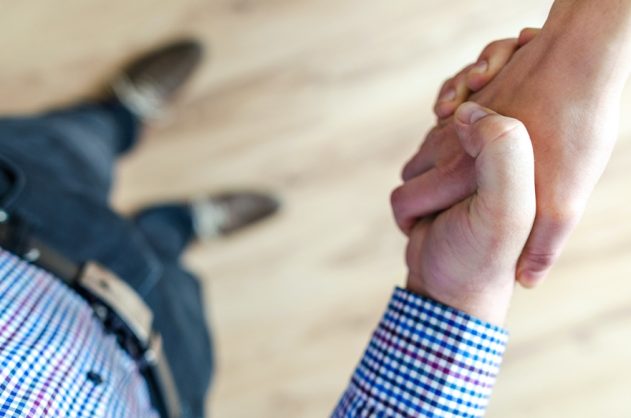 It's harder than ever to gain people's trust online these days. Everyone is out there claiming their product is the best, and promising that it's THE solution to their customers' issue or problem.
The best way to cut through all the fluff, noise, and…let's be honest…the hype, is to use customer testimonials.
According to BrightLocal, 88% of people trust online reviews as much as personal recommendations.

According to BrightLocal, 88% of people trust online reviews as much as personal recommendations.
Click To Tweet
It's also estimated that around 63% of customers are more likely to make a purchase from a site that incorporates user reviews.
Finally, according to Big Commerce, reviews (aka testimonials) generate 62% more revenue per visitor…and that's no small benefit!
Finally, according to Big Commerce, reviews (aka testimonials) generate 62% more revenue per visitor...and that's no small benefit!
Click To Tweet
To summarize, using testimonials can lead to more…
trust
conversions, and
revenue.
And who doesn't want that?!
What Should Your Customer Testimonials Say?
Obviously, it's up to your customers and clients to share their honest thoughts on your products or business.
However, that doesn't mean you're completely powerless when it comes to collecting the types of testimonials that will best resonate with your audience.
Keep in mind that the main goal of a testimonial is to address any concerns or doubts a potential client might have.
If you can identify these concerns or doubts ahead of time, and then find individual testimonials that address or overcome those concerns, your testimonials are far more likely to be effective.
If your prospects tend to have more than one concern, I suggest you create individual testimonials for each concern. Don't lump everything into one long testimonial!
Here's the outline I like to use when putting a testimonial together:
Address A Potential Client Question: For example, "Will the investment be worth it?"
Pick a customer who answers that question
Focus on a single feature
Focus on any secondary feature
Get client to recommend my services
List results
For example:
"My business is THRIVING…thanks to Kim Garst. She's not only taught me a ton about social media, but has also helped me build the systems and strategies I need to run a more efficient business and win more clients. Training with Kim was the smartest move I have ever made for my business. Money more than well spent."
 -Theresa Cifali
 See how the testimonial addresses all the items in the outline?
Address a question: Is hiring Kim a good investment? What is my ROI?
Pick a customer who answers that question: Theresa Cifali
Focus on a single feature: Social Media
Focus on any secondary feature: Systems & Strategies
Get client to recommend my services: Yes
List results: Business is thriving.
Easy, right? By following this outline, you give the potential client exactly what they need to make the switch to a paying customer.
Now that you know what information to put in your testimonial, how do you go about getting one?
How to Get Customer Testimonials
In a perfect world, your customers and clients would offer glowing reviews every time they worked with or bought from you.
And while you (hopefully) receive unsolicited testimonials from time to time, this probably isn't the norm.
This means you're going to need to do a little work – and even put yourself out there a bit – in order to get them.
Some of the most common ways to get testimonials include:
Reach out to past (satisfied!) customers via email and ask if they could write or record one. More on this below!
Search through your social media comments to find reviews from happy customers
Look through past emails to find "quotable quotes" – for instance, emails from clients who have been thrilled with their results
Do some social listening using a tool like AgoraPulse to find unsolicited reviews on social media
Send an email to past customers offering an incentive for sending in a testimonial – for example, free shipping on their next order
Ask on social media. That's right…just ask!
For step-by-step guidance with getting AMAZING testimonials for your business, I've created a training just for YOU!
My workshop, How to Get Tantalizing Testimonials that Boost Your Social Proof and Attract More Clients, will teach you the key to getting testimonials that actually attract more customers, the two steps to getting better testimonials, and my strategy for how to make your testimonials as effective as possible.
Get access to the training here.
How to Ask for a Testimonial
Ugh…this is the hard part, right?!
Remember how we talked about how your testimonials should address doubts or concerns your prospects may have?
Look through your emails and social media comments and see if anyone has addressed those concerns. These are the people you want to contact.
After you've selected the customers, send them an email asking for a testimonial. If you know they can address a particular topic, ask them:
"Hey, I know our work on social media helped your business. Can you send over a couple of sentences on how my knowledge of social media and systems and strategies helped your business? And if you have any concrete numbers that would be great. I am trying to get some testimonials together."
They may or may not send you back exactly what you are looking for, or they may not send over anything at all.
At this point, I suggest you put together something with the information you have and send it back over to the customer for approval.
"Here are a few sentences I put together based on our previous conversations. Do you mind if I use these on our website and marketing collateral?"
Once you have the client's approval and the testimonial fits the outline above, go ahead and post away.
Customer Testimonial Examples
Need some ideas or inspiration for what your customer testimonials should look like, or how you should use them?
I've got ya' covered!
Following are some customer testimonial examples that will help.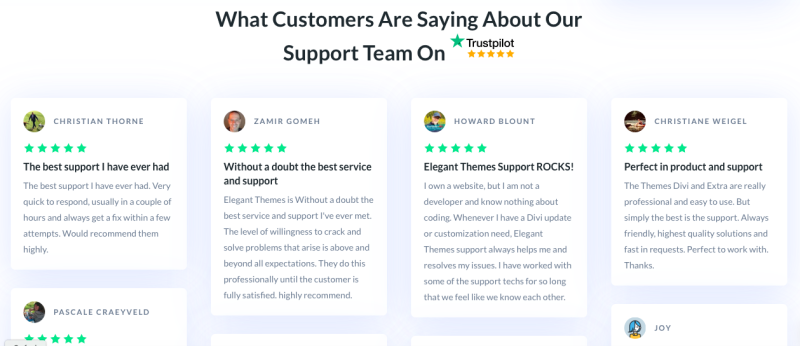 Testimonial gallery for Elegant Themes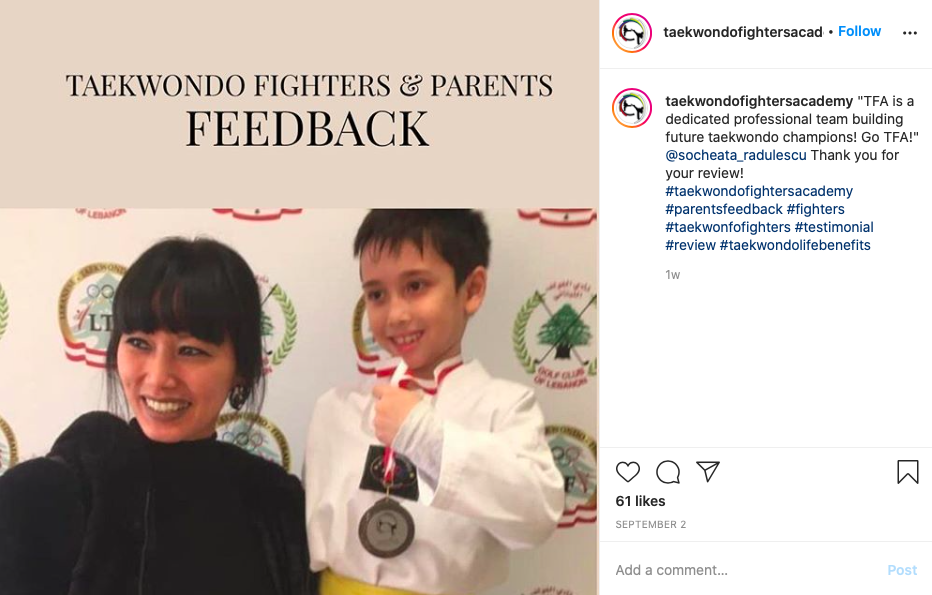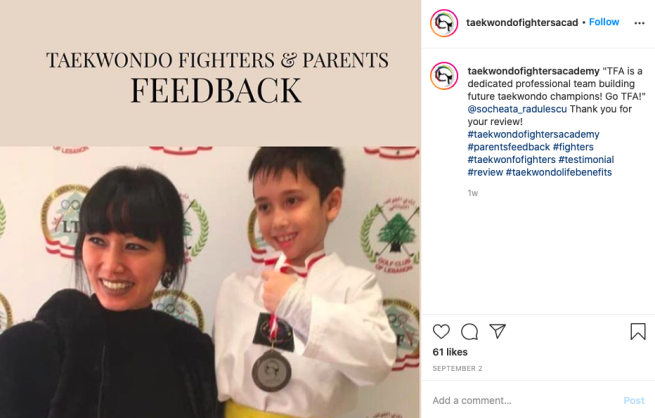 Testimonial post on Instagram, for Taekwondo Fighters Academy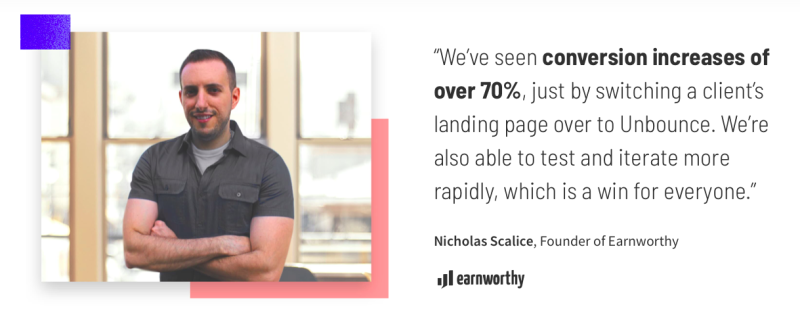 Website testimonial for Unbounce


Video testimonials for ICW Group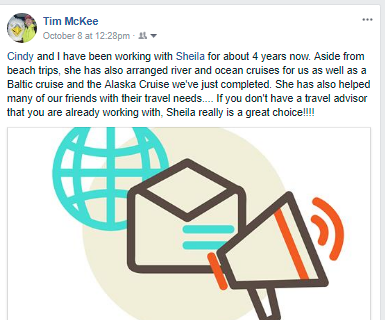 Facebook testimonial for Lush Life Travel
Final Thoughts
Ready to start using customer testimonials for your business?
I trust this post has inspired you to start!
Need more help with actually getting those testimonials so you can start using them on your website, social media and marketing materials? Make sure to grab my training, How to Get Tantalizing Testimonials that Boost Your Social Proof and Attract More Clients, for step-by-step guidance through the process.
I would love to hear how testimonials have affected your business! Drop me a comment below and tell me your "story".
About Author