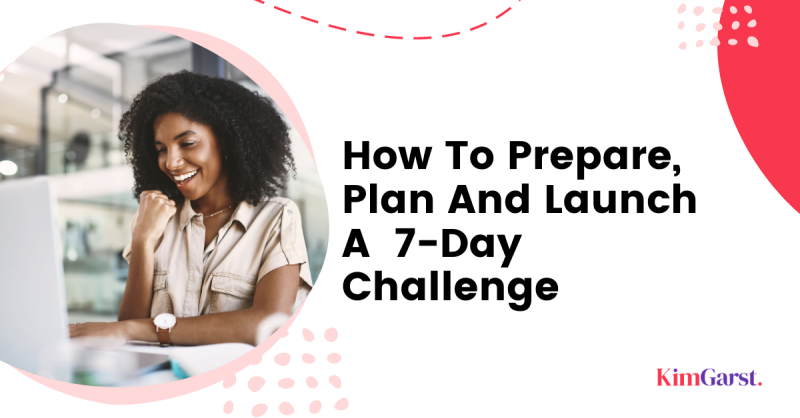 Let's chat about how to prepare, plan and launch your first or next challenge!
Challenges can be for any length of time (5 days, 7 days, 30 days, etc.), and are particularly common in the health, fitness and business niches. Some examples you may have seen include:
7 Days To Stronger Abs
The Free 5-Day Smoothie Challenge
The 30-Day Creative Writing Challenge
Create And Launch Your First Website In 14 Days
These challenges are typically free, and are typically delivered (at least in part) via email or perhaps a Facebook group.
Some challenges are super simple, basically just consisting of a single blog post and/or infographic listing 7/14/30 bullet points. This ISN'T the type of challenge I'll be talking about in this blog post.
This will share exactly how to prepare, plan and launch a challenge that will help you:
Build your email list
Increase your social media followers
Create an engaged community on social media
Build your reputation as an expert in your field, and
Make you money!
Let's get moving!
Come up with an idea for your challenge
This is where it all begins. While these challenges are most common in the health and business niches, ANY business in ANY industry can benefit from them.
Need some inspiration? Here are a few challenges that may trigger some ideas for your business.

My 30-Day List Building Challenge consisted of daily emails that showed business owners exactly how to grow their email list….fast. The challenge included exclusive access to a dedicated Facebook group where participants could ask questions, receive additional training, and support one another.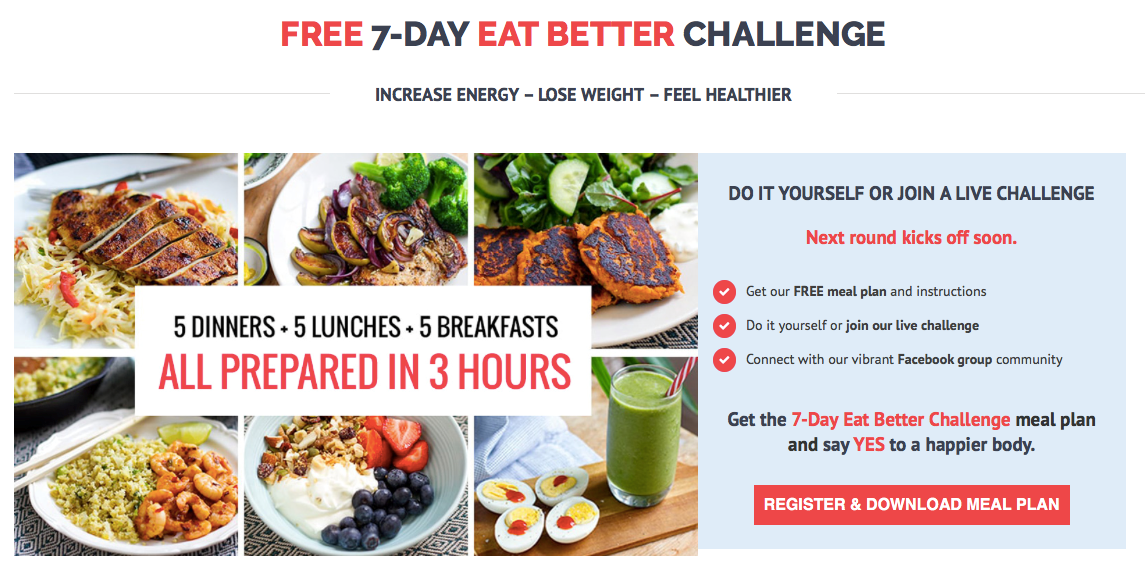 The free 7-Day Eat Better Challenge from Happy Body Formula offers participants seven days of healthy meal plans, and gives them access to a Facebook community where they can ask questions and swap recipes. There's an option to do the challenge on your own schedule, or to join a live challenge with a cohort of other participants.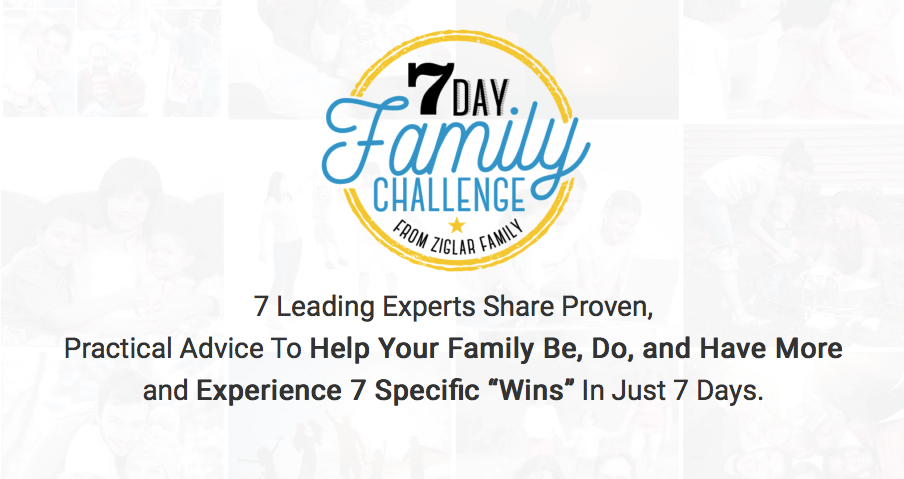 The 7-Day Family Challenge promises practical tips for helping your family "be, do and have more". It covers communication skills, work-life balance, finances, and more, with each day of the challenge being led by an expert in the field.
As you can see, each of the challenges above are different in terms of niche and focus, but all take the same approach: daily inspiration and tips to help participants set a goal and achieve it within a set period of time.
Some tips when choosing your own challenge topic:
Make sure the goal is actually attainable within the period of time you've set. E.g. "Get 100 Clients in 7 Days" is probably not realistic!
Choose a topic that your audience is already interested in/struggling with. In other words, make it highly relevant to your audience.
Make sure it's a topic you know well so you can provide true value through your challenge.
Take some time to think about how long your challenge should be given your audience. For instance, if your audience is time-strapped moms, you may want to run a 7-day challenge as opposed to a 30-day one.
OK….have an idea for your own challenge? Then it's time to figure out how you're going to deliver content to your participants.
Set up a series of emails and an optin form
As mentioned earlier, there are many benefits to creating a challenge for your business. But perhaps the biggest benefit is building your email list.
How does it work?
In order to join your challenge, participants will need to sign up with a valid email address. They will then receive regular (usually daily) emails from you that help them complete the challenge.
Each email should give practical, actionable tips that will move participants closer to their goal. For instance, for a "get in shape" challenge, you might send daily meals, exercises and a motivational story.
For a "get more clients" challenge, you might offer one task a day participants need to complete in order to find and book one new client.
Since your challenge is likely going to be carried out largely by email, it's important you use an email marketing service (I recommend aWeber!). This is particularly important if you want participants to be able to join your challenge at any time (as opposed to a live challenge where you all work through it together).
While it's beyond the scope of this post to give detailed instructions on setting up an email sequence, here's a brief overview:
Create an email list just for your challenge
Create a signup form you can put on your website, landing page and social media (see example below)
Create an initial welcome email for when people sign up for your challenge
Create a series of emails that are set to get sent out in 24-hour increments
Create a wrap-up email to be sent on the last day of the challenge. Be sure to let people know how they can continue to connect with you after the challenge! Promote your Facebook page and/or group, as well as any relevant products or services they would appreciate.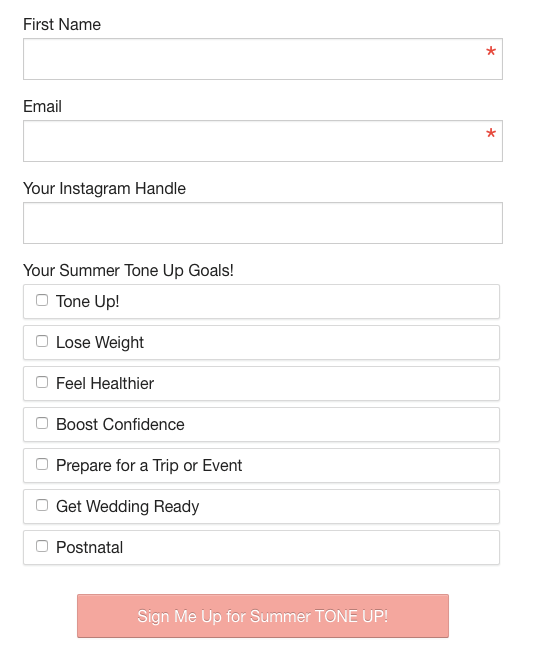 Example of a challenge signup form, courtesy of Tone It Up
Create a Facebook group for your challenge
Another key aspect of your challenge will be a Facebook group where participants can ask questions and get to know other members. It will also be a place for you to share additional tips or strategies.
Alternatively, you may want to actually carry out the lion's share of your challenge right within the group. In this case, instead of sending out daily emails, you might post daily messages in your group.
If your goal is to build your list, be sure you're still getting an email address when they sign up for the challenge! Otherwise, you'll have no way to contact them once the challenge is over.
On the other hand, jf your goal is simply to gain some brand awareness (i.e. to get your name "out there" and make an inital connection on social media), there's no need to require an email address.
Briefly, here's how to create and structure your Facebook group for your challenge.
1. Create your group
Once logged into Facebook, click on the triangle at the top right of your screen. Click Create Group.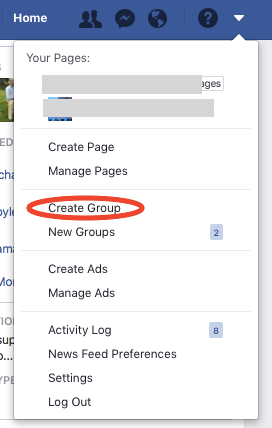 2. Give your group a descriptive name
I recommend adding a close friend or colleague while setting up the group (you have to add at least one person to get started). Then once your group is all set up and the challenge is ready to start, you can add all the people who have signed up for the challenge.
If you're requiring an email to join the challenge, set your group privacy to Closed. If you're doing the challenge in order to drive brand awareness (and therefore people don't need to give an email to join), you'll probably want to set it to Open (meaning anyone can see group posts, but only those who have joined can create new posts).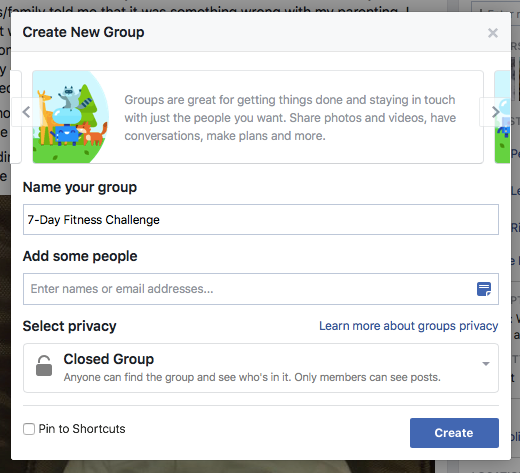 3. Add content to your group
After clicking Create, you'll finalize your group creation by picking a group icon, and then will be taken to your group. You can now remove that friend you added previously!
You can now do all the usual stuff, like adding a cover photo and content to your group.
Your group is now ready for your challenge participants!
How to make money from your challenge
While creating and hosting a challenge is a lot of fun, when it comes down to it you want to make MONEY from it, right?
There are a number of ways you can do this – some are more indirect and will take longer, while others will generate immediate sales. It's good to use a combination of both!
1. Challenge participants = leads for your business
If you're requiring an email address to sign up for the challenge, you've already taken the first step at getting leads for your business.
Everyone who has signed up has entered your marketing funnel, and you can now continue communicating your offers and promotions even once the challenge is over.
As you continue to offer valuable content to your subscribers, their trust in you builds. Once they're ready to buy, who do you think they'll buy from: you, someone they know and trust, or Joe Schmoe down the street?
2. Promote your paid products or services during the challenge
Don't be afraid to plug your products or services throughout the challenge! It could be as simple as including product links in your content, or offering discounts to your challenge subscribers.
Another strategy is to actually include a product tutorial as part of the challenge. For instance, if you're doing a smoothie challenge, you could create a video showing how to make a healthy smoothie – using your favorite blender, which just happens to be available for sale on your site!
3. Offer paid content upgrades
While your challenge should be completely, 100% free, you can offer paid bonus content or upgrades to your participants.
If you already offer ebooks or other infoproducts relevant to your challenge topic, you could simply promote these during the challenge.
But another strategy is to offer the entire challenge all at once to participants who don't want to wait the entire 7, 14, or 30 days to complete it. For a small fee, they can receive the whole challenge at once, and can work through it at their own pace.
You could also offer paid bonus content on your site, using a free plugin like Restrict Content. Some ideas for this bonus content include detailed instructional videos, in-depth tutorials, step-by-step how-to guides, etc.
4. Promote an affiliate product
An alternative to promoting your own products during your challenge is to promote someone else's…for a fee!  If you're new to the world of affiliate marketing, an easy way to start out is by joining Amazon's affiliate program and then including Amazon affiliate links in your content.
Other options include finding and promoting relevant products via affiliate networks like Clickbank, Shareasale or CJ Affiliate.
6 ways to generate buzz about your challenge
All this hard work isn't going to mean much unless you have participants. This section will outline six ways you can get people talking about and signing up for your challenge.
1. Promote your challenge to your blog visitors, social media followers and email subscribers
Promote your challenge everywhere. If it's designed to truly help your audience – and it's FREE  – don't be afraid to spam your readers and followers with it!
Create simple graphics to promote your challenge using a free tool like Canva, and then put them in your blog sidebar and even right within your blog content.

I also recommend changing your social media cover photos to promote your challenge. Don't forget to include a link so people will know where to sign up for your challenge!
2. Offer prizes during the challenge

Motivate your participants during the challenge by giving away prizes for meeting key goals along the way. Not only does this keep your members engaged, it can create a buzz about the challenge – both inside and outside the group.
Bonus: It's a great way to draw attention to your own products or services!
 3. Create a challenge hashtag participants can use
A challenge hashtag can be a great way to get people talking. Use it whenever you mention your challenge, and encourage your participants to use it as well.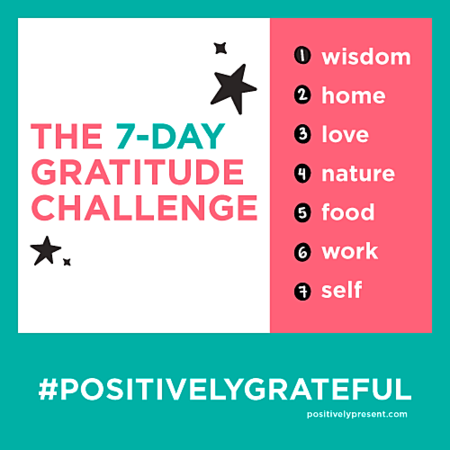 Positively Present uses the hashtag #positivelygrateful to create a buzz about their challenge
I also love the idea of using it on your challenge graphics (see above). This is a simple way to get the word out about your hashtag.
4. Build anticipation by hinting at your challenge in the days and weeks before it launches
The basic rules of product launches apply to launching your challenge. And one of the key principles of product launches is to generate some buzz BEFORE you actually launch the product.
This helps build anticipation and ensures people are ready to sign up on launch day!
 5. Offer badges or banners for partipants to use on their own websites or blogs
I'll let you in on a little secret: people who participate in challenges love for others to know what they're doing!
One way to help them spread the word is to create simple badges they can use on their website or on social media.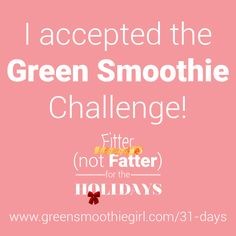 Participant badge from Green Smoothie Girl
Not a graphic designer? No problem! Anyone can create amazing graphics with the right tools. Check out my post 6 Free Tools To Create Amazing Eye-Catching Graphics.
6. Use Facebook ads
Don't have a big following on social media, or just need to wrangle up some more participants? Facebook ads are a GREAT way to increase awareness and participation.
I highly recommend creating your own custom Facebook audience of people who already "like" pages similar to yours. Not sure where to start? This should help: How To Build A Rockin' Facebook Ads Audience In 5 Quick and Easy Steps.
Final thoughts
I hope this post has gotten you excited about creating your own challenge. They really are one of the best ways to build to your list, create a sense of community and even increase sales!
I'd love to know if you plan to create a challenge….and if so, what's it going to be called? Share with us in the comments below!
About Author