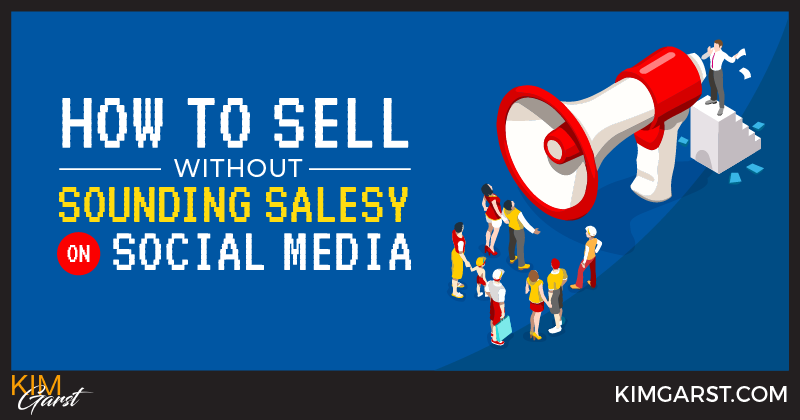 The most terrifying part of being in business is how do you actually make a sale? If I have heard this one time, I have heard it  hundreds of times…
"But I am not a sales person"
The reality is this…you are a business owner and in order to be a successful one; you have to make sales! This doesn't mean you have to be fake, lie or be someone you are not. We all envision the slimy used car salesmen and we don't want to be that guy or gal.
So how do we get around this major issue, especially in social media?
• How to sell?
• What to say?
• How to use social media to sell without selling? Is this an oxymoron? Nope, it can be done!
Sell-sell-sell sales methods simply do not work on social media unless you are a major brand and even then, they are discovering that this is less and less effective every day.
Think about it…do you like to be 'sold'? Most of us don't and keep this in mind when you are marketing on social media.
5 Ways to Sell Without Sounding Salesy
#1 Focus on Serving Others

People can tell when you actually care about them and their business. People today are much savvier and they are looking to connect with real people who care about who they are and what they are looking for in their businesses.
Forget about how much money you are going to make; lead with value and what you can do to help OTHERS. Make your audience your number one priority! Show that you care, that you are honest and are genuinely interested in providing a solution to their problem.
#2 Listen
Why do you avoid a salesman at a car lot or perhaps a saleswoman in a department store? Because they never stop talking, making suggestions, talking about their products, etc. They erroneously believe if they are proactive enough, nice enough, say the right things, that they will produce a sale.
That's why we avoid them.
Take the opposite approach. LISTEN. Let them talk, explain what their business needs are and what their issues might be. This way you can be certain that you have a solution to their problem.
You will find that, if you follow this approach, that people will WANT to buy from you. Not because you have talked them into it but because they feel you understand what their business needs are and they trust that you can help them.
#3 Teaching Sells
There is a Chinese proverb that reads "Give a man a fish and you feed him for a day. Teach a man to fish and you feed him for a lifetime."
If you focus on a teaching platform that will teach and benefit your potential clients, you will stand out in a very crowded marketplace. Most are simply trying to sell, sell, sell and are missing a golden opportunity to generate sales without selling!
The key is to this strategy is to lead with free quality content that provides value to your prospects. This may be in the form of blog content, videos, free reports, webinars…there are tons of ways to provide value!
If the content is good, your prospects will recognize this, want more of your knowledge base and be willing to pay for it.
#4 Build Relationships
Social media is a great way to connect with like-minded people who are in need of our services or products. The key to this is that you have to devote the time to building a relationship with your audience.
This means you have to engage, respond to questions on social media and through email and be present where people can communicate with you. This does not mean that you have to sit in front of your computer 24-7. Definitely not. You or your VA if you have one, should check all your social media platforms several times daily. Respond when necessary and always give appreciation to those who are promoting you and your business.
#5 Be Brave, Positive and ALWAYS Be Pleasant
Know that you can do this, always be positive and always, always, always be pleasant to your audience. Actions are what people pay attention to and how you handle a positive or negative situation can define your business in so many ways.
Remember…if you see dollar signs on every person that you connect with, you will not be as successful as if you stop worrying about sales and worry about what your audience needs are. Once you know what that is, give it to them. Lead with a service based heart and your audience and sales with follow!