Growing your social media community can be tough. How do you get more Twitter followers or Likes for your Facebook page? It's easy to get frustrated when starting as it takes time to build an audience and at first it can seem as though you're never going to have a sizeable and engaged social audience.
There are two ways you can go about growing your social media community – by buying or building it. For many, it's a numbers game, which makes buying fans and followers an easy, quick fix. But for those who truly want to succeed in social media, you have to take the time to build your audience from the ground up. The reward for those who take the latter approach is an engaged community who will be interested in the updates you share and will actually respond and share them with their audience, increasing engagement with your business.
Instead of simply "buying an audience", below I have included a number of  ways to grow an engaged social media community for your business.
Start with the people you know.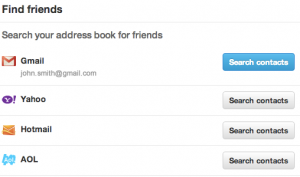 All of the top social networks (Twitter, Facebook, Google+, LinkedIn, and Pinterest) allow you to connect to your email address book and/or other social platforms in order to find people you may know. Once you have connected with the people you know best on your personal and professional profiles, you can invite them to connect with your company pages.
Use the official follow badges.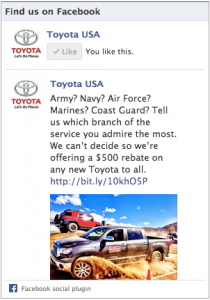 At the bare minimum, you should have small social icons on your website to let visitors know you are on particular social networks. If you really want to increase the odds that people will connect with your social profiles, you will want to use the official follow/fan badges provided by Twitter, Facebook, Google+, and LinkedIn.
These will allow people to follow you on Twitter, like your page, follow your page, and follow your company without having to leave your website, assuming they are logged in to each network. This allows you to get social subscribers without forcing visitors to leave your website.
Socialize your email signature.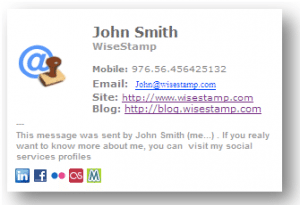 Don't just personalize your email signature – socialize it by adding links to your top social media profiles and pages. Most people will link to a maximum of three social networks so they don't have too many links in their email.  You can also use plugins like WiseStamp to create visually appealing signatures with social icons linking to your profiles and pages.
Socialize your newsletter.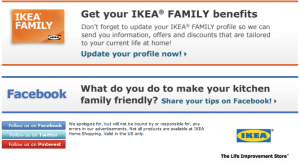 Add social icons with links to your profiles and pages to your newsletter to make sure that everyone on your email list has a chance to connect with your company on social media.  You can also socialize your email receipts similarly – happy customers are always happy to connect. Most email marketing applications allow you to easily add links to your social media profiles. Be sure to add these!
Create great content.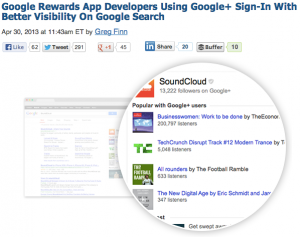 If you create great content on your blog or website that people will want to share on social media, they will likely credit your business by mentioning your Twitter account in the tweet (especially if you use the Twitter retweet button), tagging your Facebook page in their wall post, and tagging your Google+ page when they share. This will not only drive more traffic to your website, but it will help grow your social media audience as people will want to follow you to keep up with your latest posts, articles, videos, and so forth.
If you are looking to have a highly shared piece on a particular network, think about ways to tailor your content to be of interest. For example, if you want a post to get a lot of likes on Facebook with the goal of gaining more Facebook fans, write the post around Facebook: Facebook tips, people on Facebook, pages on Facebook, Facebook privacy issues, and other similar topics usually do well.  Consistency is also very important. Be sure to create quality content on a consistent basis to keep your followers engaged with your brand and ready to share your content with their followers.
Get your entire team involved.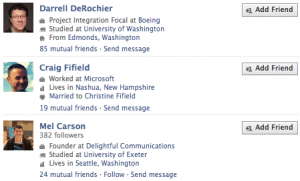 There's a great chance that many of the people in your company have personal profiles on the major social media networks. Assuming they use the social media profiles professionally, you should try to encourage them to link back to your company profiles and pages.
Specifically, they can add the company's Twitter handle to their bio, the company's Facebook page as their current employer on their Facebook profile, and the company's LinkedIn page as their current employer on their LinkedIn profile.  When each individual's personal profile is displayed in search results on each respective network, visitors to those profiles will also be able to easily find and connect with the company's main profiles and pages.
Respond to your audience.

Consumers often use social media to voice their delight – or complaints – with companies in which they have recently interacted. If you use each mention of your company as an opportunity to engage, you'll likely grow a loyal customer following. Be sure to monitor mentions for your brand across social networks and engage with those who are talking about your products, services, and/or brand. Social media a two way street so foster conversations around your brand and be quick to respond to those who have taken the time to reach out to you via social media, whether it's a complaint or a complement.
Use Social Advertising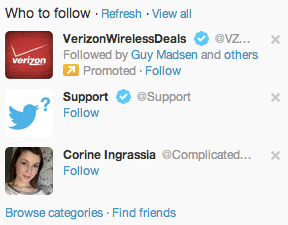 Twitter and Facebook make it easy to grow a relevant audience for your social media accounts through their advertising. Twitter's Promoted Accounts and Facebook's Sponsored Stories will place your profile and page in highly visible areas for people who fit your defined target demographic based on interests and other qualifiers.  I'd consider this a "step up" from simply paying for followers as you are investing dollars to get your Twitter profile in front of a targeted audience who will likely be interested in your tweets, helping you grow a more engaged audience.
Incorporate social media into offline marketing materials.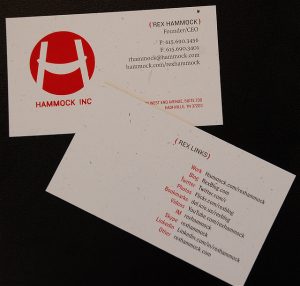 Just because social media is online doesn't mean it has to stay online. If your company is easy to find on social media, then just add logos for Twitter, Facebook, YouTube, and others to your brochures, business cards, and other offline marketing materials. If it isn't easy to find your company using the search box on a particular social network, spell it out as best you can such as facebook.com/yourcompany and @yourcompany for Twitter.
We hope these tips help you grow a more engaged social media community.  It takes a lot of work, but these simple steps should help you get on the right track.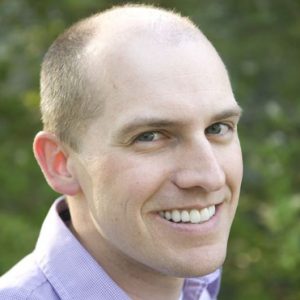 Brandon has over 8 years of experience in digital marketing and is the cofounder of ClearStats, a social marketing suite that helps businesses manage, optimize, and track sales from social media. Learn more about ClearStats and sign up for a 30 day free trial at: http://www.clearstats.com