Most of us don't stop to think much about our shopping cart platform.
We slap up a "Buy Now" button, sit back, and hope for the best!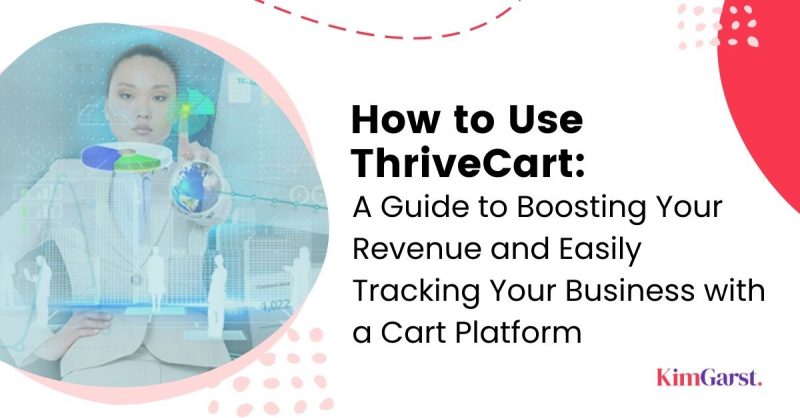 But did you know that the shopping cart platform you use can actually make a HUGE difference in terms of user experience, customer re-engagement, and sales?
In this post, I'm going to introduce you to MY favorite shopping cart tool, ThriveCart.
I'm going to show you how you can use it to increase sales for YOUR business, as well as how it compares to other shopping carts out there. I'm also going to take you step-by-step through creating your first product and checkout page, so you can see JUST how easy it really is!
How to Use Thrivecart for Your Business
Wondering how Thrivecart could actually be contributing to your bottom line? Check out these 5 ways to use Thrivecart to increase sales and conversions starting today!
1. Increase Revenue Through "Bump" Offers or One-Click Upsells.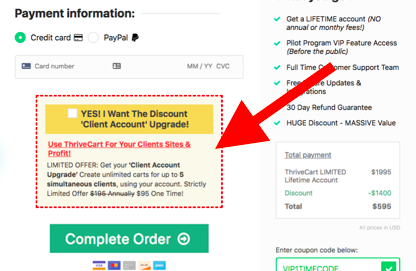 The ability to add bump offers on my checkout page is one of my favorite things about ThriveCart (not all shopping carts offer this!).
Here's how it works: When a customer is on the checkout page and is ready to complete their purchase, they see this little box that gives them the option to easily add an upgrade to their purchase…with the click of a button.
This is proven to dramatically increase sales…and all you did was take an extra 30 seconds to set up a box on your checkout page!
You can also add upsells as part of your sales funnel, which is another amazing feature – when people go to purchase a particular product, you can automatically send them to a custom page where you offer an upgrade to the current product.
2. Send an Email to People Who Have Abandoned Their Shopping Cart.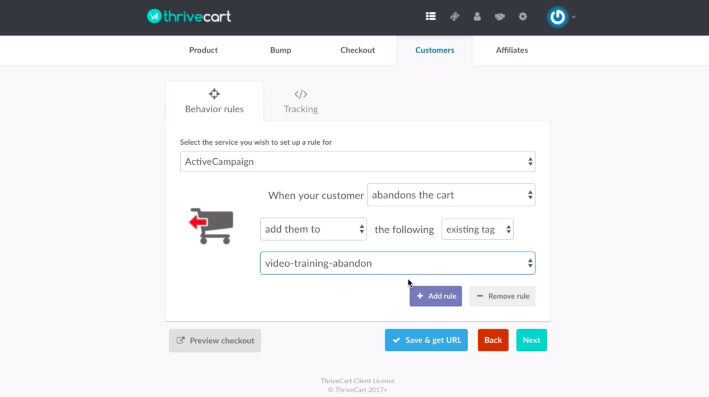 Don't you HATE it when someone comes to your site, loads up their cart, and then leaves before completing their order?
With ThriveCart, you actually have the ability to add these people to your email autoresponder series…meaning that about 15 minutes after they've abandoned their cart, they automatically get an email from you.
This means you can "sweeten" the deal by offering a discount or free shipping…or simply just remind them that their cart is still waiting for them.
3. Easily Create an Affiliate Program for Your Products.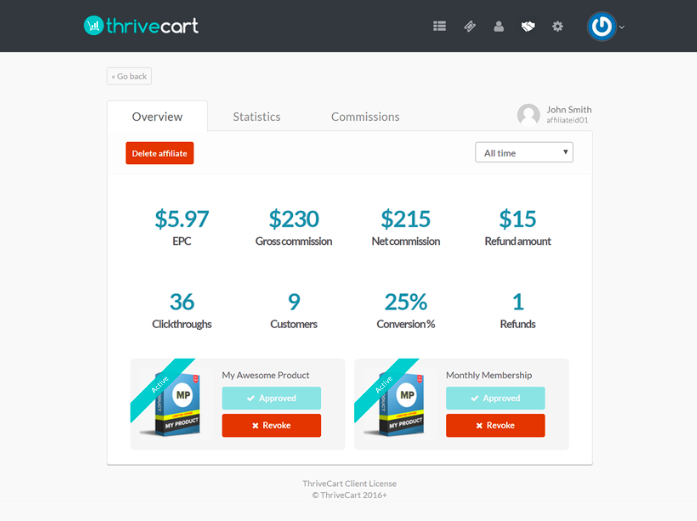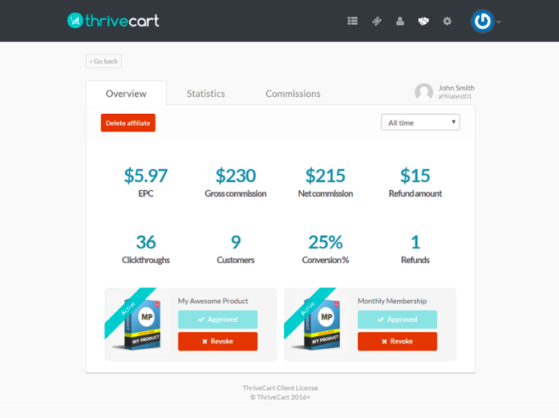 Have you ever wanted to create an affiliate program for your products, but didn't know where to start? With ThriveCart, you can easily set one up with the click of a few buttons.
And, one thing I love is that you can set up different affiliate arrangements for different products – so you can vary the commission rates for different products.
You can even set up "rules" for your affiliates: for instance, if one of your affiliates starts getting really high refund rates, you can adjust their commission percentage accordingly. And this all happens automatically, so you can take a more hands-off approach to manage your affiliates!
4. Split-test Your Cart so You Get as Many Sales as Possible.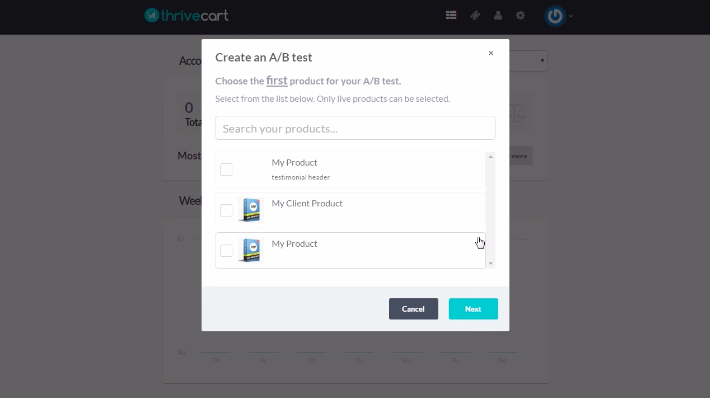 Okay, this is super cool. Have you ever wondered if a simple tweak to your cart could increase conversions? Like changing a button, adding a testimonial or using a different heading?
With ThriveCart, you can easily split-test two different versions of your cart – simply set up an "A/B test", and once it's clear which version converts best, ThriveCart will automatically choose the winner and use it for all your checkouts.
It's that easy!
5. Entice Your Customers to Buy Using Countdown Timers.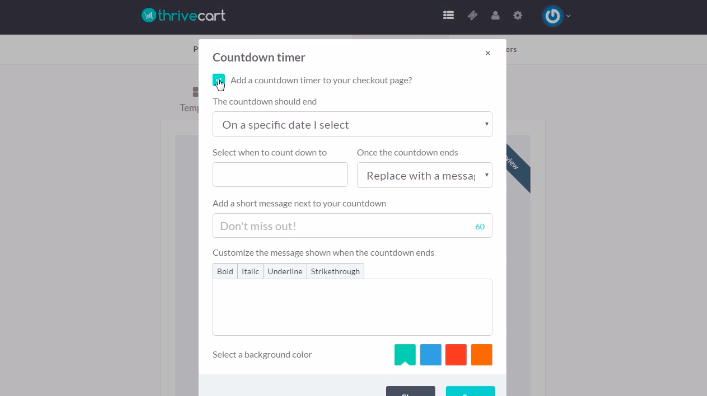 Adding some scarcity to the sales process can be a great way to boost sales…because sometimes people need that little push in order to buy!
With ThriveCart, creating scarcity is easy using countdown timers. When setting up your checkout page, you have the option to add a timer to the top of your page…and when the timer runs out, the offer is no longer available.
You also have the option to redirect visitors to another page or send them a message, letting them know when the offer will be available again.
How to Create Your First Product and Checkout Page in ThriveCart
Want to see just how quick and easy it is to create an amazing, optimized, high-converting checkout page using ThriveCart?
I've included step-by-step instructions with screenshots so you can see for yourself!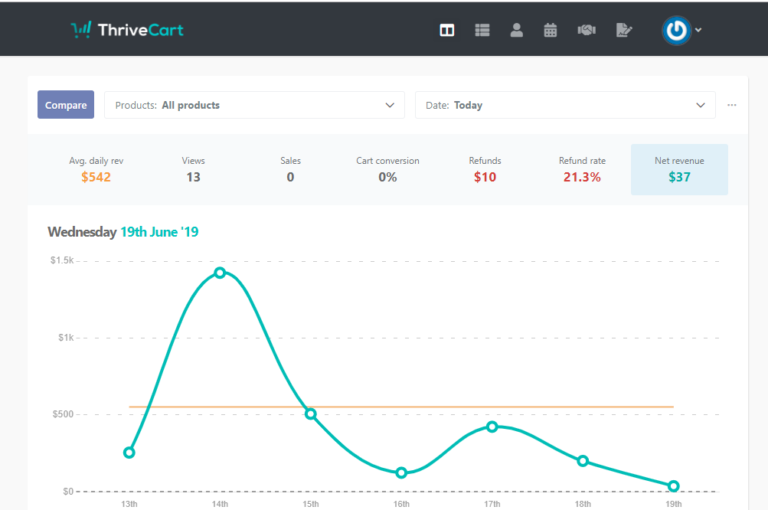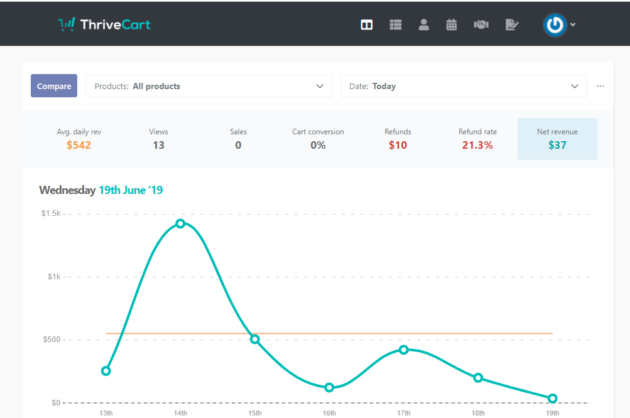 Once you're logged in, you'll immediately be directed to your dashboard, which looks like this:
As you can see, it gives you a summary and graph of your daily sales and revenue…so you'll always know exactly how your cart and sales strategies are performing.
2. Create a New Product
The very first thing you'll want to do is create a new product. Go to the top of your dashboard and click on the Products icon, which looks like this:


Next, you'll click on the big blue Create product button that looks like this:


After clicking the button, you'll see a popup that asks what type of product you're selling. You can choose between a digital product (like an eBook, course, audio file, membership, etc.) or a physical product.
Make your selection, then click Create a new product.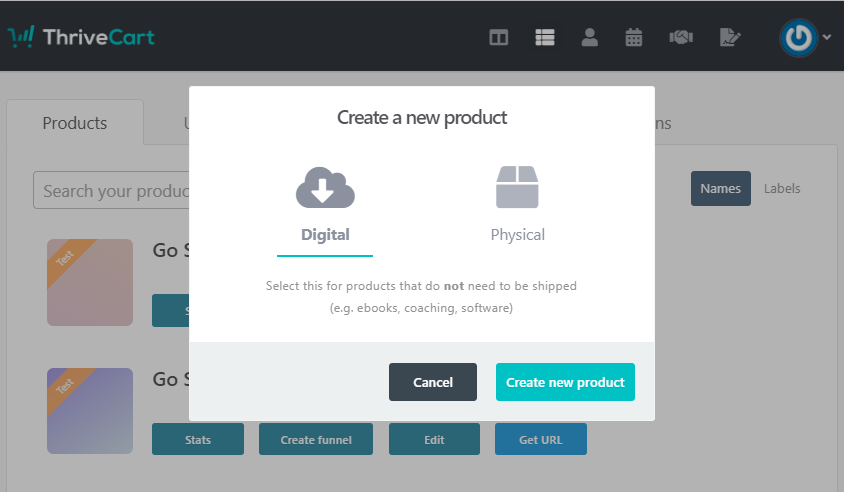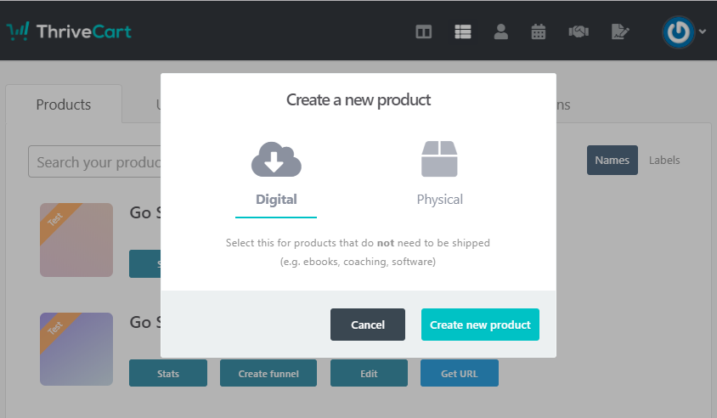 Now you'll come to a screen that gives you 4 different options: Product, Fulfillment, Checkout, and Behavior.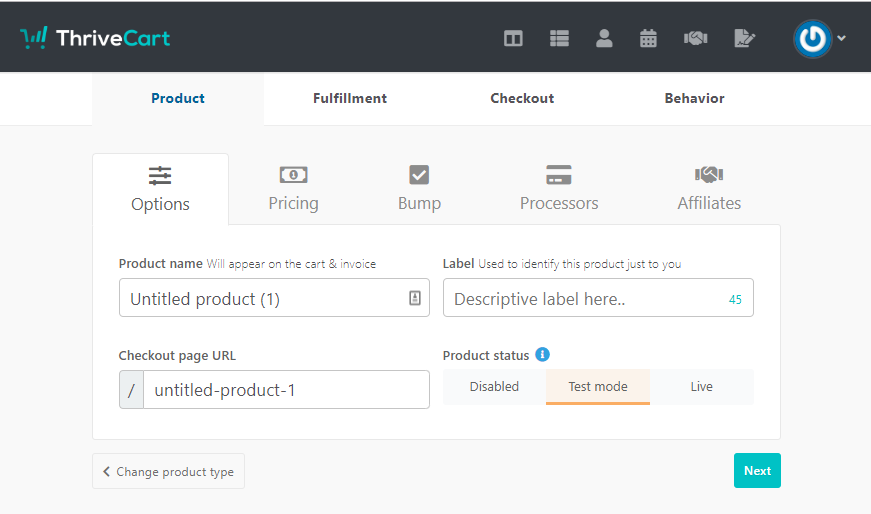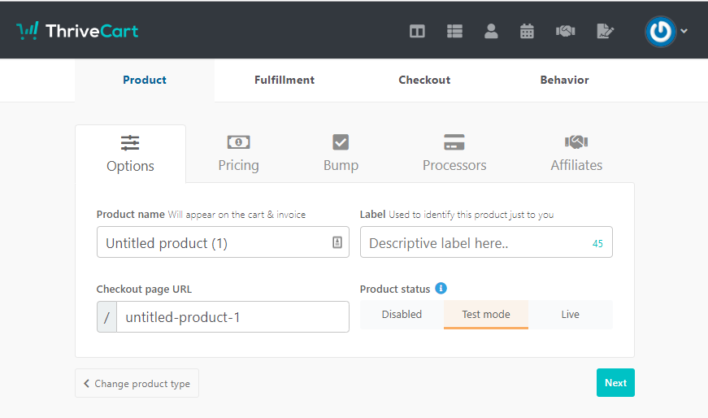 For now, since we're still creating our product, we're going to stick to the Product tab.
In the sub-tab under Product, we have Options, Pricing, Bump, Processors, and Affiliates.
Here is what you'll find under each of these sub-tabs:
Options
Here you can set or edit your:
Product name
Product label (Only you can see this. This makes it easier to identify your product)
Checkout page URL
Product status (disabled, test mode or live)
Pricing
This is where you'll set the price of your product. You can also add multiple pricing options here: for instance, if you want to give the option to pay in a lump sum or in monthly payments.
You'll also have the options to automatically calculate sales tax and customize your customer's invoice.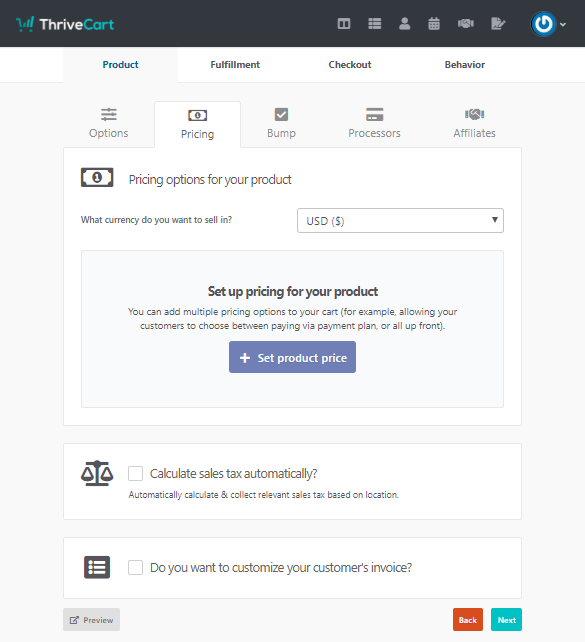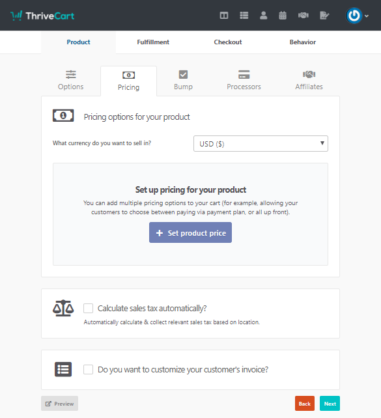 Bump
This is where you can set up a "bump offer". These are super cool, and according to ThriveCart's own testing, can increase sales by up to 40%!
Basically, this a box that appears on the checkout page that asks customers if they want to upgrade their purchase.
If you want to add a bump offer, simply check the box and specify the details of your offer.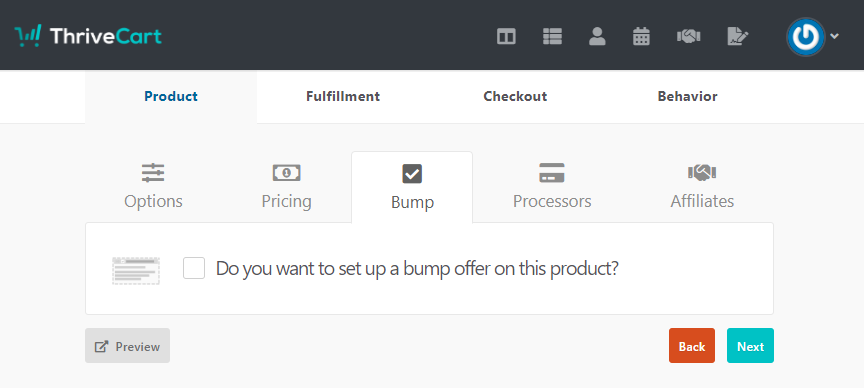 Processors
This is where you'll choose the payment processors you want to use. At the moment, ThriveCart lets you choose from 5 processors: Stripe, Authorize.net, Paypal, Apple Pay and Google Pay.
Simply click Set up processors, then choose the ones you'd like to use.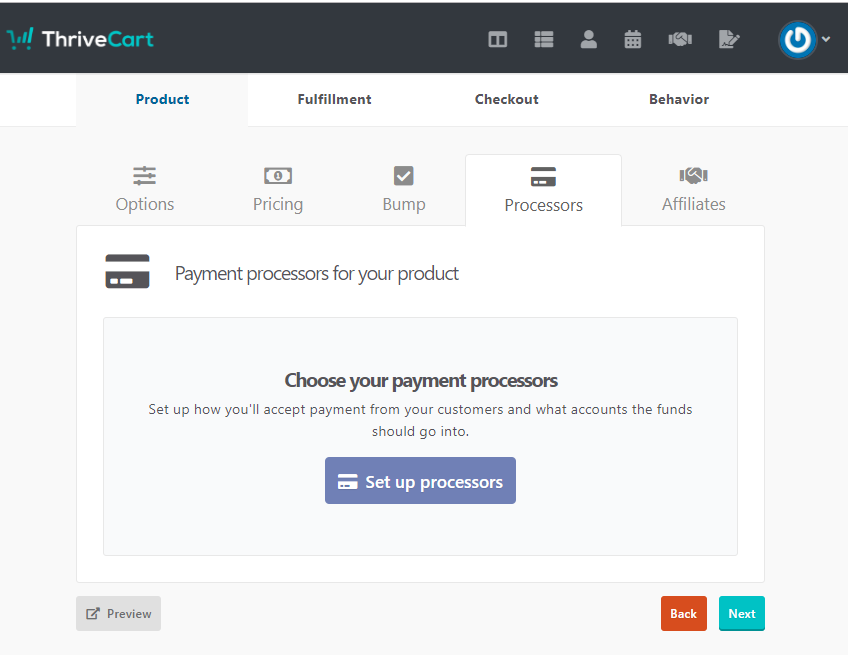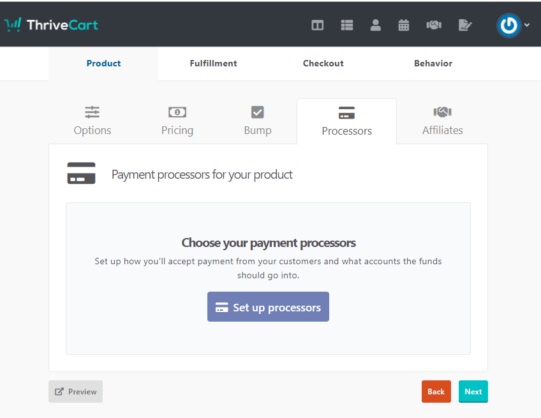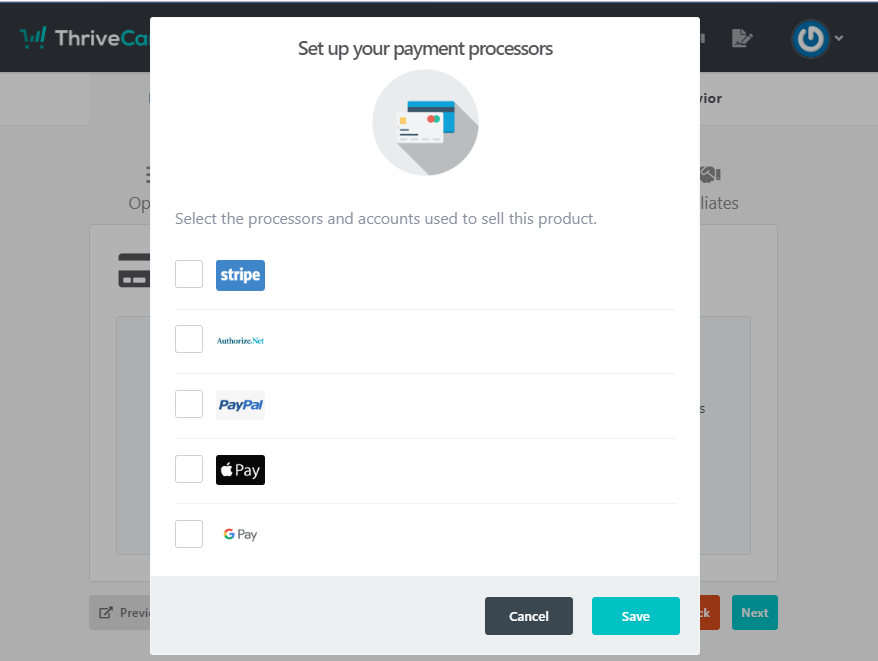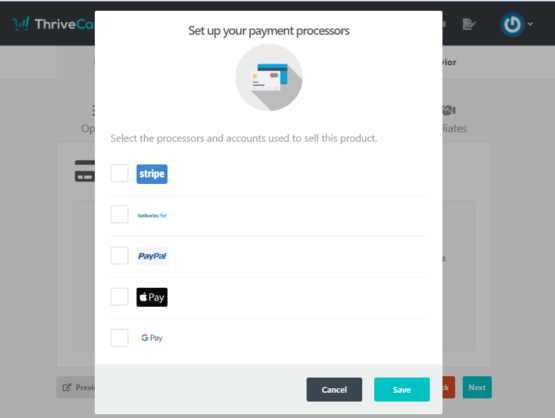 Affiliates
ThriveCart makes it super easy to set up an affiliate program for your products. Simply click on the Affiliates tab, enter your details (including what percentage you want your affiliates to receive) and then click Save.
3. Set Your Fulfillment Preferences
The next tab is the Fulfillment tab. This is where you'll decide what happens once someone purchases your product(s). You'll notice there's only one sub-tab here…After purchase.
Here's where you can select your support email or URL, and decide what happens right after your customer makes a purchase – for instance, simply display their total, send them to a specific URL, or add them to your membership site.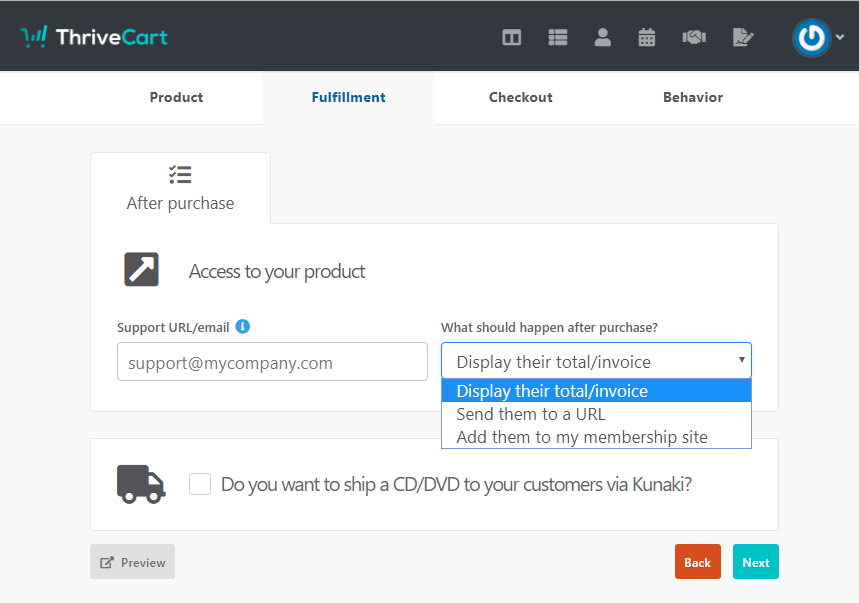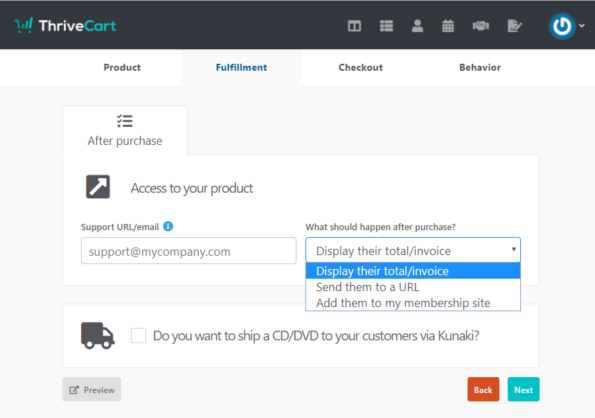 4. Set up Your Checkout Page
Under the checkout tab, you'll find 4 sub-tabs: Template, Customize, Success Page and Tracking.
Under the Template sub-tab, you'll find 4 templates you can choose from: a tall, one-step checkout, a two-step checkout, an embeddable checkout, or a Popup checkout.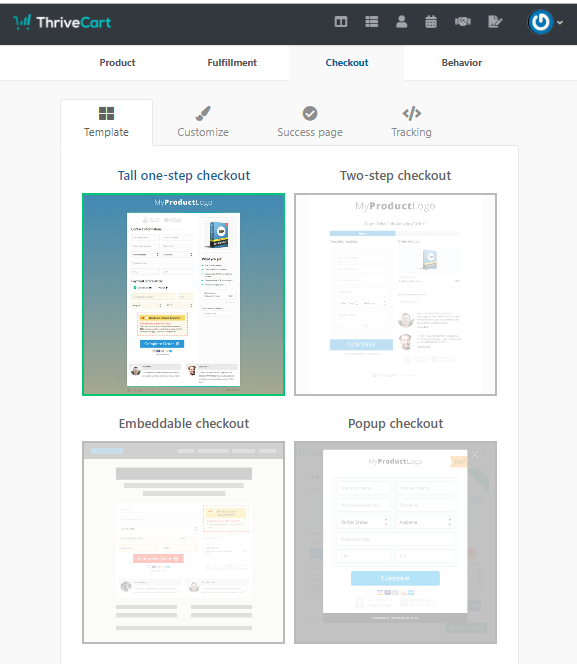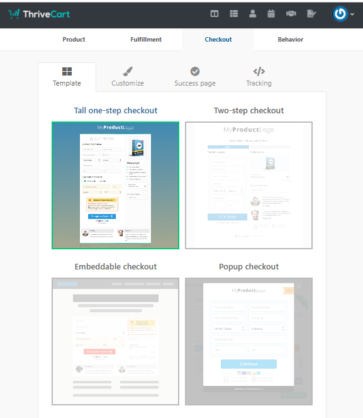 Customize
In this sub-tab, you can edit and personalize the template you've selected. There are tons of customizations you can make here!
Some of the elements you can add or edit include:
Your buy button
Your box shot (image of your product)
The fields (info) you ask your customers for
Your guarantee seal
Testimonials
A video

Success Page
This is where you can customize the page your customers will see after they've made their purchase.
You can add or edit your headline text, a thank you video or the body text.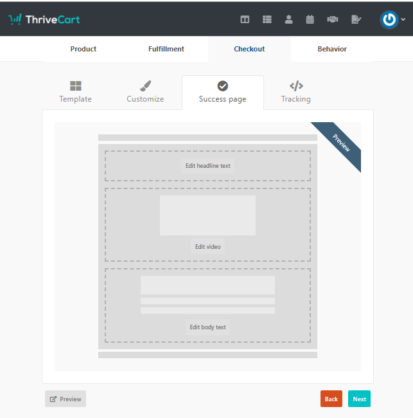 Tracking
 Finally, this is where you can set up the tracking services that you want to use: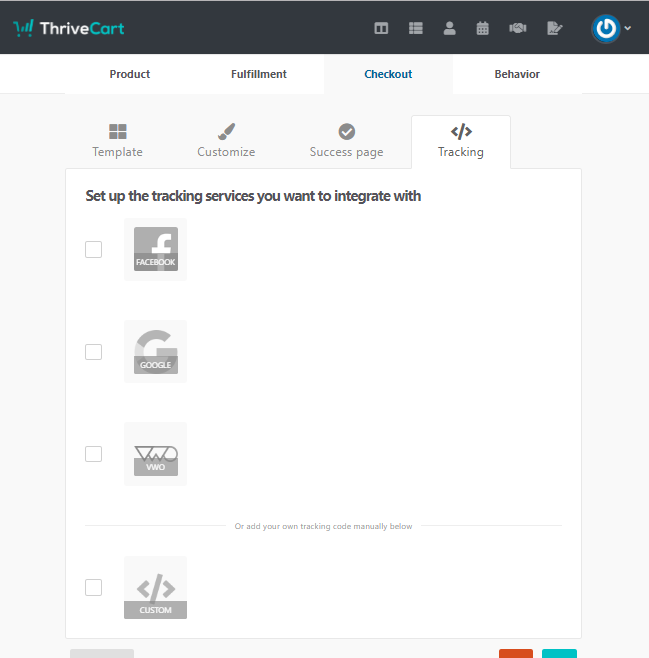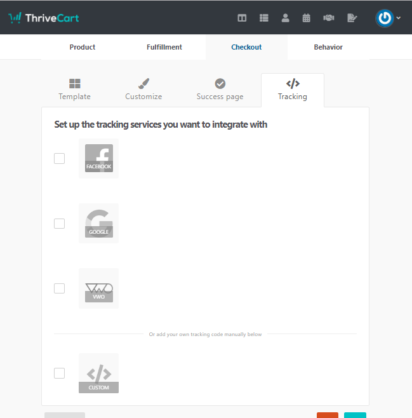 5. Set up Your Behavior Rules
This last tab is where you'll decide what rules or actions you want depending on your customer's behaviors.
Some examples could be adding customers to your email list, adding a tag, or adding them to an automated webinar.
This is also where you could set up an email follow-up campaign when a customer has an abandoned cart, or tag a customer in your CRM if they purchased your product.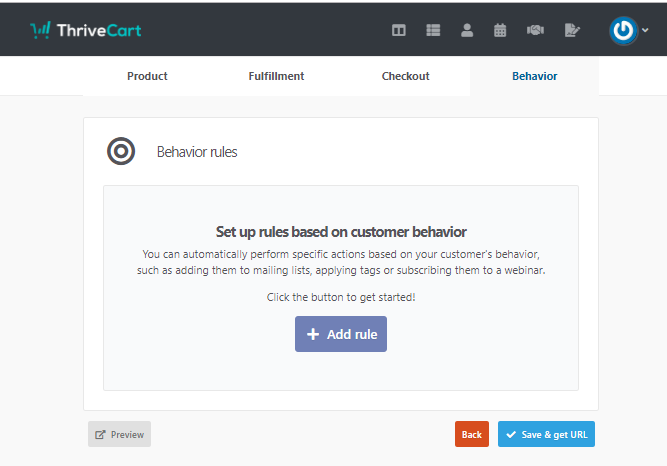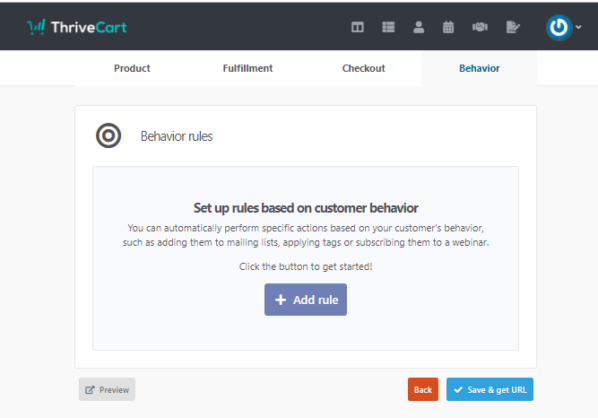 ThriveCart offers tons of options you can choose from that will trigger your desired action. For instance when a:
Product is purchased
Payment is declined
Payment is due
Recurring payment is made
Credit card is expired
And so much more!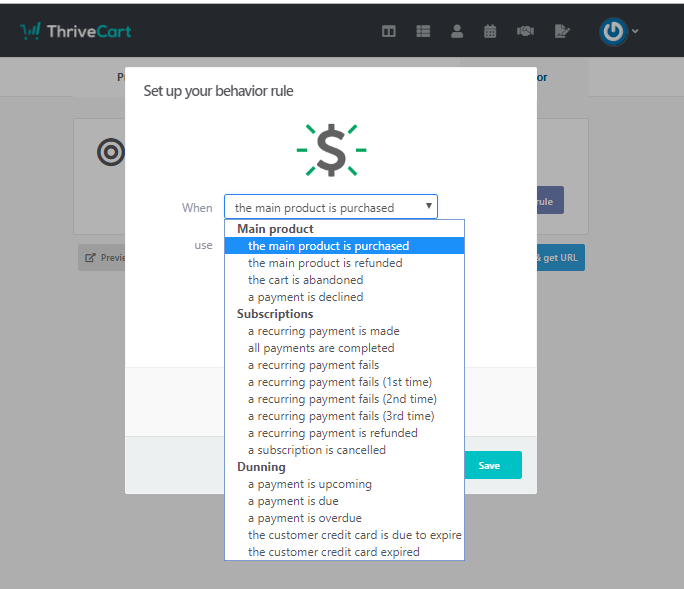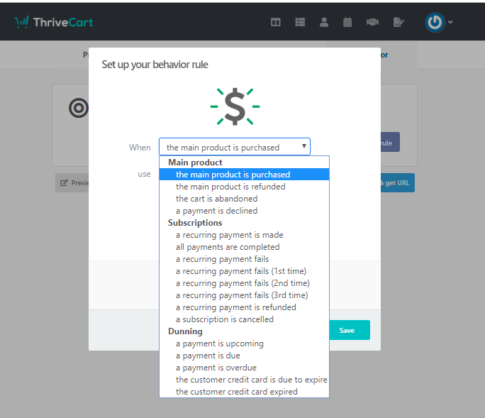 After you're finished filing out all the necessary fields just hit Save & get URL to save your product.
And if you happened to miss something throughout the process, don't worry! ThriveCart will let you know so you can ensure you finish setting up your product and checkout page correctly.
Congratulations! You have now created your first product and checkout page in ThriveCart!
You can now grab the product URL and put it on your website.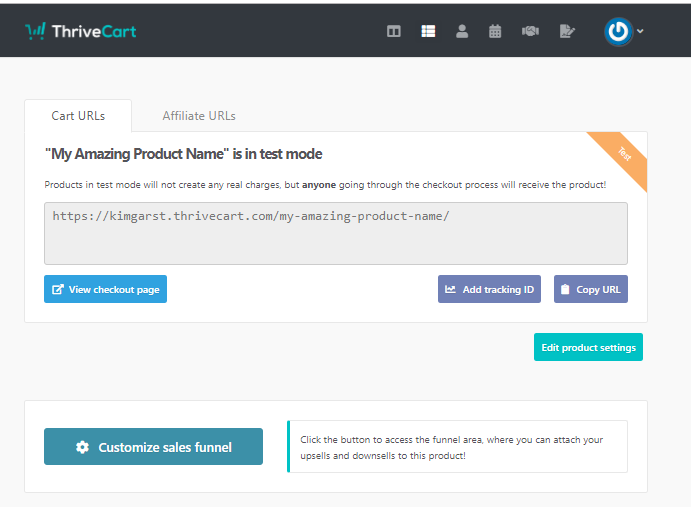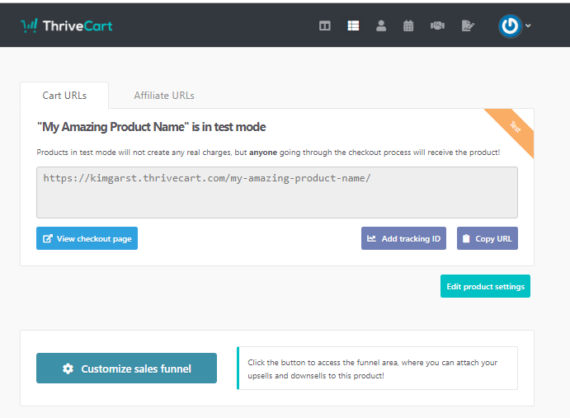 How ThriveCart TAKES OUT the Competition!
 There are lots of options out there when it comes to shopping cart platforms
 So, how does ThriveCart compare to these other options? Let's take a look.
1. ThriveCart Has More Integrations
What do I mean by this, exactly? Well, all shopping carts integrate with other tools – like email marketing software, membership software, or payment processors.
And compared to other shopping cart tools, ThriveCart offers more integrations…including Zapier (which means you can actually integrate with just about any tool out there!).
It also lets you use Apple Pay, which most shopping carts don't. And since Apple Pay is such a quick and easy way for your customers to pay, I wouldn't want to be without it!
2. Pay a One-Time Fee and Use it Forever
In my opinion, this is one of the biggest reasons to use ThriveCart . With so many tools requiring monthly or annual subscription payments, this is a HUGE benefit to using ThriveCart .
SamCart, for instance, costs $99/month for the Pro Version…and this is a fee you need to pay indefinitely, as long as you're using the tool.
With ThriveCart 's current promotion, however, you pay a one-time, flat fee of $495 for the standard account or $690 for the pro account…and you never have to pay again. This means you can use ThriveCart FOREVER, for the price of using SamCart for just about 5-7 months!
Click HERE to learn about the powerful features between ThriveCart's Standard and Pro Plan.
3. ThriveCart Automatically Collects Tax for You…for Free
Within ThriveCart , you have the option to automatically collect tax on sales, depending on the buyer's place of residence.
Other carts provide this option as well, however they typically rely on a third party tool to do this…meaning you're paying an extra monthly fee (as high as $80) just for the "privilege" of collecting tax.
4. Set up Powerful Automations
Other shopping carts fall short when it comes to setting up rules or automations.
An example automation could look like this: Immediately after a person buys a product, they're added to a specific email autoresponder series.
Another automation that I talked about above is the ability to send an email if someone abandons their cart.
These are super-powerful features that not all shopping cart tools offer!
5. Lets You Embed Your Shopping Cart Directly onto Your Website
Surprisingly, some major shopping cart platforms don't let you do this! Instead, they give you a link to put on your website, which then moves customers to a different site to complete the process.
With ThriveCart , you can embed your cart directly onto your website or sales page. In my opinion, this is a HUGE benefit, and I can't believe other cart tools aren't offering this!!
Final Thoughts (and a special offer)
I hope this post has helped you understand how ThriveCart can help you increase sales and improve user-experience while saving you tons of money over the long haul!
We use ThriveCart here on KimGarst.com, and LOVE it…which is why I'm a proud ThriveCart brand ambassador.
And as an ambassador, I'm authorized to give you access to their special, time-limited promotion: a one-time fee of just $690 for the Pro Account or $495 for a Standard Account!
Click HERE to learn about the powerful features between ThriveCart's Standard and Pro Plan.
So, if ThriveCart sounds like it's right for you, I'd jump on this deal ASAP…because the option to pay a flat fee for lifetime access won't last forever!
Buy ThriveCart now!
 I'm happy to answer any questions you may have about ThriveCart. Feel free to leave your questions or comments below!
About Author