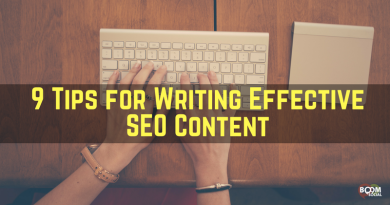 What's your search engine optimization strategy?

Whether you are writing your latest blog post or putting together a post for Google+, you need to keep two things in mind. First, engage your readers.  Second, make sure your writing is SEO effective!

In this article you will learn 9 tips for writing effective SEO Content.  Use these 9 tips to improve yoursearch engine optimization strategy.

1.  Include the Keyword Phrase in the Title

Google search engines give great weight to the title of your articles or blogs.  Thus, having your keyword phrase in the title is an important part of creating effective SEO content.
Additionally, to grab the attention of your readers, use odd numbers in your title.  For example, in this article we have 9 tips.

2.  Use your Keyword Phrase in Subheadings

It is helpful to both your readers and your Google ranking when you divide your article with subheadings. Readers appreciate it because the subheadings help them to read your article with ease.  Additionally, most people skim-read on the Internet.  Therefore, if a reader can find the subheading they most needQUICKLY, they will stay and read it.

Google search engines like it because they too scan your article for sub-headings.  Based on the words and phrases in your sub-headings Google search will rate your article.

3. Improve your Search Engine Optimization Strategy by using your Keyword phrase every 125-150 Words

Don't make a rookie SEO strategy mistake! When small business owners first learn about how to improve their blog's SEO, they often go overboard! Yikes! You DON'T want to do this.  Google will punish you, instead of applauding you.

When you use your keyword phrase in an article too many times, Google search engines assume that you are keyword stuffing!  This is a big no-no, because it looks like spam.

So, how many times are too many times?? A well-written article that is using SEO effectively only includes the keyword phrase every 125-150 words.

4.  Use the Keyword Phrase in the First Sentence of the Blog and BOLD it

The only time you will break rule #3 is just after the title.  Your title (if possible) should include your keyword phrase.  Then, immediately following you want to use your keyword phrase in the first sentence of the article.  To break things up you may change the first sentence into a question.

In addition to using the keyword phrase in the first sentence of the blog, be sure to bold it!  Bolding it again gives your keyword phrase extra weight when the Google search engines scan your article.

5.  Use Pictures and the 'Alt Text' option

When Google search scan's your article, it also catalogues the pictures you've included in your article.  It uses the description in the 'alt text' to help do this.

The important thing about pictures is that Google image search works the same way Pinterest does. When someone clicks on an image from Google image search, they are taken to the corresponding article or webpage.  This means your website can quickly and easily rank on the first page of Google images for your niche!

6.  Add italics to your Search Engine Optimization Strategy

Since you are using your keyword phrase every 150 words, highlight it once with italics.  When Google search engines scan your article, they take special note of highlighted words or phrases.  You can highlight keyword phrases with italics or by using the bold feature.

7.  Use your Keyword Phrase in the Last Sentence of your Article

Just like you included your keyword phrase in the first sentence of your article, you want to include it in the last sentence of your article.  Think of the SEO article as an Oreo cookie.  The title, first and last sentences are the outer layers of the cookie while the subheadings and the highlighting make up the filling.

8.  Make your Keyword Phrase a Clickable Link to a Related Article or Product

Similar to highlighting, when you make your keyword phrase a clickable link, Google search gives the keyword phrase extra weight.

This is often something you will do at the beginning or end of an article.  For example, if you are writing a series, you may include links to the other articles at the bottom of the post. Or, if there is a great article that preempts the current one, you may suggest they go back and read it with a clickable link at the beginning of the post.

The key is that the clickable link includes the keyword phrase.

9.  Make your content easily sharable –

The more Google search engines see the content of your blog post on different websites, the more highly your website will rank as a whole.  Thus, it is important that you make your content easily sharable.  Plugins such as shara-a-holic and ping are a great, easy feature for this.

Which of these 9 tips will you use in yoursearch engine optimization strategy?

Have you figured out what the keyword phrase ofTHIS article is?

Please comment and share below!