SEO: Love it or hate it, anyone who has a website or blog needs to know the basics of it.
(If they want traffic from Google, that is).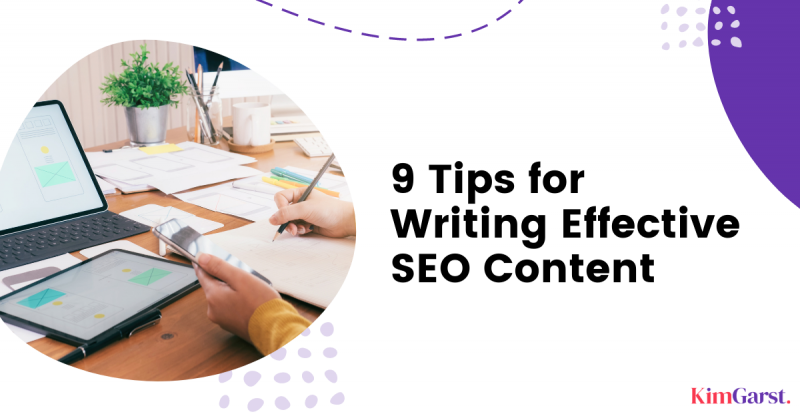 The problem, of course, is that most of us aren't SEO experts…nor do we have the time to figure out all the ins and outs of SEO content writing.
That's why in this post, I'm going to share 9 simple tips for writing effective SEO content. You don't have to be a master writer or SEO guru in order to use these tips!
But first…
What is SEO Content?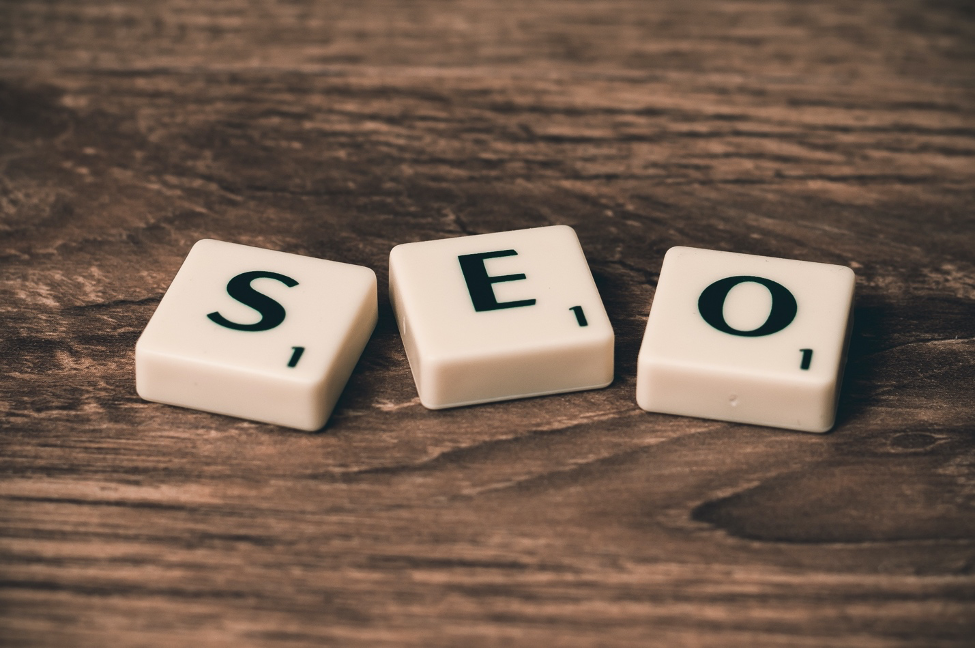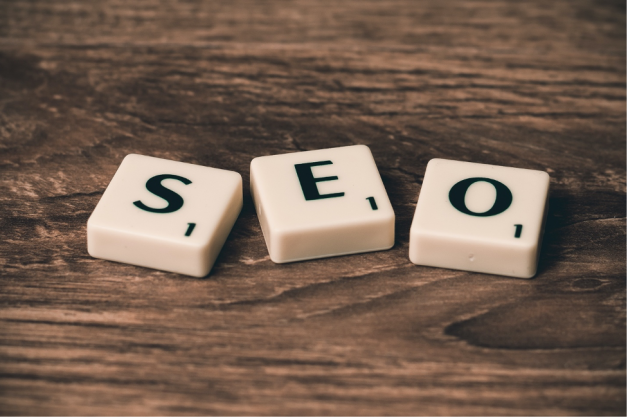 As you likely already know, SEO stands for Search Engine Optimization. It's the process of ensuring your website or blog is properly set up to get traffic from the search engines (which, let's face it, is basically just Google these days).
SEO content is simply content that's created with the intention of getting traffic from the search engines.
SEO content can be pretty much anything you put on your website or blog – or even in some cases on social media – that you want to show up in Google. It can be a blog post, an "About Us" page, a product description, a LinkedIn article, a video, an infographic, or even a photo.
If you write or create something for the web and you want Google to find it, this is SEO content!
Note: It's important to understand that the term "SEO content" is sometimes used to describe content written for the SOLE purpose of attracting the search engines. This is NOT what I'll be talking about in this post! I firmly believe we write for people first, and search engines second. This is why I actually prefer the term, "SEO-friendly content".
9 Tips for Writing Effective SEO Content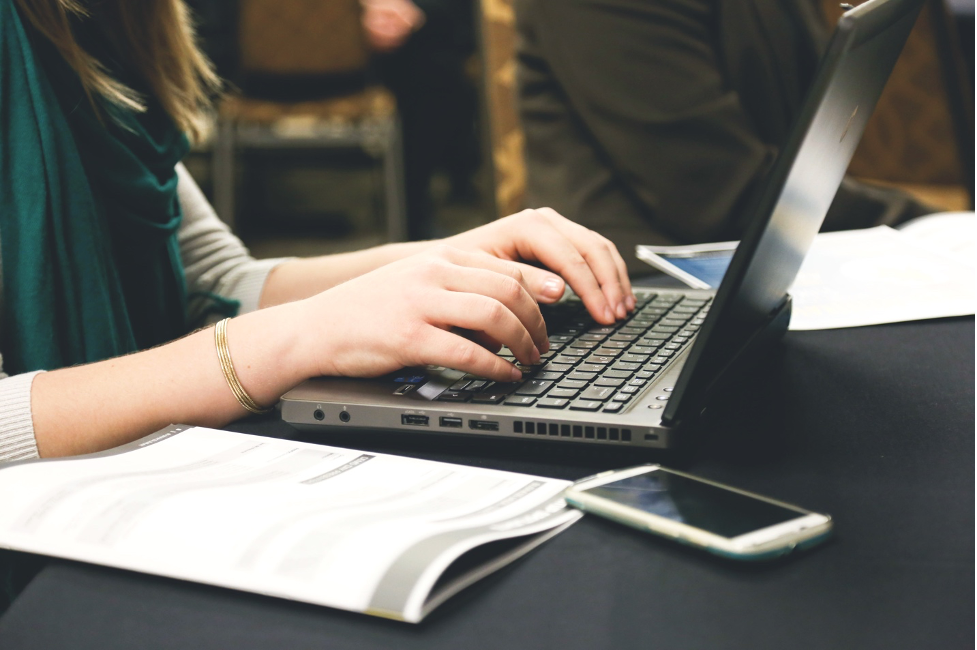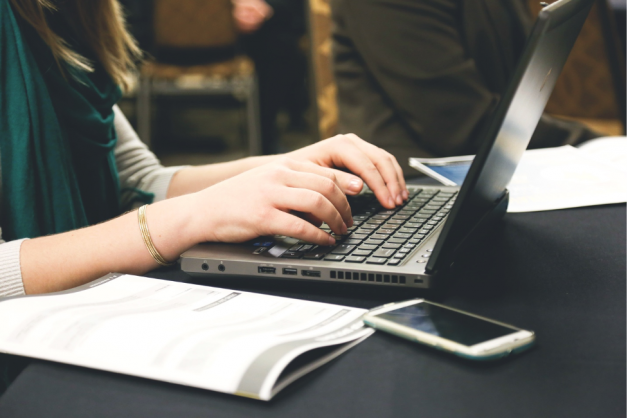 SEO writing involves a lot of what's called on-page optimization (meaning, stuff you do on the actual page you want Google to find and index).
However, it also involves some off-page optimization…which, you guessed it! Is stuff you do elsewhere.
I'll include the most important on-page and off-page optimization tips below, so you have the best possible chance of getting your content found!
1. Find the Best Keywords to Use


I'm sure you're familiar with the idea of keywords.
These are simply the words and phrases your potential customers, clients or others are typing into Google when they're looking for your products, services or content.
To find the best keywords to use in your content, you'll want to do some actual keyword research…rather than just assuming you know which words and phrases people are using.
That said, the first part of the keyword research process is doing some simple brainstorming: What words or phrases do you think people are using to find your content?
Now run those words and phrases through a free keyword research tool like Ubersuggest or the Google Keyword Planner. These tools will help you generate even more ideas for related keywords, and will also help you figure out which ones get searched for the most.
For help with doing your own keyword research, check out my post, A Step-By-Step Guide to SEO Keyword Research Using FREE Tools.
2. Include those Keywords in Your Content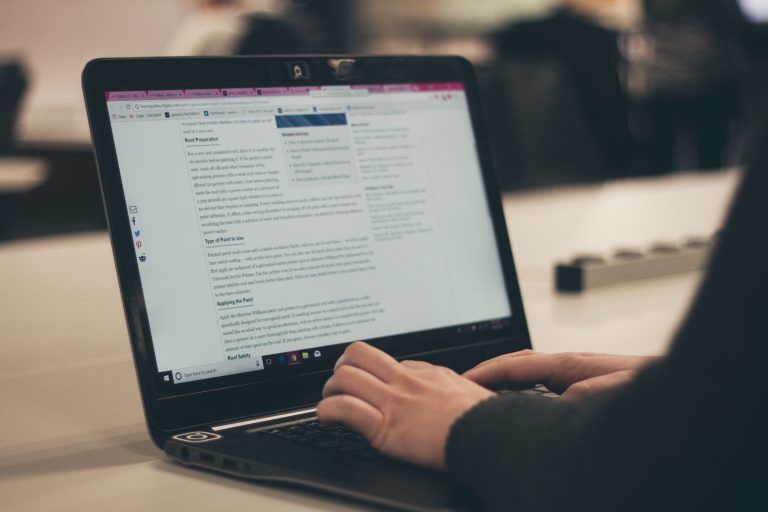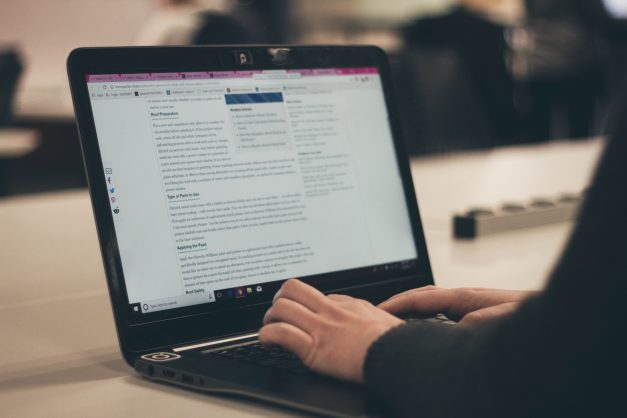 Of course, if you want your SEO content to get found, you need to make sure you're actually using your keywords in your content.
For instance, I'd like people who go to Google and type in "SEO content" or "SEO writing" to find this blog post!
To give this post the best chance of ranking for these phrases, I'll use them in key locations throughout my content.
This includes using them in my:
Page or post title
Headings and subheadings (H1, H2, H3, etc.)
URL (e.g., www.kimgarst.com/keywords-here)
Descriptions of any videos or images
In bold or italic where it makes sense to do so
3. Focus on Longer Keyword Phrases.

Imagine if you were an accountant in San Diego and ranked #1 in Google for the phrase "accountant San Diego"?
While this would obviously be AH-mazing, it's far more likely that you'll be able to rank for longer, less-competitive phrases.
So while I'd definitely recommend still including that phrase in your content ("accountant San Diego"), I'd also recommend focusing on longer, more "niche" keyword phrases.
For instance: bookkeeping services San Diego, tax filing San Diego, tax preparation services San Diego, etc.
These will likely be far easier to rank for, and will still send you really relevant, targeted traffic.
4. Write More In-Depth Blog Posts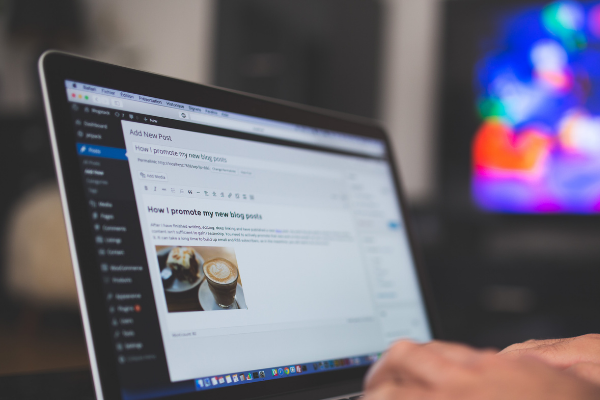 In the early days of the internet, you could write a short, 300-word blog post, include your keywords throughout, and actually have a chance of ranking.
However, with an estimated 10 MILLION blog posts being published every single day (!), the competition these days is STEEP!
When writing your blog posts, keep in mind that quality trumps quantity, every single time.
It's better to write 1 in-depth, amazing article each week, than to write 5 short, low-quality ones.
When deciding what to write about, I recommend coming up with a main topic for your post, as well as several relevant sub-topics.
For instance, if you're writing about how to train a dog, you might also include subsections where you talk about obedience training, crate training, the best age to train a dog, the most "trainable" breeds, etc.
Including these subtopics will help to ensure you're covering your topic in sufficient depth and detail, and will give Google lots more content to crawl!
5. Link to Your Content from Other Pages and Posts on Your Site.

This is what's known as "internal linking".
Having links to your content is one way Google knows what your content is about, as well as how valuable that content is.
For instance, if Google sees that your product page has 100 links to it, while your competitor's product page only has 2; which one do you think Google is more likely to send traffic to?
Google also looks at which "anchor text" is used to link to your content (anchor text is simply the words you use in your link). If a blog post has a bunch of links pointing to it that all use the words "dog training tips", that post will have a pretty good chance of ranking for "dog training tips".
For this reason, it's important to link to relevant content within your own site, and to use relevant anchor text. As an example, in your post about dog training tips, you might want to include links to your dog training services page, to your posts about training, and to your training pricing page.
6. Only Link to High-Quality, Authoritative Sources.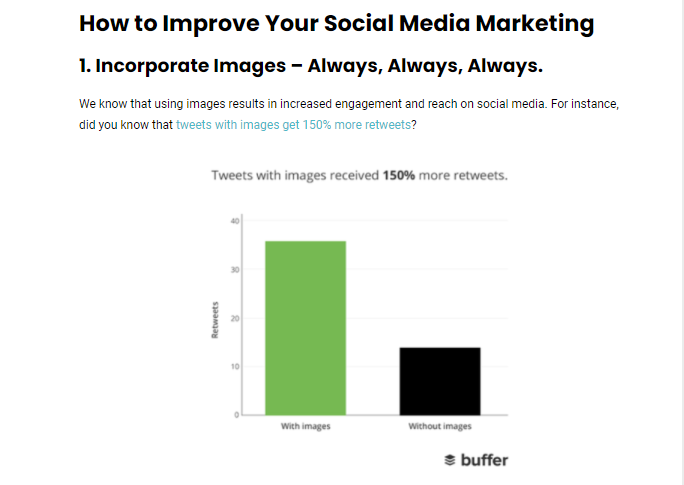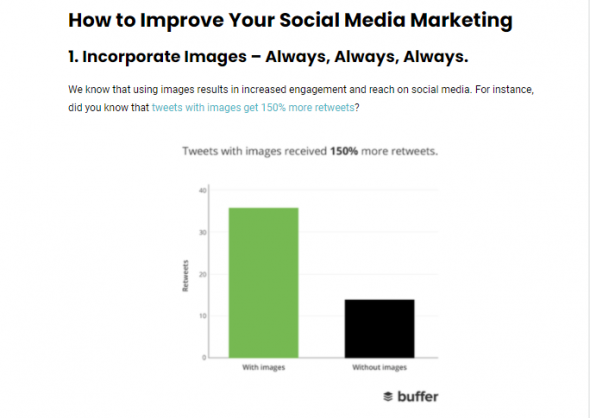 You'll also want to make sure you're including links to other people's websites…not just your own.
When linking to other sites, it's super-important that those sites are reputable, helpful and authoritative.
Linking to spammy or low-quality sites can hurt the reputation and rankings of your OWN site, so it's definitely best to be careful who you link to!
A good rule of thumb when deciding who to link to is this: Is this a well-known, credible source? Is this a site I'd be proud to be connected with? If not, keep looking until you find a source that fits that criteria!
7. Get Links from Authoritative Sites.
Let's continue talking about links!
Getting high-quality links to your SEO content is one of the BEST ways to increase your search engine rankings. The problem is, it's harder than ever to get those links.
Some of the best ways to get backlinks in 2020 are:
Guest posting on really reputable websites (and linking back to your content in your posts)
Creating awesome content people will want to link to. In-depth guides and tutorials area always good for this, as are original research and surveys.
Creating original infographics. People love putting these on their own sites, which can help you get a ton of links back to your content. You can easily create infographics for free using a tool like Adobe Spark or Canva.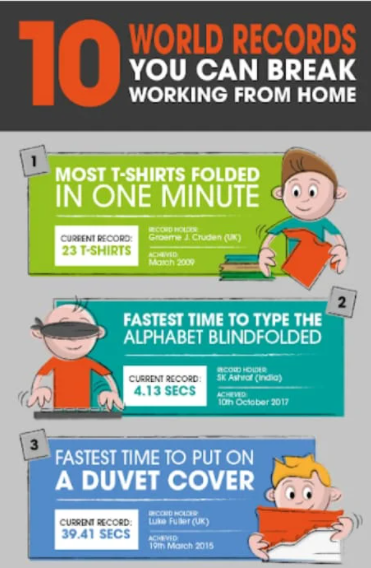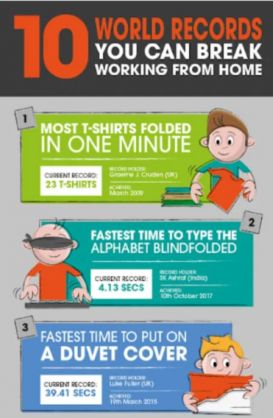 Finding resource pages in your industry and asking for your site to be added. For instance, if you're a realtor, you could check out your local Chamber of Commerce's website for a list of local realtors or business owners.
8. Use Video in Your SEO Content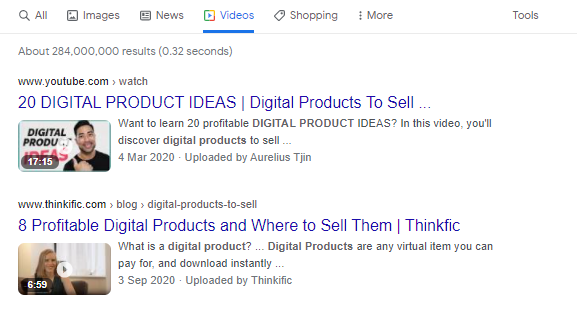 While written content is perhaps best for attracting search engines, video wins when it comes to consumer preference.
According to Wyzowl, 72% of people would prefer to learn about a product or service through watching a video than by reading text, and 81% of people have been convinced to buy something by watching a brand's video.
According to Wyzowl, 72% of people would prefer to learn about a product or service through watching a video than by reading text, and 81% of people have been convinced to buy something by watching a brand's video.
Click To Tweet
While Google can discern some of the content of your videos or audio, it's definitely best to include a written transcript or summary of your visual or audio content.
Not only is this your best bet for getting search engine traffic to those posts, it's also really nice for visitors who prefer written content.
9. Optimize Your Images


Including images in your SEO content is not only good for adding interest to your posts, it can actually help boost your rankings…when done right.
Some best practices to make sure Google can find, crawl and index your images include:
Use captions under your images (be sure to include your keywords if appropriate)
Make sure your image files sizes aren't too big. Big files sizes can cause your page to load more slowly. Therefore, is bad both for SEO and for user experience.
Give your image files a descriptive name. Rather than uploading img_53268, rename it to something descriptive (like man with red shirt petting dog). Again, use your keywords in the file name, where appropriate.
Same goes for your alt tags: In WordPress, you're given the option to customize the alt tag of your image. Be descriptive and use your keywords where it makes sense.
Final Thoughts
I hope this post has shown you that SEO content writing isn't all that complicated or difficult.
It all comes down to this: Write awesome content, make sure both your readers and Google know what it's about, and have a consistent linking strategy.
Feel like you need some step-by-step guidance for optimizing your content? My workshop, How to SEO Your Blog Post Like a Pro, will walk you through the entire process from start to finish.
I'll show you the ONE action that can make your SEO sooo much easier, as well as 10 simple steps that will improve your SEO. You'll even get an SEO checklist you can use to make sure every single post is perfectly optimized…every single time!
 Were any of the tips above a surprise to you? Any you feel you need to go implement ASAP? Let me know in the comments below!
About Author