So, you've spent weeks or even months developing a kick butt online course that you KNOW your audience will love, but you are.
You're proud of your course, and know that if you can just get people to actually TAKE the course, they're going to get AH-MA-ZING results!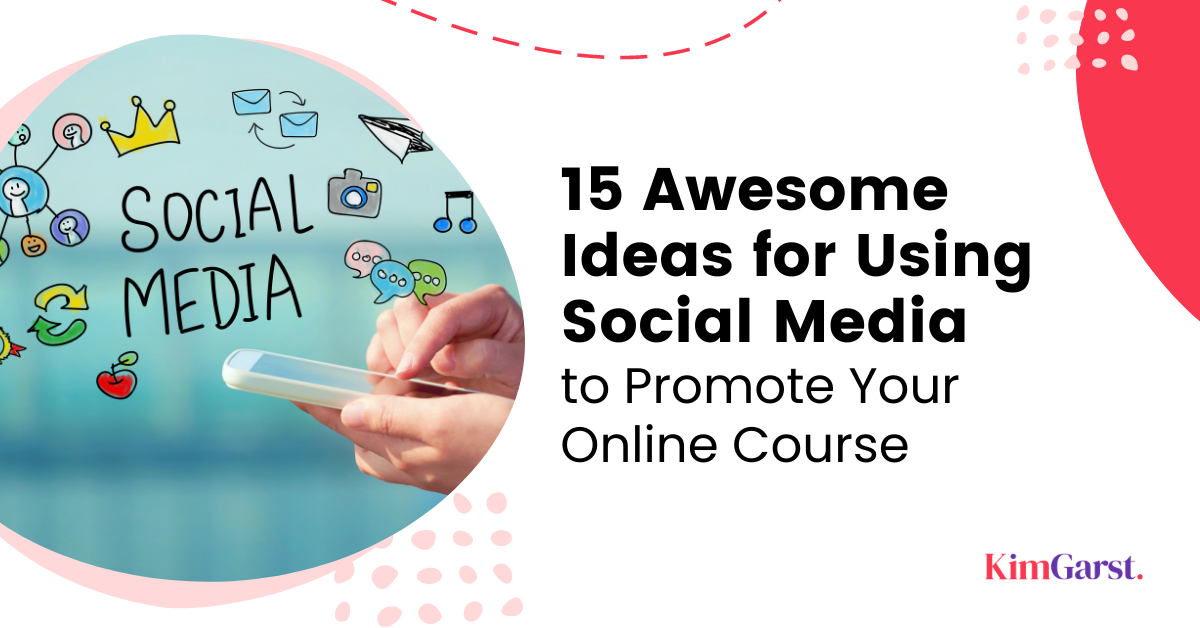 But now reality is setting in: How are you going to find those people? And once you find them, how are you going to convince them that your course is the answer to their problems???
This post will show you exactly how to use social media to promote your online course. No matter which social media platform(s) you want to use, there will be strategies below for you!
1. Showcase Your Expertise in a Facebook Group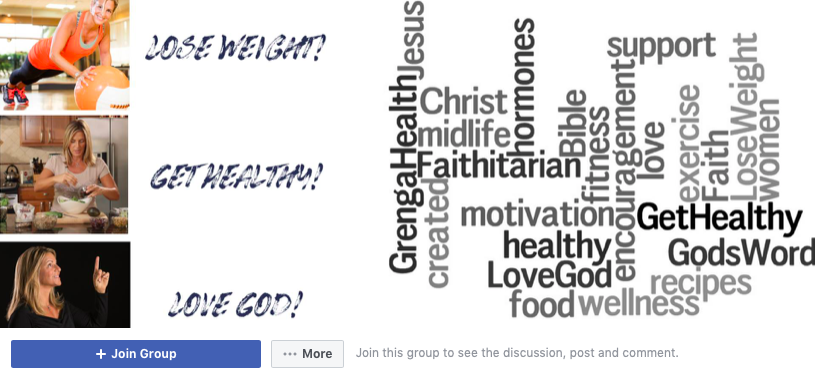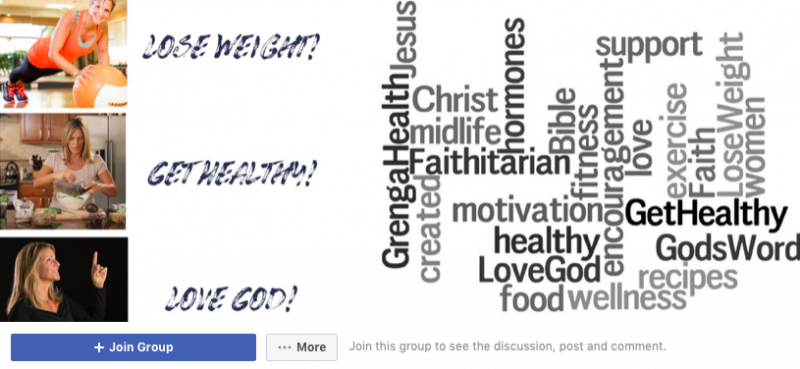 People buy from those they know and trust.
A great way to help your audience get to know you – and to see your expertise in action – is to engage with them in a Facebook group.
Click To Tweet
Many groups won't allow you to promote your stuff (at least without paying), so starting your own Facebook group is definitely your best option.
Use your group to answer questions, post helpful advice and content, and to connect your members with one another. And of course, make sure to let them know that you offer more in-depth info in your online course!
2. Give Away a Portion of Your Course for Free
Directly promoting your course on social media is unlikely to get you many students. People who are on social media are there to be entertained and to get free help…not to be constantly advertised to.
So instead of directly selling your course on Facebook, Twitter or Instagram, promote a portion of your course as a free, standalone product.
And don't forget to let them know how they can purchase the whole course!
3. Share Student Testimonials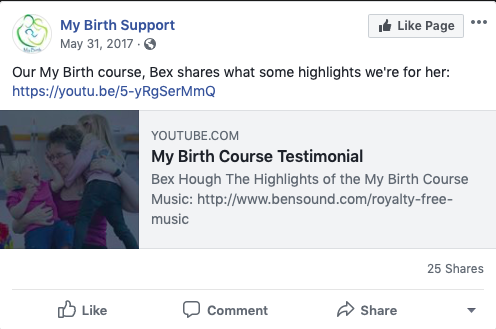 Via My Birth Support
Once you've had a few students pass through your course, reach out to happy students and ask for a brief testimonial (video testimonial if possible).
Sharing these on social media – both through organic and paid posts/tweets – is a non-threatening and non-spammy way of promoting your course, and will let your followers know that others have taken your course…and loved it!
Click To Tweet
4. Give Your Social Media Followers an Exclusive Discount
Whenever you mention your course on social media – whether in the occasional post/tweet or your social media bios –
Be sure to offer your followers an exclusive discount. This will not only help boost sales, but it will also give you an easy way to track where your course sales are coming from!
Click To Tweet
5. Do a Live Video on Facebook or Instagram on Your Course Topic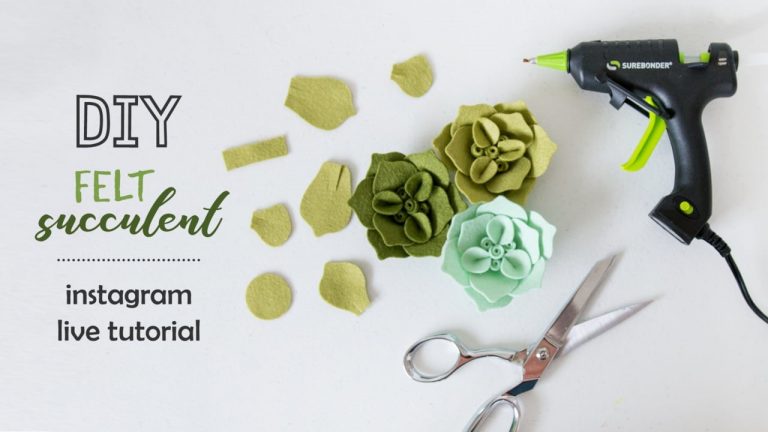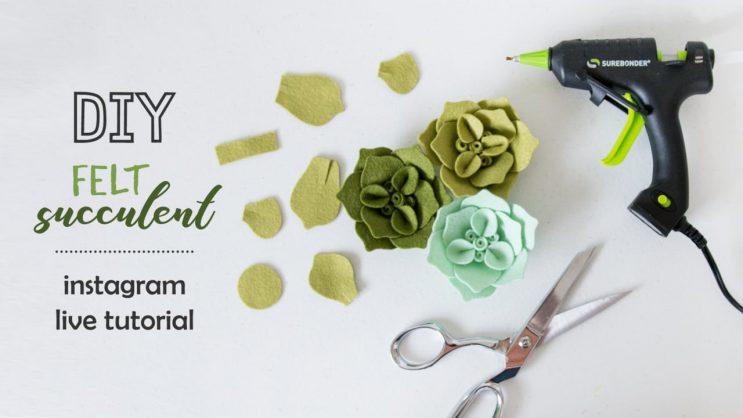 Via Florah Design
Share a brief presentation or Q&A via Facebook Live or Instagram on something related to your course topic. For instance, if your course is on "How to Get Your First 10 Clients", your video could be "How to Get Your First Client" or "What You Need to Know Before You Get Your First Client".
Make sure to offer valuable content in your Live video, but also leave your audience wanting more!
Click To Tweet
(i.e. your course).
Not sure where to start with using live video for your business? Check out my post, Top 22 Ways to Use Facebook Live to Market Your Business.
6. Share Lots of Valuable Free Content
You can have the most amazing course, and you can create the perfect social media posts to promote it….but if you're not ALSO sharing tons of free content, your audience will quickly get sick of you.
In general, promote your course no more than 10-20% of the time. The rest of the time, make sure you're sharing free content like blog posts (your own and other people's), tips and tricks, stories and other non-promotional content.
7. Use Social Ads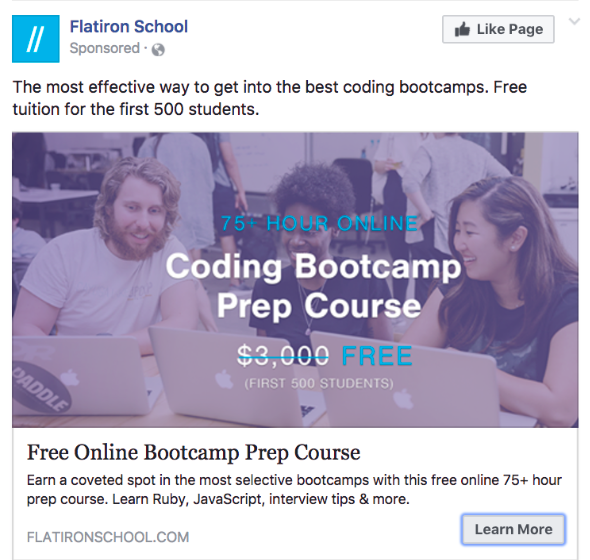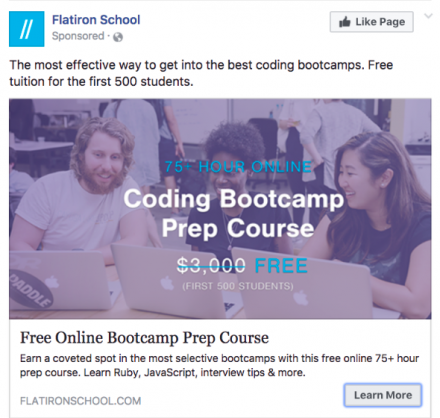 Via Flatiron School
Facebook's ad targeting options mean you can reach exactly the right people for your course. I recommend creating a custom audience to reach people who are interested in exactly what you're offering (Here are step-by-step instructions to create your own ads' audience).
Instagram more your cup of tea? Create an Instagram ad advertising your online course and/or your freebie related to your course (your live video, webinar, etc.)
8. Offer Actionable Tips Related to Your Course Topic
Create eye-catching image posts where you share really practical tips with your audience.
And, be sure the source for these tips includes a mention of your course (e.g., Course: How to Get Your First 10 Clients).
Sharing these types of "quick tips" can be a great way to boost course registrations, AND to increase your credibility as an expert in your field.
Click To Tweet
Not sure where to start with creating these "quick tip" graphics? Check out my post, 6 FREE Tools to Create Amazing Eye-Catching Graphics.
9. Survey Your Audience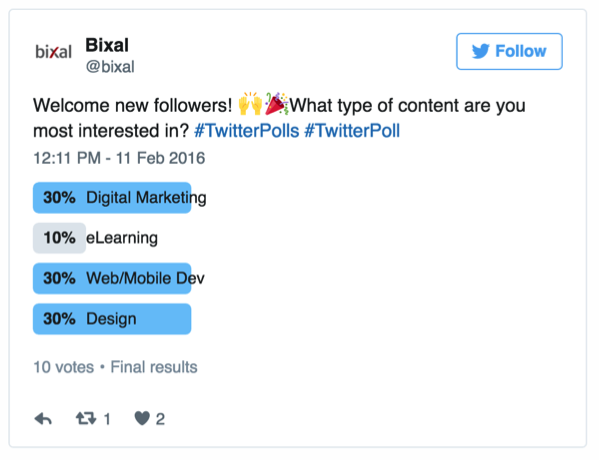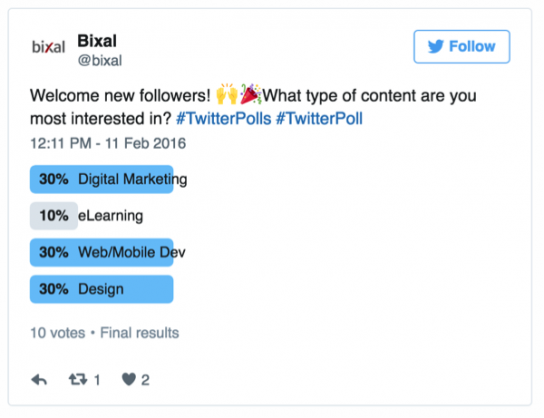 Via Bixal
We covered this in my post, How to Turn Your Expertise into Passive Income: Create an Online Course to Stop Trading Your Time for Money.
But just to recap:
Before you even start creating your course, it's important to ask your audience what they want to learn. This will ensure you're not creating a course on a topic no one cares about!
Click To Tweet
Create a brief poll or survey, and ask the question: "What's the #1 thing you want to learn about?".
This will get your social media audience primed for the fact that you're creating a course. And once the course is done, be sure to email or contact your survey participants and let them know you've created a course based on their feedback!
10. Promote Your Course on Your Blog
Link to your course alongside relevant content on your blog, put an ad in your sidebar, or write a blog post to announce the launch of your course.
This will ensure your website visitors can't miss the fact that you're offering additional help through your course!
11. Create YouTube Videos Based on Your Course Content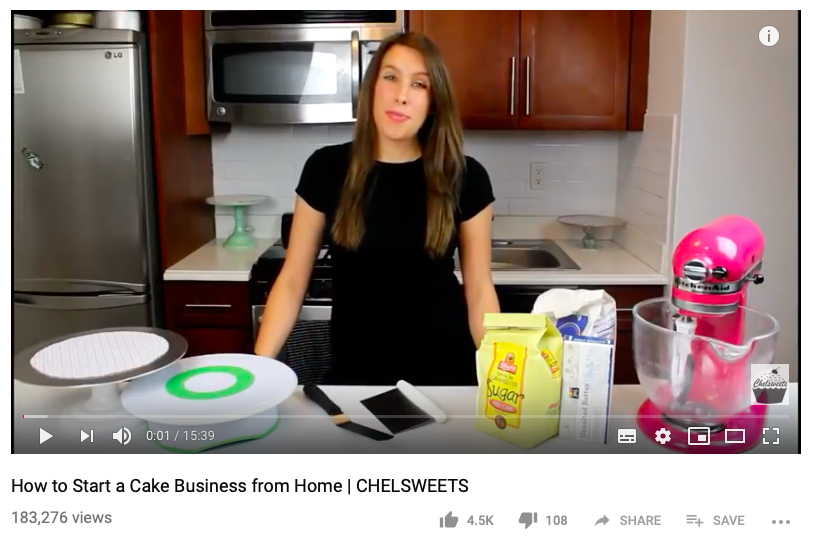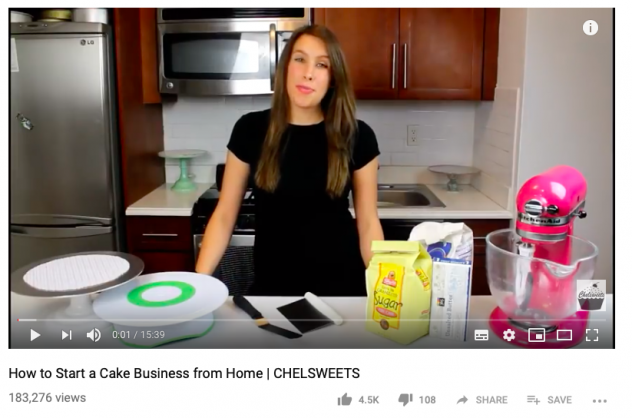 Via Chelsweets
YouTube can be a great way to reach an audience you may never otherwise have reached.
Create a few basic tutorials related to the topic of your course. Basically, show people you know what you're talking about!
Click To Tweet
At the end of your video, be sure to mention how viewers can get even more in-depth information about the topic.
12. Promote a Free Mini-Course
Create a short, free mini-course on a topic related to your online course. For instance, if your course is "How to Train Your Puppy in 10 Days or Less", your mini-course might be, "Everything You Need to Know Before You Train Your New Puppy".
If possible, use the same platform for both courses (e.g., Teachable, Thinkific, etc.) to prime students for how your full-length course will work.
And don't forget to let them know about your course (and a special discount) at the end of the mini-course!
13. Hold a Free Webinar to Promote Your Online Course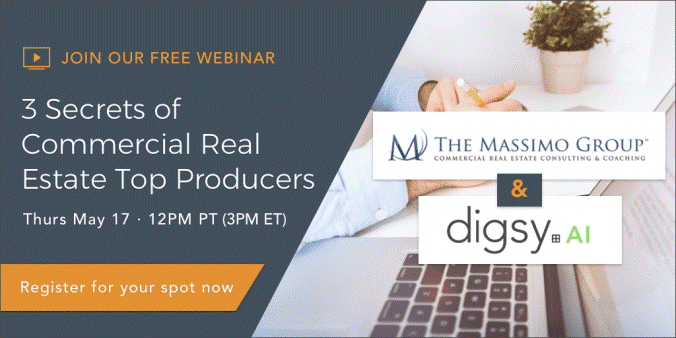 Via Digsy
Webinars are a fantastic tool for building your email list, generating interest in your course topic, and ultimately for converting viewers to students for your course.
Click To Tweet
As with #12, choose a topic that's closely related to your course topic. Offer personal insights, practical tips and just generally get your viewers excited about your topic. I also recommend including a brief Q&A at the end of your webinar to really get your viewers involved.
At the end of your webinar, be sure to let your viewers know about your course. Better yet, offer a limited-time discount or special freebies, just for those who attended your webinar!

14. Create a Quiz
People LOVE taking quizzes! Take advantage of this interest by creating a simple quiz related to your course content.
Click To Tweet
At the end of the quiz, be sure to use social media to promote and let people know about your online course.
You can use a tool like Thrive Quiz Builder to quickly and easily build a quiz that lets you collect email addresses and promote your course. And the best part is, you need ZERO techy skills!
Another great quiz tool that I use often and love is TryInteract. They have a lot of templated quizzes set up already, so you wouldn't have to start from scratch if you didn't even know where to start. I love getting ideas from the templates, copying them and making them my own. Plus, they have a free version so that you can take it for a test spin. I will say that the paid version does give you a lot of additional integrations that you can't do with the free version. Go give it a try and let me know what you think.
15. Create a Free 5 or 7-Day Challenge
I know business owners for whom a free challenge is their one and only lead generation tool for their online course!
It works like this: Create 5-7 days of content centered around a particular problem or issue (of course, something related to your course).
You can deliver this content via email or via a private Facebook group – it really doesn't matter which. At the end of the challenge, let participants know how they can learn even more in your online course!
What do you think? Are you going to use social media to promote your online course? Which strategies are you going to use? Let us know in the comments below!
About Author