Wouldn't it be nice if you could easily add captions to your Instagram videos?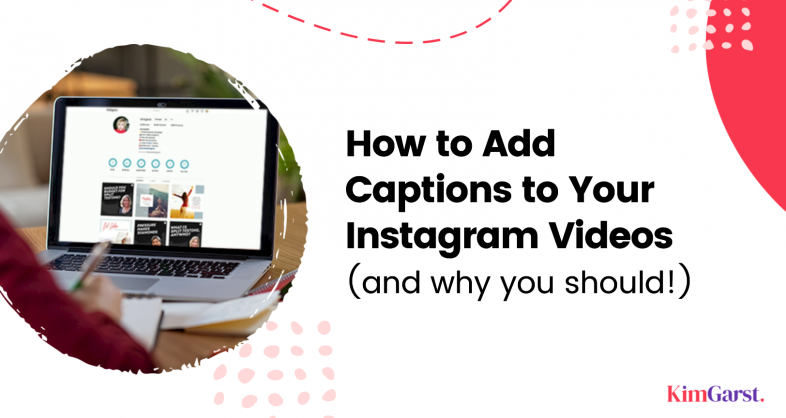 This post will walk you through exactly how you can add captions to your videos – whether for use on Instagram or on other social platforms.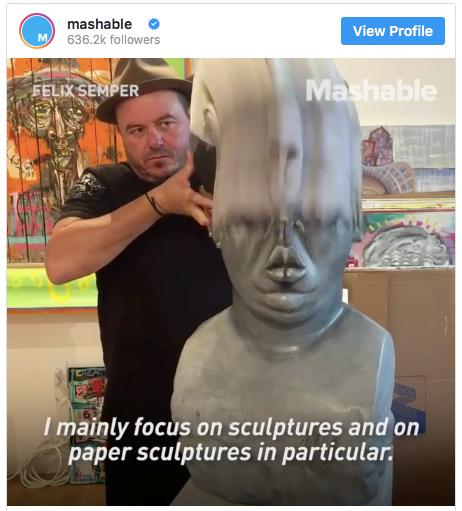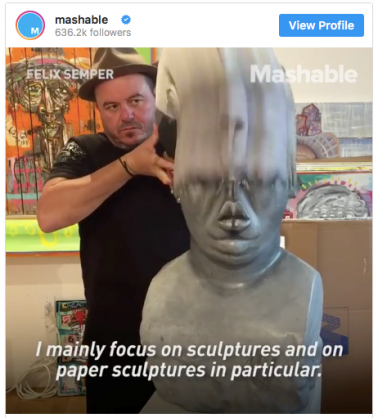 An example of captions on an Instagram video
Keep in mind that Instagram doesn't currently even have a way for you to UPLOAD ALL your captions. This means you'll need to transcribe your video and then "burn" the captions right onto the video itself (bummer, right?!).
In any case, before we jump in, it's important to ask the question….
Updated: February 8, 2021
WHY Add Captions to Your Instagram Videos?
If you're going to go to the work of adding captions, you probably want to know why you should, right?
It's not just something you should do because everyone else is doing it, or just because it's a "best practice".
There are some pretty big reasons why every video posted to Instagram (and other social channels!) should have captions.
1. Many (most?) People Prefer Watching With the Sound Off
While we don't know exactly how many Instagram users watch videos on the platform with the sound off, we DO know that 85% of Facebook videos are watched without sound. Wowsers, right?
85% of Facebook videos are watched without sound. Wowzers!
Click To Tweet
Think about how YOU watch video in your social channels…personally, I don't "listen" to videos, out the gate. First, I see if the CAPTIONS catch my eye and THEN, I turn on the audio. I know everyone is different but MANY do the same and this is one reason why captions are sooo important.
2. Your Non-native English-speaking Followers Will Thank You
Do you know how many of your followers speak English as their second language? While it may not make up a majority of your followers, you can bet there are more than a few.
Make it as easy as possible for them by adding captions to increase comprehension.
3. Do it for Your Deaf or Hard of Hearing Followers
I mean, really, shouldn't this be motivation enough to add captions to your videos?!
According to Interactive Accessibility, 7.6 million people in the US alone are deaf or hard of hearing. And that number is likely to be higher if we add in all the people who have an undiagnosed hearing loss.
According to Interactive Accessibility, 7.6 million people in the US alone have an undiagnosed hearing loss.
Click To Tweet
It's standard practice now to make sure all your website images and videos are accessible…so why wouldn't the same hold true for your Instagram posts?
4. Do It for Those that Can't Turn On Their Sound
Okay, this may seem a little ridiculous but seriously, there are people who watch videos, each and every day, that don't want others to KNOW that they are watching videos! They might be in an office setting and they don't want their co-workers or their boss to know what they are watching. They might be on an airplane and don't want to disturb the other passengers. Or the library or anywhere that they don't want to disturb others.
How to Create NEW Instagram Videos with Captions 
Now, onto the good stuff. You've decided you want to add captions to your video, but aren't sure where to start.
If you haven't yet recorded your video, you're in luck: there's a handy dandy little app that make the whole process of adding captions SUPER easy!
Apple Clips lets you shoot a video, then automatically turns your words into text and adds it as captions for your video.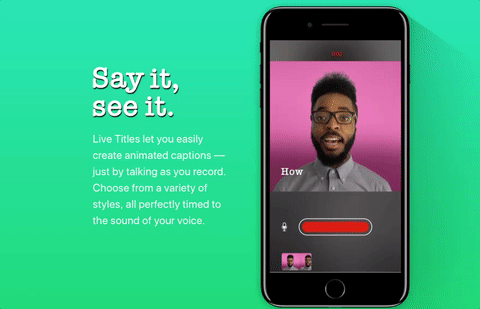 This feature is called "Live Titles", and not only automatically converts your words to text, it magically syncs them up with your voice.
You can then edit the captions as you like, and then post directly to Instagram once you're done.
Easy p'easy!
PRO TIP: This little app is GREAT for Instagram stories!
How to Add Captions to an EXISTING Instagram Video
Currently, Instagram allows adding one caption at a time and not for the entire video.
You can add a caption to your existing videos (and photos). Just follow the guide from Instagram: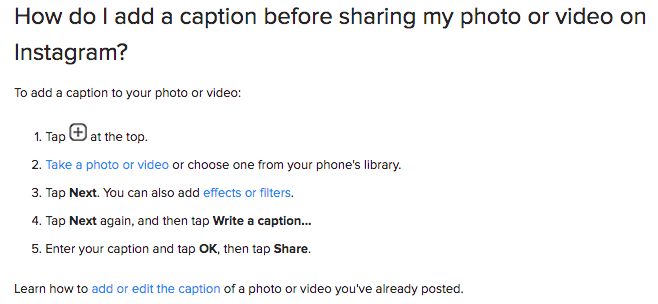 But what if your video is long and you wanna make sure all captions are added to the entire video?
The process I'll outline below is the next best thing. It's quick and not SUPER complicated. It's the easiest way I have found to get captions on my Instagram videos!
1. Go to Rev.com and Request Captions for Your Video
First things first, you will need a rev.com account. If you don't have one, click here and get $10 off your first order.
In my experience, Rev.com, is the cheapest and easiest way to generate automatic captions of your video is to use Rev.com. While they're perhaps best known as a transcription service, they can also do captions and subtitles for your Instagram videos. The best part is that they recently rolled out a service that gives you the final video with the captions burned in so you don't have any other related tech to do! This is uber cool and a huge time saver!
And don't worry – anyone can afford it! Rev charges a $1.25 a minute…which means for a 2-minute video, you're paying less than you would for a cup of coffee.
Here's how to do it…
Go to Rev.com and select their Caption service (middle one below).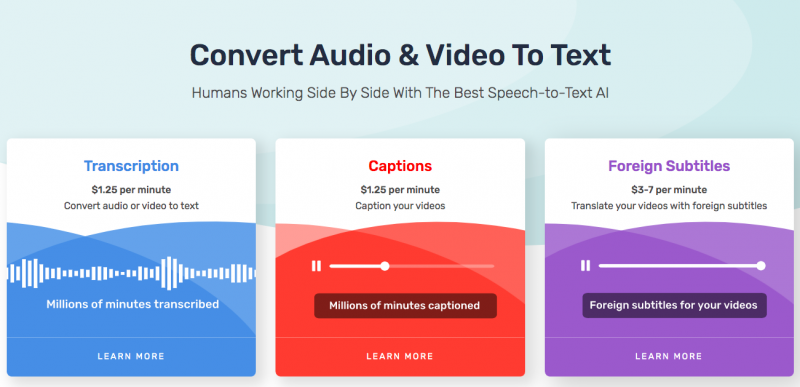 Next, upload your video.  The Rev team will then create a caption file and will email it to you within around four hours.
2. Upload Your Video

You can upload your video directly from your computer, Dropbox, Box, Google Drive or OneDrive. You can also copy and paste a public video link. Or if you have videos on YouTube or Vimeo, you can pull those videos directly from your accounts. This makes life so much easier!

You can also put a rush on your order for a little more money, if you are in a hurry. You will notice that they give you an estimated delivery time BEFORE you click on the rush my order option. In the example below, you will see a 2-minute video will take approximately 2 hours for the transcript to come back completed.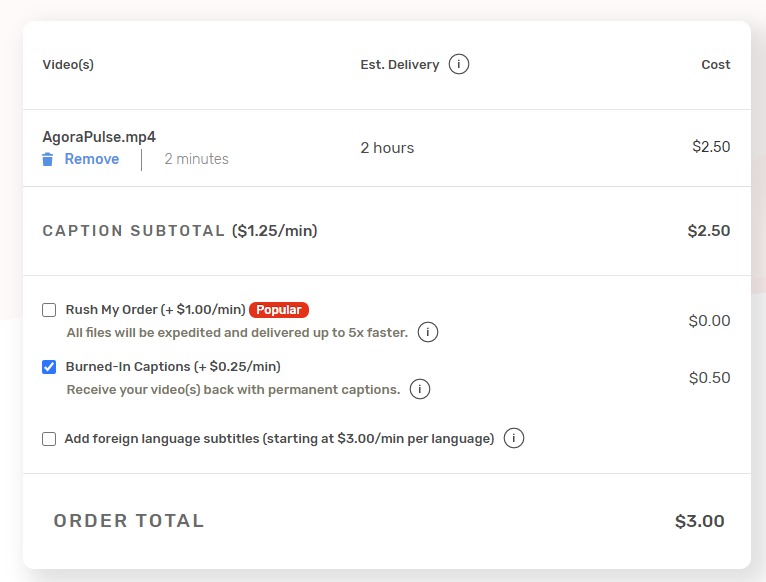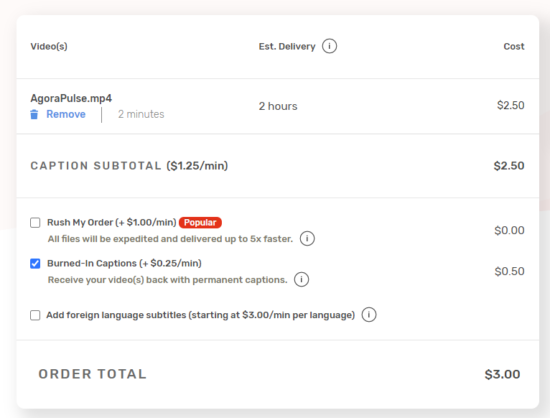 3. Edit Your Captions (if necessary)
While Rev guarantees a 99% accurate caption file, you may find you want to make some minor edits.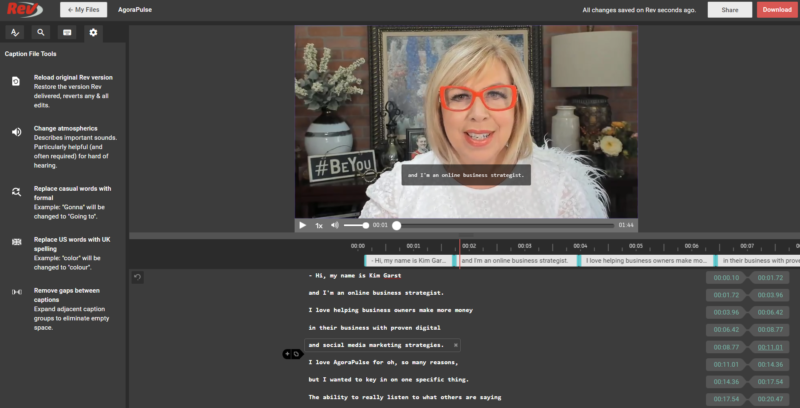 Using their caption editor, look through the text and make any changes or edits you'd like. Everything is laid out using timestamps, making it quick and easy to find exactly what you're looking for.
PRO TIP: If you want to use this captioned file for other social networks, you can download the .srt file and upload it with the video for Facebook, YouTube or LinkedIn by clicking on the red download button in the upper right hand corner of the transcription page.
4. Download Your Instagram Captioned Video
Go to your order history
Click on the order number for the video you are looking to download
Click on Preview
Right click on video and save as
VOILA! You now have a video with captions for your Instagram feed!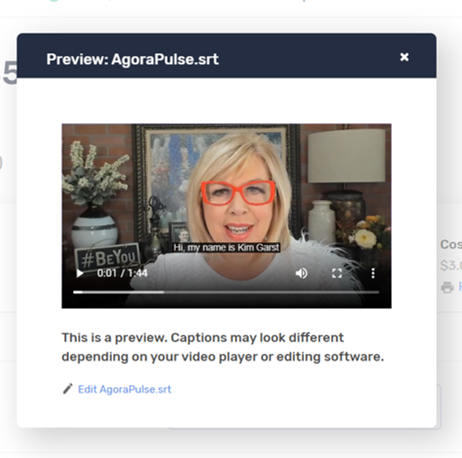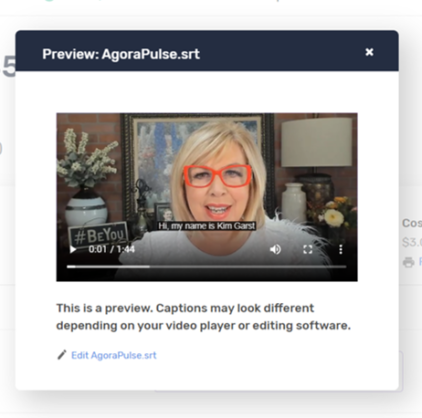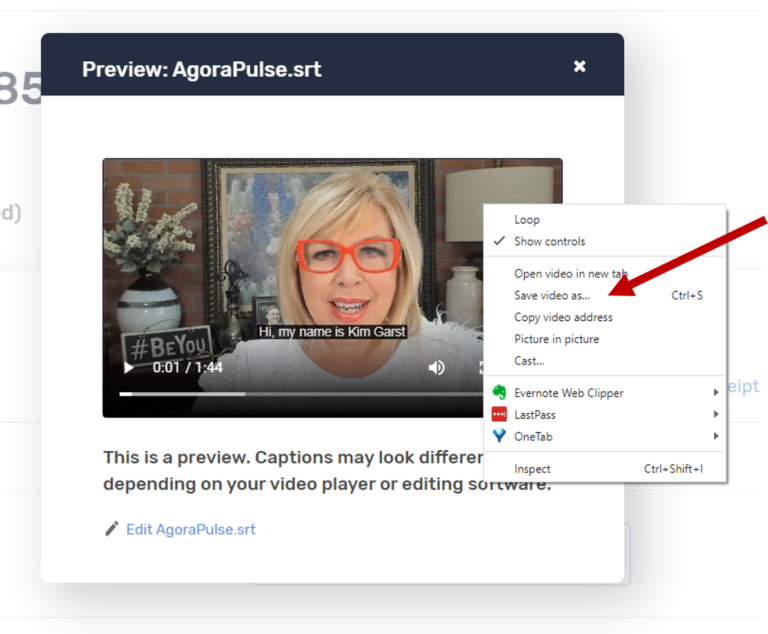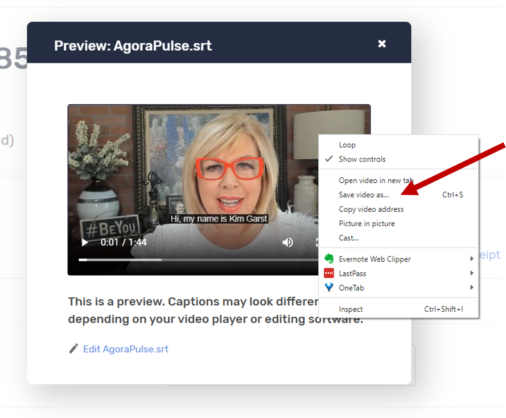 5. Post Your Video to Instagram
You're now ready for the fun part! Simply upload your video to Instagram as you normally would. Remember, they've now been "burned" into your video, so they'll show to all viewers automatically.
That's it!
Final Thoughts
My hope is that eventually, Instagram will give us a native solution to insert captions in their entirety to our IG videos. But until that time, the process above is the easiest and most effective way to do it.
Wondering how to add captions to your Facebook Lives? I have the 411 for that too!
How to Quickly and Easily Add Captions to Your Facebook Live videos
Are you ready to create your own Instagram video with captions? Let me know how it goes for you!
About Author