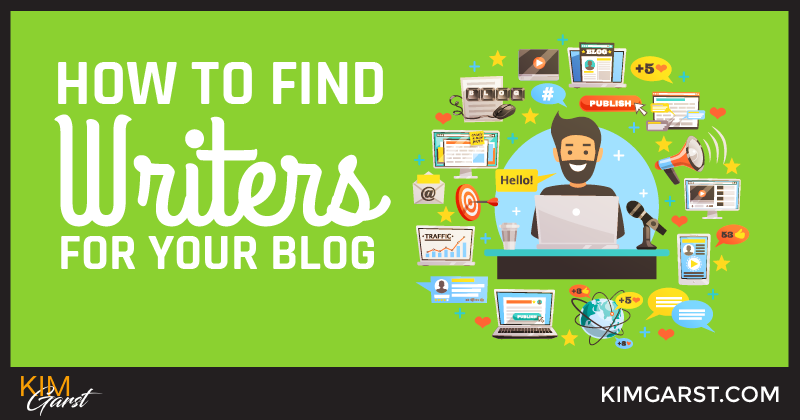 Whether you're a seasoned blogger or are just starting your blog, creating a steady stream of content can quickly become overwhelming.
This is particularly true if writing a) doesn't come naturally to you, or b) it just isn't your favorite thing to do. Or, maybe you LOVE writing, but just don't have enough hours in the week to commit to regularly writing new blog posts.
If this sounds familiar, it may be time to think about where and how to find writers for your blog. This can take the pressure off you, freeing you up to focus on the things you really love!
In this post, I'll walk you through seven highly-effective ways to find high-quality writers or guest posters for your blog.
1. Hire My Mom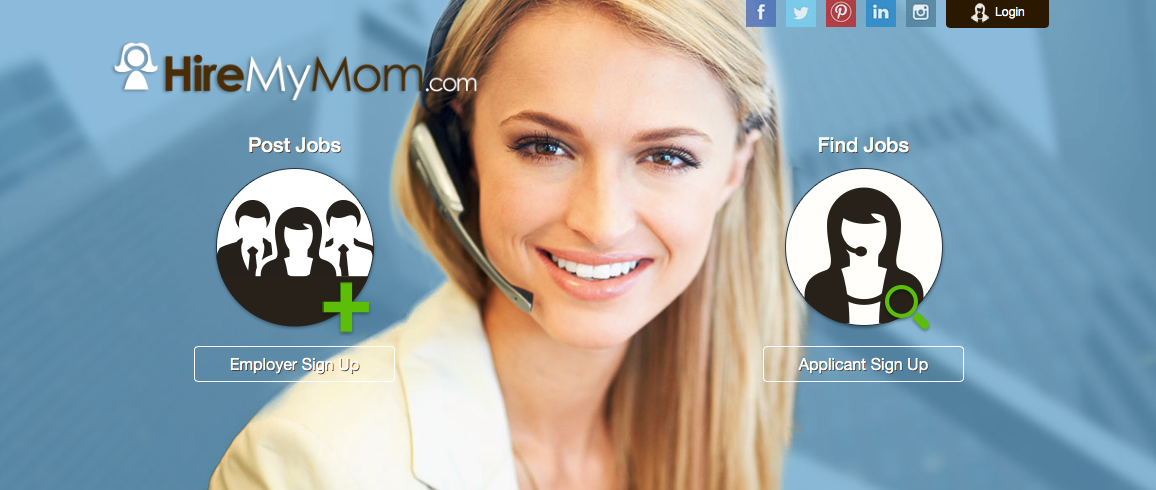 Hire My Mom is a job posting website for moms who want to work from home. Many of the job seekers who are registered with the site are experienced professionals who have chosen to work from home so they can be with their kids.
This means you get instant access to top-quality professionals who are interested in part-time, contract or even one-off gigs.
And the best part? Posting your job or project is 100% free! Simply outline exactly what you're looking for, and have your job posting sent out to a whole host of qualified professionals.
2. Find subject-matter experts within your own community
While it may not be so difficult to find people who can write, finding a good writer who ALSO knows a lot about your business, industry or niche can be a challenge.
One of the best ways to overcome this challenge is to seek out people who regularly comment on your posts (both your blog and social media posts). This gives you a chance to not only evaluate their writing style, but to check out their blog and social media profiles. This will help you confirm that a) they actually know what they're talking about, and b) they have built up a positive reputation online.
Both of these are non-negotiable requirements for anyone who will be writing for you – assuming you're committed to building a credible and successful business blog! (Please link to The Ultimate Guide To Building a Successful Business Blog).
3. The ProBlogger Job Board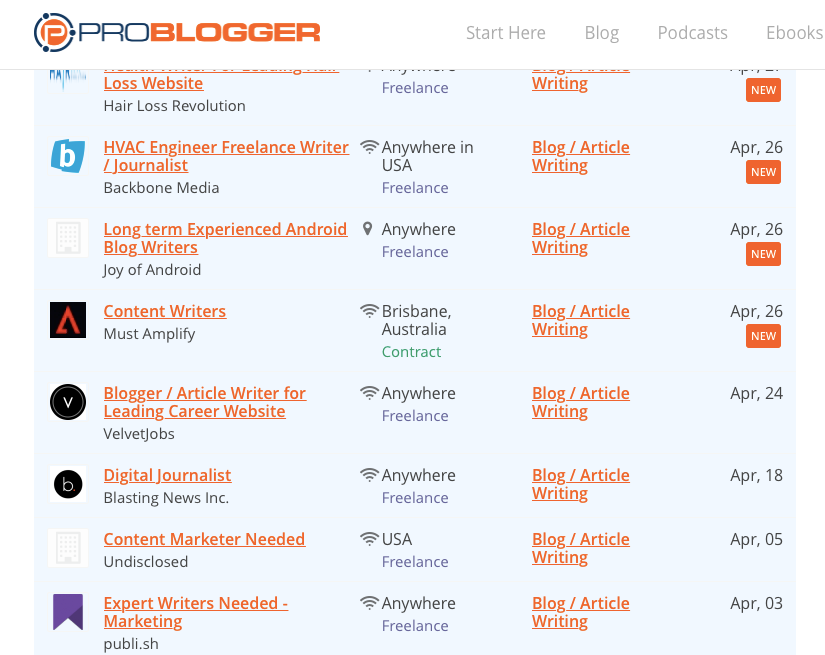 The ProBlogger job board is perhaps your best bet for finding highly-qualified, professional bloggers. Unlike Hire My Mom – which promotes its job listings to all types of professionals – the ProBlogger job board is specifically designed for businesses looking for professional bloggers.
It costs $70 to post a job opening, with discounts if you want to place more than one ad. While this may seem high, keep in mind the caliber of writers you'll find here will likely be higher than on other job boards.
4. Ask your community for blog writer recommendations.
If you can't easily identify potential writers in your community, why not ask your readers and subscribers for recommendations? This can work both if you're looking to hire a paid writer or just want to find guest posters.
You'd be amazed at how many people are happy to contribute high-quality guest posts, simply as a way of sharing their knowledge and expertise!
*If you're open to allowing other business owners (not competitors!) to guest post on your site, be sure to mention this. Many business owners will happily write a post – or a series of posts – on your site, in exchange for a link in their author bio.
5. The BloggingPro Job Board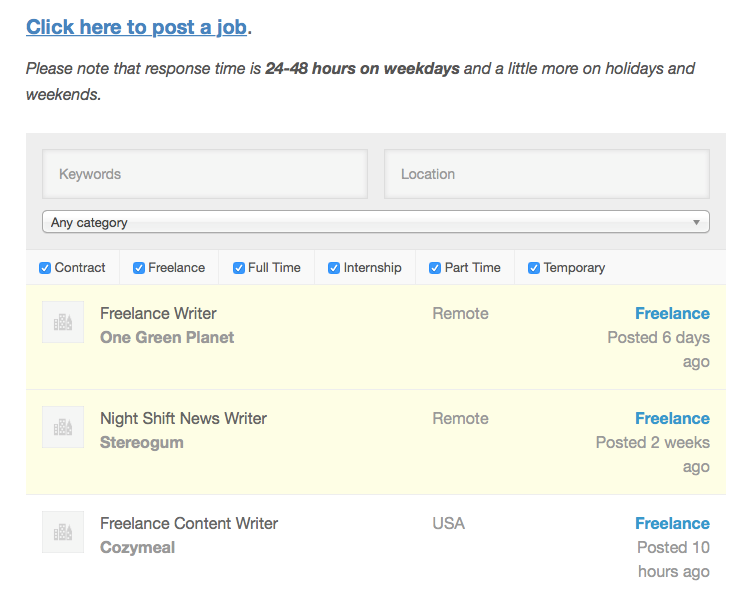 BloggingPro is another site that offers a job board specifically geared toward professional bloggers.
Posting your job will cost you $30 for 30 days. This ad will then be available to any writers who visit the job board; in addition, the best job postings are sent out to BloggingPro's email list in a weekly roundup.
If you still can't find what you're looking for via your ad, the company also offers their own blogging and copywriting services. You can check out what they offer on their services page.
6. Craigslist

If you'd like to see what the talent pool is like in your local market, posting your job to Craigslist can be a good option…either under writing/editing jobs, or writing 'gigs'.
Just be aware that the quality of the writers you find on Craigslist may not always be the best. Because of the sheer volume of traffic and lack of vetting on Craigslist (anyone can post or respond to anything), doing background and reference checks is IMPERATIVE.
Keep in mind it may also be more difficult to find highly-qualified writers in small local markets, but it's always worth a try. It's free to post your job, so the risk is small!
7. Create a well-optimized guest blogging page on your site.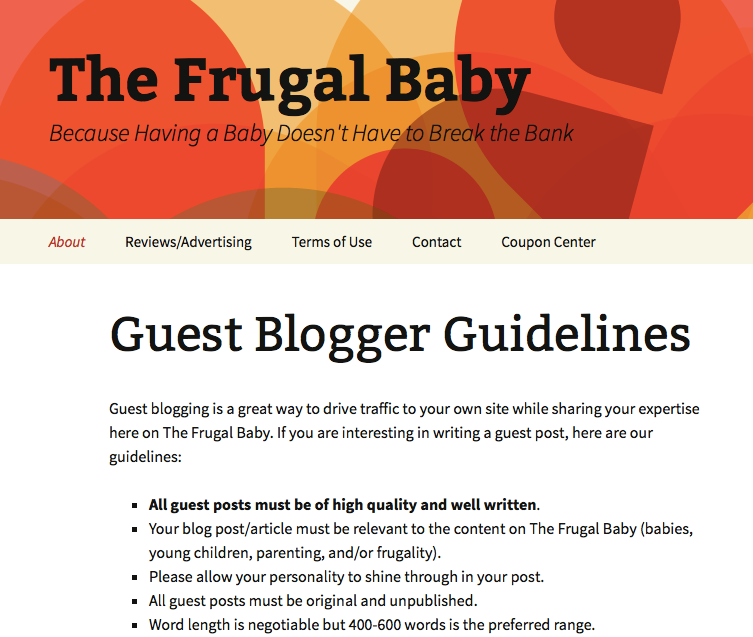 Many sites include a tab or link to a guest blogging page. This page can outline exactly what types of posts you accept, and whether you're looking for one-off blog posts or regular contributors. You can even include a form with an upload button so contributors can immediately send in their posts for consideration.
When creating your page, be sure to incorporate keywords potential guest bloggers might be searching for. For a parenting-related website, these might include combinations of the following keywords:
Guest blogging
Guest post
Submit
Parenting
Babies
Kids
For help with finding keywords to use on your job page, check out my post A Step-By-Step Guide To SEO Keyword Research Using FREE Tools.
Regardless of whether you decide to hire a professional writer or to accept guest posts (or both!), remember to focus on quality. It doesn't matter whether you're using your blog to make money, to build up your reputation or to generate leads – skimping on quality just isn't worth it!
Do you do all the writing for your blog? Or do you use writers for your blog? If so, how do you find them? Share below!
About Author