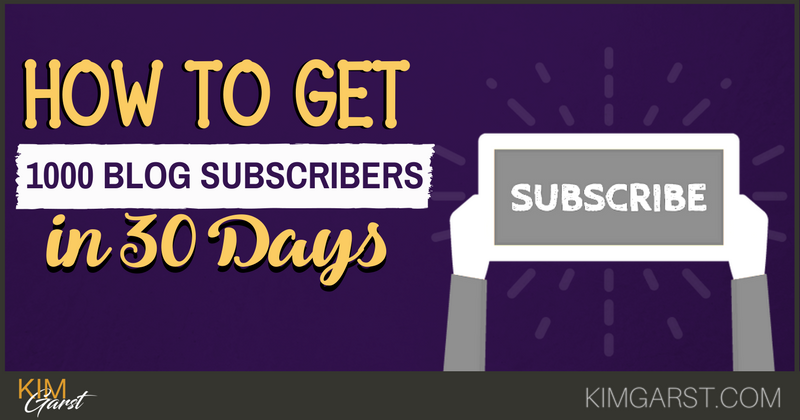 How would you like 1,000 new blog subscribers in the next 30 days? Who wouldn't want this, right?? That's 1,000 people who are eager to read each and every new blog post you publish!
What's so great about blog subscribers, you may ask? Let me ask you this: have you ever been excited to publish a killer new blog post, and then no one responds? No shares, no likes and no comments? Just crickets and the horrible feeling of wasted time, right?
Building a solid base of blog subscribers is the solution to this problem.
There are two basic ways you can build this kind of following:
1) Through enticing people to opt in to your email list, and
2) Getting them to subscribe to your RSS feed.
When people sign up for your email list, you can send them an email each time you publish a new post; and your RSS subscribers will automatically receive your new posts in their feed reader.
When you've worked so hard to start and build your blog, doesn't it just make sense to consistently be driving traffic to your new blog posts?
This article will walk you through how to get 1000 blog subscribers – in just 30 days!
1. To Get Blog Subscribers for free…ASK!
A common mistake I see business owners making is that they're hesitant to ask their visitors and social media followers to join their list. They have the obligatory opt-in box in their sidebar, but they're scared to alienate or annoy their website visitors by doing anything more than this.
"Don't be afraid to use every channel available to promote your list and feed!"
When Buffer decided to ramp up their efforts, they experienced a 100% increase in blog subscribers in the course of just 30 days.
Here's how they did it: Instead of using their standard method of collecting signups (a slideup box), they added 8 more opportunities for readers to subscribe to their email list:
A HelloBar (a signup box at the top of the page)
On their homepage
In their postscript
In their sidebar
On Twitter
On their Slideshare presentations
On Facebook
On Qzzr
The lesson to be learned here is this: don't be afraid to try different strategies and use various channels to promote your list and RSS feed. Test out various methods for a month or two to see which ones are most effective. Then you'll know for sure which ones work for YOUR audience!
2. Offer something truly valuable…for FREE!
Having an amazing opt-in incentive is absolutely critical to growing your list fast. This is imperative even if your primary goal is to make money through your blog (actually, it's ESPECIALLY important if this is your primary goal!).
People are wary of handing over their email w/out a good reason. Your valuable opt-in is the trade off.
Click To Tweet
Some opt-in offers that tend to work well include:
eBooks (like my 27 Killer Facebook Ideas eBook)
Checklists
Email courses: Multi-day emails that offer advanced training or insights into a particular topic or problem (e.g.,"30 days to lose 10 pounds").
Webinars
Member-only discounts
Whitepapers or other "downloadables"
Survey results
You may also want to offer a number of different opt-in incentives to match different types of content and channels. For instance, promote a "10 Steps to Facebook Success " guide to your Facebook fans and a "10 Steps to Twitter Success" to your Twitter followers.
An email marketing service like aWeber will allow you to offer various opt-in incentives, and then either create new lists for each incentive or funnel all blog subscribers into one general list.
3. Hold a contest
Holding a contest or giveaway is an amazing way to grow your email list in a very short amount of time. The trick is not to skimp on the prize: I have actually seen businesses promote a contest where the "grand prize" is a $5 gift certificate! Trust me when I say your email list is worth MUCH more than $5!
Offer a prize that's actually worth something, and that your average fan or website visitor would find enticing.
Offer a prize that's valuable, and that your average website visitor would find enticing.
Click To Tweet
If you're on a tight budget but still want to offer an amazing prize, ask other businesses to donate products or gift certificates in exchange for additional promotion. Many businesses are happy to donate items to gain additional (free) exposure. For more contest ideas, check out my post, 13 Killer Facebook Contest Ideas.
4. Use a (gasp!) pop-up box
You know what I'm talking about – those annoying opt-in boxes that pop up in the middle of your screen? Whether you love them or hate them, research shows they can be extremely effective for building your list.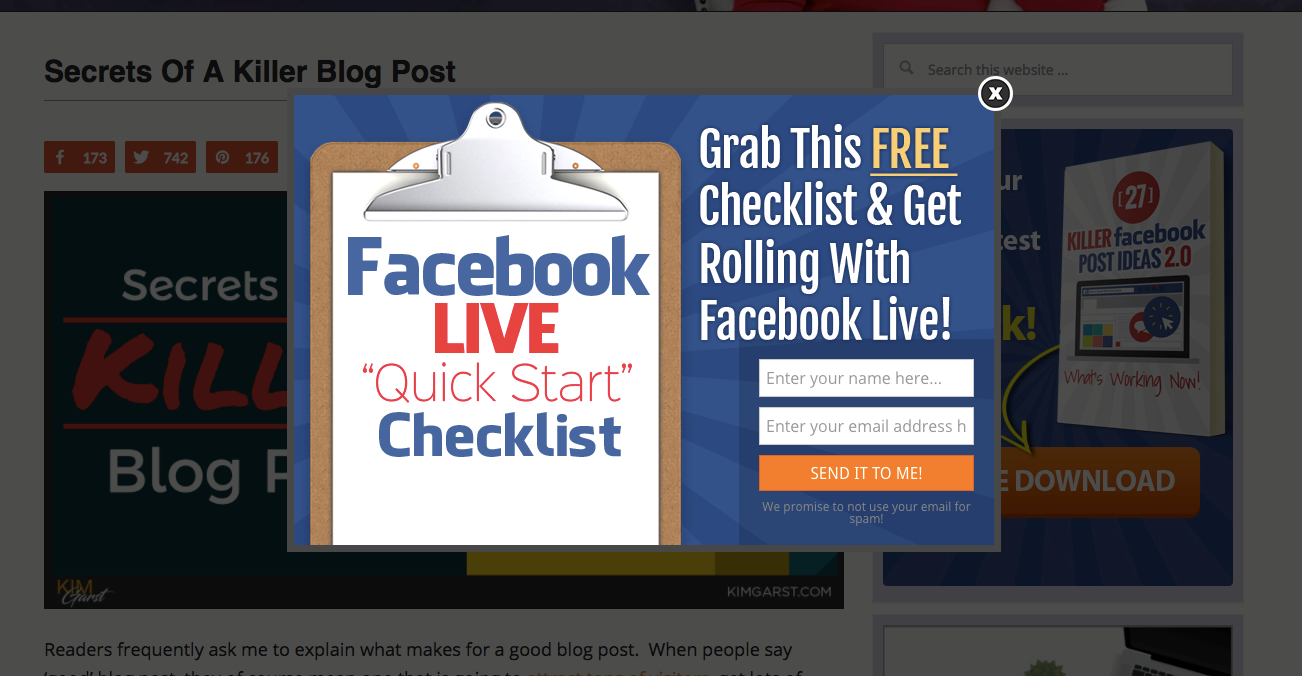 Exit popup for our Facebook Live Quick Start Checklist
Of course, you must use them with care, or risk alienating and annoying your website visitors. One of the most effective (and least annoying) types of popup boxes is the exit-intent popup. These boxes appear ONLY when your visitors show some indication that they're leaving your site – like when they switch windows or leave your site.
These allow you to give your visitors one more chance to subscribe to your blog or join your list. Many sites find using language like "Wait!" or "Before you go…" helps with conversions.
If you're using a WordPress site, you can create your own exit-intent popup in minutes using OptinMonster.
5. Find your most popular blog posts…and then optimize them for opt-ins
It only makes sense that your most visited blog posts would be a primary source of leads for your business. However, you have to be intentional to make this happen!
Using your Google Analytics, find out which blog posts currently drive the most traffic. Then make sure these pages have very clear buttons, icons, links or calls to action (CTA's) to join your email list or subscribe to your feed.
This is a GREAT way to take advantage of traffic you're already getting…within minutes you can add some CTA's and start generating new leads!
The five strategies above are some of the most effective ones out there for increasing your blog and email subscribers. While they're not rocket science, they do require some effort and a commitment to trying out new – and sometimes scary – methods.
Try them out over the next 30 days, and let me know how you make out!
What other strategies would you suggest for getting 1000 blog subscribers in 30 days? Any biggies missing from my list? Share below!
About Author