Is it possible to get Facebook page likes without buying ads?
Unfortunately, many frustrated business owners don't think so. Maybe you're one of those business owners!
You share great content day in and day out, employ all the strategies and tactics you can think of to grow your fan base, yet you find your numbers are still growing at a snail's pace.
Or maybe you were doing really well on Facebook – getting lots of new fans and likes, shares and comments – but over the past year or so, things have slowed down considerably.
Or, maybe you've found that buying Facebook ads and paying for promoted posts has worked for you, but you know this isn't sustainable. You can't realistically afford to continue doling out money indefinitely!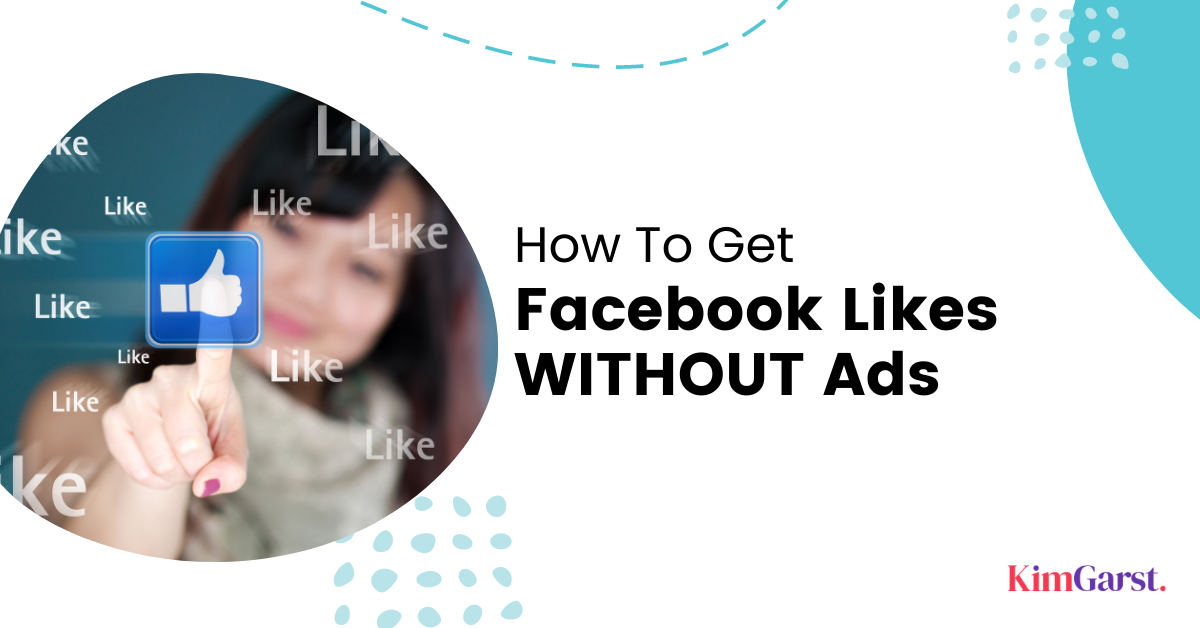 So, what can you do to increase your Facebook fans without paying for ads? Here are some strategies I use that have helped me get to nearly 400k Facebook fans!
How to Get Facebook Likes WITHOUT Ads
Following are the key strategies you MUST use to get more likes for your page.
KEY STRATEGY #1: Focus on Posts That are Likely to Get Engagement.
The absolute best way to get likes for your page without spending a penny is to post content that your fans will LOVE (sounds so obvious, but keep reading!). 
? The absolute best way to get likes for your page without spending a penny is to post content that your fans will LOVE. #QueenOfTheObvious
Click To Tweet
When your current fans love your posts, they are more likely to like, share and comment on them.
Obviously, getting more shares results in more exposure for your posts, and therefore more opportunities for getting new fans to your page.
However, what ALSO happens when your posts get engagement is that Facebook sees that people LOVE your stuff, and end up giving your posts more exposure in your fans' feeds. And THIS ultimately leads to more of everything…likes, comments, views…you name it!
So what types of posts are most likely to result in shares, and therefore new Facebook likes?
Video Content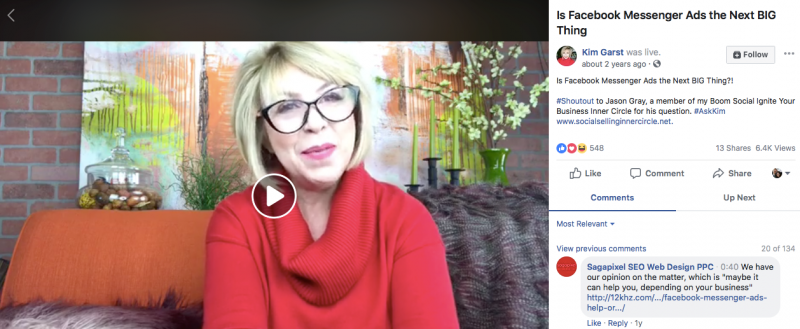 It's probably no surprise to you that video is HUGE on Facebook right now.
Both live and recorded videos are great for getting views and shares, and ultimately increase the time people spend interacting with your business on Facebook.
PLUS, Facebook has said that posts that create "meaningful interactions" get more exposure in News Feed, and has explicitly stated that both live and recorded videos are great for facilitating these interactions (but especially live videos).
Make sure these are part of your posting strategy!
Need some ideas for how to get started with Facebook Live? Check out my post, 5 Ways to Broadcast Live on Facebook on Any Budget.
Images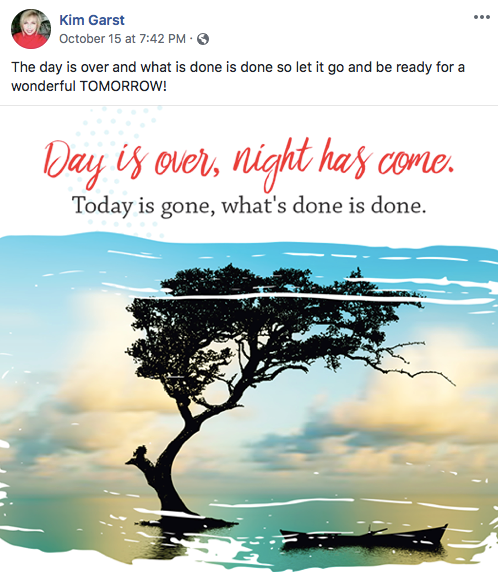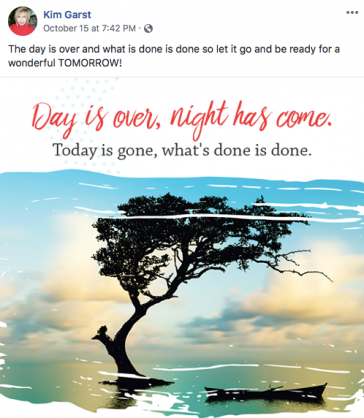 Many business owners find this to be one the easiest and most effective ways of getting engagement and page likes (myself included!). In fact, after analyzing 43 million Facebook posts, Buffer found that images get even more engagement than videos!
?️ After analyzing 43 million Facebook posts, Buffer found that images get even more engagement than videos! #Wowzers
Click To Tweet
Funny, inspirational, educational or motivational images are great for increasing likes, comments and shares. And as these images are shared, your exposure increases, leading to new fans liking your page.
And the best part is you don't have to be a graphic designer to create amazing images! Using a free tool like Canva, you can create pretty much any type of Facebook graphic you'll ever need (and more).
For more tools you can use to create your own Facebook graphics, check out my post, 6 FREE Tools to Create Amazing Eye-Catching Graphics.
Don't have the time or the skills necessary to create engaging content and would prefer having someone do it for you?  Think about it…each and every month, you could have fresh, professionally designed images for all your social media platforms. Imagine saving hours of your time and endless hours of headache! Check out my awesome and practically Done For You "Go Social" Content Club.

Contests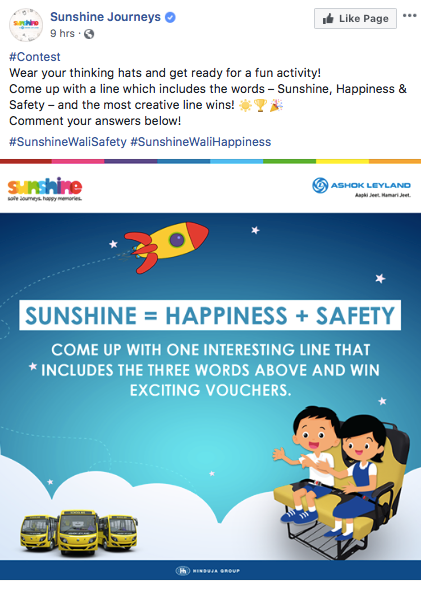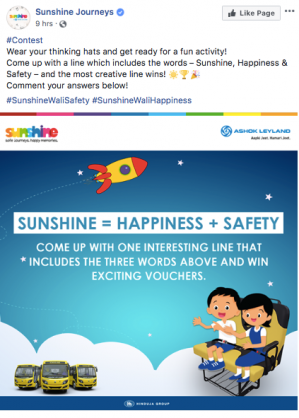 Contests are great for getting new likes, especially if you encourage entrants to like your page to stay up-to-date on the contest.
Of course, you really only want new fans who actually like your products or services…not just a bunch of random people who are just liking your page to get free stuff!
To avoid this, try to choose a prize that's relevant and valuable only to your target market; for instance, rather than giving away cash or an iPad, give away your products, services or a gift certificate for your store or business.
Some ideas for your next Facebook contest:
"Caption this" photos
Fill in the blanks
Fan of the week
User-generated content contest (e.g., submit a photo to win)
A trivia contest
For tons of inspiration and more ideas for your next Facebook contest, see my post 13 Killer Facebook Contest Ideas.
Amazing Free Offers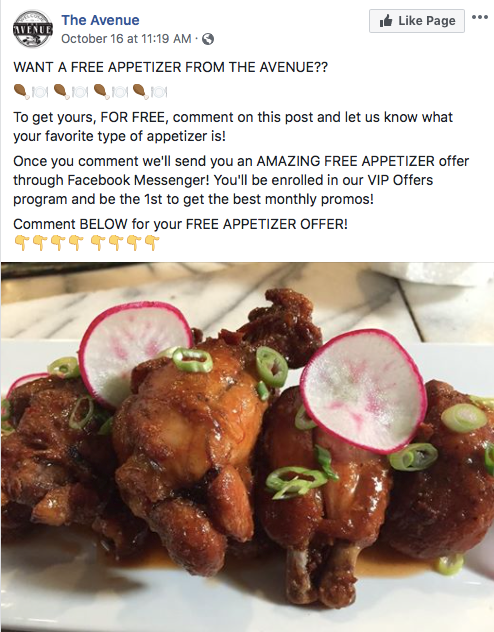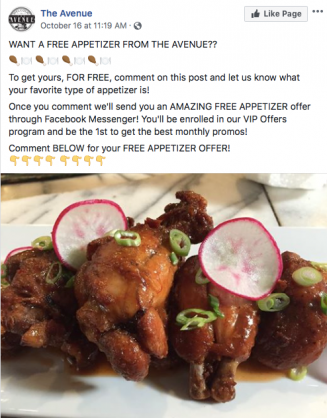 While attempting to sell via your Facebook posts usually isn't the best strategy, promoting your FREE stuff is!
Let your fans know about an amazing free offer, and then ask them to comment in order to receive it*.
*This is important! Having your fans comment on your post will signal to Facebook that your post is popular, meaning more exposure for your offer.
Your offer can be pretty much anything – a free guide, eBook, cheat sheet, template, coupon, discount or even a free product sample.
Just make sure it's something that will be of obvious value to your audience!
KEY STRATEGY #2: Post Regularly and Test Different Frequencies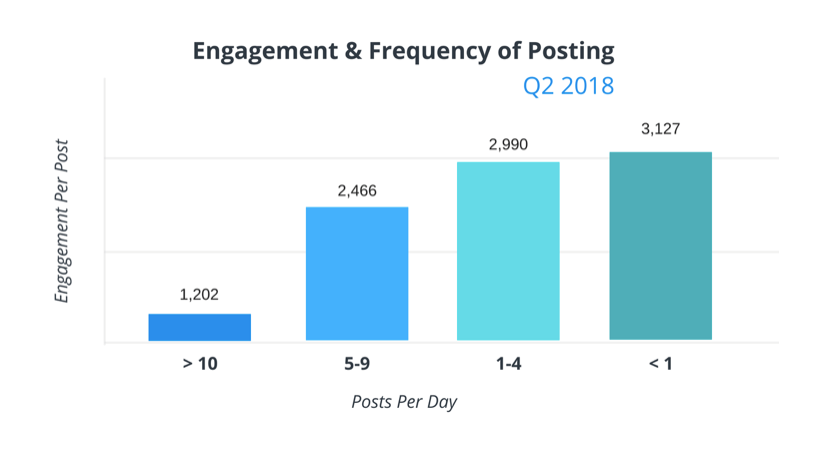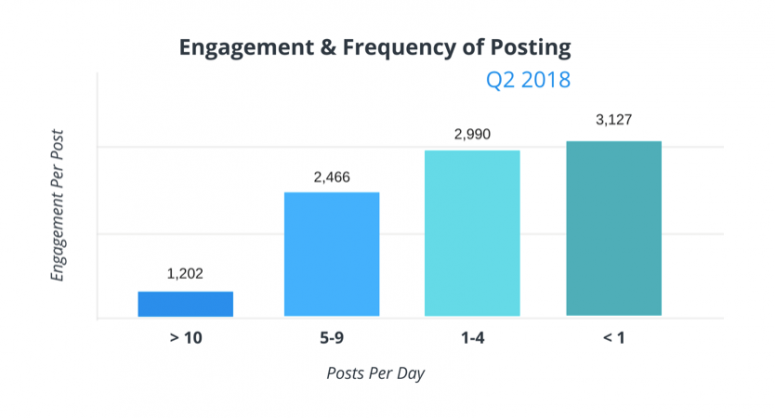 Using the strategies above will inevitably result in increased Facebook likes for your posts and your page. However, if you want to see CONSISTENT growth in terms of likes, you'll need to make sure you post on a regular basis.
No one can tell you exactly how many times you should post for optimal engagement.
However, there are some clues out there that can give you a baseline from which to test things out for yourself.
For instance, Buffer has found that pages that post 5 times per day receive the highest engagement overall.
So, using this as a jumping off point, test this with your own audience!
Your Facebook Insights will be your secret weapon here. Try posting 5x a day and monitor how much engagement you're getting (overall, not for each individual post).
Based on what you learn, tweak your frequency until you've found the sweet spot for YOUR page!
KEY STRATEGY #3: Be Human.
People want to be able to relate to your brand. They want to know that you're a real person, with real feelings, goals, values, struggles and opinions!
When people believe you're relatable and personable (i.e. a real human), they're far more likely to engage with and share your content. And THIS will inevitably lead to more likes.
♥️ When people believe you're relatable and personable (i.e. a real human), they're far more likely to engage with and share your content.
Click To Tweet
Some ways to become more human on Facebook are:
Telling stories people can relate to
Being transparent with your audience. If you're trying to sell them something, be up front about this!
Building relationships with your fans. It's not enough to post content, you need to respond to questions and engage in conversation
Sharing your opinions on important topics. You don't necessarily need to be controversial…just be real!
Using visual content, especially video. This puts a real face (literally!) to your business
To see how being human helped one page get 1.2 million Facebook likes on a single post, click here!
KEY STRATEGY #4: Promote Your Page Outside of Facebook.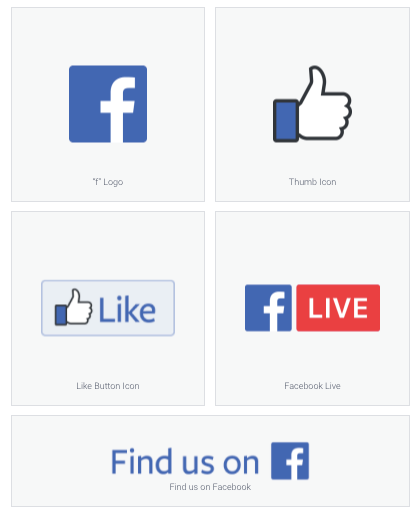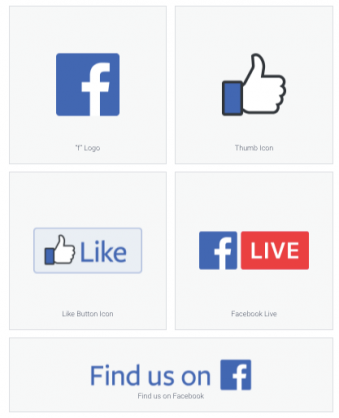 If you already have a healthy list of email subscribers and other social media followers, why not encourage them to like your Facebook page too?
The same goes for your website or blog visitors. Make sure it's easy for them to like your page by adding Facebook like and share buttons on every page of your site.
Facebook has an assets page that will let you download official "Find us on Facebook" buttons, "Like us" buttons and much more.
If you have a WordPress site, use a free plugin like Social Icons or AccessPress Social Share to automatically add like and share buttons on each and every page and post.
You may also want to embed the Facebook page plugin on your site to entice your website visitors to come participate in conversations taking place on your page, as they happen!
Final thoughts
There you have it: the key strategies you can use to get Facebook likes without ads!
If you take one thing from this post, it should be this: Remember that when you regularly share amazing content that your audience loves, your Facebook likes will grow completely organically, without any additional effort on your part. When people find true value in what you post, they'll want to like and share your posts, and your page likes will continue to grow.
Promoting your Facebook page through other means, such as through buttons on your blog or through contests can be valuable strategies as well, but nothing replaces sharing amazing, relevant content that your audience will love and share!
Want even more great posting ideas your fans will love? Check out my most requested eBook: 27 Fun & Creative Facebook Post Ideas for Small Business Owners.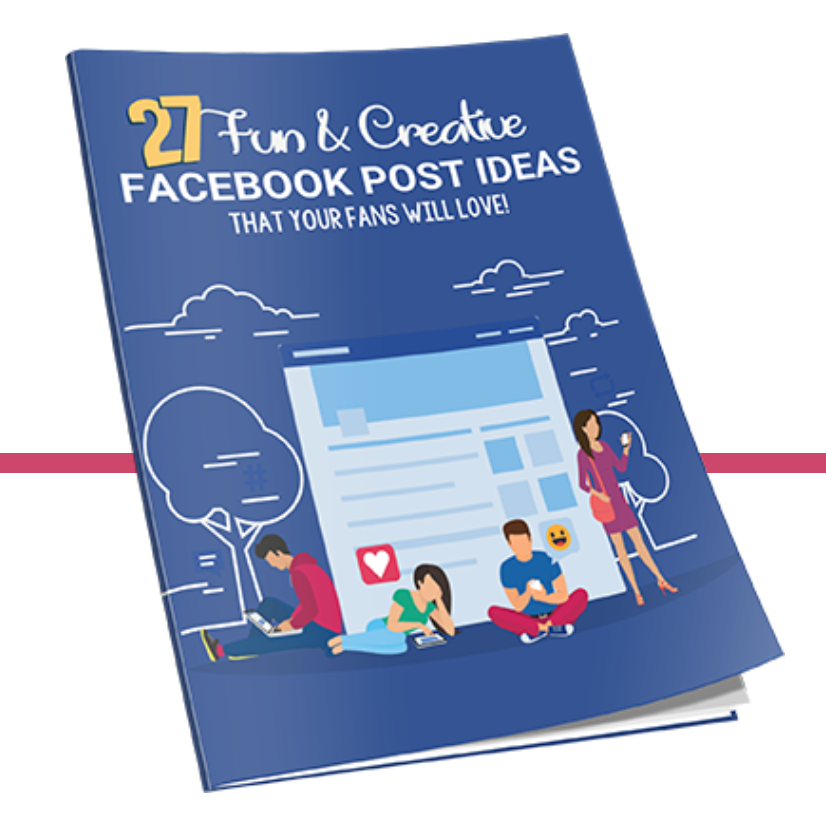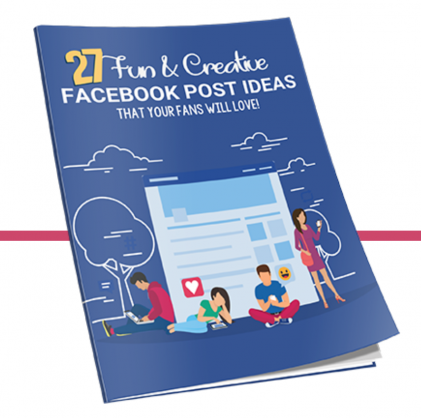 Finally, for those of you that do have advertising budgets, or want to combine the organic (FREE!) growth strategies mentioned above with a paid (Facebook Ads) strategy, you'll want to check out my post: "The Facebook Ads Recipe – 7 Ingredients for Building GREAT Facebook Ads!"
What strategies have worked for you to grow your Facebook likes? Anything you can share with us that I missed above?
About Author